Karl Thunemann: Tibergien stops me and says, 'I want to be very emphatic about this. There is nothing wrong with a solo practitioner. Nothing at all.'
Brooke's Note: Karl Thunemann asked me for ways to get up to speed on the RIA business and I said that one way might be to read Mark Tibergien's book, "Practice made Perfect," and to talk to the author himself since they both have mailboxes in the Seattle area. I would have to admit it tickled my funny bone to think of a meeting of two intellectual Seattleites who happened upon the RIA business from two such totally different perspectives. All I knew was that I would be pleased to read about it. And I am — through its twists and turns. Thank you, Karl, for continuing (your expressions of annoyance at me notwithstanding) to put yourself in George Plimpton-esque positions, and Mark, for making yourself generously available and willing to share real points of view that challenge conventional knowledge. See: How I'm doing after my advisor left Schwab Private Client to join a $2 billion RIA.
Mark Tibergien says, almost blandly, that the RIA industry is poised for more dramatic growth. He projects that assets under management will double in the next five years—to $4 trillion.
It stands to reason. Week after week, astonishing new deals offer a chronicle of mergers and acquisitions, an aggregation of wealth and power. Innovations revolutionizing back-shop operations. The heavyweights of the custodial business rearrange their part of the universe. Of course it's going to grow.
But it isn't that simple, adds the chief executive of Pershing Advisor Solutions LLC. The entire market of retail financial management is shrinking. Only the RIA segment is growing. See: Tibergien uses brutal honesty to captivate big Schwab RIAs and others at San Francisco event.
Unexpected turn
This is the news hook of this interview, my editor tells me later, but I feel a little annoyed. I didn't seek this interview to break news. I wanted to talk about Tibergien's book, "Practice Made MORE Perfect," and the implications his prescriptions for RIAs might have for clients. I think that if clients would just read Chapter 2—steps for developing a strategic plan—they would be armed with questions to pose to their financial advisors, present and prospective.
But wait, the interview is about to take another unexpected turn. I observe that all the book's details about the process of creating a thriving RIA—professionalizing support services, introducing the idea of collaboration, establishing a contingency or succession plan—demand a particular view of the future: It will belong to companies large enough and sophisticated enough to visualize these needs and adopt them as standards. See: Schwab is creating an RIA MBA-equivalent to grease the skids of internal succession — and internships to build an RIA worker-bee talent grab pile.
Tibergien stops me and says, "I want to be very emphatic about this. There is nothing wrong with a solo practitioner. Nothing at all. "After all," he continues, "there are 28,000 RIAs, and the vast majority are solo practitioners. They're well educated, intelligent and reliable. They and their clients share a loyalty that drives their business. There is nothing about size implicit in the success of an RIA." See: Why Joe Duran believes that classic RIA firms face extinction.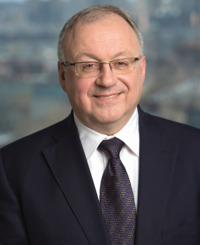 Mark Tibergien: you're not an indentured
servant.
Red flags/green flags
This naturally leads one to wonder how solo practitioners deal with the demands of sophistication that contemporary practices place upon them. But of that, more in a moment. Mark Tibergien has plenty to say about the implications his work on running an RIA has for potential clients.
Clients should ascertain:
The competency of the advisor and his or her team.
Whether the advisor and team are focused on the needs of the client.
Whether a contingency plan is in place to ensure that in the event of death or incapacity the RIA will continue to serve clients as promised.
That the operation is honest and dedicated to protecting client interests.
He breaks these concerns down further, into red flags (watch out!) and green flags.
RED FLAGS:
No internal process for checking plans proposed for clients
Everything dependent on one individual
A collaborative process is in place.
Assets are managed by an outside custodian.
You have the opportunity to negotiate your goals and concerns when they talk to you.
You are involved with your advisor in an active process
Here are some other questions clients should ask of prospective RIAs: How are they doing? How do they define their relationships with clients? How do they define success? What is their process of managing portfolios? Will they work with you to create an investment policy statement? See: 10 advisors explain how they build sales without getting 'salesy'.
Check the dang ADV
Tibergien says that clients should look at the ADV form all RIAs are required to file with the Securities and Exchange Commission. The link is this. In this required form, companies must list their owners and officers, all their branches and other detailed information about their practices. Investopedia says RIAs should offer prospective clients a copy of this form, but I had never heard of it before this interview. (It took about 10 minutes to scroll through the form filed by my RIA., but I already knew a lot of the information.) Among other things, the form requires RIAs to disclose conflicts of interest.
Pershing works with hundreds of RIAs as clients. ("And there are others I covet," Tibergien adds.) Much of its work is focused on high-net-worth and ultrahigh-net-worth clients. It has rolled out one of these services recently. See: What headway Pershing's RIA unit is making after four years under Mark Tibergien.
And just what can those solo practitioners do to meet the demands implied by the standards Tibergien sets? I talked to a pair—one who has been running his RIA since 1991, and one who just marked her first anniversary in the business. Their practices may be solo, but neither of them is alone.
As it turns out, Dan Goldie and Manisha Thakor have a lot in common. But they have arrived at these similarities by different paths. Goldie counts himself among the first advisors to sign on with Dimensional Fund Advisors LP, from his very beginnings as an RIA. Thakor had a conversion. Before starting her RIA, she managed large investment portfolios using an active management approach. In effect, she was a stock picker. See: Dan Goldie tells how his NY Times bestselling book has changed his practice, and how his co-author affected his life.
Big tax hit
But when it came to starting an RIA, she was drawn to the "evidence-based" approach of DFA. Some call it passive investing, but never its advocates. It's more refined than that. On its website, DFA calls it the science of investing, citing its roots in the academic. As a new RIA, Thakor had something to prove. She had a large portfolio of stocks with unrealized capital gains. To make the move, she says she sold it all, taking a big tax hit.
She expects her clients to embrace this central philosophy, but she's not an absolutist. If a client holds a large portfolio of stocks with huge capital gains liabilities, she will accept that as a reason for an exception. But if the stocks are retained for emotional reasons, that might create questions of whether the client is a good fit for, Thakor's firm, MoneyZen Wealth Management. Depending on the size of these holdings, she might suggest writing an investment policy statement that spells out the limits and expectations for these holdings. Or she might suggest that these assets be removed from the account: She won't take responsibility for managing them. See: One Santa Fe woman's female-centric approach to advice is attracting clients to her iconoclastic RIA.
She has corporate partners who provide her with expertise and model portfolios, but it's her practice. "I make all final investment decisions for my client with trades initiated at MoneyZen."
Goldie and Thakor both have close ties to corporate partners, starting with DFA. This is where much of the collaboration espoused by Tibergien lies.
Goldie has long worked with Loring Ward, which provides a wealth of services, from back-office operations to portfolio management. The company provides compliance services. It consults on marketing, particularly in helping put a book of which Goldie was co-author, "The Investment Answer: Learn to Manage Your Money & Protect Your Financial Future" (Business Plus 2011), before the public. The book, a best seller, put its stamp on Goldie's practice. It cemented a prominence that began when Goldie was an internationally known tennis player. Now, about 80% of his 250 clients hail from the San Francisco Bay area (he operates from Menlo Park, an affluent suburb on the peninsula). But he still finds that clients seek him out because of the book.
Solo, with help
The relationship with Loring Ward frees Goldie and his partner, Dirk Gilliard, to operate their business as solo practitioners, without any employees. Yes, Goldie has taken a partner, after years of searching for someone whose investment philosophy and personal style would be wholly compatible. Plus, of course, experience: Gilliard has been in the business for 15 years. The two consult daily, but the RIA still runs on solo principles. Goldie still accepts new clients, and refers others to Gilliard. See: 'Dying banker's last instructions' article in New York Times sends book sales soaring for two DFA advisors/authors.
They try to be selective with new clients, and use the $1 million minimum as a guideline, not an absolute. "We want to bring in people we can have a long-term relationship with."
The Internet makes it far easier to operate solo than it was 20 years ago, Goldie says. Here he can contact other advisors, and find white papers that address investing issues that interest him.
Another longtime association is with Schwab Advisor Services, a mainstay for custodial services from the beginning. Goldie also offers clients connections to TD Ameritrade Institutional and Fidelity Institutional Wealth Services.
When it comes to advocating the solo RIA, Goldie is not content with meekly defending his turf. He does not accept that large firms will dominate the industry, and cites seminal work on this topic by Mark Hurley more than a decade ago, dating back to Hurley's work with a company he founded, Undiscovered Managers LLC. Goldie believes that most people are willing to work with a solo practitioner or small firms where they are known. Too many have seen their advisor relations in large firms disrupted when they discovered that their advisors were not independent or moved up the ladder and passed their accounts to junior advisors.
Thakor's practice, based in Santa Fe, N.M., has a wholly different flavor. Her focus is on female clients. It's not limited to women, but as she says on her website, "I'd say the default language of the industry is 'male-speak.' Whether it's 'winning,' 'fighting,' or 'beating' the market, the day-to-day financial lingo is alienating and unappealing to many of us women." The words she favors, which she says she has heard on Wall Street, include "simplicity," "abundance" and "freedom". Really, you should look at the site to get its full flavor. https://www.moneyzen.com/. Be sure to check out "10 Things to Know About Personal Manisha" at the bottom of the "About" page.
Second chair
I ask whether she ever thinks about taking on another financial advisor as a partner, and tell her I have also been talking to Goldie. "Oh, Dan Goldie," Thakor says in a tone of respect. "Well, right now I feel I have partners in the alliance, people to bounce ideas off of. At this stage, I want to be solo. Maybe in 10 or 15 years it will look different."
Although she has corporate partners comparable to Goldie's, on her website they take second chair to the locally based women who work with her. Katie Skurski is the organization's "Portfolio and Operations Ninja," and Shalon Ironroad is the MoneyZen "Human Swiss Army Knife." A man has recently joined the team but has yet to be characterized on the website. The team marks the beginning of collaboration. "We make frequent use of tools like GoToMeeting and Skype to see and hear each other (both clients and teammates)," Thakor says. "And because we are virtual, we really make the effort to stay in touch in a way that if we all worked together we might not do as much."
As for corporate partners, for investment portfolios, she looks to DFA, The Vanguard Group Inc. and Bridgeway Capital Management. Her custodial partners are Schwab and Fidelity. Thakor waxes enthusiastically about them. But then comes The BAM Alliance.
The alliance comprises about 130 small and midsize RIAs that look to each other and Buckingham Management for ideas, support, back-office service, portfolio management and — get this — contingency planning. About a third of the members are sole practitioners. See: A $17-billion RIA doubles down on a social media strategy that netted it 50 Facebook employees.
The alliance is operated as a subsidiary of Buckingham Asset Management LLC, which runs a $5 billion wealth management operation that CEO Adam Birenbaum describes as a "laboratory" for the alliance. Together, he said, the two groups have nearly $17 billion under management. Each firm operates independently, defining its own community and demographics. See: Top 5 most influential RIA figures of 2012 going into 2013.
Best defense, bus defense
Here's how Thakor described the contingency plan in an e-mail: "One of the beauties of this innovative community is that for firms who wish to participate, there is a built in incapacitation option. Should I be hit by the proverbial bus, I have entered into a contractual "business continuity /sub-advisory agreement" such that BAM Advisor Services' sister asset management company (which shares the exact same investment philosophy as my firm) Buckingham Asset Management, would step in. See: What RIA principals in the Focus Financial family have to say about a rumored deal for the consolidator.
"Clients are made aware of this arrangement in writing via Form ADV, and it enables a subadvisory relationship to continue for a period of up to 180 days following incapacity or death until such time as a more permanent solution (which could include the absorption of the firm into Buckingham) is decided upon."
Birenbaum says BAM's aim is to give clients a choice. If they wanted to stay with a smaller RIA, that could be accommodated. But they would also have the option of moving their account to Buckingham.
This is a point where Manisha Thakor and Dan Goldie are following separate paths. Goldie says that he and his partner are working on a succession plan which he hopes to implement by the end of the year. Loring Ward is helping them work out the details. Goldie says he would never adopt a contingency plan that put his clients' fate in the hands of a network. "I want to know the person who will be serving my clients."
So there is more than one way to structure a continuity plan.
And this brings us back to Mark Tibergien, and what clients should ask, whether their financial advisor works for a large RIA or is a solo proprietor, whether change comes through mergers and promotions or death or disability.
The industry has changed a lot in the last few years and investors can move quickly from one advisor to another, Tibergien said. "The good news is that you're not an indentured servant … As a client, you have to ask questions. Is your new advisor acting on your behalf, or on the behalf of new owners? How will the change benefit you as a client, and will you still be as important?"
---
---
Mentioned in this article:
---
---
---
Elmer Rich III
If people's life savings are lost because of bad succession planning by an advisor – what then? Tough luck?
As the bulk of investable, and advisor's, assets become people's life savings and pension assets, the political, media social and legal ramifications of investment professional's behaviors are growing.
There may be no bigger responsibility than for a society to protect the life savings of it's citizens. How that society-wide responsibility plays out with financial professional's individual and financial firm's business and profit goals is an immense challenge.
Josh
If a solo practitioner provides a good enough value proposition, all of those red flags can be managed. Just like you manage risks in investments.
Elmer Rich III
Boy, long-form article. The next step, informed by brain research, will be to accept that most investment behavior ("decisions") by investors – professional and consumers – are made unconsciously and instantly.
Of course, it is the norm to speak and attend mainly about the logical matters, e.g.:
"Clients should ascertain:
- The competency of the advisor and his or her team….etc."
However, how would an investor ever be able to ascertain these items? Secondly, if the dependent variable is investing behavior – how much do these questions, logical behaviors contribute – as independent variables – to the investing behavior? That is an open question right now. There is increasing research suggesting – not as much as we want to believe!
http://icamtech.com
September 11, 2013 — 9:11 AM
[url=http://icamtech.com]led grow lights[/url],[url=http://icamtech.com/led_industrial_highbay_light]highbay lights[/url],[url=http://icamtech.com/led_Downlights]ceiling light[/url],[url=http://icamtech.com/led_street_light]solar street light[/url],[url=http://icamtech.com/led_tube_lights]light tube[/url],[url=http://icamtech.com/led_flood_light]outdoor flood light[/url],[url=http://icamtech.com/led_panel]led panel light[/url],[url=http://icamtech.com/led_light_bulbs]led replacement bulbs[/url],[url=http://icamtech.com]전구[/url],[url=http://icamtech.com/led_industrial_highbay_light]accesorios de alta bahía llevó[/url],[url=http://icamtech.com/led_Downlights]luzes de teto de LED[/url],[url=http://icamtech.com/led_street_light]llevó las luces de la calle[/url],[url=http://icamtech.com/led_tube_lights]LED-Röhren[/url],[url=http://icamtech.com/led_flood_light]導かれた洪水の照明[/url],[url=http://icamtech.com/led_panel]mené élèvent le panneau[/url],[url=http://icamtech.com/led_light_bulbs]주도 전구[/url],[url=http://icamtech.com/led_display_screen]LED-Anzeige[/url],[url=http://icamtech.com/led_par_lamp]равенство водить лампы[/url],[url=http://icamtech.com/led_spotlight]a mené des projecteurs[/url],[url=http://icamtech.com/led_candles]الشموع الصمام[/url],[url=http://icamtech.com/led_light_bars]led lightbars[/url],<a href="http://icamtech.com" rel="nofollow">led grow lights</a>,<a href="http://icamtech.com/led_industrial_highbay_light" rel="nofollow">highbay light</a>,<a href="http://icamtech.com/led_Downlights" rel="nofollow">pendant lights</a>,<a href="http://icamtech.com/led_street_light" rel="nofollow">outdoor lighting</a>,<a href="http://icamtech.com/led_tube_lights" rel="nofollow">led tube light</a>,<a href="http://icamtech.com/led_flood_light" rel="nofollow">outdoor flood light bulbs</a>,<a href="http://icamtech.com/led_panel" rel="nofollow">led light panels</a>,<a href="http://icamtech.com/led_light_bulbs" rel="nofollow">light bulbs</a>,<a href="http://icamtech.com" rel="nofollow">LED-Leuchten</a>,<a href="http://icamtech.com/led_industrial_highbay_light" rel="nofollow">LEDワークライト</a>,<a href="http://icamtech.com/led_Downlights" rel="nofollow">LEDシーリングライト</a>,<a href="http://icamtech.com/led_street_light" rel="nofollow">farolas led</a>,<a href="http://icamtech.com/led_tube_lights" rel="nofollow">tubos de LED</a>,<a href="http://icamtech.com/led_flood_light" rel="nofollow">LED 투광 램프</a>,<a href="http://icamtech.com/led_panel" rel="nofollow">pannello chiaro principale</a>,<a href="http://icamtech.com/led_light_bulbs" rel="nofollow">bombillas LED de reemplazo</a>,<a href="http://icamtech.com/led_display_screen" rel="nofollow">led china</a>,<a href="http://icamtech.com/led_par_lamp" rel="nofollow">LED PAR-Lampe</a>,<a href="http://icamtech.com/led_spotlight" rel="nofollow">LED fényszóró kültéri</a>,<a href="http://icamtech.com/led_candles" rel="nofollow">LED luminoso eccellente</a>,<a href="http://icamtech.com/led_light_bars" rel="nofollow">led light bars</a>
http://artem-school.ru/user/carpinteyroqto/
June thirty, U.S. Business and Human Rights Source Centre (BusinessandHumanRightsResourceCentre) also talked about the contents of the investigation report back to Apple, Ericsson as well as other corporations, the letter inviting their response and can reply to the specific situation with in excess of 10,000 subscribers Share.
http://www.fsienergy.com/ns.html
Now funds are not able to ruin your plan of buying this gadget as industry would enable you to get it simply underneath s4 zoom contract deal. Agree this offer and save your worthwhile very important penniesSome particulars about leukemia treatments
Jennifer Goldman
Small advisory firms are not as small as the ADV might suggest as those that are successful in avoiding the red flags are also those that have engrained use of outsourcers. So in essence, his/her advisory firm is staffed by many expert personnel vs. being a 1 man shop. The best positioned solo businesses have a written contingency plan, processes, a strategic plan for growth and management, manage the outsourcers effectively, and use systems to stay organized and focused on excellent client service. MoneyZen is a great example of this and using resources like the directory of outsourcers, Virtual Solutions for Advisors, and there are many other examples of solo firms using outsourcers as well….
Alvaro de la Huerta
Bank custody is far and away better in every regard than broker custody.
Elmer Rich III
The dilemma for the clients of a solo practice and their wealth is what is called the "Get's hit by a bus…." problem.
There are potential threats to having one's wealth dependent on one person – alone.
Custodians do play, then, an important role of providing continuity.
Elmer Rich III
In our business development and client retention consulting work we also find that customized custodial services can be a differentiator and add significant value as client needs and requests get more detailed and specialized.
Especially, as the advisor population continues to age, and primarily be in mid-life, safe transitions are becoming a key issue.
Mark Tibergien
My response to Karl's question about the solo practitioner was meant to distinguish advisors from advisory firms. Solo advisors often get their hackles up when people like Mark Hurley and me comment on the difficulty of running a small Practice. It is not about the competency or value of advisors as individuals, but as the viability, depth and strength of their business. The fact that the business dies when the owner does is sufficient commentary on its sustainability as an enterprise. But that doesn't mean the solo advisor does not deliver value to his clients. That said, I'm in the camp that would like to see stiffer certification and an experience requirement for those who manage assets on discretion and act as fiduciaries. I would also like to see a capital requirement for advisory firms. And I'dlike to see the bodies that confer credentials make certain business management courses a requirement before issuing the certification, and for continuing education purposes. And I'd like to see the SEC and FINRA exercise some discipline around the terms people use to describe themselves: for example, if you hold yourself out to be an advisor, then you should be held to the fiduciary standard. Otherwise, you are a broker, agent, rep or producer. I'd rather see clarity of roles then a blurring of the lines.
Brooke Southall
Josh,
The case that can be made against small RIA firms having a bright future on this planet has been made eloquently by the likes of Joe Duran and Philip Palaveev, for starters. Yes, it's like running an intellectual gauntlet of red flags to read what they write and the good points the make are many. It all relates to scale, professionalism and brand.
What the branded scale crowd may underestimate, of course, is the way people get motivated professionally and what makes clients feel trusting. Furthermore, it leaves out the fact that as big professional RIAs get better at what they do, there is a parallel evolution of outsourcers who are getting better and better at helping the solo advisor perform like a giant.
I sense this is an area that is ripe for more exploration and thought.
Brooke
Jennifer Goldman
I agree – Custodians do play a very good role in hopefully finding the advisor's business a new "home". In addition and just as important, the outsourced money manager, back office reporting firm, virtual assistant, virtual planner and others that are handling the day-to-day operations technical and general servicing work will help greatly. They could easily educate any new advisor as to how the business is being run AND the investment portfolios' "health" as well as reporting could remain intact during a transition of the client base from one advisor to another. They could stay on and continue the servicing and technical work until the new firm has learned the business and client base and so forth.