RIABiz has put its hub in a quiet place, Mill Valley, conducive to thinking.
Brooke's Note: Novelist Wallace Stegner once described California as "America, only more so." Stegner wrote those words in the context of the waves of immigrants that consistently pump energy, vitality, originality and — in the last decades, virtual reality — into our Golden State. If I were to try to sum up where RIABiz has arrived after four startup years, it would be consistent with Stegner's sentiment — and for similar reasons. RIABiz has grown with the RIA business, which is like other advisory businesses — only more so. This is true in dozens of ways relating to our quantitative and qualitative growth covered in this article. But it all can be traced back to the de facto immigrants arriving at the shores of the RIA business, either in raw form as breakaway brokers or as a business model refinement intended to give investors more fiduciary care from trusted advisors. We count ourselves among these immigrants and bring the zeal of the converted in our daily work. But for the most part, our energy source is the talent and passion of our readers — and for that, we can't thank you enough.
As RIABiz nears celebration of its fourth birthday — officially Aug. 5 — we can report another big year of growth based on milestones hit with readers and advertisers. See: Welcome to RIABiz on day one.
Our Mill Valley, Calif.-based online publication now serves over 50,000 monthly unique visitors, up from 36,000 last year — an increase of about 39% year-over-year. Our page views now number in the millions, subscribers in the tens of thousands (Twitter followers are stuck in the single-digit thousands, a victim of RIABiz neglect).
This year, a tangible behind-the-scenes change has been a pretty thorough revamping — by our standards — of the RIABiz website from design and functionality perspectives. Big changes in design are especially afoot for tablet and mobile users, who are growing in number and whom our advertisers say RIABiz attracts more of than other advisory publications (we like to think it reflects the urgency people feel about soaking up our articles.) Our RIABiz Directory, lovingly maintained by John and Dawn Kodin, will also see key evolution. For anyone who fears we might lose our content-forward, no frou-frou look, fear not. We remain sticklers for simplicity.
To balance this rah-rah growth summary, I'd say that our relatively tiny staff continues to live a comparatively white-knuckled existence of hustle, wearing of many hats and for fairly modest compensation. Still, that, too, improved in 2012-13 and our goal is to solidify in that regard as our cash flow improves.
Story loving, risk-averse
Where we saw perhaps the biggest gains — and what makes the future seem bright — are the intangibles that our culture comprises: good will and business momentum. Personally, I was gratified to take a week off in July without seeing a drop-off in reader traffic. Columns came in. Stories got broken and we wrote articles that became the centers of conversation on big topics of this industry. Given our small staff, how discerning our readers are, and how collaborative our writing and editing process is, this represented a milestone four years in the making.
We are also pleased that we continue to grow with content, and nothing but content, as our "product." We have noticed that many of our competitors are using content almost as a loss leader for business lines that serve as profit centers — such as conferences, pay-for-play videos, webinars and contract publishing. Our philosophy continues to be that delving into such side businesses can only be done if it does not dilute our efforts at turning out articles that readers like. This is a business strategy as well as a moral choice of sorts. Conferences and the like are commodities whereas good journalism and commentary is impervious to commoditization. See: Jim Pavia departs InvestmentNews and gets picked up by CNBC as part of its high-dollar hiring spree aimed at attracting advisors to its consumer-based website.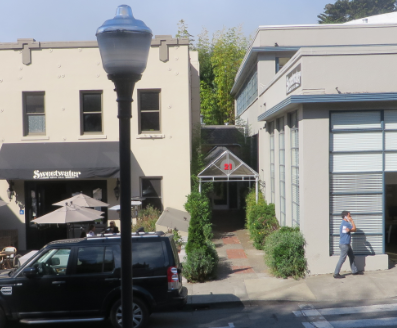 RIABiz lives at the red 21
between BondDesk on the right and
Sweetwater on the left, reflecting our
serious and more light-hearted sides.
We are a risk-averse, story-loving band at RIABiz, so this strategy will continue to hold sway. The philosophy even carries over into our advertising. Our advertising chief, Frank Noto, has turned away tens of thousands in potential advertising revenue from vendors who insisted that their dollars be spent on take-over-the-page advertisements, push-down-the-page ads or "skins", where all white space becomes branded as a single company. We are not snobs. We just don't think we want to inflict that noise on advisor minds too busy to think clearly. Nor do we want advertisers to jump on this consumer advertising fad and potentially dishonor their brands on our watch. See: An advertiser's-eye view from among the booths of the FPA convention's exhibit hall.
On the subject of advertising, we are looking to hire an associate to help Frank Noto handle a growing inventory of advertising that reflects the growing readership. We're looking for crack salesperson, but also an entrepreneur who reflects our green-and-growing mentality and culture — a high bar, we are finding.
Another intangible that continues to take hold here is a rapport with the people in this business — both on a corporate ("Corporations are people, my friend." — Mitt Romney) and personal basis. RIABiz tends to err on the side of being opinionated and irreverent in tone although we take our mission as a force of journalism deadly seriously. We continue to be thankful to sources and subjects of articles for trusting us to use this double-edged sword fairly and effectively — and for rolling with its punches. The method to madness rationale behind this approach is a keen desire to infuse all the context we can into the content. One without the other, we believe, ultimately does a disservice to the reader.
With greater latitude to put things in context, we are also able to include people and events that are not square-peg, square-hole RIA topics but ones we know are of tremendous RIA interest. An anonymous account of life inside the Merrill Lynch training program, LPL's hiring of the 'Happy Meal' marketing agency or the success of Schwab's Windhaven products are all examples of misfit stories that caught fire.
Boots on the ground
So we continue to thank you for your continuing trust. We would not have survived this long without people tipping us off to stories or making the kinds of comments that turn events into stories. One great example is the rapport Lisa Shidler has developed with the 401(k) industry. Increasingly this defined-contribution world — one viewed as gray, paltry, unprofitable and even a little unscrupulous — is nesting in the RIA realm and is changing its profile and its profit potential. Lisa has captured these phenomena in a series of articles that reflect tremendous trust and respect between her and people on all sides of the issue in that industry. See: 401(k) industry flummoxed over Yale professor's 6,000 'threatening' letters to plan sponsors.
Kelly O'Mara has carved out her own niche covering peppery start-ups in Silicon Valley and beyond. See: How the Facebook IPO is creating the mother of all RIAs, Iconiq, and what an in-your-face it is for Wall Street.
Karl Thunemann is another recent addition to the writing ranks who is bringing passionate consumer interest, an old-time journalist's flair and understatement and a Seattle setting to our pages. See: Investor Karl interviews Mark Tibergien — guru, author, chief — who tells why solo practices are far from extinct.
Dina Hampton is our roving editor thrown into battle as a reporter with growing frequency. RIABiz might be the one publication where we err on the side of reporter rhythms over editors getting home in time for dinner. We have gotten Dina onboard our inverted hierarchical scheme by dusting off her crack skills as a reporter, observer, authority on her own gender and spectator of theater. See: Top RIA business executive recruiter chides 180 women gathered in a New York ballroom for second-guessing themselves.
Surpassing expectations
This RIABiz rapport with the RIA business carries over to the quality of our columnists, which is perhaps at its zenith in the works of Ron Rhoades. See: Why keeping FINRA from ruling RIAs is critical to these firms, the investor — and even the U.S. economy. Another super-contributor is Tim Welsh with his exhaustive national conference coverage.
But it also finds powerful voice in the words of Brian Hamburger, Robert Boslego, Jack Waymire, Eric Clarke, Sheldon Geller, John Furey, Brent Brodeski, Mindy Diamond, Rob Isbitts, Lyman Howard, Sandi Martin, Aaron Klein, Jason Lahita, Mike Golaszewski, Pete Giza and dozens of others (e-mail me if you were callously forgotten and I'll add you) who have invested hundreds of hours to produce thoughtful and provocative pieces that get continuous readership. We have a few other columnists lurking in the bulrushes that we hope to unleash in the near future. Kudos to one-hit wonder, Howard Diamond, whose one RIABiz article got the highest readership of any guest contribution for the year.
Finally, I'd like to thank our advertisers and their agencies for taking time and energy to "get us." Our product is different, and so there's a certain re-inventing of the buying process in interacting with RIABiz as a medium of getting the good word out. I can relate to the challenge. I recently bought a small bottle of laundry detergent that cost more than much bigger bottles with better known brands such as Cheer and Tide. I was promised that the trade-off was that the soap would be more concentrated in its powers and so I'd get more for my dollar — despite appearances.
Our advertisers are understanding that we sell page views at a higher price quite simply because a greater percentage of RIABiz readers are of the quality they seek i.e. people in the advisory business rather than stray web-surfing consumers. To reward pioneering advertisers, we continue to give them bonus impressions from unused inventory that keeps coming because our growth outpaces projections.
One more thought. Thank you to those who faithfully submit opinions in the comment section following the articles. Knock on wood, I haven't had to purge a comment in quite a while. The quality of the reader response is — while hardly perfect — on the rise.
Read Brooke's reflections on RIABiz birthdays 1-3:
RIABiz turns three after experiencing big growth and its fair share of growing pains
---
---
Julie Cooling
Congrats to you and the team, Brooke!
Maria Marsala
Congrats on being 4 years old :)
Maria
Brooke Southall
Thank you all commenters (and for tempted hecklers for abstaining). Virtually all of you have made some big contribution to RIABiz at one time or another — including comments. Pat convinced us to grow organically. Julie convinced me not to get hung up on a business plan — great advice for someone who hates planning. Steve has been a source of mine for more than a dozen years. Grant came out of nowhere recently to write a great RIABiz column…etc.
Yes, Pat, Tweeting more is a stretch goal, though I fear being an effective Tweeter is akin to running a second publication and email account.
I enjoy writing this mid-year who-are-we articles. I realize we are all of you, curated a bit.
with the greatest appreciation,
Brooke
Stephen Winks
Brooke,
With 70% of industry revenues expected to be in the form of fees by 2015, the industry has hit the tipping point and by extention so should its editorial content. RIABIZ is years ahead of it competitors in the brokerage/product distribution trade press that are losing readership and getting pretty thin. Increase your focus on process—what the advisor does with products—that adds value, and let the brokerage trade press slowly lose relevency.
RIAs are about taking control of their value proposition, utilizing advanced technology, increasing marins and establishing professional standing—none of which is possible in a brokerage format—which greatly differentiates your readership.
It is all about doing the right thing, terribly unpopular in a brokerage format where advice is structured as a product the broker sells rather than an expert prudent process advisors manage.
Congratulations !
SCW
Joe Anthony
Brooke and team: congratulations on the success of the chance you took 4 years ago, The advisory industry and the media community that covers it is better for your participation and point of view. Thanks for the opportunity to contribute to your content and for taking a deeper look at the world of RIAs. I wish you continued success, Joe
Marty Morua
Four? Cuatro? Quatre (that's 4 in French, for the Toronto based French speakers). Time sure flew for the ''white-knuckled – hustling & modestly compensated staff" 
Personally speaking, I am grateful for the kaleidoscope of knowledge you've added to my RIA mental database. You've got a great team and I am happy you stumbled into my life.
Happy pre 4th Birthday and wishing you MANY MANY more to come!
Cheers from NYC
Marty Morua
Grant Barger
Congratulations Brooke!
RIABiz continues to be a tremendous resource for all serious stewards of wealth.
-Grant
John Stuart
Congrats to you Brooke and the RIABiz team
Bill McGuire
Congrats to Brooke and the RIABiz team! How time flies when you're doing great daily reporting on the RIA industry. Thank you all.
Blane Warrene
Congratulations to the RIABiz team – keep the coverage coming and the strong discussions. Nobody makes everyone happy – but the absence of your approach would be a loss.
Pat Allen
Happy 4th, Brooke and team!
As much as I appreciate the musings of this perspective piece, I don't think the RIABiz model is that difficult to "get." For me, it is in fact your expertise at piecing together a story and then knowing how to tell it. "Storytelling" skills are at a premium today, and RIABiz has no equal in this space.
P.S. Should we be cheered by the fact that you note your room for Twitter growth in the second paragraph? A stretch goal for Year 5, perhaps? ;)
Aaron Klein
Happy birthday, RIABiz! We're grateful for your impact on our industry.
—The Team at Riskalyze
Frederick Trade-PMR, Inc. Van Den Abbeel
I echo the comments. Well done RIABiz! Keep up the wonderful work you do.