Cecile Munoz: Trying to be like a man diminishes our natural advantages.
Brooke's Note: Had a man given this speech … well, never mind. A man didn't. A woman who walks the talk gave the speech in a hotel overlooking Central Park South. Dina was there to capture it with her New Yorker's ear for nuance.
The microphone on the stage might have been unplugged; it might have been temporarily on the fritz — but for sure it wasn't amplifying Cecile Munoz. Unfazed, she carried on, projecting her voice into the vast ballroom, making it clear that this mini-outrage was no match for her.
"Maybe it's because I'm Hispanic, or maybe it's because I'm the last of seven children, but my voice carries."
That, in a nutshell, was the message Munoz carried to the 180 women assembled at a Women's Forum hosted by InvestmentNews and the Investment Program Association at the Essex House on Manhattan's Central Park South yesterday.
The striking president of Los-Angeles-based headhunter U.S. Executive Search & Consulting not only parachutes into the offices of a Who's Who of industry powers for a living, but she plays a key role in their selection.
She was clearly the star attraction of yesterday's half-day conference, and if the women attending the event hoped that Munoz would provide an executive shoulder to cry on for inhabiting a world in which they currently lack a clear path to power, they were in line for disappointment. But it doesn't mean she wasn't compassionate.
"Women discount themselves," she said. "We are incredibly self-critical. We second-guess ourselves; think we're not doing enough; we don't raise our hands." See: Advisor Spotlight: Diane Pearson is building Legend Financial with sensitivity to women.
Self prophecy, fulfilled
In her 20 years in the business, Munoz says she's seen countless women stalling out at certain points in their career climb — often at the senior vice president level.
"I've done so many post-interviews where the woman says 'here's what I could have done better' [whereas] a man says: 'Nailed it!'"
By way of example, Munoz spoke of a "formidable woman in the industry … well known in this room" who was up for a top executive spot. "Twenty minutes into the interview she has 'self-selected' out," beset by fears that the 18-hour days she would have to put in would derail her home life.
"[The woman explained to me] 'I need personal time and if they're not willing to do it, I understand.'"
Incredulous, Munoz wondered why the unnamed executive hadn't brought those concerns to the CEO along with a plan detailing how she would get the work done on her own timetable.
"A man [would have presented] every bullet point. He would have said, 'I can do it; don't you worry, I've got it covered.'"
Big, ugly eight ball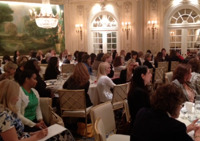 Not something you see every day:
An audience of 180 women in
financial services with nary a man
in sight.
Munoz says that along with women's tendency to be self-deprecating, there are other female-identified characteristics — superior social and cooperative skills, adaptability and empathy, for instance — that are much needed by an industry currently associated with profligacy, arrogance and downright fraud.
A greater female presence in the executive suite is essential in "moving the needle from a tarnished patina to a noble profession that helps people arrive at retirement with dignity and peace of mind," Munoz says. See: An RIA that paid the price for falling for the Bayou scam speaks out.
Observing that the financial industry is second only to the Catholic Church in failing to "realize and utilize the power of women," she said that if the powers that be continue with the policy of gender bias, they will find themselves behind "a very big and very ugly eight ball."
Gekko-minded
Munoz, who founded and helms her own company, serves the boards of numerous civic and non-profit organizations and is a designated media representative for the California Republican Party on issues affecting the Hispanic community, acknowledges that not all women identify with warmer and fuzzier characteristics — herself for one.
When she was just starting out, Munoz donned the de facto uniform of the 1980s businesswoman — double-breasted suits with serious shoulder pads. Back then, the character of Gordon Gekko, the ruthless trader in the film "Wall Street," held some appeal for her. "The imagery appealed to me — but not most women — thank God," she laughed. See: What Gordon Gekko has to say to advisors.
Along those lines, in her presentation Munoz broached the loaded subject of women who are tougher on their female subordinates than their male counterparts. In an interview after her talk — which was enthusiastically received — Munoz acknowledged that some women may not be disposed to throw down the ladder for other women.
But such behavior, Munoz says, is ultimately unsustainable.
"Our voice has to be authentic — but [we must] recognize that bringing more women up is in the best interests of rehabilitating the industry. Trying to be like a man diminishes our natural advantages."
---
---
---
Kiernan O'Connor
The gravy train of gender bias runs on for the Cecile Munoz's of the world. Meanwhile, the Catholic Church is still an approved object of slander and ridicule. "The financial industry is second only to the Catholic Church"? Whatever.
http://www.baggetta.lfchosting.com/candlepuzzlepag
Be delighted with by yourself – Be rather happy with that which you have got and don't ever imagine about altering you due to someone. Uncover things that you would like and dislike to make sure that you are able to know which to go after and which to circumvent. Maintain in your mind that you're one of a kind in each way and don't entertain folks people today who you suspect will consider you reduce.
http://book-b.ru/user/kopetpdhfd/
For those who by now possess the preceding 13-inch IBM thinkpad r51 battery MacBook Pro, there not many purpose to improve except you merely have to have the newest version of everything. The changes into the 13-inch lineup are primarily about enhanced graphics and battery lifetime, they usually aren everything different from your yr beforend it rather not easy to justify the $1499 product centered only on its more substantial disk drive and a little bit speedier processor, which didn translate to much variance within our checks.
---