Terence Hong: While Junxure's lack of cloud integration was a source of criticism in the past ... the desktop application also benefited from relatively low cost, and performance was only bottlenecked by the user's own hardware.
Brooke's Note: We gave it to Greg Friedman with both barrels. I asked him every nettlesome strategic question I could think of. Terence kept the questions coming on the technical front. We were determined to do a good vetting of a person with the relatively few resources of an entrepreneur who is looking to put his technology inside the hub of the industry — nudging aside Microsoft and Salesforce. You can only tell so much technically or from answers — especially for a product with much development ahead of it. But you can tell quite a bit by the interviewee's demeanor. Greg Friedman says he believes he has a better offering for many, many advisors. It's a complex situation but he certainly sounds like someone who believes in his product and the RIA -to-RIA service he provides.
When Greg Friedman told us he was anxious to show us — perhaps a touch prematurely — his company's latest CRM, we were all too happy to take the bait.
The principal of Junxure, can hardly wait to begin competing — really banging heads — with Salesforce without having to do lots of fast-talking about why that box in the closet is better than the giant machine buried in a mineshaft of some mountain. As junkies when it comes to this sort of thing, the suspense was killing us so the meeting was on.
Friedman is doing fine with Junxure as a desktop software but he allows that the rise of customer relationship management systems is at the center of the RIA universe and the center of the plans of companies such as Schwab, TD Ameritrade, Pershing, Advent, Orion and Fidelity — at a time when those companies are drooling over the cloud — has left him a bit flat-footed. See: Schwab moves to keep 3,500 desktop-bound RIAs from walking onto somebody else's cloud.
Still, Friedman no doubt can smell an opportunity the size of a Kansas cumulus if only he can bring the better parts of his for-RIAs-by-RIAs CRM software onto the same playing field as Salesforce — and Microsoft, SAP, Oracle and a few other vying giants — by taking the no-cloud objection out of the equation.
Every minute counts. RIAs are feeling a sense of urgency about making decisions that may endure decades. What Friedman can tip off to patient fence sitters now may determine the grander technological architecture plans into a much greater future. You can almost hear it in his voice: Just give us a little more time, and you won't regret it!
Live demo
At this time, Junxure Cloud is in a closed beta. This summer, it will be moving on to a trial phase in which real data will be tested with the application. The expected release date for the final product is this October. See: Junxure moving to the cloud amid market pressures.
Brooke Southall and I had the chance to witness a live demo of Junxure Cloud by Friedman, chief executive of CRM Software and Private Ocean Wealth Management. The demo consisted of a working web application, but unfortunately, we were not able to interact with Junxure Cloud ourselves. At this time, Junxure Cloud is testing the product but no clients are actively using it, and only placeholder data are flowing through its veins. See: Greg Friedman is set to finally bring Junxure to the cloud and beat back the Salesforce-ification of the industry.
User interface
At first glance, the user interface seems quite intuitive, and inspiration for the main navigation screen was drawn from the new Microsoft Windows 8 tiles. Taking a page from Microsoft, features such as custom table-sorting and column manipulation make the Web app feel like a traditional desktop application, such as Microsoft Excel. Integration with external content management software, including Docupace and Laserfiche, streamlines common tasks such as the creation of e-mail templates. See: Laserfiche user conference draws a big crowd that wants to toss filing cabinets.
An external calendar application and easy-to-read contacts page have been developed. Compared with the user interface of the existing desktop application, Junxure Cloud provides a much more navigable calendar and contacts page in keeping with modern web design. The goal of the UI redesign was to help advisors organize workflow and scheduling, including an "opportunities" page that helps identify potentially available assets of both new and existing clients — a sort of in-house lead generation system. See: Where RIA technology stands heading into 2013 after 2012 lost some steam.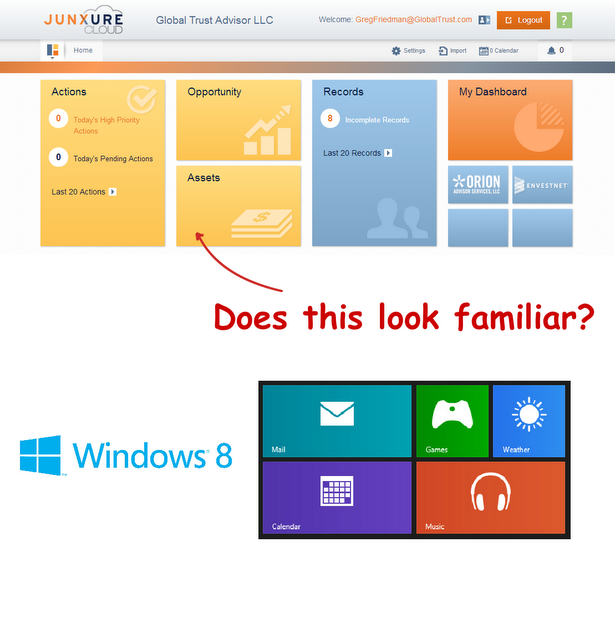 Junxure Cloud Home Screen – inspiration
from Windows 8
Good enough for Domino's Pizza
Not inconsequentially, Junxure Cloud is built on Rackspace, which offers premium cloud hosting at a premium price. Some of Rackspace's big name clients include Under Armour, Mazda, and Domino's Pizza. With Junxure's largest client in mind, a firm with more than $1 billion assets, 200 employees, and multiple offices, and hopes of acquiring other large players in the industry, Greg's team spent a great deal of time researching hosting solutions before eventually choosing Rackspace for its stability and scalability.
While is it true that Rackspace is known for its quality service, as a Web developer, I have had many conversations with colleagues, clients and even companies in the RIA industry who have been less than impressed with the cost of scaling on Rackspace. Presumably, Junxure has already considered these costs and factored this in to the pricing for Junxure Cloud.
As the number of actual users rises, price increases — or the lack thereof — will depend largely on how well Junxure can manage its Rackspace infrastructure and continue to innovate within a strict research and development budget. In turn, any price changes for Junxure Cloud down the road may depend on this as well. See: RIAs get hit with data losses held at small RIA-owned firm that, in turn, blames giant Amazon for lack of backup and for selling its space.
Seeing double on pricing
Upon release, the cost of Junxure Cloud will be $75/user per month, charged annually, which is equivalent to $900/user annually. Users that sign up during the promotional phase, before Sept. 30, will receive the first year at $59/user per month ($708/user annually). This compares with the current desktop product. which costs only $350/user per year — the cost is more than double, even in the initial year with the promotional rate!
However, Friedman is quick to point out — no doubt having taken hits about it from competitors for years — that users of Junxure Cloud will no longer have to manage data storage and backups in-house. Later, there will also be the option to offload certain compliance tasks to Junxure Cloud for an additional fee. Therefore, the potential benefits of switching from Junxure's desktop application to its upcoming cloud product may depend largely on the features required by your firm, and the cost of your current data storage and backup solutions.
A firm with 50 users wishing to move from the desktop application to Junxure Cloud would have to a consider whether an approximate $27,500 difference in cost (50 users at $350 to $900 per user price difference]) with the possibility of additional fees for data migration (see below) are justifiable.
By way of comparison, justcloud.com charges Enterprise customers $50 per month ($600 per year) for 500GB of storage in the cloud. "An equivalent Dropbox Pro plan:"https://www.dropbox.com/upgrade will also cost $50 per month, but only $500 per year if billed yearly.
Here is a comparison of other cloud storage providers for your reference.
Keep in mind however, that this is only the cost of the storage itself. Firms wishing to adopt these solutions will also need to account for the cost of a database engineer in order to perform some database-to-cloud backups and migrations. A full-time engineer will not be necessary, but according to indeed.com, full-time salaries range from approximately $91,000 to $100,000 per year, depending on experience.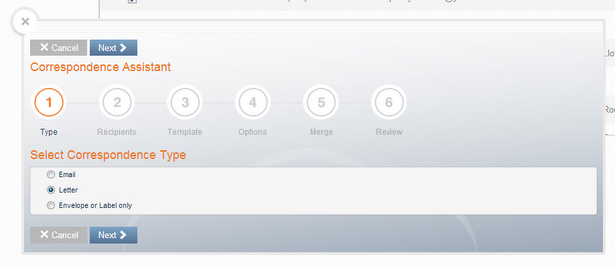 Junxure Cloud Correspondence Assistant
Data migration pitfalls
As with any application requiring data migrations, the biggest hurdle to onboarding customers to Junxure Cloud will be the need to convert existing data to usable formats. To assist with this, Junxure has developed a free, self-serve tool that clients can use to move from the desktop application to Junxure Cloud. If the tool detects any errors, there will be an additional fee for assistance with data migration.
Personally, I believe this issue demands much more attention from Junxure's sales, technical and marketing teams. Unless the self-serve data migration tool works seamlessly, data migration will become another source of friction in the onboarding process. A client wishing to move from the desktop application to Junxure Cloud will firstly have to consider whether the more than 2.5x price increase is justified, and if so, also account for the potential cost of inward data migration — all before even using Junxure Cloud. In the event that Junxure Cloud is not a good fit, the client potentially faces similar costs for outward data migration, in order to preserve new data generated since adopting Junxure Cloud. Potential clients are forced to take a significant gamble right off the bat. Perhaps Junxure would benefit in the long run by subsidizing the cost of initial inward migration. See: A $2.5 billion RIA makes its mass-market bid for thousands of new clients.
According to the company's own survey of existing Junxure clients using the desktop application, approximately 50% have intentions of switching over to a cloud product within the first few years of launch.

Junxure Cloud Contacts Page
Competing with the gold standard
While the original road map for Junxure Cloud called for a stripped-down, essentials-only application, a pivot partway through development resulted in a significant delay. See: Junxure moving to the cloud amid market pressures.
However, the current, not-yet-released version of Junxure Cloud that we reviewed attempts to be a one-stop-shop for CRM, data storage and backup, as well as file management for RIAs. Compared with Salesforce, which is the gold standard for enterprise-level CRM platforms, albeit a very general platform aimed at a broad audience, Junxure Cloud aims to provide an experience tailored to financial advisors. From the web application itself to customer support staff with knowledge of financial terminology, Junxure Cloud has financial advisors in mind. (In keeping with its goal of truly being the best overall CRM platform, Salesforce deliberately avoids building in specific verticals. Instead, Salesforce has industry partners in almost every vertical that address specific needs through ISVForce. See: Greg Friedman is set to finally bring Junxure to the cloud and beat back the Salesforce-ification of the industry.
However, by moving to the cloud, Junxure has effectively put itself on par with Salesforce, and is now more or less directly in competition with it. While Junxure's lack of cloud integration was a source of criticism in the past — especially in eyes of certain custodians — the desktop application also benefited from relatively low cost, and performance was only bottlenecked by the user's own hardware. This unique offering was sufficient for Junxure to dominate the market for RIAs who could afford to pay for full-featured CRM but didn't have the scale to retrofit Microsoft or Salesforce software.
Costs on the cloud
Junxure Cloud now faces increased costs merely as a result of being on the cloud. For instance, memory and storage on the cloud are much more expensive than their physical, desktop equivalents. Furthermore, uptime with a desktop application is entirely based on the client's own hardware — there need not be any dependence on Web connectivity, let alone a server on one of Rackspace's farms. (Just this past weekend, while writing this article, I was blocked from accessing one of my servers on Heroku, a cloud hosting service similar to Rackspace, due to a widespread DNS issue affecting my own Internet service provider.)
As alluded to earlier, Junxure's hosting costs could rise significantly if performance starts to become a bottleneck with an increasing number of simultaneous users. All of these things will factor into Junxure's bottom line, and some of the costs may eventually be passed on to clients in the form of price changes in the future.
'Fanatically happy clients'
The challenge of being the mouse that roared among an oligopoly of mega-CRM providers won't necessarily ease for Junxure once it gets onto the cloud, according to Franklin Tsung, principal of New York-based AppCrown LLC, LLC., which has built its advisor CRM software on a Salesforce chassis.
"[Junxure's] decision to go cloud for the first time in 2013 marks not only a bow to Salesforce CRM but stark conviction that the cloud is here to stay. The biggest question for Junxure is: How will you innovate against not only Salesforce but also Microsoft, Oracle, SAP, etc? By being on the same platform, the competitive landscape is different and your peer-to-peer evaluations will have to be different. How much R&D, how much working capital will be placed into this? Or will customers have to sacrifice five years of their life so Junxure Cloud can get on a par with Salesforce.com? Even if that is the case, the customer suffers in the process."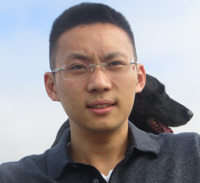 Franklin Tsung: Will customers have to
sacrifice five years of their life
so Junxure Cloud can get to
a par to par level with
Salesforce.com?
These are some of the difficult questions that Friedman says his company has thought through. Basically, his argument is that even if Salesforce can play to a tie with Junxure as a technology, it will lose the broader war because it doesn't have the ability to serve advisors as an expert on their broader technological and practice management issues. Friedman himself will keep his big RIA, Private Ocean, hosted locally for now because he makes use of sophisticated features that won't be immediately available in his software company's cloud version.
Junxure has more than 10,000 users currently across almost 1,500 firms, with a client retention rate of 96%," Friedman said in an earlier interview. "Junxure has a lot of fanatically happy clients. We've yet to interact with an RIA who raves about their Salesforce solution. Perhaps there are some out there, but they seem to keep fairly quiet."
"This is not a technology arms race for advisors, except perhaps when you are talking about the largest [wirehouse-type] firms where IT is driving these decisions, customized solutions are seen as a competitive advantage, budgets are huge and large projects equals job security for IT," he added. "For independent RIAs, deep domain-specific CRM functionality and flexibility out of the box is what leads to usage, utility, client retention etc., and these are the key success metrics where Salesforce has not shown well."
Advanced features coming soon
That said, with Junxure Cloud release in the first quarter of next year, the technology arguments will be moot. Junxure Cloud will be based on a similarly flexible plug-in [app] model and Junxure's model view controller architecture will provide clients with virtually unlimited extensibility. MVC is an architecture that separates the representation of information from the user's interaction with it. The central idea behind MVC is code reusability and separation of concerns.
It should noted that certain advanced features of Junxure's desktop application, such as tools for business metrics, will not be available during the first few iterations of Junxure Cloud. However, according to Friedman, very few Junxure clients, aside from his own firm, make use of these advanced tools on a regular basis. Nevertheless, some firms, including his own, will have to wait a few iterations before making the switch to Junxure Cloud.
Final thoughts
Junxure Cloud was originally scheduled for release several years ago, but was re-imagined from the ground up and is now aimed at being an all-encompassing application for RIAs. While I was unable to independently test Junxure Cloud, the demo by Greg did reveal a much more refined user interface compared with the desktop application. However, other than Apple Inc., very few companies have ever managed to seize market share in an industry so heavily dominated by its competitors simply on the back of a superior UI.
While Junxure has no plans of deprecating its desktop application, by moving to the cloud it is now in much more direct competition with Salesforce. Large funds with sufficient technical resources (i.e., software and database engineers) to tailor and maintain Salesforce to fit their individual needs may have no compelling reason to switch to Junxure Cloud. At the same time, smaller firms that lack the necessary resources but are still interested in using the Salesforce platform are served by Salesforce ISVforce partners such as AppCrown.
Luckily, Junxure still has the middle ground. Even before introducing Junxure Cloud, it has enjoyed even greater adoption than Salesforce among medium-sized firms. As Friedman put it, "We're right in the middle… and we're OK with that!"
Those considering a switch to Junxure Cloud should be mindful of the potential for additional data migration costs. Furthermore, it will also be important to ensure that your data can be retrieved and easily exported out of Junxure Cloud in case the new product does not fit your needs. In my opinion, Junxure may be able to entice more potential clients to try its cloud product by subsidizing the cost of data migration
At this time, advanced features already available on the desktop application are not yet available on Junxure Cloud. They will, however, be integrated within a few iterations. As a result, from a technical point of view, I see no compelling reason for existing clients of Junxure's desktop application to switch to Junxure Cloud at this time. Early adopters will enable Junxure to refine its self-serve data migration tool, and test the stability and scalability of its infrastructure. After a few iterations, when data migration has been more thoroughly tested, and the full set of desktop features has become available on Junxure Cloud, Junxure should be much more ready for prime time.
---
Related Moves
February 6, 2021 – 2:39 AM
---
November 27, 2018 – 6:10 PM
---
---
Mentioned in this article:
Junxure
CRM Software
Top Executive: Greg Friedman
AppCrown, LLC
Outsourcer, CRM Software, Tech: Other
Top Executive: Ted Tsung
---
---
---
Brooke Southall
Thank you. I'll be in Maine in July to ply you for knowledge and free electricity.
Brooke
Pete Giza
Brooke,
An exhaustive article on CRM. I agree with Roman Joe's comments on specializing to meet the market need. However I wouldn't discount the efforts by some service providers to leverage SalesForce platform. While SF may be too expensive for the average firm to deploy, it can be a cost effective solution as a reseller platform. So I would not throw SF or MSFT platforms out the Window.
As far as the cost of moving to the cloud; someone has to pay. When you make a comparison of what you are getting from a provider versus what you have in your office; there is no comparison. Cloud providers have infrastructure that is designed to be available 24×7×365 while being fired upon by large artillery – well maybe strike the artillery.
It is important to note the difference between a full service hosting provider and a Box.net which focuses purely on remote storage or document sharing. One cannot make an apples to apples comparison.
Cloud providers are all susceptible to DNS issues as is the entire Internet. And as long as attacks continue there will continue to be issues with connectivity, etc. Other issues exist as was just highlighted by the recent AWS story.
There are several less well-known hosting companies that specialize in vertical markets like finserv such as ExternalIT, ICC Global Hosting, Qnectus to name a few. These providers are very cost-effective and eager to provide personal service.
I look forward to seeing what Junxure will accomplish in their cloud platform. I sincerely hope and expect it will be much more than SF and will meet the needs of the industry for the foreseeable future. It is a big undertaking to bring a complex desktop application to the cloud and it not for the weak.
Regards,
Pete
PS. My apologies for any grammar issues. This was written on my Galaxy Note II.
Terence Hong
I too believe the self-serve migration needs to be reconsidered.
However, I should emphasize again that Greg's own firm does intend to move to Junxure Cloud, but simply at a later date, once some of the more advanced features are fully available. His firm makes use of the full suite of features on the desktop app – some of which were more or less custom designed for him. Those features will also be introduced to Junxure Cloud within the first few iterations of the product.
Greg Friedman
(SORRY, ACIDENTALLY HIT ENTER) always "eaten our own dog food" at Pete refers to it; what I said was that Private Ocean has created certain custom extensions and such and it will take a little time to move to Junxure Cloud. With that said Junxure Cloud will absolutely meet the needs of the vast majority of firms as released.
The issue with "self service migration" is simply one of convenience and volume. We have a migration team and will obviously help people with this, but if it can be made an easy enough process why not let people do it themselves if they wish to?
Greg
Peter Giza
Greg,
Thank you for clarifying the "self service migration" thought process. That totally makes sense. I cannot wait to see the results of all that cooking:)
Pete
Greg Friedman
I felt compelled to respond to Pete's comments – which for the most part are thoughtful and right on. However, not sure what he is referring to about a "self-service integration model" so I am not sure what we are being naive about.
And there is definitely a misunderstanding in my comments about Private Ocean adopting this platform. Let me try again: we absolutely will be adopting it and have
Pete Giza
Brooke,
I forgot to mention a couple of items. Pardon me for saying so but I think it naïve on Junxure's part to believe their clients will accept a self-service integration model. They are already being asked to pay significantly more to step up to go cloud. Adding overhead in the form of a DYI integration with a pay-as-you-go support model is not very palatable.
One last point. I think it is a mistake that Greg's firm has chosen not to eat its own dog food, so to speak, by choosing to stay on the desktop platform. They should move to the cloud regardless of how painful it is.
Regards,
Pete
PS. My apologies for any grammar issues. This was written on my Galaxy Note II.
Roman Joe
And Friedman's right. A focused solution, tailor-made for financial professionals (in fact, a solution specifically made for RIAs) has a much higher chance of successful adoption than the bloatware that Salesforce has become.
Many folks, journalists in particular, confuse market share with profitability and try to construct these David vs. Goliath narratives which ultimately are nonsense. BMW and Mercedes don't need to sell automobiles to the mass market to equal the market share of a Ford or Toyota, they just have to sell the right automobiles to a focused market segment who have discriminating needs or tastes. Friedman will do the same, and he (and advisors) will do better for it.
Anybody who has ever attempted to implement Salesforce within the advisory space understands that—for the typical RIA customer—the utility and value proposition is simply tough to extract. Salesforce is primarily built as a sales and relationship management tool for a large enterprise, and adapting it's massive and generalized schema to the highly specialized workflows of a small-to-medium sized advisor is difficult endeavor that ultimately results in more compromises than efficiencies.
Advisors will continue to be served by those providers that are focused on our space: the software BMWs of our industry, so to speak. Junxure and upstart Grendel will be two companies to watch in this space (assuming they can continue create compelling offerings and market them effectively to advisors).
Salesforce is and continues to be an expensive boondoggle for advisors. It maybe in vogue, but it's really more of today's fad.