Before the lights went out: A consumer panel says what it knows about what it doesn't.
Brooke's Note: Good-bye fiduciary standard, hello, "best-interest standard." See ya "fee-only advisor," bring on "financial stewards." Yes, the ideas were flowing. The impatience for stalemate was growing. Then there were the silver trays with the … because the … This little event was one for the books.
There was plenty of intellectual wattage at last Thursday's TD Ameritrade's Fiduciary Leadership Summit — so much so that when the lights went out, creating more the mood of a candlelit seance, the proceedings claimed a new kind of power. Through it all, both camps in the protracted fiduciary struggle seemed disposed to reach common ground.
This Thursday afternoon summit, the first such event sponsored by TD Ameritrade, directly followed the annual three-day Elite Summit held at the Ritz-Carlton in Palm Beach, Fla. See: TD Ameritrade Institutional Elite Summit boasts big firms, big ideas and a defiance of the weather.
But as opposed to the annual conference, which this year played host to 113 firms representing over $133 billion in assets, this gathering was a stripped-down affair comprising some 50 experts, practitioners and consumers.
Once more with (more?) clarity
Skip Schweiss, a managing director at TD Ameritrade Institutional, began the afternoon by showing an excerpt from a filmed interview he had conducted with Barney Frank Wednesday, directly after the former Massachusetts congressman's keynote appearance that had raised questions on just how clear the co-author of the Dodd-Frank law was about the RIA side of the fiduciary debate.
When Schweiss gave Frank the opportunity to clarify his views, the former head of the House Financial Services Committee responded in part: "There were nine bills. We can't get 60 votes nine times. You can't spell out everything. If you are selling to individuals, you have to take their interests into account. In executing people's wishes, if [the advisor knows] it's a terrible idea, you have to tell them. When I was in Congress, I had a Massachusetts bond. I told my guy to buy the highest rates. The advisor didn't have a big obligation to me. Let's not have one size fits all."
After the clip, Schweiss wryly asked the audience: "Is that perfectly clear?" See: Barney Frank puzzles crowd on his fiduciary stance at TD summit — as questions from Skip Schweiss and advisors expose his haziness on the RIA structure and soul.
Confusion across the board
The highlight of the summit was the consumer panel that was moderated by Barbara Roper, director of investor protection at the Consumer Federation of America. The panel included a young widow of a Navy pilot with little knowledge of the investment world but also included knowledgeable consumers who, at different points in their lives, had worked in the industry. What they all had in common was a free-floating anxiety as to how their money was being invested. See: Barbara Roper sends stern letter to Rep. Bachus raising new FINRA-as-SRO issues.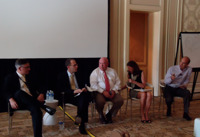 Kevin Carroll, Arthur Laby, Don Trone,
Marilyn Mohrman-Gillis and Skip Schweiss seek
common ground in the closing panel
discussion.
The term "deer in the headlights" was uttered more than once. Jessica, whose husband was killed in action seven years ago and who has two young children, said: "I don't know the difference between a broker-dealer and an RIA. I don't know what 'fiduciary' means." After entrusting her money to an advisor she "put full faith in him and prayed to God it was all right. I try to ask questions, but my focus is elsewhere. I pay someone else to worry about my money." See: What three consumer-investors told CEOs at the Tiburon conference in New York.
Terry, a lending officer with Chase Manhattan in the 1970s before he "went straight," is a second-generation entrepreneur who recently sold his business to Berkshire Hathaway Inc. His knowledge of the financial world did not protect him from his then-advisor ("I had broker then") investing his money in Tyco International Inc. and with Bernie Madoff.
"I missed Enron, somehow," he remarked. "After 30 to 40 years of running the business, now I give my money to people I don't know to invest in businesses I know nothing about. I am not enjoying retirement."
The panel also included Jeff, who had worked as a registered rep for Aetna Inc., specializing in insurance, in the 1970s. "That was a long time ago. Now I'm like a deer in the headlights. How do you find someone with expertise in an area so that it justifies the value? I'm in the market for advice."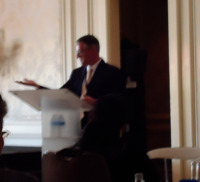 Kevin Carroll: If we let IBDs
decide how they are going to
[designate and] fence off advisors, then
a lot of the friction goes
away.
His wife, Deborah, shared that they were now caring for Jeff's father. "That's part of the investment [equation] that hasn't always been there," she said. "It prompts you to look at other venues."
Show goes on
After the consumers made their remarks, the floor was opened for questions. It was when Mary Malgoire, a Bethesda, Md., advisor who recently sold her practice, asked: "Do you look for investment advice or broader planning? Did you check out credentials?" that the electricity and air conditioning cut out.
After a pause — the room was still dimly illuminated by the natural light from two French doors — the discussion continued as hotel staff rushed open to the doors to let some air in and explain that the entire city had been blacked out, apparently due to a severed cable on A1A. As the afternoon went on, the staff supplied cold cloths on silver trays to provide relief from the humidity and temperature in the high 80s.
The summit was fast-paced — not unlike a speed-dating event. Speakers were allotted 15-minute time slots in which to power through topics as wide-ranging as "The History of the Fiduciary Standard with Implications for Today's Debate" (Arthur Laby, a professor of securities law at Rutgers University); "Advisor Industry View of Uniform Fiduciary Standard of Care" (Marilyn Mohrman-Gillis of the Certified Financial Planner Board of Standards, filling in for an ailing David Tittsworth of the Investment Adviser Association and "Brokerage Industry View of Uniform Fiduciary Standard of Care" (Kevin Carroll, managing director and associate general counsel of the Securities Industry and Financial Markets Association). See: New York conference: SIFMA wants members to be like RIAs — minus the same rules of accountability.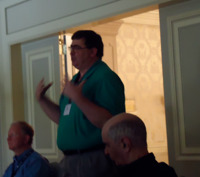 Ron Rhoades, program chair, Alfred State
Financial Planning Program: Disclosure is [just]
one of many things [that needs
to] occur to be a fiduciary

The speakers, who in the post-blackout portion of the afternoon gamely attempted to describe the now-useless slides they had prepared, were kept on schedule by an electronic timer on the side of the stage and, after the blackout, by a TD staffer who gave open-palmed five- and two-minute warnings. This led the experts to step up the pace of their presentations like Oscar winners trying to avoid being played off the stage by the orchestra.
War weary
In the closing panel, Schweiss, Laby, Carroll, Mohrman-Gillis and 3ethos CEO Don Trone all expressed frustration with the three-year-old stalemate and seemed united in finding a way to move forward. On the RIA side, there was talk of sidestepping the SEC process altogether by rebranding investment advisors — ditching "fiduciary standard" in favor of "best-interest standard" or by trading in the unloved "fee-only advisor" tag in favor of "financial stewards" — Trone's nomination. See: Two longtime fiduciary advocates make a pitch for family offices to sign on to standards.
"Three years after Dodd-Frank, two years after the staff released its study, there is still no rule making. SEC is still gathering data to see if they should be rule-making," said Mohrman-Gillis, who noted that the latest SEC request for information and data is 72 pages long and sets the deadline for advisor comment on July 5, effectively curtailing the concerned parties' Independence Day weekend. See: Bernie Clark and Skip Schweiss head to Washington next week to fight on behalf of RIAs in Bachus bill showdown.
"The RFI focuses on confusion among investors as opposed to investor protection," she said. "Confusion can arguably be solved with a disclosure measure. But disclosure as cure for all conflict? Fiduciary does not equal disclosure. Not even close."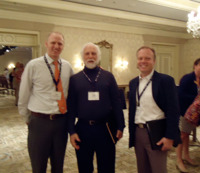 Luke Dean, financial planning program director
at William Paterson University; Bob Veres
of Inside Information; and Michael Finke,
professor of personal financial planning at
Texas Tech University
Both sides agreed the goal should be to more strictly define, but not eliminate, the differences between brokers and investment advisors.
Carroll observed: "If we let independent broker-dealers decide how they are going to [designate and] fence off advisors, then a lot of the friction goes away. Then the brokers who want to be brokers can be and then clients could go to brokers in areas of expertise [when they need one.]"
Trone agreed: "If B-Ds set their own rules, you'll get more stringent rules. One way to get to middle ground is if we work together on the rules that will be applicable to all."
'Lamping'
The power at the Ritz-Carlton stayed off until midnight, Thursday. On Friday morning, TD head of communications Kristin Petrick was busy downloading conference photos to the website. She said that on Thursday night the remaining conference-goers made the most of the situation.
"It's like Survivor Island," she wrote. "I heard some people out at the pool say we were 'lamping' — luxury camping."
---
---
Mentioned in this article:
---
---
---