Tom Nally and Fred Tomczyk put their heads together before the opening session.
Brooke's Note: TD Ameritrade has made two claims over the years that people have remained at least mildly skepical about: 1.) Their execs claim to be as comfortable handling advisors with $1 billion-plus of assets as they are with ones with $100 million 2.) They claim to be advocates for the industry in Washington on behalf of all RIAs. But TD has just — amid frightening weather in Florida — put on, two temporally overlapping conferences: one for billion-dollar babies and the second a very credible effort to create real debate and understanding surrounding the creation of a fiduciary standard. People wondered whether Tom Bradley's efforts to lead the industry on the Merrill Lynch Rule was a high point for TD in this regard. Apparently not. Tim has his usual better-than-you-could-ask-for job of writing up a summary of this TD event after Dina Hampton's dramatic piece yesterday. Thank you to both.
On the RIA landscape these days, being bigger — and more concious of the consumer — is definitely in fashion.
Case in point: The 7th annual TD Ameritrade Institutional Elite Summit, held over three days this week in humid Palm Beach, Fla. at the snazzy Ritz-Carlton.
This invitation-only event provides TDA the opportunity to bring out their top executives and high profile speakers to provide business building ideas, leadership forums and plenty of networking events for the industry's top firms.
"You are truly the leaders of the industry," said Pete Dorsey, managing director of national sales for TDA, in his opening remarks. "In this room there are 133 advisors from 113 firms, representing over $133 billion in assets." Top RIA firms in attendance included Balasa Dinverno, Foltz, Colony Group, Savant Capital Management, Focus Financial, and many, many others.
The simple math here is that each firm averaged over $1 billion in assets, a milestone that was once rarefied air, but is now quickly becoming a common threshold for advisors to reach. Driven by several decades of RIA industry growth, that momentum is translating into individual firms reaching enterprise levels. See: What I learned at Harvard Business School that doubled my RIA assets to $3.3 billion in two years.
A common theme among these firms is that they've been able to gain size by investing in their businesses, developing systems, deploying technology, bringing in outside operational management and sharing ownership in partnerships to gain the necessary scale, talent, efficiencies and capacity to benefit from the rising RIA tide.
State of custody
With a theme of "Powering Momentum" the conference featured inspiring keynotes, practice management workshops, an innovative fiduciary summit and a regulatory focus that included former congressman Barney Frank, co-author of the landmark Wall Street Reform and Consumer Protection Act, along with a panel discussion of advisor and consumer activists. See: Barney Frank tarnishes his fiduciary image at TD summit — as Skip Schweiss and advisors expose his haziness on the RIA structure and soul.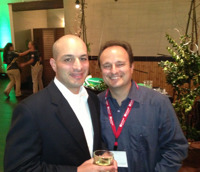 TD's director of Institutional Sales and
George Tamer and Alex Murguia of
McLean Asset Management
Kicking off the conference was an executive panel that featured TD Ameritrade president and CEO Fred Tomczyk along with TD Ameritrade Institutional president Tom Nally, who provided an overview of industry trends and the state of the RIA custody business at TDA. See: TD Ameritrade's 2012 Elite Advisor Summit gathers $89 billion of RIA assets under one Laguna Beach umbrella.
"We've had the two best asset gathering quarters in our history and our breakaway broker pipeline is better than it has ever been before," said Nally, reflecting the momentum of the custody business at TDA. "Investors today are asking better questions after the financial crisis and are realizing that RIAs offer a superior model." See: Tim Welsh grills Tom Nally and Tom Bradley at TD's annual conference.
While the advisor business was doing extremely well at TDA, there is still a lot of uncertainty among retail investors. "Investors want help," noted Tomczyk who provided many anecdotes about investor behavior, their top issues and the unsolicited feedback he receives as CEO.
"Customers can guess at your email address," Tomczyk said wryly, "and they often get it right."
Don't worry — be happy
Closing out the first day was a very unusual, yet widely entertaining and engaging, keynote from happiness-expert, Shawn Achor.
Achor is an award-winning professor at Harvard who has spent his academic career researching happiness and its effect on people, both personally and professionally. "What comes first, success or happiness?" he asked the crowd. "Are people happy because they are successful, or are they successful because they are happy?"
Achor's research shows that even though people may be smart, skilled and have achieved great things, that is not a predictor that they will be happy in life. Rather, his studies prove that individuals that have a positive mindset can become more successful than those that may have more ability, resources or talents.

Greg Menefee and Lauren Forlenza of
TD
"Happiness is becoming a competitive advantage for companies," Achor says. "And the good news is that you can train people to have a positive mental attitude to gain it." Achor went through a number of exercises with the attendees that definitely worked, as the crowd spilled happily into an elegant cocktail reception and dinner.
Frank talk
Continuing the regulatory theme was a rare appearance by former 16-term congressman and chair of the House Financial Services Committee, Barney Frank, who detailed the history and developments that went into crafting the Dodd Frank legislation.
"Rules exist to protect honest practitioners from competition from unscrupulous operators," Frank said as he warmed up to his talk. "When innovation reaches critical mass and rules become outdated, you end up with what we had in 2008."
As an example, Frank highlighted that in the 1980's most loans came from banks that were regulated because of taxpayer funded deposit insurance. But in the '90's, innovation started to create large amounts of financing that became available outside of the banking system. See: In a major 'get' MarketCounsel books Dodd and Frank to play Vegas.
"These were legal, but unregulated," Frank said and led to innovation in the form of securitization and the entrance of lenders who didn't expect to be paid back by their borrowers as these loans were packaged off and sold.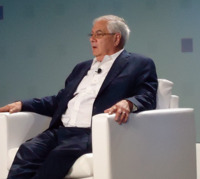 Barney Frank: TARP will go down
as the most highly successful, unpopular
thing the government has ever done.

Because of this, there was unprecedented leverage in the system and that led to the crisis. As a result, Dodd and Frank created a requirement that lenders must have skin in the game.
"With the legislation, we did not ban anything," Frank said. "What we did was to put the risk back on the people who were taking it."
Other colorful quotes from Frank's talk included:
• "The guys that did the worst job of anybody were the rating agencies. They were instrumental in causing the crisis."
• "TARP will go down as the most highly successful, unpopular thing the government has ever done."
• "Ultimately, Fannie Mae and Freddie Mac will not have cost the taxpayers anything."
'Intensely discouraged'
On the heels of Frank's remarks, advisor and consumer activists took the stage to update the group on the latest in the top two regulatory issues mandated by Dodd-Frank: Oversight of advisors and the Fiduciary standard.
Barbara Roper, outspoken leader of the Consumer Federation of America and Marilyn Mohrman-Gillis, managing director of Public Policy & Communications for the Certified Financial Planner Board of Standards provided the latest update on these two issues, which was not much.
!https://www.riabiz.com/i/22784549/b(Barbara Roper (r.) and Marilyn Mohrman-Gillis who remarked: The longer this drags on, the more likely it is that a new scandal will be revealed and Congress will have to act quickly.)!
"The SEC has not engaged in rule making," Gillis said. "They have completed the mandated study of the fiduciary standard, but are still in the information gathering stages. "
Roper, a staunch advocate of the fiduciary standard, was not optimistic, either.
"We have lost all battles with the SEC on the assumptions going into developing a uniform fiduciary standard. The SEC is still equating fiduciary to mean suitability and I am intensely discouraged."
As to advisor oversite, both Roper and Gillis embrace user-fees to fund the SEC to conduct more examinations and are in support of Maxine Waters' bill currently being proposed in congress. Roper is again not optimistic. "There is tremendous skepticism in Washington that the SEC can do its current job, let alone add more responsibilities and grow its bureaucracy."
In the meantime, the stakes are rising due to these delays. "We are sitting on a ticking time bomb," said Gillis. "The longer this drags on, the more likely it is that a new scandal will be revealed and Congress will have to act quickly, which opens the door for FINRA to walk through as the white knight."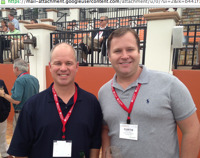 Dean Cook and Curtis Reed of
Arbor Point.
The bottom line for the industry, according to Skip Schweiss of TDA is that, "you as advisors are going to be examined more frequently and have the privilege to pay for it."
Beyond 'rinse and repeat'
Continuing the theme of building a better business, TDA's Elite Summit had numerous practice-management sessions and panel discussions. Leading off the morning was TDA managing director Jim Dario who provided examples of how top performing firms were driving success by integrating technology into all aspects of their firms. See: What's up with Jim Dario making the leap from Pershing to TD Ameritrade.
"These top firms have new client growth of 15% vs. 5% for the rest of the industry and top line revenue growth of 47% year over year," said Dario. "Additionally, they have a 20% advantage in lower overhead expenses, which is leading to superior profitability."
Dario then led a discussion with three leading advisors who shared specific examples of how they were deploying technology. "First, you need to know what type of firm you want to be," said Alex Murguia of McLean Asset Management. "Before thinking about your technology strategy, you need to really understand where you are going, otherwise you'll be in the 'rinse and repeat' cycle, buying new systems every other year."
Richard Brown of JNBA Financial Advisors and Dan Kiley of Retirement Corp of America both emphasized how they had documented processes so they could automate them. The final piece of advice Murguia offered was that in order to make technology applications work, "you need to have a champion — someone who completely owns it."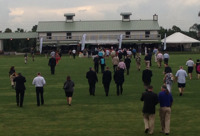 Walking across the polo field to
dinner.
Black swans and polo ponies
Closing out the conference was a highly anticipated keynote from Nassim Taleb, trader, academic and prognosticator who made headlines with his book, "The Black Swan," which highlighted the impact that surprise events of large magnitude can have, correctly predicting the financial crisis.
Taleb gave the group an advance look at his newest book, "Antifragile — Things That Gain Disorder" in which Taleb focuses on the concept of variability and the need for it in systems to stay "robust." Everything needs stressors to test it in small ways," he says, "otherwise if there is no variability in the ecosystem, then it is vulnerable to breaking at the first sign of volatility."
Taleb provided several investment-related examples of this phenomenon, most notably how current monetary policy was removing variability and therefore, notably increasing risk for a major break in the markets.
The Elite Summit is known for its high-end venues and elaborate networking experiences it provides for its top clients and this year's conference was no exception. The second-evening dinner and reception was held across town at the International Polo Club in Palm Beach.
Attendees were wined and dined with an elegant buffet and enjoyed a Polo exhibition match. Nothing is more dramatic and exciting as seeing riders swinging at a little white ball from charging horses moving at top speed.
As the group was departing for a golf event with PGA and LPGA tour professionals on the last day, the power went out in the Ritz, but even this slight problem did not dampen the good times.
To learn more about what went on at TDA's Elite Summit, check out the Twitter feed #TDAIElite.
Tim Welsh has done consulting work for TD Ameritrade.
Timothy D. Welsh, CFP® is President and founder of Nexus Strategy LLC, a leading consulting firm to the wealth management industry, and can be reached at tim@nexus-strategy.com or on Twitter @NexusStrategy.
---
---
Mentioned in this article:
---
---
---