Alan Markarian: We're the largest commercial bank focusing on this need.
Brooke's Note: We have a laser focus on RIA custody at RIABiz — but it's been pretty quiet on that front for a while. In an industry of fragmentation and atomization, these are pools of large-scale aggregation. After a pause when we didn't see many new entrants, it appears that the floodgates may be opening again. We'll have another article tomorrow that gives a better idea of what I mean by that. U.S. Bank is notable because it has multi-billion firms, some critical mass and an atypical profile (in that it's a bank).
Breaking into the RIA custody business is never easy — especially if you're a bank. See: What ever became of RBC's RIA custody unit after it showed such promise.
From an advisor perspective, banks are known for plodding service, getting bought out, and a bank-like attitude left over from centuries of engaging in the very happy business of lending money, often to people who don't need it. Many advisors turned independent just to get away from the mindset. See: Merrill Lynch and Bank of America cultural tension may spin out a new round of breakaways, recruiters say.
None of these factors, however, are proving to be a concern to U.S. Bancorp, which, in part by happenstance and more recently by design, is staking out ground in the RIA business.
With all its earlier incarnations and smaller predecessors, the bank has been offering custody to clients for decades. Serving specifically RIAs, though, is new for the Minneapolis-based company, and it's hoping to offer something old as new to RIAs: the fact that it's a bank.
On Jan. 1, 2012, the bank launched an RIA custody division, housed under the business line U.S. Bank Institutional Trust and Custody and headed up by a senior vice president of the company, Alan Markarian. Up to that point, the relatively small number of advisors who kept assets with the Minneapolis-based firm's custody business had simply been lumped together under a larger custody unit that also served endowments and institutions.
Now, Markarian says, the bank is focusing on attracting RIAs to the new division, which has $55 billion in assets from advisors and 34 employees, and on making changes to bring more advisors aboard. He hopes that advisors with larger clients will be wooed by the protections and amenities a large commercial bank can provide — which brokerage custody just can't match.
"We're the largest commercial bank focusing on this need," says Markarian, meaning it's the largest commercial bank with a group dedicated solely to RIA custody.
100 years old but brand new
U.S. Bank is a conglomerate of smaller banks acquired over the years, such as the First National Bank of Cincinnati. Many of those banks have been providing custody to their original customers for more than 100 years.
But, it wasn't until the mid-1980s that what is now U.S. Bank got its first RIA custody account. One large advisor, a mutual fund client of the bank, needed to expand his separately managed account business, which was spread out over dozens of custodians, says Markarian. Though the bank didn't have SMAs then, it brought him on, figured out the logistics along the way, and kept the advisor happy. He spread the word, and by 2000 about 40 to 50 advisors, mostly from the Midwest, were using U.S. Bank for custody.
"That's when things really started to accelerate," says Markarian. U.S. Bank was acquired by Milwaukee-based Firstar in 2001, bringing on more advisors, such as Ron Bates, a manager at Legg Mason Investment Counsel, a $8.3 billion RIA with four offices nationwide. Sixteen years ago, Bates' firm began working with Firstar. Today, it has about $1 billion under custody with U.S. Bank.
While the firm constantly re-evaluates its relationships, says Bates. It continues to keep assets with U.S. Bank because of its breadth of services. His clients can use other custodians, but when he provides a list of preferred ones, "U.S. Bank is on that short list," he says.
RIAs get their own unit
RIAs account for the biggest growth within U.S. Bank's custody division, and the company hoped to capitalize on that. After the market crash in 2008, Markarian says, the bank's executives began to have discussions about creating a specific RIA custody business, believing that U.S. Bank could address some of the problems that came to light amid the financial scandals of the time.
Bank custody, he argues, offers more protection and regulation than brokerage custody. A bank with a national brand and reputation can provide more confidence to clients. This seemed so logical, he says, that it was assumed more banks would come to the same conclusion. "We thought there would be more banks entering the business, but there weren't."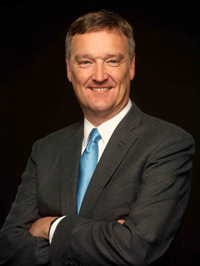 Ron Bates: It's not a 1-800
number.
In 2012, U.S. Bank launched its advisory investment unit under the custody and trust division, based in Cincinnati. Markarian, who was with the bank's institutional trust and custody division working on relationship management, sales and account administration, was pegged to head up the RIA unit.
The RIA group currently handles custody for 225 advisors and has about $55 billion in assets. The minimum for advisors is $20 million. Some of those advisors use other custodians for smaller accounts. Some use the bank's back-office services as well. U.S. Bank has a total of about $900 billion under custody for all its clients, which include institutions and endowments. The overall custody operation has 700 employees that provide things like back- and mid-office services, sales, marketing and administration, with 34 employees directly under Markarian in the RIA group. It uses SEI Trust 3000 for online statements. See: SEI makes its play for big RIAs by doing some un-SEI things.
Some accounts pay flat fees, such as 4 basis points, and others pay transaction-based fees, says Markarian. U.S. Bank's preference, though is for advisors to pay market-value fees with a per-account minimum, which depends on the number of accounts. That minimum can range from $100 to $1,000 per account. For institutions, it's harder to say, but the minimum can be up to $10,000, he says.
Bank appeal
Markarian believes the main benefit the bank offers advisors is simply the fact that it's a bank.
"Every advisor needs to have a bank custody option in their portfolio," he says, because there will be clients who want their assets under custody at a bank instead of a brokerage custodian. There will be also be, he believes, a need for banks to provide custody for assets of more than $500,000. Everything under $500,000 is SIPC-insured, so he says those accounts could use a brokerage custodian without problems. More than $500,000, they might prefer the regulations and security that comes with a bank custodian. U.S. Bank is regulated by the Securities and Exchange Commission, the Financial Industry Regulatory Authority Inc. and the Office of the Comptroller of the Currency.
Banks also offer other benefits and services, says Markarian, such as the company's retail products, including securitized lending. Increasingly, he says, U.S. Bank is one of the few bank custody options for RIAs.
"More and more banks are getting out of the business," says Bates, who works in his firm's Cincinnati office, "across the street" from U.S. Bank. While there are some banks still in the custody business — Deutsche Bank, State Street Corp., the Bank of New York Mellon Corp.— what makes U.S. Bank stand out, Bates says, is the RIA-specific group within such a large bank. See: State Street's semi-secret success in the RIA custody business.
Foot in the door
But, that may not be enough to attract new RIAs.
"The value proposition of a bank custodian does overlap with existing competitors," says Tyler Cloherty, an associate director at Boston-based Cerulli Associates Inc. U.S. Bank simply isn't offering anything different enough from Royal Bank of Canada or BNY Mellon, both of which are banks also in the custody business. Because the RIA custody business is booming and lucrative, says Cloherty, without a big investment it's hard for a new provider to break in. See: Pershing and BNY Mellon unveil a unified, 'dream' RIA and bank custody unit.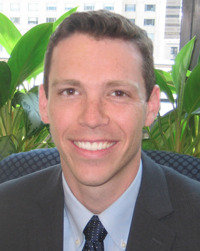 Tyler Cloherty: It's hard to see
them taking share away from the
dominant existing competitors.
"It's hard to see them taking share away from the dominant existing competitors," he says.
A face to the name
On the other hand, many bigger banks that offer custody to RIAs often have problems understanding the RIA business model. Typically bank custodians have boutique asset managers instead of RIAs as their core clients, says Cloherty. Some banks, such as BNY Mellon, through Pershing, are positioned well to serve advisors. "However, one of the key reasons advisors choose independence is for flexibility. Instilling a heavy- handed rules-based system as a service agent would not be well received," he says.
U.S. Bank is hoping that it can find a niche between the big, faceless banks and the smaller brokerages. That appeal may come from its midwestern roots and friendly, flexible approach to doing business.
For Bates, the main reason his firm continues to custody about $1 billion of its assets at U.S. Bank is in part because of the benefits of it being a bank, but mostly because the company's flexible about getting things done for clients. "Lots of custodians have lots of rules. They don't have any flexibility even if it's common sense," says Bates.
The fact that it's a local company also helps. Most of the clients out of the Cincinnati office of Legg Mason use U.S. Bank. "It's not a 1-800 number," he says, but actual people that he's met face-to-face — which is rare among the custodians he works with.
Options on the table
In 2012, U.S. Bank purchased three business lines from San Francisco-based UnionBank, one of which was its RIA custody unit with about $7 billion in assets and 100 advisors, all of which is "still with us today," says Markarian. That inorganic growth helped give the mainly Midwestern bank a West Coast presence and showed that it's serious about expansion, he says.
In 2013, the focus will be more heavily on distribution and marketing. U.S. Bank will do mailing to advisors to let them know about their custody, advertise in industry publications, and is considering which conferences to attend to get the word out. They will also consider partaking in other activities, like a supermarket of funds.
"There's a variety of different things to take a look at," says Markarian. "Nothing's off the table."
While other large banks have had problems with different arms of the company fighting each other — RIA clients receiving benefits that broker clients have to pay for can set off a storm — Markarian says U.S. Bank has not had those problems, though it does have broker clients.
When U.S. Bank considered launching the RIA custody division, it surveyed existing clients about what could be improved. As a result, U.S. Bank overhauled its mid-office services, changed some roles and responsibilities, and created new RIA-specific onboarding paperwork — up to that point RIAs had been using the institutional paperwork, which was bulky and time-intensive.
"We left no stone unturned when we thought about what it feels like to purchase our products," says Markarian.
Bates isn't worried that the growth in the business will detract from the service he receives from "the high-quality team." In fact, the infrastructure investments and changes will be good. "We see it as a sign of their commitment to the business," he says.
| | |
| --- | --- |
| Name of custodian: | U.S. Bank |
| Address: | 800 Nicollet Mall, Minneapolis, MN 55402 |
| Phone number: | 513-562-3621 |
| Founded: | RIA custody unit founded in 2012 |
| Parent company: | U.S. Bank |
| Total Assets in custody: | $55 billion in RIA unit, $900 billion under the bank |
| Number of RIAs using platform: | 225 |
| Head of RIA custody business and executive's starting year with the company: | Alan Markarian 1999 |
| Name of RIA technology platform: | SEI Trust 3000 |
| Date of last major update on tech platform: | November 2012 |
| Minimum assets for advisors: | $20 million |
| Size of biggest advisory client by assets: | $10 billion. |
| Custody fees [including fees for RIAs that fall under the minimum]: | Fees based on transaction volumes, type of holdings, services required, ancillary business. Generally a $10,000 per relationship annual minimum. |
| Number of employees: | 700 in wealth management and securities services division, 282 in custody and trust division, with 34 employees under the RIA unit |
| Recent growth: | U.S. Bank acquired a portion of Union Bank of California's institutional trust business including their RIA custody division in 2012. |
---
---
Mentioned in this article:
---
---
---
Elmer Rich III
We have worked with USB in past. Good organization. However, the point about a zero sum game with share is true. Still, we think there are under-marketed segments of this market.
Stephen Winks
US Bank can easily win massive traction inthe RIA space largely based on the limitations of advice product platforms which can not afford advisors professional standing.. As an early adopter of overlay management technology (Smartleaf), all US Bank has to do is to show advisors how they can cut 100 bps out of portfolio construction and control their value proposition, professional standing and their margins while providing their clients a preemptive value proposition relative to advice products at a lower cost and 50% better compensation to the advisor.
Pretty simple…if you know how.
The nay sayers think think advice products constitute advice, when advice product sponsoring firms are quick to acknowledge that no advice is rendered alleviating them from supporting the professional standing of the brokers who use their services.
US Bank can easily resolve this and win massive market share in the process.
SCW