Larry Stupski never sought much credit -- only results. But higher-ups who knew him give him unbridled kudos for his leadership at Schwab.
In a quiet suburban neighborhood of Orinda, Calif., in 1980, a man shot upright in bed. The young headhunter for Korn Ferry opened his eyes, saw a reading of 3 a.m. on the clock at the side of the bed and focused.
What he saw in his bleary mind's eye was a resume. He could picture it clearly. And it had a life-altering significance. The shock of adrenaline stirring him to consciousness told him that.
But Tom Seip knew too that sleep would now be impossible because his mind refused to yield the name on the resume. So he jumped out of bed, threw on some clothes, wrote a note to his wife and drove through the dark to his company's offices in San Francisco.
After rifling through his files on the floor of the office, Seip found what he was looking for: the vital information about a man named Larry Stupski.
Chuck's wing man
Stupski, the former chief operating officer and president of The Charles Schwab Corp. lost his battle with cancer earlier this week. He recently celebrated his 68th birthday.
His death has set off a flurry of communications among a relatively small group of people who worked with — or took orders from — him. Stupski was hired by Schwab in 1980 after an extensive search to — in a sense — rein in a young Charles R. Schwab. The founder of the eponymous discount broker was the classic entrepreneur with visions galore for how his company could rewrite the book on serving investors.
But Chuck and his entourage were at least self-aware enough to know they needed to hire a chief operating officer to keep their young gazelle from blundering into a pride of lions.
"Larry Stupski was the perfect complement to Chuck Schwab," says John Philip Coghlan, the developer and former head of Schwab Institutional, the firm's RIA custody unit. "Schwab, the visionary, felt he knew the Schwab customer and what that person needed and would want. He wanted to disrupt an industry he felt often abused its clients. Larry brought those dreams to life, with an intense focus on the economics of the business and on building processes that were efficient, automated, able to scale, and replicable. See: Why Chuck Schwab is fine with boosted taxes — and even Dodd Frank — and believes RIAs should be, too.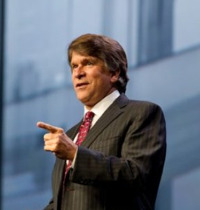 John Philip Coghlan: Larry Stupski was
the perfect complement to Chuck Schwab.

Walk right in
Seip was brought along on the sales call to Schwab's offices as a junior associate to hear out the type of individual the company was looking for and his mind would churn for weeks on the problem of creating a match. He knew that the executive hire needed financial savvy but he was also just as certain that it would never work to bring aboard somebody with banking or brokerage DNA.
Seip says that likely the only reason his mind ever arrived on Stupski was because Stupski had made a cold call to his office to drop his resume off. The timing was right that Seip was able to take a half hour to talk to the walk-in.
Stupski was a Princeton grad, a lawyer and a Navy veteran. His fortitude and intelligence would be tested early and often. The first branch, in Sacramento, had been opened only five years earlier, but by 1980 the company had 147,000 accounts upon establishing a 24-hour quote service.
A number of sources, including Schwab, confirm that Stupski was instrumental in the sale of Schwab to Bank of America in 1983 for $57 million, the buyback of the company for $280 million in June of 1987 and, just three months later, the initial public offering of Schwab. It was an IPO that immediately preceded Black Friday. See: Top 10 things I learned at Schwab IMPACT about the smoldering breakaway movement.
Stupski was also very much involved with the launching of Schwab's RIA custody unit — albeit kicking and screaming. See: Schwab Advisor Services is nearing $800 billion of RIA assets but analysts are split over whether it can continue to dominate.
"He was skeptical at first … did not have an affection for sales people in general and we were first and foremost a sales driven organization," says Dennis Clark, an early executive with Schwab Institutional. "What did work was the close and respectful relationship between Larry and a young, bright and ambitious executive named John Coghlan. They shared many of the same management qualities and both are graduates of Princeton University. John was a very effective advocate in those meetings with Larry where budgets and resources were being decided. My guess is that John was uber-prepared and also had command of the market research, etc."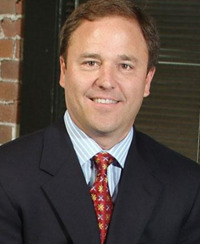 Dennis Clark: Chuck articulated the vision
and Larry mobilized the team to
get it done.
Coghlan declined to comment on the specifics of the startup effort involved with the advisor business.
But Seip, who later went to work under Stupski after serving as his corporate yenta, recalls vividly that the departure from Schwab's core business model into servicing advisors was vetted intensively by Stupski.
"He was a tremendous skeptic and put people through their paces and more. It was tough. I think of myself as smart, but he was a lot smarter. I went back to the well four or five times. It took six extra months to get that green light. I remember saying: Why are you putting me through this wringer?"
Clark says that Seip was hardly alone in experiencing this level of accountability.
"He did not suffer fools and if you knew he was going to be in a meeting with you, you did not attend the meeting without being fully prepared," he says. "He was the benchmark for which you wanted to elevate your performance."
The 'get it done' guy
Seip says that Stupski always distinguished himself with a laser-like focus on data and numbers — an ability Seip didn't even know about when he aided in his recruitment. "What I didn't have appreciation for was his intellectual acumen for financial matters."
Clark adds: "His attention to detail and command of the facts was a perfect complement to Chuck Schwab's visionary, sometimes free association, style. Chuck articulated the vision and Larry mobilized the team to get it done."
Clark also recalls a sales meeting he was in with Stupski when the topic of baseball came up and Stupski reeled off all the ERA numbers of the 1942 New York Yankees.
But if Stupski's career with Schwab were to be compared to a baseball player, it might be Sandy Koufax, the Dodgers pitcher whose career was both spectacular and relatively short.
Clark recalls a pickup basketball game that he often joined in on — and in which Stupski played with a fierce style. One day after their game, Stupski walked to the front desk and calmly told the receptionist to call an ambulance because he believed that he was having a heart attack.
He was. (The attack was believed by colleagues to have been caused in part by a jarring elbow to the sternum that unloosed plaque.)
Stupski survived and had a quadruple bypass but doctors told him that the stress of running Schwab was not good for his health. He ended his Schwab career in 1994.
A well-lived life
Remarkably enough, his colleagues say they believe what Stupski did in "retirement" was even more telling of who he was. The ex-Schwab executive turned around and gave much of his wealth — a substantial fortune because he made out well in Schwab's IPO — to a foundation dedicated to education. He was known to throw himself into that effort with abandon, similar to what he did at Schwab — wanting to contribute not just money but intelligence to efforts to improve education. His foundation was shut down last August. It had $112 million of assets and a $10 million budget.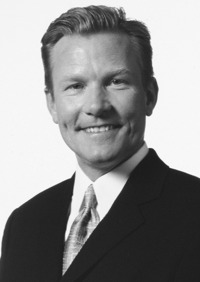 Jeffrey Roush: His extensive charity work
after Schwab and generosity are the
continued testament of a life well
lived.
Jeffrey Roush, principal of Argos Wealth Advisors LLC of Napa, Calif., says that he observed this noble side of Stupski.
"In all interactions Larry was, quite simply, an extension of the very soul of what Chuck Schwab preached and represented Schwab to be for its clients and lived and breathed it to all employees and the world — caring, honest, prudent, objective and totally trusted. His extensive charity work after Schwab and generosity are the continued testament of a life well lived."
Coghlan offers these thoughts.
"For all his successes as Schwab's president, many of his greatest accomplishments came after he left Schwab as a result of health issues," he says. "He founded the Stupski Foundation, which sent in teams to help progressive public school districts across the country embrace transformative change that delivered improved student outcomes. He served on the boards of Teach for America and the Glide Foundation, among others. And he helped keep the San Francisco Giants in San Francisco as part of a civic-minded new ownership group."
---
---
---
Reverend Charles F Cordes
I participated with Larry at the Glide Foundation Board Meetings for 8 or so years. He significantly contributed to our financial and investment management. He was a delightful presence. I knew little of his other accomplishments so what shown through is calm, thoughtfufl, caring presence was impressive. I was moved that he was so committed to the Glide philosophy of unconditional love and that he involved himself on the church side in helping to perfect the national effort to share that wisdom with other religious and non religious groups with his hands on presence. Thank you Larry. Your presence lives on.
Scott Frazer
Larry was a great guy to be around and to work for. He was incredibly focused and certainly made Schwab the great company that it became in the 80's. Having Larry at the helm made us all feel safer as he was always on top of his game. Larry also had a fun side and those that were there will never forget his rap performance at one of our national meetings. My heart goes out to Joyce and his family. He will be sorely missed..
Romain Clerou
Fresh out of college in 1983 I had the good fortune to work directly with Larry Stupski. Without a doubt he is one of the best people I have ever met. Tremendous discipline, extraordinary intelligence, great competitor all delivered with a kind touch. RIP.
Sydney LeBlanc
I didn't know Larry, but I've heard about his good work over the years. Thank you for the beautiful story (tribute) that allowed us all to know more about this giant of a man. We need more kind and ethical leaders like him in this business. Rest in peace, Larry.
Shelton Stark
I remember when the announcement came that Larry had the heart attack and how nervous we were as employees of Charles Schwab. Shortly after he recovered I saw him one last time before he departed the firm and he reminded the group I was in about proper diet and being health-conscious. I never got a chance to thank him …Rest in peace Larry. My heartfelt regards to your family..
D. Stupski
Larry was one of the kindest, gentlest souls I every knew. He was greatly loved by all his family and is sadly missed now. Prayers to all.
Natasha P
Larry Stupski was a great man. Very kind, loving and understanding. Larry will be greatly missed.
Terry Leja
Whenever I met with Larry I felt as if my brain was doing push-ups. His expectations were high and his way was such that you wanted to meet them. It is with gratitude that I was able to work directly with him. He was brilliant and that is an understatement – he was thoughtful – and that is an understatement too. One of the great blessings of my life was knowing him at Schwab. How lucky Schwab was to have Larry.
Rev. Dr.David Imhoff , Miami
Larry was every bit as kind and generous as people say he was.He now lives with God forever.
Clyde Smith
February 15, 2017 — 4:36 AM
I was a high school classmate with Larry where he was class valedictorian and a down lineman on a conference champion football team. He also played basketball with me but gave that up for his studies, He was an good friend,and scholar. He displayed an intensity to succeed which served him well throughout his life. I have not seen him for several years but he is truly missed.