Mike Durbin (with Sanjiv Mirchandani) says that Abby Johnson signaled her intention to meld the efforts of Fidelity's various business units.
Brooke's Note: You didn't get your invitation to Fidelity's annual advisor conference. We didn't either. But you can be consoled as we were that a deep cover source with the initials M.D. let us in on what happened. I think what you read here will bring you up to speed on what happened. We based our reporting on Abby Johnson on the very enthusiastic reports about her speech from Mike Durbin and an RIA in attendance. (Abby, blame us if the comments were misconstrued in any way.) We then bounced those thoughts off two of the best Fidelity analysts on the planet and helped complete a broad-strokes picture of what may be going on at Fidelity. It appears the changes could work to the benefit of RIAs.
Right now Fidelity Investments is major force with RIAs. It's big with clearing for independent broker-dealers. It's a major, major mutual fund company. It's the king of the 401(k) business. It's right up there as a giant of discount brokerage. The issue for the Boston investments giant is that it has, to date, operated more as a holding company for a number of units that provide all of these disparate services. At least it's an issue as its leaders plot how the company will remain as relevant in the future as it is today.
Perhaps in an effort to address how a giant can avoid devolving into a dinosaur, Abigail Johnson, head of distribution channels and president of Fidelity Financial Services, opened a window into her thinking about Fidelity's next phase as a company at the company's annual Executive Forum in Naples, Fla. The event, held April 29 and 30 was not, as is customary, open to media. But Mike Durbin, president of Fidelity Institutional Wealth Services, was willing to share some details in a post-event interview.
Rather than focusing on building each of the company's various silos to the sky, Fidelity has reached an inflection point. Going forward it is going to be more mindful of how to build the business as one giant corporation, Johnson said in so many words, by our interpretation of Durbin's comments. The Johnson comments seem to have parallels to LPL CFO Dan Arnold's recent comments about how LPL Financial plans to compete. See: LPL to Wall Street types: We're in phase three.
Impressive silos
Jim Lowell, editor-in-chief of the Forbes ETF Advisor at Forbes magazine, says Fidelity has spent years polishing its silos and provisioning them with world-class division leaders. See: How two RIAs succeed by using only Fidelity funds — but not without weathering criticism about closing their own architecture.
"Abby has been in charge of this significant, structural sea change in how the business of Fidelity is and will be managed," he says. "To my mind, it is her hallmark management achievement and leaves little doubt that she has been, is and will in charge of running the show."
The importance of Johnson's efforts in this area can not be overstated, says Doug Dannemiller, principal of Duxbury, Mass.-based Dannemiller Analytics & Consulting LLC.
"Fidelity historically has been extremely siloed … It would be a monumental shift to put [for instance, RIAs who service 401(k) plans and Fidelity's own 401(k) sales force] on the same footing." See: Fidelity reports 57% boost in 401(k) sales as it sets its sights on smaller plans and advisors.
Until the past few years there were arguably good reasons for having so much separation between the different Fidelity units, according to Dannemiller, who has worked for Fidelity and Aite Group. It could be seen as in keeping with Fidelity chairman and chief executive Edward "Ned" Johnson III's philosophy of capturing the energy and entrepreneurial spirit of having units compete with each other. Ned is 83.
But Dannemiller adds that Fidelity no doubt perceives how the channels in the advice industry are rapidly blurring. "The difference between an RIA and a Series 7 broker may break down," he says. This makes it imperative to create more effective cross-channel collaboration to serve channel-swimming clients. See: Why you should pay attention to proliferating advisor credentials.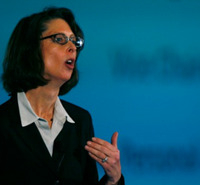 Abby Johnson articulated a vision in
Florida that had advisors and analysts
applauding.
Top-down directive
Lowell says he believes that Abby Johnson, 51, has already succeeded in doing some important work on the silos.
"Doing so was a clear top-down directive — and one that serves Fidelity well on many fronts. First, they can now more clearly see what their core business and most-revenue-relevant businesses are. Second, by means of hiring division heads from outside rather than from within, and by means of greater accountability in each silo, they're now more capable of selling off non-core assets. Third, committing to the core business [FMR funds, ETFs and brokerage] they can better align those businesses that can now not just orbit around the core but complement and benefit it."
Dannemiller perceives that most cross-silo efficiencies have been technological — and for good reason.
"They're sharing costs of technology across units. But beyond technology, that hasn't carried forward. Working out the details of the channel conflict [of the most obvious synergies] will be very difficult to overcome."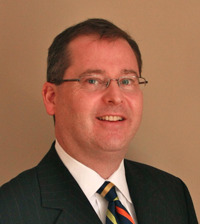 Doug Dannemiller: It would be a
monumental shift.
Yet Durbin makes it clear that amid all the macro-planning internally that Fidelity is not taking an insular approach to growth and innovation on behalf of its clientele.
"We're absolutely not going to stop innovating and we'll continue to push it," says Durbin. "But innovations aren't always from stuff we're home-growing. We'll continue to bring in technology providers, practice-management experts and we'll continue to build and reinvent on behalf of our clients."
Fidelity just made a non-homegrown move of the kind to which he is referring. See: Is Fidelity's move to put RIAs deeper into the cloud gonna make it rain?.
What may have helped get Fidelity to tip its hard-to-tip macro-strategic hand was the weight of the assets controlled by its audience of about 300 people. Between RIAs and heads of IBDs, they control $750 billion of assets or about 60% to 70% of the advisory "footprint" at the company, Durbin says. The bulk of them use Fidelity's RIA division and about a third of the advisors from the firm's IBD force as part of National Financial Services LLC, its clearing division.
Yet another factor that Durbin allows had a profound effect on the event was having NPR host Tom Ashbrook moderate the event — complete with full license to grill various speakers along the way. What apparently worked well was his journalist's ability to draw on comments made in one session and then connecting dots in ensuing sessions.
The theme of the gathering was innovation and rather than just talking about innovative software, the company challenged advisors to work with clients in innovative ways. It was even suggested that the use of gaming — as in the playing of video games, not manipulation of a system — could help educate clients in the future. Durbin says the conference highlighted all of the ways advisors should be innovative — including in their meetings with clients.
Boom in boomers
Clients in turn said they were interested in help from Fidelity not just through technology but also very much with client engagement. This need to find ways to service clients is only gaining in concern as boomers age. Advisors surveyed at the conference say that Gen X and Y are still a tertiary concern to baby boomers.
"What came through is she is sincerely concerned and identifies with the future of America. It was a very non-political speech. It's amazing to hear her passion for America," says Jacob F. Schutt, principal at Parallel Advisors LLC. See: Fidelity follows Schwab's lead on hybrid advisors — and four other items of RIA interest.
Hybrid vigor
Ned Johnson, who has been chairman since 1977, is a mainstay at this event, mingling with top advisors each year as does his daughter Abby.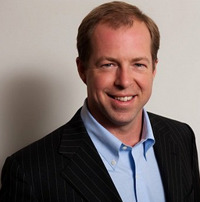 Jacob Schutt: It's very clear [Abby
Johnson] knows the nitty-gritty about what's
going on in each [Fidelity] business
line … and I think she
communicated it very well — more
so than in years past.
Schutt, who has attended this conference for the past five or six years, appreciated the presence of Fidelity's famous owners. He was particularly impressed with Abigail Johnson's speech. "She has a deep knowledge of all of the business lines and it's very clear she knows the nitty-gritty about what's going on in each business line," he says. "She has a very deep knowledge and appreciation of the firm, and I think she communicated it very well — more so than in years past."
A thorough grilling
Schutt, whose San Francisco-based RIA has about $450 million in assets, adds that the Executive Forum is always a "must-attend" conference.
"We purposefully don't go to many of these conferences, but this one we don't miss," he says. "[Ashbrook] did a great job and it was really nice to have someone from outside the firm doing it. He is going to say things that someone at Fidelity would never say. He was very refreshing. He threw out some zingers and had a few points that an inside Fidelity person wouldn't bring."
Durbin says that Ashbrook kept speakers on their toes and wasn't afraid to ask hard questions. "We were pretty proud to be able to pull it off. He's pretty good at his craft. Each speaker knew that you were going to finish 15 minutes early and he is going to grill you."
Schutt liked the fact that the Fidelity tracked questions that people sent in on e-mail or via text using a special URL site that Fidelity had set up and projecting them on the stage screen.
"This was great because the questions were relevant and the moderator could choose a question that flowed with the conversation and they didn't have to just take a question from the next guy in line," he says.
Gaming in the RIA space?
Durbin says the conference wasn't afraid to discuss unconventional topics, such as gaming, that could be used by advisors in working with clients. Gaming is typically most-often used by children to play video games, but Durbin says speakers talked about ways advisors could incorporate "gaming" concepts into their practices.
"You can't dismiss gaming as kids red-eyed on a PlayStation," Durbin says. "Academic research shows it can be an effective way to teach. When people think about innovation, they immediately think about technology. In fact, these principles are related through more-human elements such as client engagement."
Schutt says he liked learning specific ideas about how to help empower employees to drive innovation and was intrigued about the discussions regarding the use of gaming because his firm already uses its own version of the concept.
He says his firm internally tracks how many client meetings advisors have each week and make it like a game. For instance, the person who appeared to be the most productive "wins" each week. And he thinks the next future is to continue a type of game element with prospective employees. It could akin to the game of Life but for clients.
"We play a game to joke about who gets bragging rights and use analytics," he says. "It's all technology-based."
Schutt says he hopes he can introduce gaming to clients. "Right now, we have private chatter groups with clients. It's not so much a game per se, but a media interface that is easier for the younger group. It's much more secure and people are more comfortable with it."
Beyond technology
Durbin says that advisors should be aware that innovation doesn't always equate directly to new technology. He acknowledges that some technology advances, such as holographic keyboards, seem a bit futuristic even to him. "I'm a little skeptical, but I'm officially older," he says. "My head spins with some of these things they're coming out with now."
Innovation, he says, also comes in the form of adjusting the way advisors think about the business. "We've been talking to advisors about ways to be innovative with the wealth shift that is coming to prepare for Generation X and Generation Y. The majority of advisors are focusing all of their strategies to baby boomers." See: Viewing RIAs in a new light, Fidelity Institutional shifts from a top-down to a bottom-up emphasis to serve them.
Schmoozing
Schutt took away from the conference ways to bolster his firm's marketing strategies. "There was a speech where the person spoke about focusing on what you do and sticking to your own knitting," he says. "It goes back to what type of events do you have for clients that reinforce the niche you're after. It's very basic stuff, but it struck home for me."
Most importantly, he appreciated the chance to meet with other RIAs. "In the RIA space, we always feel like we're the David of the Goliath and it's nice to go there and commiserate with peers. Everyone's open to sharing ideas and pain points."
Dannemiller says that those pain points may decrease substantially if Abby Johnson follows through on her vision. For example, he says that were Fidelity to find a way to make it possible for breakaway brokers to hang their Series 7 license directly at Fidelity and have them sell 401(k)s on an equal footing with Fidelity salespeople, it would create a much bigger value proposition than just having an RIA custody relationship.
"That would all seem to make sense," he says.
---
---
Mentioned in this article:
---
---
---
http://binporno.com/user/carpinteyroyrf/
Reliable onsite trainers aid IT experts in passing their ACSP certification. You can also make a speak to with their are living aid channel to have the needed information and facts. These firms give helpful online instruction products and research guides that assist in preparing on your ideal 9L0-403 test. They make full use of the talents in their gifted technological staff to prepare distinctive 9L0-403 exam concerns to your reference. You don't really have to be concerned about any of their verifications. These issues cover all the coarse requirements that's truly needed for the 9L0-403 examination
Elmer Rich III
Aren't advisors competition for Fidelity's direct business, 401k business and theri proprietary fund business asset gathering?
Doug Dannemiller
It looks like Fidelity has taken the monumental steps to achieve Abby Johnson's vision. The announced launch of a "Z" share class (low expenses) and the reorganization of defined contribution sales and support show Fidelity's experience and expertise in managing multi-channel distribution. Bravo.
Also, Bravo to advisers. These moves would not have happened if advisers had not demonstrated strong results in the sale and formulation of defined contribution plans.
http://thescripter.com/contactus.html
For simple bruising without having any identifiable cause, report 782.7 (Spontaneous ecchymoses). Anyone could possibly be ailing employing their firm ailments that predispose him to make up bruises regardless of minimal trauma (say by way of example a fairly easy rap all-around the arms), which typically will not manifest to normal persons, consequently leading to "easy bruising." Illnesses that may bring about this include things like platelet or coagulation ailments (thrombocytopenias), bone marrow problems, hemophilias, liver ailments, and Marfan's syndrome. Ageing and medications (as an example aspirin, prednisone, alongside with other nonsteroidal anti-inflammatory medicines) may additionally outcome in simple bruising. For sufferers having difficulties using these ailments, bruises surface to glimpse immediately without having identifiable cause.