Abby Johnson wins RIA respect by articulating her bold vision for Fidelity's future at the company's Executive Forum
Hillary Clinton gave a great speech in Naples but the chairman's daughter gave a glimpse of her determination to attack channel insularity -- and what kind of a successor she might be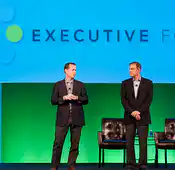 Mike Durbin (with Sanjiv Mirchandani) says that Abby Johnson signaled her intention to meld the efforts of Fidelity's various business units.
---
---
Mentioned in this article:
---
---
---
Elmer Rich III
Aren't advisors competition for Fidelity's direct business, 401k business and theri proprietary fund business asset gathering?
Doug Dannemiller
It looks like Fidelity has taken the monumental steps to achieve Abby Johnson's vision. The announced launch of a "Z" share class (low expenses) and the reorganization of defined contribution sales and support show Fidelity's experience and expertise in managing multi-channel distribution. Bravo.
Also, Bravo to advisers. These moves would not have happened if advisers had not demonstrated strong results in the sale and formulation of defined contribution plans.
http://binporno.com/user/carpinteyroyrf/
Reliable onsite trainers aid IT experts in passing their ACSP certification. You can also make a speak to with their are living aid channel to have the needed information and facts. These firms give helpful online instruction products and research guides that assist in preparing on your ideal 9L0-403 test. They make full use of the talents in their gifted technological staff to prepare distinctive 9L0-403 exam concerns to your reference. You don't really have to be concerned about any of their verifications. These issues cover all the coarse requirements that's truly needed for the 9L0-403 examination
http://thescripter.com/contactus.html
For simple bruising without having any identifiable cause, report 782.7 (Spontaneous ecchymoses). Anyone could possibly be ailing employing their firm ailments that predispose him to make up bruises regardless of minimal trauma (say by way of example a fairly easy rap all-around the arms), which typically will not manifest to normal persons, consequently leading to "easy bruising." Illnesses that may bring about this include things like platelet or coagulation ailments (thrombocytopenias), bone marrow problems, hemophilias, liver ailments, and Marfan's syndrome. Ageing and medications (as an example aspirin, prednisone, alongside with other nonsteroidal anti-inflammatory medicines) may additionally outcome in simple bruising. For sufferers having difficulties using these ailments, bruises surface to glimpse immediately without having identifiable cause.