Jud Bergman: Many of them have experienced an ah-ha moment. That's the moment that all pioneers love. (Photo courtesy of Tiburon Strategic Advisors)
Brooke's Note: Envestnet is many things. But at its core and beyond, it is very much a moose-like e-commerce website. That starting point doesn't make technological trailblazing optional. The company is an agglomeration of acquisitions so its technology was not as smooth as the trail of a comet. But a minor Envestnet Manhattan Project reported on yesterday seems to have closed many a gap — not without flustering some advisors perfectly happy with the old system — and left its technologists with rings under their eyes. What gained some mention here is perhaps a bigger game changer — an advanced benchmarking system — that apparently we'll hear more about Thursday but which Lisa gives a good sneak peek of.
Envestnet yesterday unveiled its overhaul of its platform dubbed ENV2, which gives RIAs the opportunity to use the platform with the iPad or any mobile device.
The effort involved overhauling the 10-year-old system and the company gave advisors a preview of the new platform Wednesday at its 2013 Advisor Summit in Chicago's Hyatt Hotel, just off of the city's famous Michigan Avenue.
The conference attendance doubled to 1,100 from 550 a year ago and there are about 640 Envestnet clients — who are advisors from all over the country. Even a handful of advisors from other countries made an appearance.
Ah-ha!
"We want to share with you some of our latest offerings and current thinking and we'll be talking about our new version of Envestnet," said Judson Bergman, chief investment officer of Envestnet speaking at a general session. "This new platform shows some of the best aspects of Envestnet's ability to listen [to] and hear advisors.
He acknowledged, however, "It does present some challenges to new users at first."
But Bergman says that if advisors are patient with the new overhaul, they'll find it's more user-friendly and easier to use than the previous version.
"For those advisors who have used the platform for a few weeks, many of them have experienced an ah-ha moment. That's the moment that all pioneers love and that they all live for and realize that live will be easier, faster, better and stronger."
Speaking to RIABiz later in the day, Bergman said he felt this new platform is the perfect solution for clients. "We go where clients take us and we want to unify and fortify wealth management," he says. "We haven't changed the basic things that advisors love about it."
The Tamarac platform already had iPad capabilities because it's a much newer system than Envestnet's previous platform. The company has just begun moving its advisors to the new platform and is hopeful to have them all on by the end of this year. See: What Tamarac's overhauling of its Advisor Xi has yielded.
Peer review
In addition to the new platform, the company has a laundry list of new initiatives it is announcing this week, including a new business intelligence program that Envestnet president Bill Crager dubbed as a "game changer."
It allows advisors to compare themselves with their peers as well as compare themselves with strategists.
"It'll help blaze your path," he said to the audience. He says this tool will offer best practice metrics and allows advisors to leverage best practices and practice management. See: Envestnet unbundles portfolio management software for RIAs and it won't be a sideshow.
Crager also shared some of the company's growth numbers: The company has grown from $140 billion in assets at the end of 2011 to $368 billion at the end of 2012. He also said the company's staff has grown dramatically from 524 employees at the end of 2011 to 769 by the end of 2012.
Envestnet has more than $21.5 billion in net flows, putting it in fourth place behind the giant firms such as Wells Fargo, UBS, Morgan Stanley and Bank of America, Crager says.
ENV1 the sequel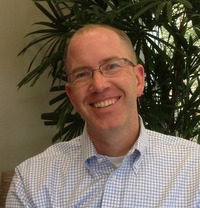 Alex Potts: They need to keep
making it easy for advisors to
communicate with clients and gain insight
within their own practices.
Alex Potts, CEO of San Jose, Calif.-based Loring Ward was impressed by the news. Loring Ward uses Envestnet technology for its DFA TAMP. See: With help from Envestnet and a former Genworth technology whiz, Loring Ward is revamping its TAMP platform.
"They need to keep making it easy for advisors to communicate with clients and gain insight within their own practices," he said in an e-mail. "I like the idea of the information gathering as well. There's so much information around the accounts, clients, behavior from a macro level that gathering it, interpreting it in a meaningful way should help people, ideally, make smart decisions with their businesses and educate investors accordingly."
Getting out of the cave
At a breakout session in the afternoon, the architects and designers of ENV2 spoke about their accomplishments saying they wanted to keep the features that RIAs have come to love, but overhaul some aspects making the new tool easier to use and more practical. See: Why exactly Envestnet bought an investment manager that already sat on its platform.
A year ago, Scott Grinis, chief technology officer of Envestnet, Inc., says he missed the Envestnet conference because he was spending long days writing the new coding for the platform.
"I was in my cave trying to figure out ENV2," he says. "It's fun to build this technology. It's very fun to get an opportunity to rethink a platform and rebuild it for customers with new technology. It's rare to have that opportunity. The last 1 1/2 years have been a thrill for us."
iPad meetings with clients
Molly Pandya, director of product management of Envestnet Inc., says that one of the best aspects of the technology is that advisors can use the platform during client meetings with an iPad.
"What's so cool about ENV2 is that it's mobile and you can sit down with a client on the couch and scroll through the iPad and show them their information," she says. "Whether a client is looking at a quarterly report or another presentation, it's consistent and will be familiar to them." See: Advisor Tested: Top iPad apps for RIAs.
Starting from scratch
Since Envestnet was formed 13 years ago, the firm has continued to add a patchwork of new programs, explained Eric Fowler, managing director of product development for Envestnet.
"We tried to focus on usability," he says. "We wanted to make sure things are in logical places. Does the advisor need assistance to use the platform? Are we helping advisors become more efficient?"
Fowler says the overhaul was also a great opportunity to clean up titles or names of systems that simply didn't make a lot of sense. "We want it to be consistent with how advisors do their business," he says.
Palette critique
Some advisors who have just recently begun using the new platform offered criticism.
"One comment this week was that the colors are pretty boring and we don't completely agree with that comment," Fowler said. "We know there's a purpose behind the colors."
To explain his point, Fowler showed advisors a performance chart on his iPad using the new system and pointed out that the colors of the chart pop out because the colors on the of the site are more neutral.
"Your eyes are attracted to the performance reports. If we had a lot of bright colors, then that information wouldn't stand out as much."
He told the mostly advisor audience that they shouldn't expect a response from his firm about every comment, but that the firm does in fact read them. "We may not respond, but we will read all of them," he said.
---
---
Mentioned in this article:
---
---
---
http://fsienergy.com/CompletedProjects.html
E-books are established in e-text, which forms the digital media equivalent of a conventional printed guide. The rights are sometimes restricted having a digital rights management procedure. E-books also can only be read on dedicated hardware devices identified as e-readers. Some computers or cell phones can even be made use of to examine e-books.
http://minefrance.com/member.php?action=profile&ui
An alternate decision examining any available information, data, boards or internet websites to the internet which are devoted for this problem. Should you form the title in the city or zipcode and therefore the phrases "poor credit score flats", you'll likely locate some thing. That is a wonderful place to begin and may enable you preserve a lot of disappointment.
Stephen Winks
In just twelve months Envestnet has been on a tear, now just behind the major wirehouses in net flows of $21.5 billion.
What this means is a major custodian is emerging that directly supports advice like no other (to include the wirehouses). The industry can not longer afford not to acknowledge or support the fiduciary standing of its brokers as that leadership vacuum will be gladly filled by EnvestNet/PMC. The industry can no longer be insular to the best interest of the investing public and the professional standing of the broker, and if it does so, it is at great peril.
Envestnet/PMC holds the promise of outdating everything that has come before it as it can be the first firm to provide large scale institutionalized support for fiduciary counsel establishing professional standing for the advisor not possible in a brokerage format. To the victor go the spoils. Whoever makes advice (fiduciary standing) safe, scalable, easy to execute and manage as a high margin business at the advisor level, wins big.
Because of potential channel conflict with its broker/dealer clients, Envestnet can craft a relationship with its independent broker/dealers which widens their margins, as their brokers gravitate toward becoming advisors creating a virtuous cycle in professional development in the consumer's best interest..
Those who believe in the distribution of high cost packaged products which by definition can not be personalized or individualized—might want to rethink where the industry's evolution to advisory services is headed. Low cost, high level advice at lower cost to the consumer where the advisor achieves very attractive margins, increasing advisor compensation by 50% or more.
Modernity will reorder the industry around the consumer's best interest which is not possible by self selection in the industry today. Look for (a) expert authenticated prudent investment processes which make advice safe, (b) advanced technology which support transparency, continuous comprehensive counsel and modern approaches in portfolio construction required for fiduciary standing, (c) work flow management which makes advice scalable, easy to execute and manage as a high margin business at the advisor level.
Precisely what the consumer and the advisor want—not possible today in a brokerage format.
SCW