News, Vision & Voice for the Advisory Community
2008-2009 market meltdown settlements are just now coming to fruition, and giant RIAs are signing up with a filing firm to get in on the action
May 1, 2013 — 5:13 AM UTC by Lisa Shidler
Brooke's Note: This just seems like a great idea. I know I get these class action suit letters in the mail and toss them because I just can't invest the time. Other people must be the same.
A $3.5 billion RIA is the most recent firm to partner with Chicago Clearing Corp. to offer its clients a chance to gain access to some of the money from class-action settlements arising from the 2008-09 financial meltdown.
Recently, Hewins Financial Advisors LLC and Wipfli Hewins Investment Advisors of San Mateo, Calif., announced to its 1,000 clients that the firm has crafted an agreement with Chicago Clearing, a securities class action claim filing service. The firm works with 250 RIAs representing some $250 billion in assets and tracks thousands of security lawsuits from their inception to the time — if any — at which a settlement is reached. See: What a wave of 401(k) lawsuits tell us about what RIAs really need to worry about.
In a world where most people try to steer clear of lawyers, Chicago Clearing chief executive James Tharin is quick to point out that his is not a law firm.
"We are a claim filing service," he says. See: A $2.5 billion RIA makes its mass-market bid for thousands of new clients.
Crash course
Chicago Clearing has recovered $100 million since 2009 but its leaders say they're just now beginning to see settlements on the hundreds of lawsuits filed in the market meltdown of 2008 and 2009. One of the biggest settlements in which the company will be staking claims is the $2.4 billion settlement reached with Bank of America and shareholders regarding owners of common stock from Sept. 18, 2008, to Jan. 21, 2009. Another big settlement was announced earlier this year by Citigroup — worth $730 million —and CCC also intends to file claims in that settlement as well.
Given how slowly the legal system works, Brian Blockovich, Chicago Clearing's president and general counsel, says that cases filed in 2008 and 2009 are just now starting to reach settlement stage. It's not unusual, he says, for it to take five years from formation of a class to settlement. See: Bank of America throws a legal wrench at big wealth management start-up.
"To put it into perspective, we're just starting to see settlements related to the meltdown. The tip of the iceberg is the Bank of America case. Things are very busy, and RIAs are getting slammed with these notices about these lawsuits. But they don't want to deal with all of them, and we have a solution for them," Blockovich says.
How it works
RIAs such as Hewins Financial Advisors don't pay Chicago Clearing. Instead, their clients can choose to opt in. If they do so, Hewins will share the clients' information — including investment holdings — with CCC. The filing firm then uses its database to learn about emerging and actual class actions and pairs them up with the clients of RIAs.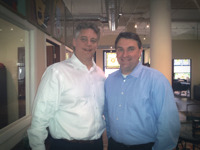 Brian Blockovich [to right of James
Tharin]: The tip of the iceberg
is the Bank of America case
... [RIAs] they don't want to
deal with all of them.
If Chicago Clearing determines that a client's holding makes him or her eligible to participate in a class action settlement proceeding, it files the claim. If the claim filing results in a settlement payment, Chicago Clearing sends a check to the clients' custodian. The filing firm takes 20% of whatever it recovers of the claim and clients will get the 80% in the custodian account.
Brian Hamburger, founder and managing director of MarketCounsel LLC, points out that by using a firm like Chicago Clearing, clients will get less than they would receive if they simply join or initiate a class action claim themselves.
"While CCC may take 20% as their fee, this is almost always after attorneys' fees and other claims administrator fees are also deducted," Hamburger says. "Thus the proceeds eventually realized by the beneficial owner of the security is quite small. Nonetheless, it is a good business for CCC and arguably better for the investor than if they did not participate at all in the award.
He continues: "That being said, if investors or their advisors would otherwise remain vigilant about such claims on their own and remain willing to complete the paperwork, they can avoid that 20% fee. But to take that even further, if they were to pursue these claims on their own and detach from the class action, they could also avoid the attorney's fees. These alternatives, however, are unlikely." See: RIA loses $10 million case against Raymond James the old-fashioned way.
All over it
Although RIAs and clients can file their own class actions, it just doesn't tend to happen that often. In fact, William Steiner, legal counsel and compliance associate for Hewins, says his firm had never made any filings with class actions.
"We weren't filing any claims and it was our policy not to file any claims. This is an opportunity for clients to recoup money that they wouldn't have gone after. A lot of clients aren't paying attention to this. Everyone is under the impression that it's not worth the effort, but this service is great because if there happens to be a settlement, our clients will get some portion."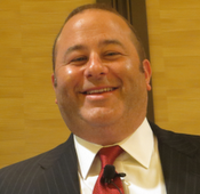 Brian Hamburger: It is a good
business for CCC and arguably better
for the investor than if they
did not participate at all in
the award.
Steiner says his firm doesn't want to go into the claim-filing business.
"They're keeping track of all of the filings and monitoring them," Steiner says. "Anytime, there is a securities class action lawsuit, they are monitoring it to see how it goes. They only start interacting once the settlement has been reached. I'm so picky with compliance issues, and I took a good look at every element and decided it was a great way to go. It took us a long time to make this decision, because of the due diligence involved." See: 9 things advisors to 401(k) plans must do to keep clients out of hot water.
Magic word is escrow
Steiner says the company received the first consent letter back minutes after the e-mail went to clients last week. Blockovich points out that all of the RIAs his firm works with send out letters to clients, and the majority of clients choose to opt in. Clients can opt out if they choose.
"Thousands of opt-in letters have gone out and only a handful of people have opted out. RIAs are not in the business of filing class action claims."
Blockovich says that many clients do receive notice that they may be eligible to receive compensation but typically don't do anything with the paperwork.
"We comprehensively look at all cases," he says. "We track all of the cases out there and run them against our database, and we end up filing so many more cases. We file for everything we can. We track cases that are filed, and we don't get involved until there is money in escrow. When there is money in escrow for a settlement, then we bear down and look at which of our clients may be part of that class."
Tracking partners
Helping Chicago Clearing track cases is its loose partnerships with with TD Ameritrade, Schwab Advisor Services and Advent Software. With Advent, the company has created a pull-history so that CCC can track when an RIA's client's security was purchased, sold, the amount of shares and the price. This is the necessary information for filing a claim in a settlement.
Schwab spokesman Greg Gable on Wednesday said his firm was not able to make a comment.
TD Ameritrade spokeswoman Kristin Petrick says that Chicago Clearing Corp. is an affinity service provider. "We do not have any direct connectivity to them from a data perspective. The advisor who wants to check a client's trade history would need to download the information out of Veo and provide it to them for review. They check the history to see if there are any trades that may make them eligible for funds associated with a class action suit."
---
Mentioned in this article:
---
---
Share your thoughts and opinions with the author or other readers.
---