News, Vision & Voice for the Advisory Community
With the deal, born on a frozen lake in Montana, both companies are attempting to keep assets from crossing their borders
May 1, 2013 — 9:34 AM UTC by Brooke Southall
Brooke's Note: What's not to like about this deal that seems to have executives on both sides in a very smiling way? Not much but… Eventually, one firm's clients will decide they like the other firm across the border better than the one that brought them to the dance. Todd Thomson says that that is OK. It is for now.
Dynasty Financial Partners, serving a network of 17 firms across the country advising more than $16 billion in client assets, has signed a de facto non-aggression and partnering pact with Richardson GMP, a big Toronto-based wealth manager that shares characteristics with HighTower Advisors LLC of Chicago. See: HighTower throws open its doors to non-partner firms who want service and/or brand.
With the alliance, the New York-based wealth management platform provider and the Canadian roll-up-like venture, composed of more than 115 teams mostly broken away from Canadian banks and some from independent money managers, seek to better serve their respective clients on their sides of the border — especially ones that need an advisory firm that know the lyrics to both national anthems.
North-South synergy
Richardson GMP, has a number of wealthy oil magnates, high-net-worth retirees and entertainers who would like to move to the United States. It has a relatively unique business model and size (large) in Canada.
"We're a blend between a wirehouse and an RIA," says Andrew Marsh, chief executive of Richardson GMP, of which about one third Is owned by the Richardson family, one-third is owned by GMP Capital and the final third is owned by advisors and RGMP management. GMP is a Canadian investment bank that handled the initial public offering of BlackBerry-maker Research in Motion (now BlackBerry). GMP Capital and James Richardson & Sons, Limited combined their respective wealth management businesses in 2009 to create Richardson GMP Limited.
The rationale for the structure sounds familiar, eh?
"In Canada, advisors want to be alone but not do it alone," Marsh says.
And Dynasty Financial Partners LLC has immediate needs for Canadianness — having recently signed a big deal with OFS Wealth Management, an RIA arm of a sports mega-agency that serves many players in the National Hockey League who are natives of Canada. See: How exactly a sports super agency, OFS, plans to use Dynasty Financial to extend its dominance to the RIA business.
Dynasty CEO Shirl Penney says it's also advantageous to be able to tell potential wirehouse breakaways that they can do business across the Canadian border.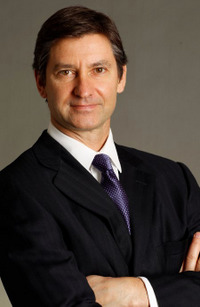 Todd Thomson: We start with Hartley
and I having the relationship and
we absolutely trust each other.
"It's very exciting, and nobody has done this before," says Todd Thomson, chairman of Dynasty.
Some individual firms have made an effort to straddle the border. See: Advisor spotlight: Following the snowbirds, Canadian firm expands south.
Close but not too close
Under the deal between the parties, the firms will either partner up or refer business to each other with the expectation that the cross-border partner will work cooperatively to assure a comprehensive asset allocation process but won't seek to become the client's primary partner.
The key for both parties is in helping each clear the high barriers that Canada has placed on foreign firms that seek to compete on its soil. Since Canada is dominated by five big banks, a U.S. firm must form a close alliance with a Canadian firm to do business. Clients of firms that use Dynasty will exist under Richardson GMP's regulatory umbrella. Dynasty plans to immediately have "tens of millions" of assets move to Richardson's care upon signing of this deal, according to Marsh.
"It's a way for them to manage the account and get paid on it," he says.
Keep the customer satisfied
Getting paid is one thing and keeping clients happy is another, says Thomson, who points out that, for instance, most OFS clients have wide-ranging relationships for many services. See: How being a $19-billion family office roll-up owned by a bank finally caught up with GenSpring.
"The important thing is that it gets executed in Canada with a firm that's a partner as opposed to being handed off to one that would want the primary relationship and makes it confusing for clients."
For now, Richardson GMP will use its own technology, not Dynasty's. See: Attack of the killer app: Dynasty targets the corner-office broker by combining Envestnet and Callan.
Richardson is self-clearing and keeps custody of its own assets. It has more than 150 advisors in offices across Canada who advise more than $15 billion of their wealth. The firm's portfolio management platform and its SMA platform were recently certified by the Centre for Fiduciary Excellence.
"In today's world of highly mobile professional athletes, entertainers and entrepreneurs, an ability to provide a North American wealth management solution is essential," Thomson says. "We immediately turned to Richardson GMP, which has a stellar reputation as an independent firm with a boutique culture and fiduciary mindset that matches well with our own."
Common (frozen) ground
Marsh says his ambition is to expand his firm to $25 billion or $30 billion of advised assets in five years.
So how did two poaching-minded firms in New York and Toronto find each other and find common ground?
Thomson and Hartley Richardson — a founder of Richardson GMP — have second homes in close proximity to each other in Big Sky, Montana. They found themselves squaring off in a three-on-three pond hockey tournament and later hit it off in conversation. One thing led to another.
"We start with Hartley and I having the relationship, and we absolutely trust each other," Thomson says.
---
Mentioned in this article:
---
---
Share your thoughts and opinions with the author or other readers.
http://letotut.kz/user/kopetpdvig/ said:
June 26, 2014 — 7:18 AM UTC
The passthrough port is also used to host iPad-compatible extras and adapters, such as the Apple Digicam Relationship package, or VGA film adapter.
http://www.fsienergy.com/ep.html said:
June 26, 2014 — 8:44 AM UTC
Although some individuals could scientists are involved concerning the long-term impact on the teenage thoughts, stating that Ritalin could hinder normal mind development. Which is why some scientists are beginning to test out Consideration deficit hyperactivity disorder and seafood oil experiments.
---
---