With MetLife playing an air game, Cetera was happy to buy up Snoopy's ground game.
Brooke's Note: To insurance companies, it's a no-brainer to offload their broker-dealer networks. To these behemoths, IBDs are low-margin, low-prospect, diffuse, ramshackle operations that are potential rat's nests of liabilities. The old manufacturer's dream of using its own people to funnel gazillions in insurance products to consumers without getting squeezed by the middleman is rapidly coming to a close. But for Cetera, it is a no-brainer to buy these networks. The venture-backed aggregator can pick them up on the cheap and make them into a rare big block of financial advisors in a baby-booming world that is hungry for decent financial advice. Better yet, Cetera can make some tweaks to their fiduciary orientation — namely getting rid of the insurer's dubious products, which will make the IBD's offerings better and less of a liability waiting to happen. Still, Don Marron's attempt to roll all these guys together is in fairly uncharted territory — especially in a regulatory environment with less and less patience for financial salespeople. It'll be more than interesting to see how this all works out down the road.
Cetera Financial Group Inc has done yet another sizable buy of broker-dealers spun off by an insurance company and may have spun itself into a new realm of possibility in the process. Through the purchase of Tower Square Securities and Walnut Street Securities from MetLife Inc. by one of of its four existing Independent broker-dealers, the venture-capital-backed roll-up of IBDs and their reps has now attained critical mass — and proved that it can do deals and digest them on a serial basis.
MetLife may well have bigger fish to fry. The New York-based giant does $52 billion in revenue annually after purchasing Travelers Life & Annuity and most of Citigroup's international insurance businesses for $12 billion in 2005. In 2010, MetLife completed its buy of American Life Insurance Company, from AIG for $16.2 billion.
Initially, in 2010, Cetera simply acquired three of the old ING broker-dealers and set about trying to develop shared resources and systems of doing business. See: Cetera Financial shores up its technology as it prepares to take on LPL for big hybrid RIAs.
In January 2012, Cetera acquired Schaumburg, Ill.-based Genworth Financial Investment Services Inc. from Genworth Financial Inc. for $78 million-plus. See: What the Cetera-Genworth IBD deal says about where these companies are headed.
Peak form
With the Genworth deal followed by this MetLife one, the El Segundo, Calif.-based company seems to have hit its white-boarded stride. MetLife. meanwhile, continues to clear the decks of non-insurance holdings after the sale of GE Capital in February. The company is seeking to avoid supervision by the Federal Reserve.
Making sure all that got done, and done right, was Barnaby Grist, who had been to the mountaintop of fiduciary-minded advisors in his time in executive positions at Schwab Advisor Services. He is now in the process of withdrawing from Cetera as it crosses an initial finishing line of its self-revamp and settles in to bulk up through deals.
With its newfound sense of development, maturation and size, Cetera can now be benchmarked against the IBD all broker-dealers must reckon with — LPL Financial.
LPL Financial has nearly 14,000 advisors, and Cetera Financial Group is up to 7,000 advisors.
OSJ boom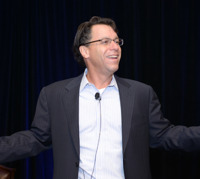 Chip Roame: Cetera seems to be
going specifically after hybrids with a
traditional IBD approach, and doing well
at it.
One thing that stands out about Cetera Financial Group is the way it clusters its advisors together in branches. Tower Square and Walnut Street also serve advisors via a branch network that is similar to the regional model of Cetera Advisor Networks LLC, the IBD that is acquiring the MetLife firms. Those branches, located throughout the United States, mostly in the Midwest and Northeast, will become new independent regions, expanding Cetera's footprint in those areas.
"With acquisitions, we look for quality firms that are a cultural fit, and those where we can offer the greatest benefit to the
joining advisors," said Valerie Brown, chief executive of Cetera Financial Group.
IBDs vs. RIAs
Roame says that, to be sure, there are other differences between Cetera and LPL.
"Cetera has kept their IBDs separate. LPL has integrated," he says. "Cetera seems to be going specifically after hybrids with a traditional IBD approach, and doing well at it. LPL has expanded to an RIA model, a retirement advisor model, clearing, etc." See: LPL's RIA assets skyrocketed in 2012.
These differences continue to blur as Cetera's marketing becomes more unified. See: Cetera rebrands divisions in its own name, but $1-billion advisor defects to a rival startup.
And, of course, LPL has its eyes firmly fixed on hybrids, too. See: LPL vacuums up yet another $1-billion cluster of mostly RIA assets Alabama-style.
With this latest deal, Cetera advisors will have more than $130 billion of assets under advisement.
---
---
Mentioned in this article:
---
---
---
http://thescripter.com/downloads.html
The very initial component you have to do for being capable of come to be certified as being a distributor with Organo Gold is usually to look for a Distributor Package costing forty nine pounds. Soon after you might have certainly be a distributor with Organo Gold, immediately after obtaining the entrepreneurs package, you will discover the choice of buying any on the 3 solution marketing offers. Allow for me to point out you what goes on when these skilled entrepreneurs get these offers. As a distributor in addition to you truly offer a completely new client or customer or an individual that is obtaining amongst the marketing merchandise offers for that very first time, a commission will probably be compensated in your case, since the distributor, as outlined by which pack the person ordered from you.
http://pro.megamozg.su/user/kopetpdhzo/
By the way, the pioneer of working towards medication as libido enhancers was the well-known marquise P Sade. He begun his 'career' from the sex pervert while using the addition of some in the above pointed out 'aphrodisiacs' in foods, normally in a ball or some other supper occasion. Following this spiced with libido enhancers meal, he liked watching the orgies, activated throughout the aftereffect of libido enhancers. Which was his approach to getting motivated for his writing.