Savneet Singh: With RIAs we had to build our own platform since we weren't integrating into someone else's. As you can imagine that is a big tech build.
Brooke's Note: Let's face it. Half the fun of owning gold — just ask King Midas — is being able to count it. But amazingly enough in 2013, the ability of reporting software to account for the ownership of real bars of the stretchy mineral is still fighting to get out of the Stone Age. Even after being mired for a few days on this subject with Lisa I am not entirely clear what makes it so terribly difficult. I get it that, unlike common stock, you can't store gold essentially on a silicon chip. But still! So here we write an article to cite a small advance in gold counting that is none the less a potentially big improvement from where it's been. Just keep the children at a safe remove from your touch.
A New York based startup packed with luminary board members such as former Citigroup and Merrill Lynch exec Sallie Krawcheck and former SEC Chairman Arthur Levitt — and supported by at least one high-level Goldman Sachs guy — has broken through a major barrier to doing business with RIAs.
Gold Bullion International LLC, founded in 2009 amid a dramatic gold boom with the intent to bring better technology, liquidity and transparency to gold transactions, has now signed a deal that will allow (mostly) independent-broker-dealer reps who use Envestnet to access investments to view their gold holdings. It's an advance from manually loading the information and getting dated price information.
The bad news is that Envestnet customers will still be barred (pardon the pun) from placing trades without making a separate trip to the GBI website. Still, it's a leap from buying and selling gold at mom-and-pop corner stores with neon signs that conjure images of holdups and crystal balls, then burying the booty in the garden.
The Envestnet deal marks the first time gold allocations from GBI are available in an automated performance reporting system usable by some advisors. This means that registered investment advisors who use Envestnet's platform, AdvisorSuite, will now be able to view gold and other precious metal allocations alongside their other investments. The company offers real-time pricing to RIAs. AdvisorSuite is Envestnet's SMA clearing house used by tens of thousands of IBD reps across the country
Slight lead
The technological lurch toward RIAs comes none too soon. Savneet Singh, president and a co-founder of GBI, says his firm has been getting up to 20 calls a day from RIAs and that is what triggered this deal with Envestnet. Early on, the company had been focused on the wirehouses.
"When we have very large advisors from Schwab and Fidelity hammering us to get something going for them, we knew we had to create a platform for advisors in the RIA channel," says Singh, who was named to Forbes' 2012 30-under-30 list in finance.
Envestnet may be the only technology firm to offer this service, but others are on its heels and could soon begin offering similar platforms. GBI is planning to craft other deals with technology vendors and RIA custodians, Singh adds.
"This is not an exclusive contract. We're talking with other firms such as Orion Advisor Services LLC and Black Diamond," Singh says. "We don't have any custodian partnerships either, but we're actively working in that area, too."
Eric Clarke, Orion's president and chief executive, says his firm is talking to leaders at GBI.
"Orion continually builds new interfaces to support our advisors' reporting needs. We have had discussions with GBI and shared file specification to facilitate the data delivery for common clients. Once we have a mutual user, Orion will be in position to support the reporting needs." Clarke says.
While Black Diamond doesn't offer GBI, David Welling, its chief solutions officer, says the company does report precious metals.
"All Advent solutions for the advisory market, including Black Diamond, Advent Portfolio Exchange and Axys, have been able to report on physical precious metals for a number of years," Welling says. "We continue to update and add functionality to our solutions and have a broad network of third-party relationships that extend Advent's capabilities, and we are open to further integrations should we see demand from our clients."
He also adds that RIAs with Black Diamond handle the accounting of these assets in a variety of ways.
"But many are comfortable simply entering new or existing physical precious metal holdings into their clients' portfolios and valuing those assets at publicly available spot rates from one of many data providers, such as Bloomberg. While we do not currently receive a data feed from GBI, we do aggregate data from thousands of financial institutions and data providers and will continue to add to that expansive list as we see demand from our clients."
Singh says while firms like Black Diamond may in fact include physical metals, he says they're not doing so in an automated fashion.
"If the reporting company … does recognize the position then it's done manually and on reverse inquiry," Singh says. "But it's not automated or easy. This deal with Envestnet makes it easy and usable for an RIA."
In February, GBI began allowing RIAs access to its platform, but the data weren't linked with any performance reporting software. RIAs who don't use Envestnet's reporting system can still buy and trade precious metals through GBI.
But it will be more cumbersome because it won't be synchronized with their performance reporting software.
Starting with the wirehouses
GBI first gained industry acceptance by obtaining access to wirehouse platforms in 2011 and now has large exposure at Merrill Lynch. More than 1,000 advisors — primarily from wirehouses — use GBI.
Singh says the reason it took longer to get into the RIA arena is because GBI had to build it own custodial platform.
"When we work with wirehouses, we integrate into their custodial platform. With RIAs, we had to build our own platform since we weren't integrating into someone else's. As you can imagine, that is a big tech build," he says.
How much is that gold bar?
GBI structures the buying and selling of precious metals so that RIAs can do so similarly to how they buy and sell other funds. Right now, many RIAs use ETFs to purchase precious metals. GBI works with 14 of the nation's largest precious-metal firms and acts as its own exchange for gold, says Singh.
GBI has set up an exchange system so that RIAs are essentially using a system to buy gold, silver, platinum and palladium similar to what they use to purchase any stock or fund. GBI sends an order to 14 suppliers, and once the order is transmitted RIAs will see the lowest bid from five vault locations in real time. Singh says that once RIAs use his firm's exchange system to buy and trade precious metals, they'll get the lowest price on the market — perhaps saving as much as 10% or more using the company's system.
"We never lose on price. We're using 14 of the largest institutional dealers, and if you're buying physical gold, there is no chance RIAs can get a better price than us because we do it on such a large scale," Singh says. "It's a lot more about just price. We have an accounting firm audit it and we have a major insurance company that backs it."
The firm charges 0.55% of the account's average AUM over the course of each year in the RIA channel for the storage, insurance and audit of the gold. The firm has different grids for different clients and they offer discounts for large buyers. The company is approaching $1 billion in transaction volume in the last 18 months in the advisory channel. The bulk of that gold is in the firm's five faults.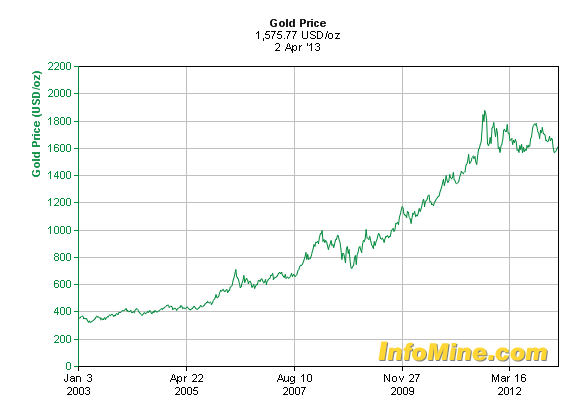 Gold still glitters but not as
brightly of late.
When Krawcheck tweeted about joining the board, she made it seem as if she wants to align with the average investor on Main Street. In that tweet, Krawcheck said it was "because of the power of asset diversification." She joined the board in April 2012. She is also on the board of popular babysitting and nanny-finding website care.com as well as that of online broker Motif Investing Inc.
Levitt joined GBI's board in February, and he is also on the board of Motif Investing.
Envestnet's deal
Under the deal with Envestnet Inc., the technology firm will be reporting on hard assets held in GBI. But advisors who want to rebalance GBI assets will still have to go to GBI's platform to do so, says James Patrick, managing director of advisor managed programs for Envestnet.
"We may add further functionality if clients demand it," Patrick says. "As far as an edge is concerned, our interest is in providing advisors with the best information we can, so they can provide their clients with leading service."
While it's true that RIAs who aren't with Envestnet can utilize GBI, they don't have the advantage of linking their trades with any reporting system, Singh says. Right now, the only reporting system that is making GBI available is Envestnet.
"Right now, the only integration of reporting capabilities on the RIA side will be with Envestnet. It's a huge deal, and we are trying to make it easier for RIAs," Singh says.
Independent-channel breakout
This new partnership is a big deal in the industry, says Franklin Tsung, chief operating officer of AppCrown LLC. See: How AppCrown got a big RIA footprint overnight by handling Salesforce implementations.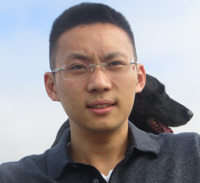 Franklin Tsung: I imagine GBI will
not be the first and only
alternatives platform for Envestnet.
"With GBI on the Envestnet platform, not only do you have a TAMP to scale your operations as an RIA, but it looks like an advisor may recommend GBI as an alternative asset class for their investor/client. Not only is GBI a great alternatives [platform] but it is now reportable within Envestnet's performance reports — offering greater transparency for the client to understand what they hold in their portfolios," Tsung wrote in an e-mail. "This is huge. I imagine GBI will not be the first and only alternatives platform for Envestnet. Being a first mover, GBI is on the cusp of winning many advisors within the RIA channel that is striving for something more than mutual funds, ETFs and traditional investment models."
Tsung also says that GBI's partnering with Envestnet helps level the playing field between RIAs and wirehouse advisors and is also appealing to advisors whose clients are craving alternative solutions.
"Alternatives represent an opportunity for the independent channel to break out, help manage their clients' portfolio risk by reducing volatility and reducing correlations to provide a more diversified asset allocation model. Envestnet's TAMP platform is a natural supporter of GBI, given Envestnet's focus on the RIA channel," Tsung says.
Goldman, SAC presence
Tsung says he's gotten to know Singh recently and is impressed with his talent and leadership of the company. "Gold Bullion has attracted some of the best talent in New York City and has also attracted some of the best institutional commitments to date," Tsung says. "I'm very impressed with them."
The company has a minor dream team of power supporters. Its founders include former Goldman Sachs managing director Steve Feldman and Dan Tapiero, a portfolio manager at SAC Capital Advisors. SAC is a $14-billion group of hedge funds founded by Steven A. Cohen in 1992 that employs approximately 800 people across its offices located in Stamford, Conn., and New York City. Tapiero gained renown for holding gold in a New York Times article.
(Sidenote: SAC Capital — mostly Cohen — has been rocked in the media for insider trading allegations [paying a $616 million settlement related to those charges] and the institutions who still keep assets there have the company on a short leash, sources say. Cohen is very much in the New York news for buying Picasso's masterpiece "Le Rêve" from Steve Wynn for $155 million. Shortly thereafter, he bought a $60-million Hamptons beachfront cottage.)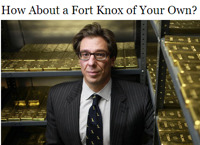 Dan Tapiero already got featured in
the NYT as a gold vaulter.

Steady growth
Singh acknowledges that GBI's success in the wirehouse arena, coupled with some of its all-star board members, has helped the company to grow in recent months. While acknowledging that the privately held company is profitable, he declines to list profits.
He points out that the firm isn't necessarily pushing investors to put all of their money in gold, but rather a healthy asset allocation.
Brass bands
In fact, Singh says, he feels that powerful board members such as Krawcheck are simply preaching the message of diversification.
"People like Sallie joined the board because we make getting gold lower-cost and much easier for all investors. We're not gold bugs … We're simply making an asset class available to everyone at a lower cost."
One thing that isn't helping gold owners is the current price trajectory that has gold bugs such as Jeffrey Nichols, senior economic advisor to Rosland Capital LLC, singing the blues.
"Gold continues to disappoint, as recent attempts to rally have been frustrated again and again," he writes in his most recent commentary. "And, once again, it has been institutional speculators — traders with no long-term allegiance to the yellow metal but an uncanny ability to trade both sides of the market — who are responsible for gold's failure to move higher.
Zoloft, please
"What the gold market needs to move higher is a good dose of Zoloft or perhaps, even more extreme, a high-voltage jolt of electroshock therapy to jog the metal's price out of its current state of depression."
Even though gold is in decline, Singh says the firm is still getting interest from RIAs and investors alike.
Account sizes range anywhere from $25,000 to millions of dollars, Singh says. Though the price of gold has certainly dropped in recent months, he says, RIAs and investors alike are still quite interested.
"I think the interest is still the same," Singh adds. "We find very few people try to time the price of gold. You can always include gold in part of your portfolio."
---
---
Mentioned in this article:
---
---
---
http://viaemilia.altervista.org/showthread.php?tid
Last week I arrived dwelling during the day to locate a person in his fifties ringing my doorbell with the apple in his hand. As my Flemish is pretty primary, I misunderstood he was asking me if I desired to acquire an Apple. I replied that i was not fascinated.
http://www.wadecraiggroup.com/SR_BIlling.htm
For complicated items you may call Mark. G. Lester on 0871 231 7399 in the course of business hrs. For straightforward queries on or , check out the website thefinchleyclinic.com, to obtain optimum benefits.Cough natural home remedies are utilized all over