News, Vision & Voice for the Advisory Community
The CEO believes a 20-year war may yet be won
April 30, 2013 — 7:34 AM UTC by Guest Columnists Eric Bran and Sarah Fanous-Samaan
Brooke's Note: Raymond James does stand out. It's a full service brokerage that is also an IBD and an emerging RIA custodian. These are not services frequently blended because internal conflicts tend to flare up. But if conflicts were to arise, you might expect them under this Texas tent. But it appears to be a relatively functional family. See: How a clique of industry vets plan to revive the swooning IBD space — and why industry watchers don't like their chances.
Turns out, everything really is bigger in Texas. At least that held true for this year's Raymond James Financial Services Inc. National Conference for Professional Development held in the city of Grapevine. The four-day event was the largest one yet in the St. Petersburg, Fla.-based firm's history. More than 1,800 advisors in the independent and bank channels, including 65 visiting advisors, more than 200 branch professionals and hundreds of home office associates were in attendance for the gathering April 22 to 25.
Scott Curtis, president of RJFS, set the tone for the conference in the opening general session, explaining how the theme, "Building on the past, planning for the future," resonated with him. He was born the same year, 1963, that Bob James founded what would become Raymond James. See: With Dick Averitt retiring, Raymond James taps a star from within to take on LPL.
"Right from the earliest days of the firm, Bob had an idea about financial planning, about taking the time to understand the clients and their needs before making a recommendation. That was our foundation. Being honest and forthright, acting intelligently and doing the right thing for clients," Curtis said.
"We as a firm remain committed to that ideal and look forward to many more years in partnership with you [the advisors in the audience]." See: Raymond James shows it's serious about winning bigger RIAs.
Curtis went on to explain that each person in the room has a shared responsibility to make sure the firm's founding values remain at the core of what he or she does every day. "We must be true to our heritage as we evolve and grow. Our objective is to be the premier private-client group. Not the biggest — the best," he emphasized.
'Not perfect'
To do that, Curtis said, the firm focuses on attracting quality advisors and helping them increase client assets. In fact, since 2008, the RJFS advisor count has grown only 3%, while assets have increased more than 60%.
"We're placing your needs and your clients' needs first. That means giving you choice over affiliation, products and technology," he added. See: Raymond James launches a separate RIA unit and appoints a former Merrill Lynch breakaway to head it.
"Admittedly, we're not perfect," he continued with a laugh. "Some of you point that out more frequently than others, but we welcome it. If there's something we can do to help make you more successful, by all means let us know. We're in business together; our relationship is a partnership."
To that end, the firm is focused on initiatives that come out of the various advisory councils, including communicating openly and honestly about the ever-changing, increasingly overwhelming regulatory environment and enhancing the technology systems advisors use every day.
Leading with technology
Perhaps nowhere is that forward-looking commitment more evident than in the firm's technology initiatives. At the general session on Monday, chief information officer Vin Campagnoli reflected on the firm's technology past and what his team is building for the future.
"I thought the theme 'Building on the past, planning for the future' was perfect, not just for the conference but for technology, as well," he told the packed house.
"We've spent the past 18 months working on systems that will enhance your business capabilities, all the while keeping a sharp eye on the future to anticipate your needs and regulatory and industry trends to keep you ahead of the technological curve." See: Two Raymond James advisors relate details on how they segmented clients to get big and successful.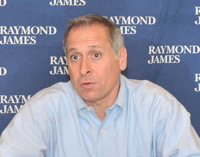 Vin Campagnoli: We've spent the past
18 months working on systems.
Campagnoli credited management's commitment to improving technology as a driver for all that has been accomplished and all that is in the pipeline. "The support for tech at this firm is real and almost overwhelming," he added. "Senior managers have been there for everything we want to do and are driving it with us. We've increased spending on tech by 30% since 2011. No other firm in our industry can claim that."
The more than 60 technology education sessions were among the most popular at the national conference and ran the gamut from hands-on demonstrations to best practices, and included everything from integrating iPads into client meetings to Goal Planning & Monitoring, a proprietary financial planning tool that allows advisors to create customized plans through interactive collaboration with clients, then track the plan's progress in real time.
Advisors were not only able to test-drive the software, but also were provided with advanced techniques and best practices on how to present its capabilities and value to clients. See: Two Raymond James advisors relate details on how they segmented clients to get big and successful.
Campagnoli said the focus is on building systems as if from the mind of the financial advisor, especially when it comes to customization and efficiencies in Client Center, the firm's fully integrated client relationship management platforms, and the recent enhancements to the systems' integration make each simpler, easier, faster, more accurate, more stable and more secure. See: LPL, Raymond James and TD data — and Walt Bettinger, Mike Durbin comments — reveal rotten first quarter for breakaways
He also credited feedback from the 16-member advisory council whose members "spend an unbelievable amount of time with us" to shape the technology initiatives. "We have a great connection to our advisors. They want to help. They're telling us, 'this is what we need.' That's driving us to understand you better," Camagnoli noted. "With that continued support and partnership, we'll do amazing things."
Advocating for the independent advisor
Chet Helck addressed the more than 3,000 total conference attendees wearing two hats — as CEO of Raymond James' global private-client group and chairman of the Securities Industry and Financial Markets Association. In his presentation on Tuesday, he relayed some of the larger regulatory issues facing advisors, emphasizing the importance of grassroots efforts to make sure the industry's collective voice is heard by the powers that be. See: New York conference: SIFMA wants members to be like RIAs — minus the same rules of accountability.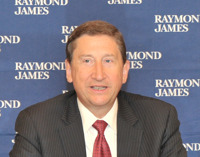 Chet Helck: These boots on the
ground went to work and got
a proposal to tax financial services
withdrawn in Ohio.
Helck spoke on three key actions being considered by regulatory bodies, including whether independent contractors should still be able to deduct business expenses on their tax returns. The federal government would prefer these business owners forgo those deductions and be taxed at an individual rate, which likely would be higher.
"On these issues, we've been fighting together for what seems like 20 years," Helck said. "I believe we're winning the battle. We're confident, but this is one that we can't give up being vigilant about. Thank you for your support and help. I hope if we're called to rally, that everyone here will stand up and fight with us again."
Boots on ground
That ground level support has been instrumental in defeating not only proposed federal regulations that would affect the independent advisor's business, but proposed legislation in individual states as well, explained Helck.
"These boots on the ground went to work and got a proposal to tax financial services withdrawn in Ohio," he said. "And we are working hard to do the same in Minnesota. That's thanks to the work of many of you in this room who have gotten involved. That's what it takes. This is a nightmare scenario if every state decides to tax financial services. Just imagine the complexity of administering it. We can't let this one get away from us." See: Fidelity study: Breakaway RIAs could pocket millions in after-tax profits.
Helck said that regulations surrounding and defining fiduciary standards are also on the radar — especially since so many parties are trying to have a say: the Department of Labor, FINRA, the Securities and Exchange Commission and Congress, among others. See: Creating an SRO would cost 100% more than SEC exam program, study shows.
"It's a big deal. What comes out of this will drive the way you do business for the rest of your life," Helck emphasized. "It's important that we stay involved. The fiduciary standard says that you have to take the oath of putting your clients' interests first. At Raymond James, that's business as usual. It's what we've always done. Bob James started this company on that idea. So that's a tribute to you. We have a model that demonstrates how the fiduciary standard can and does work." See: Dale Brown tells RIAs why SEC's fiduciary standard is too costly for their clients.
On fire
Raymond James Financial Inc. CEO Paul Reilly concurred in his remarks Thursday. He credited the firm's success, in part, to a culture that elevates the fiduciary standard to a moral standard when it comes to taking care of other people's money.

Paul Reilly: Companies like us are
disappearing.
"You know, I love this firm. It means something. What Bob and Tom James have built — what you have helped build — is very special in this industry," Reilly told the audience of advisors. "Companies like us are disappearing. We should set ourselves as an example of how people should do business. That's what I'm on fire about. We're just going to focus on what we do and do it well. It's good for the industry that we are who we are." See: Two Raymond James advisors relate details on how they segmented clients to get big and successful.
His remarks were followed by a Town Hall meeting in which advisors posed questions and comments to Reilly, Helck, and Curtis. Jim Fulp, chief operating officer for Raymond James Financial Services, moderated the session, asking the senior managers about product availability, better communication, enhanced productivity and client reporting, among other things.
One advisor suggested the firm look at some of the initiatives one major bank has instituted to help clients save more while paying down debt, in a program similar to RJ's Capital Access account. Another suggested a pricing structure that better accounted for total household assets.
The two recommendations were duly noted by Curtis and Helck as worthy of investigation to help the firm remain competitive. Helck, Curtis and Reilly all welcomed the feedback and said they were already looking into breaking down account structure silos and considering pricing adjustments.
The senior leaders reiterated their emphasis on improving technology, particularly when it comes to producing intelligent and accurate client reports. They recognized that some time-consuming and redundant processes need to evolve to enhance productivity. They said the firm is challenged to find platforms that meet the needs of a pretty diverse group, while remaining simple, scalable and sophisticated.
When Reilly was asked if he was personally pleased with the progress on the technology front, he said, "We've made faster progress on technology than I thought possible. We're moving quickly. Bella [Allaire, vice president, technology] and Vin are very focused on getting you the tools you need. But my guess is that we'll always feel there's room for improvement, so we've got to keep moving."
In his closing remarks at the 2013 conference, Curtis reiterated the firm's focus on advisors.
"We are passionate about what we do, for you and your clients," said Curtis. "We're excited about our future. We're a growth company. Together we'll continue to evolve and improve, building on the rock-solid foundation of our business. Of course the core values won't change: client first, integrity, conservative risk management. Independence and choice remain at the forefront of our decisions. I'm so proud to lead our team, building on the past and looking forward to our very bright future."
Eric Bran and Sarah Fanous-Samaan are staff writers at Raymond James.
---
Mentioned in this article:
---
---
Share your thoughts and opinions with the author or other readers.
---