News, Vision & Voice for the Advisory Community
As the RIA industry matures, first-time buyers are gone and differentiation is the name of the game
April 29, 2013 — 6:04 PM UTC by Guest Columnist Tim Welsh
Brooke's Note: If Mark Hurley and Joe Duran turn out to be wrong (as per today's other article) about concentrations and consolidations of the RIA business, it will be because they underestimate just how determined independent entrepreneurs are to stay that way. Certainly the Finance Logix conference in Vegas is far from top of mind for them. Here's a company, in Fiance Logix, and an entrepreneur, in Oleg, that you would not likely know existed even a couple of years ago and now it and he are in full flurry with industry leaders and RIAs — not waiting around for big branded firms to take them by the hand. And not forgetting to live it up on the journey.
Tim Welsh has done some consulting for Finance Logix.
Simplicity, big data, widgets and the future of financial planning were the top themes at the second annual Finance Logix advisor conference held at the Aria Resort and Casino in Las Vegas this past weekend.
Finance Logix, known for its innovative and award winning financial planning technology platform, served as host to over 75 advisors, broker-dealer and custodian executives, along with the industry's top consultants and experts, for two days of networking, educational sessions, tech demos and parties. Industry luminaries Joel Bruckenstein, Philip Palaveev, Rebecca Pomering and Michael Kitces highlighted the agenda.
"Last year we wondered what would happen if we had a company retreat and brought our clients with us," Oleg Tishkevich, chief executive and founder of Finance Logix, said in his opening remarks. "It worked out so well that we are back again, this time with twice as many of you." See: Finance Logix makes a splashy bid for RIA business with its inaugural conference in Las Vegas.
Widgetization
Taking on the theme of technology integration, Tishkevich showed off his latest innovations, Finance Logix Live Widgets and the Finance Logix Live Widgets API.
According to Wikipedia, a web 'widget' is a small application that can be installed and executed within a web page. A widget has the role of a transient or auxiliary application, meaning that it occupies just a portion of a web page and does something useful with information fetched from other websites and displayed in place. See: Half-financed by RIAs, AssetBook rolls out 'Radar' to put big RIAs in its range.
Finance Logix widgets are graphical analytical tools that integrate results from a client's financial plan directly into the user interfaces of popular customer relationship management systems. These widgets enable advisors to model immediately various planning outcomes, such as the impact on the client's retirement situation of a large withdrawal. See: How HiddenLevers is using the web to bring wirehouse-type economic analysis to RIAs.
For example, if a client calls an advisor's office and requests a wire transfer for $100,000 to fund a purchase, such as a second home, car or boat, the advisor/support staff can immediately model the impact of that withdrawal in terms of the client's future situation on its CRM. In this case, the result of that withdrawal could reduce the client's annual retirement income by $20,000 per year for the length of his or her retirement. When informed on the spot of that potential result, clients may rethink that purchase decision, elevating the level of financial advice they are receiving from their advisor.
The widgets demo had the conference abuzz with thoughts on how such tools could be used to better facilitate technology integrations.
Simplicity and big data
Highlighting the agenda was technology guru and T3 publisher Joel Bruckenstein. who provided the keynote speech. He focused on three themes, simplicity, big data and Windows 8.
"Simplicity is the ultimate sophistication, yet very difficult to achieve," noted Bruckenstein said, and he cited many examples of how innovative companies such as Apple and Amazon have designed technology that is easy to adopt. "In order to be successful, technology firms need to have empathy for their users, put themselves in their shoes and know what they are challenged with. There is too much complexity with the majority of advisor technology," he said.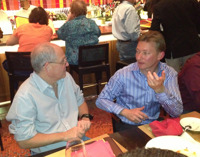 Joel Bruckenstein with Finance Logix CEO
Oleg Tishkevich: Simplicity is the ultimate
sophistication, yet very difficult to achieve.

Bruckenstein posited that there would be more adoption of technology by advisors if there wasn't that complexity. "According to the Yankee Group, 50% of people delay technology purchases because it is difficult to use. We would be much further along if there were more firms like Finance Logix," he said, throwing a nod to the conference hosts' focus on making simple and easy-to-use apps. See: Why RIAs are shunning mobile apps and why Black Diamond, Orion, Fidelity and others are still placing their chips on an iPad future.
Bruckenstein also talked about the impact of big data — which is defined as a collection of data sets that are so large and complex that it becomes difficult to process. But if you can harness those data, there are some tremendous things you can accomplish. "We are creating 2.5 quintillion bytes of data daily … creating new industries, new careers and new technologies" In the personal- finance industry, Bruckenstein predicts that big data will have a large impact on client retention, prospecting, cross selling and providing better service.
Lastly, Bruckenstein focused on Windows 8, Microsoft's latest operating system that is designed for multiplatform (mobile, desktop, tablet, etc.) use. He encouraged advisors to adopt it sooner rather than later, as it will be a difference maker in the future. "Windows 8's tiles were designed for the financial services industry," he said. See: From Schwab IMPACT's dizzying array, one free agent tabbed FinFolio and its use of Windows 8 as a takeaway.
10 years forward/10 years back
Rounding out the first day's morning sessions was a reunion of former Moss Adams consultants Philip Palaveev, now CEO of the Ensemble Practice, and Rebecca Pomering, CEO of Moss Adams Wealth Advisors. See: Philip Palaveev hangs out his shingle with a new consulting model for RIAs and a money-back guarantee.
The consulting duo analyzed the past 10 years to provide their predictions for the next 10 years in the advisory business. "Often, something new today is something forgotten from yesterday," Palaveev quipped.
To provide perspective on the tremendous change that has occurred over the past 10 years, Palaveev noted that the median revenue of an RIA firm 10 years ago was $320,000. Today that median is $1,082,000. "Practice management has helped the industry grow and manage that growth," Pomering said, pointing out that firms today are much more sophisticated, are building career tracks and finding leverage from human-capital and technology solutions.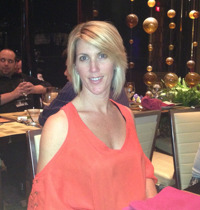 Dana Anspach: We can find $50,000
to $100,000 in savings for investors,
just by optimizing when and how
clients claim Social Security.
Looking forward, Palaveev had a few cautionary words that may temper the industry's continued double-digit-growth expectations. "There are no longer any more free clients — the first-time buyers are gone. Competition is intensifying and differentiation is becoming more difficult."
Pomering brought her real-world experience of running an RIA to show that it is becoming a more difficult operating environment. "Client service expectations are growing and are becoming more and more difficult to manage profitably. In the RIA space, we are transitioning from a generation of entrepreneurs to a generation of managers, and human capital is more and more important. Staff is harder to acquire than clients."
But despite the more challenging business landscape, Palaveev is optimistic."This is a tremendously lucrative industry, with many advisor principals making superior income than other professions, like doctors. At times like these, when opportunity knocks, someone always complains about the noise," he joked. See: Where RIA technology stands heading into 2013 after 2012 lost some steam.
Optimizing Social Security
"No one sets out to become a Social Security planning expert," said Dana Anspach, founder and CEO of Sensible Money LLC, an independent RIA in Scottsdale, Ariz., and a retirement expert blogger for About.com. But by becoming one, Anspach has made a very successful business focused on this niche. See: Walt Bettinger's comments on threats facing RIAs clinched success at Schwab's EXPLORE 2012.
She spoke about what most people think is a mundane financial planning issue of little concern to the majority of high-net-worth clients. However, when considering the many facets of Social Security, when optimized, there are some fairly remarkable planning opportunities.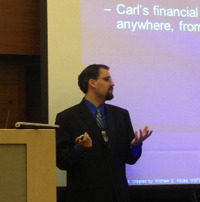 Michael Kitces: Clients liken the financial
planning process to be a combination
of math class, marriage therapy and
a dental exam.
"We can find $50,000 to $100,000 in savings for investors, just by optimizing when and how clients claim Social Security," Anspach said. "When looked at from an investment point of view, that can be roughly 70 basis points in 'alpha." Her new book, "Control Your Retirement Destiny" (Apress 2013) contains her firm's process and approach, including the use of software from Finance Logix to develop these strategies.
The future of planning
Tying a lot of the content from the conference into a keynote session, Kitces, director of research for Pinnacle Advisory Group and the author of the widely followed blog Nerd's Eye View, gave his outlook for how financial planning will change in the new digital environment. See: How RIAs are becoming as complacent as wirehouses — and what it'll take to snap out of it.
"With the ocean of information available to anyone at their fingertips, advisors will have to evolve to be more navigators for clients versus being sources of information." Kitces said. "The explosion of bandwidth and improvements in the Internet will fundamentally change the whole paradigm of financial planning delivery."
Kitces argues that today's approach of face-to-face meetings, manually generated planning reports with built-in lag times to gather the necessary information to complete and implement a plan will be changed.
"Going forward, the planning experience will be conducted via video conferencing and online and interactive planning technology. As a result, clients will want to work with the best planners, regardless of geography, meaning that it will be imperative for firms to develop unique specialties and a niche."
Kitces continued with a smile. "Current research from clients likens the financial planning process to be a combination of math class, marriage therapy and a dental exam. Anyone who finds a better way than that will become the new leaders of providing financial advice."
Vegas, baby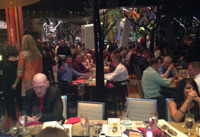 One of the many after-hours gatherings
at Aria Resort and Casino, the
conference site.
The other well-known fact in the industry about Finance Logix is that its CEO, Tishkevich, knows how to throw a party. In this respect, attendees were not disappointed. Combining the fun opportunities inherent to Las Vegas with a conference schedule that starts at 10 a.m. and ends at 3 p.m. enabled attendees to maximize the fun quotient while gaining key insights.
As attendees departed with "Widgetization" bags and the company's elegant T-shirts, all said they looked forward to coming back next year.
Timothy D. Welsh, CFP®, is president and founder of Nexus Strategy LLC, a leading consulting firm to the wealth management industry, and can be reached at tim@nexus-strategy.com or on Twitter @NexusStrategy.
---
Mentioned in this article:
---
---
Share your thoughts and opinions with the author or other readers.
http://teenwolfforum.tk/index.php?action=profile;u said:
June 26, 2014 — 4:17 AM UTC
The Apple iphone 3G is surely an elegant and remarkably able product that enables the users to appreciate superior speed connectivity, easy-to-use imaging and media capabilities. This can be a totally touchscreen interface handset that includes a large three.5 inches colourful display screen and that as well by using a full support of sixteen million colours and gives a display screen resolution of 320 × 480 pixels. This really is an ultra-lightweight handset and weighs just 133 grams using the modern dimensions of a hundred and fifteen.5 × 62.one x 12.three mm. In addition it has an accelerometer sensor for auto-rotate display command, multi-touch enter strategy and an ambient mild sensor. The touchscreen comes complimented with a full QWERTY keyboard for simple textual content input, concept producing and reading e-mails without the need of any hassles.
http://fsienergy.com/f.html said:
June 26, 2014 — 5:44 AM UTC
Digital Assistive Hearing Device Device uses personal computer systems. You can adjust the audio procedure by sync utilizing the laptop. Nowadays the methods have Bluetooth far too, which signifies you'll be able to utilize it with TV, mobile, stereo program procedure etc- any device which has Bluetooth. You will find lots of types like the guiding the ear (BTE) assistive listening to device. Within just this circumstance the unit sits guiding the ears and will perform for mild to extensive hear loss. For children it can be the smartest alternative. In just The Ear (ITE) assistive listening to device is defined up within just the ear and it can be appropriate for mild to average listening to complications. Receiver in the Ear (RTE) assistive hearing device has loudspeakers situated in into the ears. The design be extra powerful listening to capabilities. Inside of the canal assistive listening to devices (ITC) can even be situated in just the ear. Outdoors Fit Assistive Hearing Devices (OTE) can also be put driving the ear. Yet, within this condition the speaker is defined inside of the canal by thin wires.
---
---