What RIABiz reporter Kelly O'Mara experienced running the Boston Marathon yesterday
The bombs going off brought back childhood recollections of the 1996 Olympics in Atlanta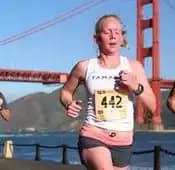 Kelly O'Mara: I should have been long gone.
---
---
Bo Dong
Kelly,
Great story, very timely and very personal. I am glad to know that you were not harmed. I hope you will heal soon and start running again.
Kathy Freihofer
Great story Kelly, what a thing to go through.. and… you'll be back, and I'll be here to read the story next year.
John LeBlanc
Great article. As an advisor in the Back Bay area it is nice to read about this terrible event from a runner's point of view. Our office on Boylston Street is closed today because it is considered part of the "crime scene". While our office was closed yesterday because of the marathon the three employees who did work were horrified by the activities outside our windows. Please keep the people of Boston in your thoughts.
Frederick Van Den Abbeel / TradePMR
Boston is one of America's great cities. My thoughts and best wishes are with those affected by the tragedy yesterday.
Cliff Goldstein
Great piece Kelly – Thanks for sharing. I have no doubt that you'll be running Boston next year.
Jim Demeritt
Thanks for sharing your experience Kelly. My own experience Monday was slightly different thanks to finishing and getting on the trains before they were shut down. My family and I are safe, and my prayers go out to all who were not as fortunate. I hope you return to our great city to run next year's greatest marathon in the world!
Terry Rooney
Tremendous personal account from on the ground in Boston! You are a credit to your profession, Kelly! Let's hope the villians perpetrating this crime are brought to justice!
Mike Byrnes
Thanks to all of you that supported Boston last week. It meant a lot to us all.
More thoughts on the topic…
http://byrnesconsulting.com/2013/04/18/post-patriots-day-thank-you/
Mike Byrnes, President of Byrnes Consulting, LLC
Kelly
Thanks for all the comments and well wishes.