News, Vision & Voice for the Advisory Community
With the Chicago-based outsourcer's stock now up about 75% in the past year, it picks up a Prudential unit that has sweet ties to trust companies
April 15, 2013 — 5:16 AM UTC by Brooke Southall
Envestnet Inc. has agreed to pay upward of $33 million for 12 client relationships and service/sales staff of the TAMP-to-trust companies portion of Prudential Financiai Inc.
The Chicago-based outsourcer — which has a virtual lock on selling separately managed accounts and the associated reporting technology to reps of independent broker-dealers, and a solid foothold with RIAs and broker-dealers at banks — is now picking up what industry observers say is the best in that product realm for trust companies.
It is paying $10 million with an additional $23 million based on contingencies. See: With formerly hot TAMP category hitting a cold patch, Envestnet stays on a roll.
Though the contingencies were not spelled out, Jud Bergman, Envestnet Inc. chairman and chief executive, says that the terms were set with the goal of having his company realize a 25% return on invested capital — a level the company has also set — and met — for itself. Bergman is optimistic his company will continue to hit that mark.
After warning that it's subject to regulatory rules of forward-looking statements, he added: "We expect that to be met or even exceeded."
Apparently, Wall Street likes what it sees of Envestnet's progress. As of Friday's close, the shares (NYSE: ENV) were at $18.25, up about 50% from a year earlier and nearly 80% from the company's 2010 initial public offering.
"I think institutions are seeing this as a way go participate in large trends," Bergman says. He identifies those trends as: the move from commission business to fee business; the move from the captive brokerage world to RIAs and IBDs; and the preference of many independent advisors to outsource investment management to spend more time working with clients.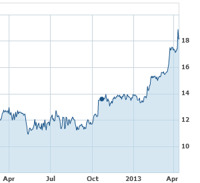 Yahoo!'s depiction of ENV's last year
as a stock.
Tying it all together
But there are also similar trends happening within the bank channel that account for the most recent deal. Trust companies have long been considered good fiduciaries to clients, with one glaring deficiency — a lack of open architecture. Their clients are often stuck with or steered to proprietary managers. The Prudential program offers trust and bank firms to open that architecture.
Another problem at banks is that they have wealth management programs both on the trust and the broker-dealer side of the business but with virtually no economies of scale or synergies realized because the two businesses operate utterly separately. See: New DOL rule effectively kills off open-architecture option favored by some big plan participants — and sets off the 401(k) industry.
Envestnet is already strong working with broker-dealers at banks, and Bergman believes the Prudential purchase will help his company enable its bank clients synergies their wealth management offerings. "There is an increasing desire of banks to unify wealth management activity," he says.
Full-powered chassis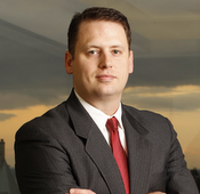 Shirl Penney: You want as many
applications for your chassis as possible.

Dan Seivert, principal and investment banker with ECHELON Partners, says that Envestnet's deal makes good sense and the Prudential wealth management division is absolutely the best for banks. "The people are some of the best veterans in the business," he says.
Still, he says that Envestnet will face challenges because banks embrace change in the most grudging fashion.
Shirl Penney, CEO of Dynasty Financial Partners, whose firm sells Envestnet's services, says that the banking deal could have a modest positive effect for RIAs and IBDs in that as Envestnet grows, it gets more scale that all clients can benefit from.
"You want as many applications for your chassis as possible," he says.
Silver Lane Advisors LLC served as financial advisor to Prudential Financial. Envestnet did not retain a financial advisor. Mayer Brown LLP acted as legal counsel to Envestnet and Wilmer Cutler Pickering Hale and Dorr LLP acted as counsel to Prudential Financial. See: The 19 ways private equity has juiced up the RIA business and how it's working out.
---
Mentioned in this article:
---
---
Share your thoughts and opinions with the author or other readers.
---