Adam Birenbaum: We fundamentally believe that a group will emerge as a large practice that will compete against the wirehouses.
Brooke's Note: If you're going to have a most-influential list in a realm as dynamic as the RIA business, you really want a crowning example that somehow brings together the myriad ways that RIAs are succeeding and combines them in one tidy package. Last week we gave you our picks, six through 10, of our top 10. See: 10 most influential RIA figures going into 2013 and how they're reshaping the industry, Part 1. We've found our No. 1 pick. You'll see that his fairly mind-blowing success greedily uses an all-of-the-above strategy that includes big use of a roll-up, a TAMP, DFA, Silicon Valley's wealth, the untapped potential of the accounting profession, social media and even the mass affluent. Oh, and the CEO is about age of some red-shirted college athletes. Further up on the list at No. 5 we have a happy-go-lucky advisor who counts turtle-riding among his feats. How does he rate so high? Remember the song with the refrain: "You've got to fight for your right to paaaaarrrrty." It's true. I believe that anybody who makes success look super-easy is employing tremendous effort and concerted mindfulness behind the scenes. Scott Leonard may epitomize that. But he also epitomizes what the financial advisory is all about — bringing method to the pursuit of a dream. When somebody glued to a cubicle tells you they are helping you to scheme your fantasies, how much credibility can you place on that guidance that landed this person with the rest of us in the land of re-processed air? Scott can not be accused of that as he has done a Galapagos job of leading by example and taking this profession to an outer boundary. Meanwhile, former stars on our lists like Randy Long, Ric Edelman and Jud Bergman simply piled on too much success in 2012 for us not to include them all over again.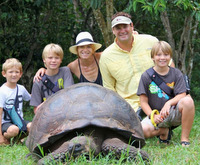 Scott Leonard could — and is
— writing a book about discovering
that the race does not always
go to those in the fast
lane.
5. Scott Leonard, Principal, Trovena
For the first time in a year and a half, Scott Leonard and his family are on dry land — and have been there for a few months.
We've been avidly covering Scott Leonard's follow-your-dream round the world tour since he, his wife and three sons set sail in their 50-foot catamaran, Three Little Birds, in September 2011. Apart from the romance inherent in such a high-concept adventure, the projected three-year trip has also been an extreme experiment in RIA practice-management.
Leonard wanted to see if he could grow his Redondo Beach, Calif.-based RIA Trovena LLC in absentia, making himself "intentionally irrelevant" by empowering his employees and returning to the home office a couple of times a year for intense meetings with staff and clients. See: Advisor spotlight: How one advisor is building his practice to sustain a three-year sailing sabbatical see the world and find adventure.
When we checked in with Leonard recently, he had plenty of news to report. In November, he had navigated the boat from the South Pacific, where typhoon season was looming, to New Zealand. Docking the boat there, the family flew home to Los Angeles in time for Thanksgiving.
On the business front, Leonard's experiment continues to thrive, with Trovena having gained clients and assets over the last 18 months. The firm is up to $550 million AUM currently. His round-the-world idyll, in fact, has become a selling point in itself.
"[Prospective clients] don't want to see the owner, they want to see the guy sailing around the world," Leonard says. "Any negatives about the trip have been evened out by the novelty of it. Everyone wants a financial advisor who can help us live our dreams, so they're like, how can we begrudge you the chance to do the same."
Leonard's partner, Christopher Van Slyke, continues to operate from his base in Austin, Texas and the firm also has offices in San Diego and Roseland, N.J.
The Leonard clan plans to rejoin their vessel in March, sailing it to Fiji. From there, Three Little Birds will head west, island hopping to Australia and then to Indonesia to join a sailing rally. They'll return to the States in December, ending their tour six months earlier than planned. See: The advisor who sailed off grid and found a new business model for his $550-million RIA on the way.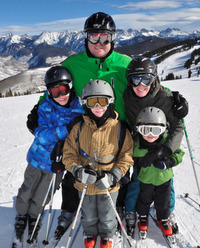 Scott Leonard & family: They don't
want to see the owner, they
want to see the guy sailing
around the world.
Back on dry land, they'll spend winter in the mountains, skiing — another dream of Leonard's. The goal is to be truly settled down by late summer, 2014, in time for his oldest son, Griffin, to begin high school.
Coming up in 2013
Leonard, now 45, has landed a publishing contract with Wiley & Sons and will recount his trip and business philosophy a book with the working title: "Peak E: The 8-step Program to Running a Better Business So It doesn't Run You: How to Have More Control, More Freedom and Make More Money" slated for release in 2014.
It's always the quiet ones.
Jud Bergman has fired more bullets and hit more targets in the advisory business than virtually anyone — and yet it's as if he has done so with a silencer on his bazooka.
As a quick recap, the Envestnet chief built scale and reputation by bringing separate accounts to IBD reps in a way that brought his firm to a near monopolistic position in the business. In a sense, this was the easy part — helping make non-fee-based advisors bridge the gap to fee-based advisors by bringing fee-earning managers to the desktop. It was enough to win the company an IPO. See: 10 reasons why the Envestnet IPO filing is for real. The company came public (NYSE:ENV) at about $10 per share and is now near to $16.
Now — so it seems — comes the hard part. How will Bergman bring a back-office investing and technological world to the advisors, namely RIAs, who consider themselves pretty okay in that department? In short, his concept seems to call for a maestro's touch in melding a buy and a build strategy in a JUD-icious admixture.
On the organic side of things there is asset growth. In 2012, the Chicago-based outsourcer's assets under management/administration were at $98.3 billion Dec. 31, 2012, up from 40% from the same time the year before.
To date, the buy-side of that strategy has consisted of a series of deals spanned out temperately over more than a decade for proper digestion: Envestnet acquired Portfolio Management Consultants in Denver (2001), Net Asset Management (2004), Oberon Financial Technologies (2004), B-Ready Services (2010), FundQuest (2011), Prima Research (2012).
But Bergman really made his first overt RIA deal in 2012 with the purchase of Tamarac. Envestnet acquired relatively new kid on block Tamarac for a cool $54 million. See: Big deal: Envestnet will acquire Tamarac for $54 million. Tamarac is one of those companies that just constantly seemed to win over big new RIAs before Envestnet bought it. And, from what we can see, it hasn't lost its knack. See: Tamarac picks second Microsoft partner to handle spike in demand from big RIAs.
So what keeps going right with Bergman that he seems congenitally equipped for stringing together so many loose ends into a seemingly tight bundle?
"Jud can handle complexity better than anyone I know, he unties the company's knots with ease" — says Bill Crager, president of Envestnet. "Jud is also a visionary. He and I have frequently engaged on what will happen in the year ahead, five years ahead, and our conversations have been pretty right on. This has helped us guide the strategic activity we have executed on, and the deals we have been engaged in and ultimately passed on."
But there is also a compelling personal side of Bergman that few people know about that undoubtedly fuels and reflects him..
Two of his children are the leaders of the rock band, Wild Belle that is releasing its debut album tomorrow on Columbia records, and that the New York Times is handicapping as the debut of the year. (RIABiz's Frank Noto who is lead guitar of a ska band in Marin County, reviewed the album, and said that he's buying the critical hype.)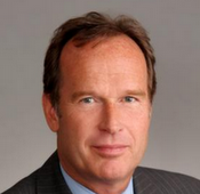 Jud Bergman: We're in the age
of the independent advisor. It's a
better business model and it's great
to be able to support it.

Bergman has seven children in all, likes horticulture (especially trees) and looks for inspiration from great pioneers. In Envestnet's Chicago headquarters there is a corner conference room called the Pioneer room, decorated with photos of different pioneers in history. Bergman named this room because he believes that pioneers all know that overcoming the insurmountable requires rigor, conviction and focus of purpose and these traits lead them to do things that eventually change the world. But Lewis & Clark didn't have to integrate back office software with separate accounts.
the key to Envestnet recapturing its $54 million in investment is that it can now add its massive access to separate account managers and its TAMP to the choices offered to Tamarac users. See: Why exactly Envestnet bought an investment manager that already sat on its platform.
In May, to insure that the Tamarac managers stuck around to deliver the services Envestnet paid for, the firm implemented an equity incentive plan involving around 1,024,000 shares of its common stock. Envestnet may distribute up to $7 million of the shares at pre-established intervals, but not later than May 15, 2015. The deal is premised on Tamarac meeting certain financial targets. See: As it closes its $54-million purchase of Tamarac, Envestnet details plans to deploy $7 million worth of retention incentives.
But Envestnet, arguably the premier separate account platform, is trying its darndest to establish name for itself as a tech provider and to that end had some success in 2012 signing on RIAs to its Vantage platform. See: Never mind Tamarac, Envestnet is getting RIAs on board with its own stand-alone software.
What to look for in 2013
This year, Bergman says to look for a new next generation wealth management platform. Currently in beta, Envestnet will formally roll it out at its advisor summit in May.
"Advisors want flexibility in reviewing client statements," says Bergman. This will be the first end-to-end wealth management platform that's fully mobile."
Vantage, he reports, has been mobile for about a year and the company is working on building up capability in its reporting function.
Tamarac's AdvisorView is also gaining flexibility and by mid-year it will be opened up to a large segment of high-end advisors.
"We're in the age of the independent advisor," Bergman says. "It's a better business model and it's great to be able to support it."
As the firm looks forward, there are developments on the horizon that will continue to expand the capabilities of the platform: services for advisors to serve the charitable and endowment space, as well as serving small and mid-sized retirement plans. Portfolio strategies that offer access to core indices while holding individual securities and a series of powerful business intelligence tools to help the advisor assess the value they offer clients and benchmark themselves against other advisors and institutions.
3. Ric Edelman, CEO, Edelman Financial
When we included Ric Edelman on our 2012 list of 10 RIA notables, we noted: "those who want to expand their firms can only look to Edelman's sky-rocketing enterprise to see what it will do next." See: The 10 most influential figures in the RIA business going into 2012, Part 2.
So if you've built up a $9 billion AUM practice with 19,000 clients with $50,000 to $1 million of assets, what's left to do besides the de rigueur trip to Disneyland?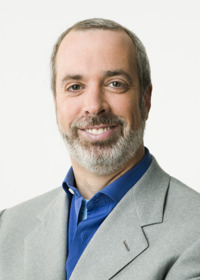 Ric Edelman: An office in Philly
is 'long overdue.'
In one of the largest deals announced last year, The Edelman Financial Group Inc. entered into an agreement with affiliates of Lee Equity Partners LLC, a private-equity firm, to be acquired for $8.85 per share in cash in April. See: Ric Edelman strikes a private-equity deal that subtracts $2 million in expenses — now let the after-bidding begin.
The deal allowed the management of Edelman Financial Group to buy back the company from public shareholders with the cash that Lee provided as part of the $267 million transaction. And at the Tiburon CEO Summit last October, Edelman joked about how the cash infusion left him with a hold burning in his pocket.
Soon after, he announced a combined air and ground assault to secure the high end and expand his hold on the low end of the investor asset spectrum. Edelman said he was in the process of acquiring an unnamed $1 billion RIA and, in the coming months, would be rolling out a new mass-market program that would lower the firm's minimum client balance by 90%. See: Ric Edelman is looking to add a $1-billion RIA elephant even as he unveils an online consumer strategy aimed at the chipmunks.
What to look for in 2013
The purchase of the high-end RIA has been relegated to the to-do list, according to Edelman in a recent interview, and will remain there until the second or third quarter of 2013.
The mass-market initiative — Edelman Online — however, was launched Jan. 8 and had 12,371 unique viewers as of March 1, according to Edelman. Currently the site has, in the paperwork process, $16.5 million in assets and 503 completed new account applications, with 354 of them representing $3 million in combined assets. That, says Edelman, is mostly by word of mouth as the media campaign for the online mass market venture is just beginning.
Edelman continues in his role as unabashed RIA media maestro. His radio program is heard on stations across the country (See: Radio-star RIAs drive giant growth at national chains one $400,000 investor at a time) and he's just completed the third season of his PBS television show "The Truth About Money." His book of the same name was on The New York Times bestseller's list. See: Edelman joins ranks of TV RIAs with PBS show that will reach 20 million. and his radio program is acquiring a new market in Kansas City.
Edelman's at work on another book scheduled for an early 2014 release about 401(k)s geared mostly to employees but with a chapter for plan sponsors.
At a time when the 401(k) industry is front and center in the RIA business, both in its appeal to clients and its rapidly shifting regulatory landscape, SagevView stands out. Last year the Irvine-Calif.-based RIA tripled its 401(k) assets and shows no signs of slowing down. See: How a $12 billion RIA grew to $20 billion in less than a year by raiding 401(k) accounts from legacy players.
In fact, in the two months since we spotlighted founder and managing principal Randy Long as one of the 10 most influential individuals in the 401(k) industry affecting RIAs in 2012, the firm's 401(k) assets jumped from $12.8 billion to $15 billion and there's $6 billion in 403(b) business. The firm's overall assets rose to $22 billion from $20 billion, according to Long.
SageView has over 350 401(k) plans and over 425 total clients. The firm manages non-profit retirement plans and profit-sharing plans as well.

Randy Long's firm has added $2
billion of assets just since we
profiled him three months ago for
adding $8 billion in a year.

While soft-spoken, Long isn't afraid of controversy. He's bickered with leaders at LPL Financial LLC and UBS AG about how RIAs like his would succeed and grow under the new 401(k) rules. As they say, it's not boasting if you can back it up. See: The head of a $12 billion RIA spars with UBS and LPL execs on the great fiduciary debate.
Long is proud of the new marketing materials his firm launched in 2012. His firm has completed benchmarking templates to help plan sponsors understand the costs of 401(k) plans. In addition, his firm has also utilized custom modeling for target-date funds. See: After years of DOL bluster, new 401(k) rules appear to make RIAs' low expenses look higher than those of brokers.
What to look for in 2013
Long has added 10 employees to the firm in the last 14 months, bringing the total to about 100. In 2013, he's brought aboard three associates in Irvine, Chicago and San Francisco: Chris Donnelly, most recently of Alliance Bernstein with experience in the corporate retirement plan market; ERISA attorney and CPA Mike Nash; and Jeff Padavic from Aon Hewitt who will focus on Actuarial Consulting.
In the next three years Long aims to expand 403(b) plans; go after plans in higher education, which he feels is an underserved market; as well as targeting the health care and non-profit markets. Also on SageView's check list is to grow its wealth management practice and its executive benefits practice (non-qualified deferred compensation for executives).
1. Adam Birenbaum, CEO, Buckingham and BAM Advisor Services LLC
In 2010 it was with at least a grain of skepticism that we wrote about one of the nation's largest RIAs appointing a then-32 year-old as CEO of Buckingham Asset Management after a nine-year "How To Succeed in Business"-like rise through the ranks (albeit by dint of skill and without the guile of the fictional J. Pierpont Finch). See: Giant DFA customer puts young CEO in charge to execute ambitious national plan.
We now have our answer and it is why Adam Birenbaum holds the No. 1 spot on our list of RIA notables this year. With his leadership, Birenbaum has brought in the new in the RIA business — using social media to grow a business — both internally and as clients — and has hit on perhaps the most viable solution yet to solve its oldest problem: succession.
In September, Focus Financial Partners'":https://www.riabiz.com/d/5393476 largest RIA announced it had merged with RIA Founders Network, and used that firm's Silicon Valley-area offices to continue to build the number of Facebook clients it had started to rack up when the social media giant went public last year producing scores of newly minted millionaires in need of financial guidance. See: Why sudden wealth at Facebook is gushing into a $17-billion RIA and triggered a merger of two DFA giants.
St. Louis-based Buckingham has also been hiring media darlings who have access to tens of thousands of affluent investors through national blogs and websites. See: Gathering assets with long tails: Exactly how RIAs of any size can market with the big boys with 'Google Love'.
Most recently, it hired bestselling author and financial blogger, Dan Solin, as part of the BAM Alliance, the overall group that includes both Buckingham's TAMP and RIA. Solin is known for writing the "Smartest" series of books including "The Smartest Investment Book You'll Ever Read" and "The Smartest 401(k) Book You'll Ever Read." He also writes a weekly blog for The Huffington Post and U.S. News and World Report. See: A $17-billion RIA doubles down on a social media strategy that netted it 50 Facebook employees.
Birenbaum's influence on the RIA succession question was made clear in November when Focus Financial Partners LLC rolled out a patent pending program suggested by Birenbaum: Focus Succession Solution, that allows advisors to sign on with a Focus partner firm. See: Buckingham Asset Management creates a structure with Focus Financial that enables it to roll-up the 120 RIAs that entrust it with $13 billion of DFA TAMP assets.
"It is in many ways much like an insurance policy," said Birenbaum at the time.
As of Feb. 20, BAM and Buckingham have a combined $17.7 billion, according to Birenbaum.
What to look for in 2013
Like many of his competitors, Birenbaum is exploring the mass-affluent market. But that segment means something different to him than it does, say to Ric Edelman (see above). Birenbaum, whose firm's client minimum is $500,000, is test-piloting a mass-market service for clients with $80,000 in assets and under. Buckingham will use its young advisors to service these clients. "It's a great way to develop talent," he says. Unlike Edelman Online, the service will not be Internet based. "We don't believe it can be automated even at lower levels," Birenbaum says. "It's based on the Edward Jones, Merrill model."
Birenbaum recently hired a new chief marketing officer, David Levin, from outside the industry — "he's launched some Nintendo products" — as part of the company's commitment to spreading the reach of its star bloggers.
"Swedrow, Solin…folks call them bloggers, I call them educators. When you don't have a multi-hundred-thousand dollar budget like the wirehouses, you need them.
As for the succession plan, Birenbaum believes it's the key to the RIA industry gaining scale to compete with the wirehouses without losing what clients liked about RIAs in the first place.
"We've jumped ahead of the succession [issue]. With Focus at our side we help advisors with the problem at the same time. It's such a fragmented cottage industry [now]. We fundamentally believe that a group will emerge as a large practice that will compete against the wirehouses. Losing a brand doesn't mean losing a culture."
---
---
Mentioned in this article:
Envestnet | Tamarac
Portfolio Management System, CRM Software, Trading/Rebalancing
Top Executive: Stuart DePina
---
---
---