Advent Software is for sale, with Frank Quattrone as the sales agent, reports say
The owner of Black Diamond is well along in the process of seeking someone to take it private, according to a Reuters report and anonymous RIABiz sources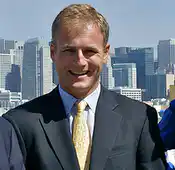 Peter Hess has been putting Advent through a crash course of reinvention but now he may be seeking a buyer.
---
---
Mentioned in this article:
---
---
---
Brian
March 12, 2013 — 10:38 PM
This should be an interesting year in the RIA marketplace.
Peter
Good luck, Peter! All the best.
Mr. Livermore
Mr. Southall,
This rumor has been rumbling around for sometime now and finally the cat is out of the bag. Personally I think it is the only way that Advent can become an innovator. Jetisoning all the baggage that comes with being a public company will enable Mr. Hess to re-engage his stated purpose as announced at the Las Vegas Advent event in 2012.
I would be surprised if this had much impact on RIA firms in general. It may move some to re-evauate their investment in Advent products, however I think that will be the exception rather than the norm. After all as has been stated by articles here, it is a well known fact that advisors are cheap and are holding onto their cheap Axys licensing even if it is sans support.
On the other hand this is probably a disappointing development for some aspiring technology companies that may have been hoping to get scooped up by Advent in the near future. Alas all is not lost because if a deal is forthcoming I believe Advent will return to a course of acquisition even if the BlackDiamond acquisition didn't pan out as expected.
For its competitors this is a boon. The spectre of acquisition and the transitionary period that follows will give Advent competitors room to ramp up a competitive bulwark. Now the competition just needs to figure out what to do with the edge.
At the end of the day Advent needs to become an innovator, something they lost touch with a long time ago. Taking itself private may be the medicine it needs to get there.
All in all I think this is a positive move for Advent and the industry at large.
J.L.L
Pete Giza
Jesse,
Perhaps taking Advent out of the acquisition action could compel the competition to step up before they can enter that mode again.
As had already been stated it is going to be interesting out there. Lots of opportunity.
Pete