News, Vision & Voice for the Advisory Community
There's a staleness of practice thinking behind a box-checking facade that is none too impressive itself
February 7, 2013 — 5:09 AM UTC by Guest Columnist Rob Isbitts
Brooke's Note: Have you ever walked into someone's contemporary home but you hit these little throwback spots of yesteryear brands and chintzy gizmos: soaps, crackers, publications, stereo speakers and other products that make you wonder if you just stepped into a 70s or 80s time warp? (Maybe it's just me being from Maine.) I believe that what Rob is describing here is the RIA office equivalent of that — stuff that was never so hot in its heyday and it sure as hell looks out of place today. I read this column with some relish for Rob's ability to compile such an observant list.
The more I connect with advisors and get to know their practices, the more I am troubled by what appears to be a disturbing pattern. None of us are perfect, and we all have competing demands for our time. But the excuses can only persist up to a point.
As one who has made plenty of mistakes along the way, but has also come to know many hundreds of practices, I will try to convey what I think are some of the most common errors of omission that exist today — that is, they are likely unintentional. But that does not make them any less dangerous to one's practice and frankly, the advisor's own financial survival.
The common theme to all of these maladies is that advisors seem to think their clients want the sizzle and don't care about the steak. I think clients are less interested in bravado and more interested in differentiation than ever before, as I will detail below. Billy Crystal's iconic Fernando Lamas character from Saturday Night Live was wont to say, "It's better to look good than to feel good" — but that's not the best way to approach your business. Perhaps you will feel better once you confront some of these issues in your practice. I am confident your clients will.
1. Avoid 'me too' websites
Too many advisor websites seem devoid of real personality. I suspect that many skilled and caring advisors will never be discovered because their site is simply a place to mark their territory on the vast Internet wasteland. But claiming that you are the right advisor for the reader because you create financial plans, or use a variety of security types, or treat them as individuals is about as hip as a mobile phone from 15 years ago. See: How RIAs can maximize their web marketing with nary a 'friend-ing' or tweet.
2. If you have a blog on your site, post on it regularly!
As one who writes a lot, it annoys me when I look at an advisor site, click on the "blog" link on the home page, and find an article from mid-2012 or a message that says "coming soon." Investors are getting smarter and online competition will creep up if people think that you only have one or two important thoughts a year. Who would pay for that? Don't remind them that you forgot you had a blog or you thought it was a good idea but got too busy to keep up with it. Use it or lose it, pal.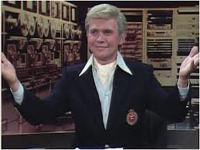 'It's better to look good than
to feel good' — the phrase
memorably coined by Billy Crystal as
Fernando on SNL — is not
the best way to approach your
business.
3. Accept that markets have changed since the mid-1990s
I recently researched some RIAs that manage balanced accounts, and to my shock and disbelief, they are still writing about bonds as if U.S. Treasuries still yield 6%. See: As Windhaven assets head moonward, Stephen Cucchiaro keeps right on warning of falling skies in New York.
What can you do about it? Start acknowledging that instant global communication, withdrawal of the retail investors from equities, and an unrelenting multiyear surge into bond funds will not end well. Dot-com, meet bond-bomb. You two bubbles should get along nicely.
4. Talk less about "risk" and more about "volatility"
Risk is one of a handful of common industry terms that I believe are both overused and misunderstood by a weary and wary public. Risk is such a general concept, and let's face it, there is risk in everything in our business. The key is to try to control as best you can the risks you do take for clients. See: How 5 seriously overworked buzzwords can come between you and your client.
And when you think about it, what is risk? Is it the loss of, say, 25% of your portfolio's value? Well, since such losses are typically recovered over time, that means risk can be a temporary situation. This is why I feel very strongly that risk misunderstood by many of your clients, and you need to be the one to correct that. What freaks out clients is volatility, typically that of the short-term variety. It's not the loss of capital as much as the process of seeing their net worth bob up and down that creates nervous emotion which you then have to pacify. There are ways to clamp down on that before it gets out of hand, and you should avail yourself of them. See: Why smart diversification and risk management are your best friends.
5. Thinking you can do it all when you know deep down that you can't
If they think you are planner, money manager and counselor all wrapped into one and you are not truly an expert at each of those responsibilities, it will probably catch up to you at some point. Really, are the thousands of solo practitioners out there able to perform at a superior level in all of those areas? I sure can't, and that is why I stick to managing portfolios and not trying to be all things to all clients.
This world is increasingly about specialization. So find some great collaborators in your professional network that have complementary skill sets and start running your business using the mighty power of delegation. I suspect you will make more, work less and live longer as a result. See: 5 ways for stressed-out advisors to build a more efficient practice.
You may think you have clients believing that you are omnipotent, battle-tested and better than everyone else on your block. But with a big portion of the advisor universe thinking the exact same thing, you risk being that person in the proverbial card game that understands there is a sucker in the game and cannot figure out who it is. In such a case, it's YOU!
There is no reason to continue like this. Outsourced specialist services are available in many facets of an advisory practice. And from my strategist perch, I can see a massive opportunity building for advisors that know how to position and communicate their value, not only verbally but in writing and on the Web.
The real elite
Only the strong survive. If you work toward being the steak your clients need and not simply the sizzle you think your audience wants, you may just find yourself in the catbird's seat for an unprecedented deluge of assets looking for a comfortable home with an advisor that knows the difference between building an elite business and simply doing what everyone else does, thinking that will get you somewhere satisfying.
---
---
Share your thoughts and opinions with the author or other readers.
Maria Marsala said:
February 8, 2013 — 9:51 AM UTC
Thank you Rob for this excellent article that includes ways to move into this century quickly.
---
---