John Hancock is a Boston company that scored in San Diego by recruiting a local legend, Tony Gwynn.
Brooke's Note: When we had Frank do his first advertiser's-eye view piece at the 2011 FPA conference, it was with some self-consciousness. We really try to keep a wall between advertising and editorial and such a move is a wall basher. But alas his article, and subsequent ones, received a wider readership than much of the material turned out by the editorial staff. We shouldn't be surprised. Not only is a Frank a good relater of information but he is the one writer going to the heart of what the whole conference is, hello!, about to begin with. Yes, there are elements of news, networking, education and entertainment at RIA events. But it all adds up to marketing and advertising. Frank looks at and writes about the event through that lens rather than getting caught up in the red herrings like the rest of us. One topic Frank zeroes in on is how TD itself is evolving its marketing to fit its business model. Among other things, it created a tech conference, Veo Village, within a general merchandising conference. Brilliant, seriously.
I arrived in mid-winter, weather-perfect San Diego for the 2013 TD Ameritrade Institutional National Conference determined to explore the exhibits and general sessions with a purpose. There's been a ground swell of growth for TDAI these past few years. They've reached $200 billion in assets, and have continued their upward march, despite some major management changes in 2012 that rocked their RIA world. See: TD celebrates its $200 billion tipping point with an exuberant, VIP-rich conference in San Diego.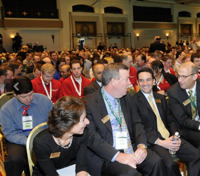 Part of TD's marketing genius is
always have that packed-in feeling so
hard-won energy doesn't dissipate.
TDAI has been riding the "Breaking Through Boundaries" theme for some time, and it was going to be interesting how that was going to play out at the conference. See: What Tom Bradley's 25-year reign at TD Ameritrade says about the RIA business.
At RIABiz, we have openly wondered how the Jersey City, N..J-based company's maverick reputation will hold up. How do you provide very customized service to the 'everyman' advisor as the assets increase, and as they market to woo the $1 billion RIA? For sure, it's a balancing act for their marketing folks. As I roamed the Hyatt during Wednesday's night opening session in the exhibit Hall, the message I took in was as loud as the naval jets nearby — that the Maverick, (and, Goose) are doing just fine.
Segment and conquer
Throughout the conference, TDAI did an effective job of segmenting its marketing to cut down on the overwhelming Mexican bazaar effect. Putting technology vendors, and its own tech, in a discrete setting — but not second class was a stroke of brilliance. (More on that below.)
We spoke to Kate Healy last summer when she took over as managing director of marketing.See: As Paul Zettl follows Tom Bradley to the retail side, Kate Healy becomes marketing chief of TD Ameritrade's RIA business. There were determined priorities for TDAI's marketing, relating to NextGen, women and advocacy. At the conference, those programs continue to be spotlighted, with the announcement of the NextGen scholarship program and the new Fiduciary Leadership Summit taking place in June. The focus on the women's market was reflected in 2 narrowly defined sessions — one for advising women in couples, and another about the segmentation of female executive clients. So much for the generalization of the women's market that has permeated the advisory industry this past decade.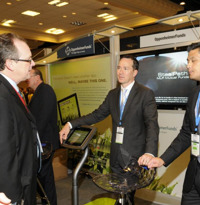 Earnest conversations were going on in
booth world.
There was an energized atmosphere in the exhibit hall areas that's not always seen at our industry's conferences. The aisles and individual booths were crowded, though with a lot less schwag than an attendee normally collects at other big conferences. This conference is bursting at the seams in the Hyatt locale, but its current set-up lends itself well to creating a fulfilling and positive experience for the attendees and exhibitors.
Crammed is cozy
The year they eventually decide to move the show down the waterfront to the Convention Hall, TDAI will surely hear a huge groan from exhibitors. With this year's still-intimate setting, it was easy to agree with industry vet Bob Veres' remark that the exhibit hall and session rooms were oozing with prosperity. Think petite Fenway Park and how it's always sold out and teeming with energy.
If one woke up to attend the Thursday morning general session opening with TDAI management, followed by Condi Rice, then you already had missed networking opportunities at the 6am 5K walk/run or yoga class, and the 7am breakfast with the exhibitors. The exhibitors upstairs and outside the sessions' ballroom had a busy morning with the breakfast crowd. For the non-caffeinated attendees, the flash mob dance before Tom Nally's speech was the jolt to the start of a very long day.
Boothology
Curious in hearing feedback from exhibitors, I spoke to many repeat sponsors and also, firms who were attending their first TDAI conference. Let's face it. There's nothing that seems like a sad chapter in a Thomas Pynchon novel than seeing a person manning a soulless booth, cool knick-knacks in a bowl, and nobody is even taking the booty for fear of having a painful conversation.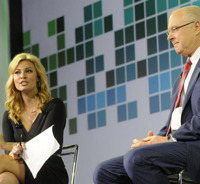 Beauty and the boss: CNBC's photogenic
reporter, Mandy Drury, lends her branded
presence to TD's event as she
tosses some questions at CEO Fred
Tomczyk
It really wasn't like that at this event. The lists of top-level sponsors are all firms who have been exhibiting for a number of years — Invesco, T. Rowe Price, iShares, Oppenheimer, First Trust, and FlexShares. They all gave positive feedback regarding this conference edition. Not only was there a constant flow of advisors but they found themselves engaged in long conversations. On a couple of occasions I found myself waiting 10 minutes to talk to one of these marketing folks. I imagine it didn't hurt folks on the investment side that the Dow Jones average was flirting with 14,000 during the conference.
Traffic around the exhibits is always the initial indication of satisfaction or displeasure. The place was packed most of the time between sessions, again helped by the Hyatt set-up. Also, one expects the new exhibitors to closely watch their ROI. For first-timers, Portfolio Pathway and StatPro, their high expectations were exceeded by the quality discussions with advisors.
Cupcakes!
Actually, it would be hard to pass up the delicious-looking tiered display of cupcakes at the StatPro Inc. booth. John Hancock continued its streak of having Hall of Famers spend some booth time with advisors. The San Diego market is very short on such athletes, but having Tony Gywnn was Hancock's best coup in a while. So excited were some of his fans that they went out to local stores, bought Gwynn jerseys and paraded around in them.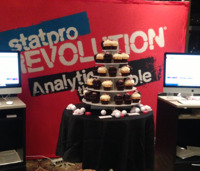 StatPro used the Little League baseball
bake sale approach — and it
worked!
Sierra Mutual Funds had magician Joel Ward showing attendees how he turned dollars bills into larger denominations (taking a page out of U.S. government policy), with booth personnel talking along the same lines regarding their funds.
The most innovative area of the exhibits had to be the Veo Access Village, situated just outside the exhibit hall. Lined up on both sides were more than 40 of TDAI's technology partners, each with a small space that was just large enough for a mounted monitor allowing them to easily demonstrate their platforms. Mostly everyone one of TDAI Veo partners were present in the village, so an advisor was able to gather a lot of info in the utilitarian-style set-up. All Veo partners had the same size space for their monitor and a small sign with their logo above it.
API world is born
There was an open feel to the area — exhibitors mingling with their counterparts, talking to advisors. For many of these smaller tech firms, the price of a piece of real estate in the village was $5,000 or about a third of the standard booth cost in the exhibit hall, making it was easier for many to achieve the necessary ROI. The entrepreneurial spirit was indeed alive and well in the Veo Access Village.
It was a nice marketing metaphorical manifestation for the API open code approach that TD is using to build a technology ecosystem that does not play favorites. Vendors are allowed to build integration from their side. See: TD Ameritrade showcases what API can do with slick Veo-iRebal harmonization.
Still, TD gave the technology company that it own — iRebal — the mega-marketing push. See: TD Ameritrade will make iRebal software available free to all its RIA clients.
As expected, the publishing folks of our industry were at the conference in full force. Two late January conferences FSI's event immediately preceded TD) , back-to-back in sunny San Diego, meant it was the perfect time to get out of New York for a few days. SourceMedia, AdvisorOne, and Financial Advisor were all represented with editorial and advertising teams. InvestmentNews had a huge contingent of writers, editors and advertising sales staff. I did not see Registered Rep as an exhibitor. See: Registered Rep. is finally changing its name. But we are expecting innovation there. Today its parent, Penton Media, announced that Joe Territo has been named senior vice president, content and user engagement, a new executive position created to accelerate innovation around the digital user experience for all Penton brands.
Back to the gators
Next year, the TDAI conference switches to its other bi-annual home in Orlando. It's quite the letdown for us left-coasters . San Diego versus Orlando is not worthy of comparison, but attendees at the Sunshine state version can look forward to seeing how TDAI will be able to continue their multi-level efforts in providing the quality of services their clients have come to expect of a maverick.
---
---
Mentioned in this article:
---
---
---
Elmer Rich III
February 8, 2013 — 7:04 PM
Like with basic fiduciary topics, maintaining boundaries between journalism and commerce really just needs full transparency and disclosure.
As a writer, this correspondent seems a good marketer. I had a hard time following the take always but new voices are always good.
For over 10 years we have been big fans of TDA and having a Canadian bank as a counter-party is always a plus.
Our client's, and our own experiences, with conferences since the meltdown (this used to be less so) – is they are dominated by sales people and pitches — selling each others? Including the presentations. Also, f-2-f approaches to networking have pretty much been made obsolete by technology. Is it more productive to sit at a conference or research better email lists, call folks and create new content? But the venues are usually pretty pleasant.
Neither we nor our clients have time for conferences anymore, however. The information value of the presentations has dropped since the meltdown as well. Suppose tight budgets pinch.
Jim Pavia
February 8, 2013 — 1:40 PM
Brooke,
thanks for clearing that up….accidents do happen, no matter how strange.....
Brooke Southall
February 8, 2013 — 3:55 AM
IN's big presence was included by Frank in this article and it was omitted by me in the editing process — unintentionally! I'm adding it back.
Brooke
Jim Pavia
February 8, 2013 — 1:33 AM
Apparently Frank Noto didn't realize that InvestmentNews also covered FSI and TD…which means we were present as well. We even shot video of some key executives and our sales team was there as well. While our talented team is hard to miss, I guess Frank was so busy he just didn't see the IN team…or it could have been the fact that so many attendees were around us we were actually blocked out of sight. Oh well…...
Bill Winterberg
February 7, 2013 — 8:50 PM
Frank, thank you for the fresh perspective.
Veo Access Village, a.k.a. the gauntlet for anyone who covers RIA technology.
It was all I could do to move five feet before being approached with a new conversation! But it was loads of fun.
http://s342287890.domenastandartowa.pl/forum/membe
Despite each one of these thriving and high-quality goods, even Apple's products aren't past acquiring errors and malfunctions. When these machines crash, significant quantities of tunes documents, pictures (jpegs), private knowledge, get the job done files, or other information and facts could be at critical danger. Apple solutions are no additional immune to needing details restoration than those people of most other technologies business giants.
http://www.conveyormfg.com/_vti_inf.html
Mr. Nechemia states: oday, I dropped a dear friend and also the earth dropped unquestionably a single of its finest players for peace. Ambassador Holbrooke was was exceptional – an actual statesman, who as a result of his brilliance, determination and sheer pressure of will assisted bend the bend of history in direction of progress. Ambassador Holbrooke saved lives, guaranteed peace and restored expect numerous folks all above the entire world.?