Gordon J. Bernhardt with keynote speaker Condi Rice
Daniel Kern, president and CIO, Advisor Partners
At the TD Ameritrade Institutional Conference last week, I attended a panel discussion that explored the future of exchange traded funds. Moderated by Todd Rosenbluth from S&P Capital IQ, the panel featured diverse opinions from Vanguard's Brandon Clark, WisdomTree's Jeremy Schwartz, and Shane Shepherd of Research Affiliates. It was an interesting cross section of the ETF industry, with Vanguard a leader in ETFs based on capitalization-weighted indexes and WisdomTree and Research Affiliates offering fundamentally based index alternatives. See: Coming from behind, Vanguard is gobbling up ETF market share.
Clark discussed Vanguard's core and satellite approach, noting that satellite investments don't have to be actively managed and that using passive investments eliminates manager risk. Schwartz had a different perspective, saying that capitalization-weighted indexes are vulnerable to bubbles and likened them to "roller coasters without brakes." Shepherd joined in the criticism of capitalization-weighted indexes and talked about the need for core to be more than the historically popular 60/40 stocks-bonds split. Shepherd discussed the need for inflation protection to diversify equity risk. (At Advisor Partners, we use investments such as commodities, real estate and Treasury inflation-protected securities to hedge against inflation risk).
Market outlook — different perspectives
Shepherd expects slower growth to be the norm and projects mid-single-digit equity returns. When asked to offer a top pick for 2013, he suggested the Pimco All Asset Fund. Schwartz was the bull in the group, expecting high-single-digit equity returns and favoring income-producing equities. His top pick for 2013 was the WisdomTree Emerging Markets Equity Income ETF. Clark emphasized the importance of owning a well-balanced fund, using the Vanguard Balanced Index Fund as a possible solution. See: Why Pimco's brand is most sterling and PowerShares, Vanguard and ProShares are fast-gaining.
Understanding ETFs
When asked what novice investors should know about ETFs, Schwartz recommended that they get comfortable trading ETFs, which, he said are like black-and-white TVs compared with ETFs. Clark encouraged investors to understand that average daily volume doesn't tell the whole story about how liquid it is to trade a particular ETF, and that there is often liquidity available through block trading desks. Missing from the comments was whether to use market or limit orders to trade ETFs. (Given the many investors using market orders who were burned by the 2010 "flash crash, Advisor Partners recommends that investors use limit orders when trading ETFs.) See: Flash crash update: Why the multi-asset meltdown is a real possibility.
The panelists encouraged investors to understand the structure of the ETFs they buy. Knowing how the ETF obtains exposure to the market is critical, and it's important to know how the index is structured. Investors have been surprised by ETFs that perform differently than they expect in such areas as oil, volatility and country ETFs, and the panelists emphasized the importance of doing one's homework before investing. See: Picking through the ETF pile for some relatively safe high yields.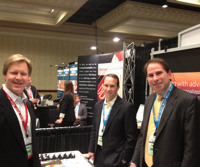 David Kern – right – at
the booth of Walnut Creek Calif.-based
Advisor Partners.
Prior to joining Advisor Partners, Kern was managing director and portfolio manager for Charles Schwab Investment Management. He managed asset allocation funds, including target funds, from October 2008 to July 2011. Daniel's leadership positions at Schwab prior to October 2008 included heading product development and serving as chief financial officer of a fund company. Prior to Schwab, he was a managing director and principal for Montgomery Asset Management.
Gordon J. Bernhardt, president, Bernhardt Wealth Management
TD Ameritrade hosted its largest-ever conference for financial advisors with the theme of "Breaking through Boundaries." The first keynote address was given by Condoleezza Rice, a woman known for breaking boundaries. She was the 66th secretary of state and the first female African-American to serve in that role, and the first woman to serve as national security advisor.
Rice grew up in "Bombingham"—the ominous nickname for Birmingham, Ala., during the racially charged period of the 1950s and 1960s. Rice, who was born in 1954, did not directly address racism other than to say that she grew up in an environment where she had to be twice as good just to move forward like the others. But she also said that was not a bad thing. In Rice's keynote address she shared that her parents had the most influence on her. They stressed the importance of three things—family, faith and education.
In her address she talked about the leadership role of the United States in the world and whether the U.S. could be seriously challenged by China, Brazil, India, Russia or the European Union. In the end, she concluded that "the only real competition to the U.S. is a U.S. gone bad — a U.S. that does not deal with its debt and entitlements and doesn't realize it is the private sector that drives innovation and growth." See: What RIAs need to know about the Standard & Poor's downgrade of US debt.
Dr. Rice also discussed the importance of addressing immigration and education. She believes that real immigration reform and a strong educational system are essential so that the U.S. continues to attract the best and brightest to help move the economy forward. The United States is a land where "it doesn't matter where you come from; it only matters where you are going," she said.
Bernhardt and his team provide financial planning and wealth management services to affluent individuals, families and business owners throughout the Washington, D.C., area. They deliver high-quality service and independent financial advice to help clients make informed decisions about their money.
Marie Swift, marketing communications consultant
At the 2013 TD Ameritrade Conference, I served as a subject matter expert in the wildly popular Social Media Lab. While they could have been out strolling the boardwalk on those warm, sunny days — Jan. 30-Feb. 2 — advisors instead swarmed like busy bees around the work stations and informational kiosks that were carefully arranged along with "soft seating" (white leather couches with glittery purple throw pillows), tall glass-and-chrome tables, and outdoor coaching stations where those who signed up in advance spent 15 to 30 minutes getting one-on-one advice from a social media expert. See: Eavesdropping on a Cetera company's elite conference.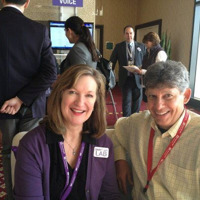 Marie Swift and a conference attendee
in the Media Lab.
In a room next door, short educational sessions punctuated the day — some so popular that advisors spilled through the doorway and into the hall as they craned their heads to see the slides and hear what was being said. A professional makeup artist was on hand in the "photo room" to ensure that those who stopped by to have a new professional head shot taken, compliments of TD, would look their best.
TD asked me to "man" the "Acquire New Clients" kiosk and simply be available to answer advisors' questions, provide advice and demonstrate in real time anything I could using the built-in monitor and keyboard. My one early morning shift on day one was kind of slow. But my four-hour shift on day two was busy, with a non-stop flow of advisors leaning in and around me to hear and see what I was sharing. It was so intense I actually walked away hoarse from vocal-cord fatigue.
Tweeting up a storm
TD Ameritrade Institutional is now in its third year of providing a concerted effort to not only help advisors with their own social-media and online presence but to also create a social-media strategy for TD as a corporate entity. This year was their biggest and most successful effort yet. See: TD Ameritrade makes trading on iPads for RIAs available before mobile devices.
Last year, TD put together its first Social Media Lab, where people could stop by and get advice from Marketing 2.0 experts, film a complimentary video clip talking about their mission as an advisor, and sign up for one-on-one LinkedIn profile reviews. The live, mini-presentations were tough to hear in the open lobby area, but the presenters, myself included, soldiered on in an effort to teach and share. See: TD Ameritrade brings some Florida heat to the RIA winter.
This year, TD's Social Media Lab was sleek and relaxed in the setup, but fun and busy as people filtered in and began to hit the stations and converse. TD was smart to engage a number of "celebrity tweeters" such as Kristin Luke, Stephanie Sammons, Mike Byrnes, Blaine Warren and yours truly (all of whom have good followings on Twitter, LinkedIn and Facebook) as well as advisors who have been early adopters of social media, to "tweet up a storm" using the conference hashtag, #TDAI2013, and a special handle, @TDA4Advisors.
TD even offered a prize — a $500 Apple gift card, the winner of which will be chosen in a random drawing — for those who tweeted using the designated tags. The last I checked, the winner had not been declared so watch on Twitter using the #TDAI2013 hashtag as that is how the winner — and all of us — will find out whether he or she has won the prize. See: Audience remark at Andy Gluck's session at TD Ameritrade pre-event session sets off a tweet chorus.
TD's conference team had big flat-screen monitors set in strategic locations around the show room floor to display the conference-related tweets using a free service called Visible Tweets (try it, it's cool — VisibleTweets.com).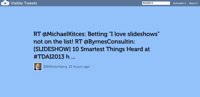 Visible Tweets using #TDAI2013.
Mirror, mirror…
While I still believe and continue to hear from advisors that LinkedIn is the very best of the big three social-media tools, at least when it comes to generating business-oriented conversations, I've been hearing more and more about Facebook and Twitter and how advisors feel that those two additional social sites have improved their online presence and helped to improve client trust. See: Top 10 tips for the 'social' financial professional when creating your LinkedIn profile.
One advisor told me that an 86-year-old client had been interacting with his content on Facebook for a while. When they met again for their annual review, she said she felt like she finally knew him. Who says older people don't embrace social media?
My standard advice still holds: Advisors who want to connect with their peers and expand their businesses should first create blogs and LinkedIn profiles, then master the compliance rules needed to run those accounts effectively. But the foundation of a good online presence is, of course, a professional and engaging website — which I believe should serve as your "home base" online. After these basics have been put in place, advisors might want to add a Twitter and a Facebook account, tying everything together using a social-media dashboard such as HootSuite, Sprout Social or TweetDeck. See: Why compliance experts are apt to dislike Facebook.
The numbers are compelling, as 61% of advisors using a LinkedIn account said they have acquired a client through it (Hubspot 2011 survey of 611 advisors). Forty-seven percent of advisors using a blog said they had acquired a client through it. And the search engine benefits can't be beat. In fact, Rick Kahler (KahlerFinancial) told me over a year ago that he no longer markets in the traditional ways we've come to know in the past — he "simply" creates and publishes good content online and serves as a resource for journalists, who also publish their content online. Rick's practice is growing and he's even gotten million-dollar clients as a result of his smart online presence.
Marie Swift (www.MarieSwift.com) has been working with independent advisors and allied institutions as a marketing communications consultant for more than 20 years. Find her on Facebook, LinkedIn, Twitter or just Google her for kicks. She'll also be at the T3 Technology Tools for Today conference in Miami Feb, 11-13, so you might be able to tackle her in person there.
---
---
Mentioned in this article:
---
---
---
http://www.conveyormfg.com/serv03.htm
To operate at the best in both sport and everyday existence chances are you'll need to have a combination of flexibility and strength while in the muscle tissues of the core. The vital thing to receive inexpensive core exercise routines is to work with an opposing pressure for your reduced and upper physique, and likewise to pressure your core muscle tissues to wish to twist in opposite directions.The Objective Of Digestive Natural Dietary supplements
http://www.khomein.gigfa.com/member.php?action=pro
Boosts flavor of meals products- Serving as flavor maker the cider vinegar of apple increases the natural aroma and flavor of several foods merchandise concurrently. It's the only reason that it is utilised inside the kitchen being a important home item.