News, Vision & Voice for the Advisory Community
Outsourcing is are still on the agenda though the CFO categorically denies advisor-facing jobs will be lost
February 6, 2013 — 6:47 PM UTC by Lisa Shidler
LPL saw assets on its RIA platform shoot up dramatically last year, far outstripping the company's overall revenue gain of 5%.
Assets on the custodian platform rose 80.2% to $40.9 billion in 2012, up from $22.7 billion in 2011. See: LPL sees bright spots amid sideways 4Q earnings report.
The dramatic growth spurt was a bright spot for the nation's largest independent broker-dealer in otherwise modest earnings report and created a stir among analysts on today's conference call with CEO Mark Casady.
"It's certainly a very fast-growing area for us," he said in the call. Dissecting the precise success of LPL's RIA platform success is difficult, however, because the broker-dealer counts both fee-based and commission-based assets of hybrid RIAs in those calculation. Typically those assets have been about 50-50.
LPL's RIA custodian unit is just four years old and is still a minor player in the firm's overall revenues. In comparison, the company's total advisory and brokerage assets ended at $373.3 billion as of Dec. 31, 2012, up 13% compared to $330.3 billion as of Dec. 31, 2011.
LPL's revenue for the fourth quarter of $944.2 million rose 13.9% compared to the same time in 2011. Net revenue for the year was $3.7 billion, an increase of 5.2% compared to the 2011.
Extreme outsourcing
The firm grew the number of (hybrid) RIA firms from 191 in 2012 to 146 firms as of Dec. 31, 2011.The company added 182 net new advisors in the fourth quarter of 2012 and gained 505 net new advisors joining LPL in 2012.
Today's conference call was a meaty one where LPL executives talked about the two-year venture to restructure staff by bolstering its outsourcing measures which the company predicts will save $30 million to $35 million by 2015.
LPL executives also spelled out some of the details involved with the firm's outsourcing initiative which it calls its Service Value Commitment. Casady emphasized that the company is not simply interested in cutting costs for the sake of reducing expenses, but instead intends to make the company stronger as a whole. See: LPL reaches hard-won agreement to rein in bonuses to big advisors that had proved to be overly generous.
Casady emphasized that the key to this initiative is ensuring customer service to advisors improves over time. He envisions that tasks such as document imaging and processing work related to finance and compliance will be the types of tasks that will be outsourced.
"Although, these functions will be a reduction in labor force, we expect the research to go up in business development as well as advisory training," Casady says. "We want to build capabilities in the development of our people."
No Fortigent cuts
While Casady did not talk specifics about job cuts he emphasized the cuts would occur in jobs that don't face advisors. Dan Arnold, chief financial officer of LPL Financial, speaking to RIABiz after the conference denied rumors that Fortigent's staff would fall under that ax, saying that the firm wants to keep all client-facing staffers on board. See: Two top Fortigent talents leave in the same week as industry-watchers ask: Was it them or was it LPL?.
"As part of the process we've identified and focused on back-office non-customer facing roles," he says. "We identified areas where we can expand outsourcing efforts. I'll reinforce there are no customer-facing roles [that will be cut]. If we cut 90% of Fortigent's staff that wouldn't be possible to withhold that principal of no customer facing roles." See: LPL makes big advance into the RIA business with Fortigent acquisition.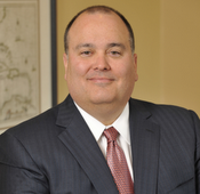 Mark Casady: It's certainly a very
fast-growing area for us.
Why did RIA custodian assets soar so much?
In the post-call interview, Arnold also said he sees LPL's RIA unit as an engine for growth even though its assets are just 12% of the firm's overall assets.
For example, he also says that 20% of advisors recruited last year use the RIA platform, which is up from previous year, but he didn't have a specific number.
In comparison, Charles Schwab is the largest RIA custodian with more than $800 billion. Fidelity comes in second place with its combined trust, TPA and RIA assets of around $600 billion and TD Ameritrade comes in at third place with about $200 billion.
Even though Arnold acknowledges the assets right now are small compared to the firm's total assets, he's upbeat about long-term growth in this area. "We see continued demand for our RIA solution," he says.
Uncertain times
In the call, Casady acknowledged that advisor productivity levels were flat for the year mostly because clients were reluctant to move assets given the uncertainties of the market, political climate and regulatory issues. Momentum began shifting in December when investors clearly began moving assets again after the election.
This January, investors are still moving assets and feel much more confident in the market, thanks to the fiscal cliff deal, Casady says. See: The killer cheat sheet of just where RIA clients stand after the near-cliff experience. LPL advisors saw increased activity particularly in December when clients began making moves and ironing out their financial plans.
Interest rates go down
Casady cautioned that the low interest rates could extend to 2015, which would mean that LPL may need to tweak new deals with banks on its deposit rates. LPL is a major deposit player and the company may need to hash out new deals with banks.
---
Mentioned in this article:
---
---
Share your thoughts and opinions with the author or other readers.
---