News, Vision & Voice for the Advisory Community
A plane crash takes Patrick Clarke, the founding owner of Orion, Gemini and CLS, who leaves behind a family and friends in grief and three booming companies
February 6, 2013 — 5:13 PM UTC by Brooke Southall
"They made it clear that they wanted to sell more stocks, including initial public offerings. How did I feel about that? I told them I didn't think I could do it in all good conscience. So they basically fired me. Yesterday, I had been at the top in terms of production and today I was out of a job. I had a wife and three little boys at home. I was wrestling with worry, wondering how we were going to make ends meet." — W. Patrick Clarke (says about a 1975 incident) from the introduction of his book, "Change One Letter, Change Your Future."
One of the great unsung pioneers of the RIA business — and a practically prehistoric wirehouse breakaway — has died in a tragedy that also took the life of one of his sons.
W. Patrick Clarke, 67, co-founder of NorthStar Financial Services Group LLC in Omaha, Neb., died in a plane crash along with one of his sons, Dr. Scott Clarke, 41, near Fresno, Calif., heading home after a day of driving at the Skip Barber Racing School at Mazda Raceway Laguna Seca on California's Monterey peninsula.
The accident occurred on Nov. 10, and the Clarkes and their family, friends and business associates have all reeled from the magnitude of the tragedy.
Influential family
Patrick Clarke was well-known to many people around Omaha but he had a lower profile in the financial advisory business despite being a co-founder and co-chairman of NorthStar, the umbrella organization that owns Orion Advisor Services, LLC, CLS Investments LLC and Gemini Fund Services LLC. Combined, the three companies manage, advise or administer $120 billion of assets.
Two surviving sons remain with the family businesses: Eric Clarke is president of Orion and Todd Clarke, chief executive of CLS Investments. See: Eric Clarke delivers a behind-the-scenes account of his own Gemini & Orion Advisor Forum.
Many people throughout the RIA business express admiration for the way the Clarkes have created companies that are big and strong, cutting-edge and fast growing.
But the family is also known for the personal warmth that is infused into its corporate culture — an aspect of NorthStar that made the news of the tragedy that much harder to take.
It was, by all accounts, simply the way Patrick Clarke operated — looking out for other people almost compulsively and letting the chips fall where they may.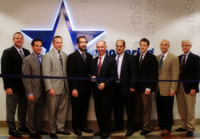 Patrick Clarke [red tie] stands proudly
amid colleagues at opening of new
NorthStar headquarters.
'I loved him so much'
Patrick Clarke's multidecade partner, Michael Miola, who is now chairman of NorthStar, said he was in tears when the Clarkes' whereabouts were in question — before their loss was confirmed .
The plane, a Cessna 410C, took off from Salinas, Calif., at 6:30 p.m. and was flying at 27,000 feet around 7:10 p.m. when air traffic controllers "saw it suddenly go down near Fresno," according to news reports. Read more here. The plane broke up in the air. The Clarkes were on their way home to Omaha and the family understands that preliminary indications are that it was a cabin pressure failure. There was no mayday call.
"I loved him so much," Miola says from his home in Scottsdale, Ariz.. "We started out as business partners but it went way, way, way past that."
Tom Bradley, head of the retail business at Omaha-based TD Ameritrade Holding Corp., expressed these thoughts about Patrick and his sons:
"Patrick Clarke was a success in business and in life and certainly had a lot to be proud of. I've spent time with Todd and Eric over the years and admire their dedication, work ethic and sense of service, all attributes influenced by their father. The Clarke family has made a lasting impact on the RIA industry. I'm confident Todd and Eric will continue to honor their father and brother through their work and contributions to their communities and colleagues."
Quiet act of kindness
To capture what so many expressed about his father, Eric Clarke says that as he was going through his father's papers after his death, he came across an IOU from a member of the community who had fallen on hard times — for a substantial amount of money — that was never repaid to Patrick. According to Eric, his mother said with mock ruefulness: "That son of a gun. He thought I'd never find out about that. It made him even more of a saint than we knew him to be." The employee had been in severe financial stress at the time the "loan" was made.
Miola says he recalls that when the two men were first starting in business, Clarke gave a big raise to an employee in need of money although the company couldn't really afford it.
"Pat believed in his soul that if you treat people right you'll be treated right," he adds.
Miola says that his former partner, a life-long Mormon born and raised in Utah, did not drink but with no claim to righteousness.
"I always assumed it was because he was a Mormon. [But Patrick] said: 'I don't not drink for religious reasons. When I was in the Army, I about became an alcoholic.'"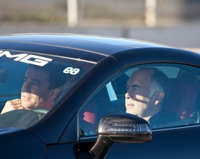 Patrick Clarke [driver's seat] with his
son Scott, doing what they loved.

Miola added that Patrick Clarke was adventurous, had a big sense of humor, and liked hunting and car racing. "If ever there was a man who was mortal, it was Pat," Miola says.
Man in a hurry
Eric Clarke says his brother Scott had no less an adventurous side. He was an anesthesiologist with a practice that specialized in serving people who are in severe pain from such afflictions as burns, back injuries and cancer. Scott Clarke took up flying a couple of years ago and used his 1980 airplane to reach patients from his home base in Springfield, Mo. — often making hop-flights of 10 or 15 minutes. (The plane had been back with the manufacturer immediately prior to its last flight, Eric says.) See: How RIA industry execs took on the ultimate teamwork challenge: Conquering the highest summit in the lower 48.
Eric Clarke describes his brother as someone who was both highly intelligent and constantly in a hurry. When they were teammates on the school swimming squad, the two boys had a lawn-mowing service that involved grueling work in hot sunshine. It was Scott who came up with the idea of dropping that business in favor of teaching swimming lessons in the family pool. (Eric says his dad always backed ventures — whether buying a lawn mower or paying for pool chemicals.)
"Even [when his children were] at a young age, he expected us to run a small business," Eric Clarke says.
Scott, who received his medical degree and specialty training in anesthesiology from Mayo Medical School in Rochester, Minn., had a photographic or near-photographic memory, Eric Clarke says. When Scott registered for a preparation class before taking the Medical College Admission Test, he was asked to teach the class — and did so before ever taking the test. Scott was an Eagle Scout who became a scout leader.
Quitting on Day One
Patrick Clarke came by the RIA business by virtue of his innate moral compass. He took a job as a stockbroker at a regional firm that was absorbed by Dean Witter in 1975. On the very first day at the wirehouse, it was explained to him that he would be expected to primarily sell stocks.
This immediately sat badly with him, because during his short career — a rough time in the U.S. stock markets — he had essentially never seen a stock go up. Clarke had enjoyed relative success with clients invested in mutual funds. With this basic observation as his guide, he literally quit Dean Witter on day one. His manager from his old firm said he felt the same way and told him to go to a restaurant, Coco's, across the street and wait for him. Sure enough, a couple of hours later, the manager walked in and proposed that the two of them go into business together serving clients the way they believed they should be served.
The firm they started was the genesis of CLS Investments. The two men based their investing on a market-timing model that they eventually sold in 1988. They recognized that markets were becoming more efficient and it was time to become an asset allocator. Good at the allocation game, Clarke was charging an advisory fee to other advisors using it within Integrated Resources, an independent broker-dealer that was acquired by Royal Alliance Associates Inc. in 1993. See: A refresher on how an advisor should approach the needs of clients as they near retirement.
Founding Gemini
In 1994, Clarke dropped most of his regular retail clients — though he kept a few forever — and his firm became a fee-only turnkey asset management program. In January 2000, he sold the TAMP to Orbitex Financial Services Group Inc., a roll-up of TAMPs. When the roll-up unwound, he bought his firm back, as did Miola, who had sold American Data Services Inc., which he founded, to Orbitex. ADS would become Gemini Fund Services LLC in 1983. See: Gemini adds a whopping $5 billion in AUM in 2012 by helping RIAs start and expand mutual funds.
Gemini is a leading provider of comprehensive, pooled investment solutions, overseeing more than $17 billion in assets under administration and continuing to grow. Its assets under administration include shared fund trusts (Northern Lights Fund Trust I, II and III, as well as Northern Lights ETF Trust, Northern Lights Variable Trust and Two Roads Shared Trust).
Miola and Clarke created NorthStar in January 2003 to combine the companies. Ten years later, NorthStar has more than $120 billion in assets under administration and management, employs a staff of more than 450 and operates offices in multiple cities.
Orion now services in excess of $100 billion in assets for more than 300 investment advisors. CLS has grown to about $4 billion in assets under management and remains focused on delivering Patrick Clarke's investment management methodology. Orion was formed as a subsidiary of CLS in 1999 and spun out in 2003. See: Orion wins a $2-billion RIA account from Advent after two very long drives across the prairie.
Looking for a loophole
Eric Clarke says that the outpouring of support from friends, family and associates has been a blessing.
"We have had an enormous amount of support from the community, friends and people in the industry. It's been overwhelming. it's what you need to get through something like this."
He's less certain that his dad is taking the situation lying down.
"Knowing my dad, he's on the other side trying to negotiate his way back."
---
Mentioned in this article:
---
---
Share your thoughts and opinions with the author or other readers.
Mike Wilson said:
February 6, 2013 — 3:36 PM UTC
Brooke,
A very sad story, yet I am glad you took the time to research and tell it.
It is clear to all of us in the RIA space, that Mr. Clarke has left behind a proud and lasting legacy both through his sons and the strong and vibrant companies he created.
My condolences to the Clarke family.
Pete Giza said:
February 6, 2013 — 6:55 PM UTC
Brooke,
Nice article, it really says a lot about how a company should be operated. I never had the chance to personally meet Patrick, however I can say that after working with Eric over the years, he reflects the qualities of his father you related in this article. The folks I've worked with at Northstar and Orion also reflect that of their founder. I'm confident the legacy will continue.
Pete
Pete Giza | Managing Partner | Spitbrook LLC
Spenser Segal said:
February 6, 2013 — 10:05 PM UTC
Great tribute to a real business leader and kind human being. While I didn't know Scott, I had the opportunity to spend time with Patrick on numerous occasions and was always impressed with his business sophistication combined with a degree of humility that I have rarely seen in this industry. The Clarke family has been a leader in helping advisors better serve the investor and I know that Patrick's legacy will be built upon by Eric and Todd and the rest of the Northstar team.
My deepest condolences to the whole Northstar group and especially the Clarke family. It was a true privilege to have known and spent time with Patrick Clarke!
Maria Marsala said:
February 8, 2013 — 9:43 AM UTC
Brooke, Did Mr. Clarke work at Reynolds Securities before going to DWR?
Jim Starcev said:
February 15, 2013 — 7:07 PM UTC
I did have the honor to meet Patrick. He was a great guy. His passing was a loss to our community. NorthStar is a great company, I am sure his family and employees will continue to succeed.
http://lojasmarys.org/mybb/member.php?action=profi said:
June 26, 2014 — 7:24 AM UTC
The device does not help flash content browsing on web due to their deal with Adobe. But again flash content makes browsing slow. Other smart phones are provided with option to increase storage space by adding microSD slot but if you buy 16GB model then you are stuck with that much space or buy 64GB apple iphone. The provided information should help you make up your mind why you should or should not buy iphone 4G. Different people have different requirements for a smart telephone and no unit can please everyone. You should know your usage needs and take an informed decision.Apple Iphone 4s 16gb White-siri Revolutionizing The Smartphone World
http://thescripter.com/general_faq1.htm said:
June 26, 2014 — 8:50 AM UTC
Its possible you've been occupied with new together with modified method or prognosis codes, having said that keep in mind the coding recommendations which happen to be connected with CPT, HCPCS, or every other resources. Instance: The 2012 Appropriate Coding Initiative (CCI) coding tips consist of vital specifics about confirming publish-operative discomfort management that the anesthesia organizations will need realizing. Carry on reading through this expert health-related billing and coding post for particulars on which CPT codes utilize. y.
---
---