News, Vision & Voice for the Advisory Community
The two Q&As reveal where the president of TD's RIA business is looking for the firm's next $100 billion and that Tom Bradley isn't saying never to rejoining RIAs
February 4, 2013 — 4:35 AM UTC by Guest Columnist Timothy D. Welsh
Brooke's Note: I recall a professor of European history explaining during a college lecture that there was a reason that the necks of former leaders didn't fare too well once they left their place of power. The new guy didn't want the old guy around to foment revolution. It's nice that in the modern corporation we can have a more expansive view about the sharing of power. One result is that we got to have a reunion with Tom Bradley in addition to getting the broad update from Tom Nally. It was not zero sum. We felt like we doubled our journalistic intake. (Yes, "grills" is a bit tongue and cheek in the headline.)
As part of the TD Ameritrade Institutional annual conference that took place in San Diego last week, I had the chance to sit down with Tom Nally, president of the advisor business for TD Ameritrade Institutional. While definitely a popular man at the conference, Nally was kind enough to spend some quality time in providing his thoughts on the industry and the outlook for TDA going forward. See: Tom Nally to take the reins of TD Ameritrade's RIA business from Tom Bradley.
Tim Welsh: How does it feel to have 200 freaking billion dollars in assets? Where does the next $100 billion come from?
Tom Nally: It feels pretty good, but we are not done yet. To give you some perspective, consider that in 1997, our goal was to double the business from $1 billion to $2 billion, then to get to $5 billion. Now fast forward to today, and we are seeing very strong momentum. See: Tom Nally answers 10 questions that show one seminal shift: TD Ameritrade no longer seeks a few assets and extended probation.
The next $100 billion will come from a similar approach. Our existing advisors will continue to grow and the wirehouse migration to the RIA model is not slowing down. We think that this movement will continue to blossom, so we want to enable and facilitate it. And it's not just new startups from the wires. Last year we brought on 440 breakaways, and 25% of those joined an existing RIA firm. Consumers will continue to look to the RIA model and in these uncertain times, demand for advice will increase. We're seeing that in our advisor referral program, which is up 40%, and this increase is on top of 40% growth last year.
TW: What is winning with breakaways who choose TD?
TN: The overall level of support, guidance and consulting we provide the breakaway is top of mind for them. Our goal is to take the scare factor out of moving their business. Our approach is to take the unknown out of their decision process and provide them with a road map of what they need to do, breaking it down into more tangible, bite-size pieces, otherwise it can be a bit overwhelming if an advisor tries to tackle it all at once.
TW: How is the growing amount of free or inexpensive technology making a difference in that process? Will the relationship with Orion Advisor Services LLC and Salesforce be expanded? See: The TD Ameritrade-Orion pairing again proves productive — this time to wrest assets from a $3.6 billion Schwab RIA.
TN: Our role is to help advisors run a better business, and things like technology play a very big part of that, so we will continue to add value where we can. A great example of that is our iRebal announcement. Advisors struggle with rebalancing, as it can be a complex and time-consuming process. iRebal will go a long way towards creating efficiencies in this area, so we want to invest in those things that can make a difference and identify other opportunities to help. See: TD Ameritrade will make iRebal software available free to all its RIA clients.
We don't favor one vendor over another. Our process is to put the advisor first and then pick the right partners. Here at the conference, the Veo Open Access Village is a great example of that. There are 45 vendors participating and the technology platforms we are integrating with all bring unique capabilities to advisors, and we want to keep that choice and flexibility for advisors, thus it will never be us picking one vendor over another.
TW: What's up with the fiduciary summit? Where will it be?
TN: As we looked out at the industry, we saw a bunch of people engaging in fiduciary and regulatory debate, but there was no one leading these discussions.
Our strong commitment to being advocates for advisors led us to create a venue to bring everyone together. We think it is a good idea to bring the industry together in one place and discuss the issues as an industry. Our role will be to play as facilitator in this process. We want to help in tackling these challenges and raising the visibility of RIAs.
Often we see that the people in positions of influence, such as politicians and regulators, don't understand the differences with RIAs and traditional brokers. These leaders need to be educated, and the fiduciary summit will be a great way to make that happen.
Also extremely busy was Tom Bradley, president of retail distribution, who while not available live, did take the time to answer our questions via e-mail. See: How Tom Bradley had a bad sleep but led a good conference for TD Ameritrade.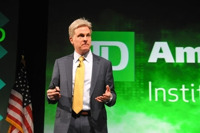 Tom Bradley: The combination of online
solutions, Amerivest and Advisor Direct, it
is incredibly strong for TD Ameritrade
and for our clients.
Tim Welsh: Can TD branches ever get an edge when TD is so steadfast in not infringing on RIAs?
Tom Bradley: Our model is designed to be conflict-free and offer investors a range of objective, unbiased investment solutions. We leverage technology and build great tools and products for investors who are self-directed or who need a little guidance. And, for clients who require or want a more high-touch experience, we refer them to an independent RIA. We believe in this model because we understand that investors want objectivity and the flexibility to choose the solution that's right for them at any given time throughout their life stages. See: How an RIA can capitalize on referral programs offered by Schwab, TD and Fidelity.
TW: Will you come back to the RIA side?
TB: You can never say never. I love the RIA business, but Tom Nally and the team are doing great and TD Ameritrade needs me on the retail side right now. I'm happy where I am and I believe TD Ameritrade has the right people in the right leadership roles to help us continue to evolve and grow. See: Tom Bradley answers 10 questions about TD Ameritrade's competitive stance in his 25th year.
TW: What do you miss about it?
TB: I miss the daily interaction with so many great friends in the RIA business. But, I've been extremely busy and I really enjoy working with my new team, so that helps ease the pain!
TW: Can the referral network be enhanced?
TB: We always push to be better — it's part of our company philosophy. But, that said, we've seen some pretty impressive growth in the AdvisorDirect referral program. With 58% year-over-year growth and a near 40% close rate, were pretty proud of what we've done so far. But, as with any of our offerings, we're always looking for ways to enhance and improve.
TW: Can TD thwart the torrent of online RIAs and NestWises that are popping up everywhere?
TB: While there has been a proliferation of new entrants in the online advice arena, most are pure online versus the multichannel, comprehensive experience that TD Ameritrade offers. The combination of online solutions, Amerivest and Advisor Direct, it is incredibly strong for TD Ameritrade and for our clients. See: The TD Ameritrade-Orion pairing again proves productive — this time to wrest assets from a $3.6 billion Schwab RIA.
Our clients have access to cutting-edge online tools and services, a full suite of investor education, the ability to get guidance from investment consultants, and objective, unbiased advice — all combined with the safety and stability of TD Ameritrade. See: Online RIAs will mostly fail — and here are 10 reasons why.
Tim Welsh has done consulting work for TD Ameritrade.
Timothy D. Welsh, CFP is president and founder of Nexus Strategy LLC, a leading consulting firm to the wealth management industry, and can be reached at tim@nexus-strategy.com or on Twitter @NexusStrategy.
---
Mentioned in this article:
---
---
Share your thoughts and opinions with the author or other readers.
---