News, Vision & Voice for the Advisory Community
Malcolm Gladwell, Pat Benatar and Condi Rice were on hand as TD served notice it's going after the $28 trillion millennials will soon bring to the table
February 4, 2013 — 5:49 PM UTC by Guest Columnist Timothy D. Welsh
When a flash mob made up of a techno-pop dance crew broke out on the center stage to open up TD Ameritrade Institutional's 17th annual conference, you knew that this year things were going to be different.
With a conference theme of "Breaking Through Boundaries" the TDA hosts for more than 3,000 attendees — about half of them advisors — focused on breakthrough topics, speakers, networking events and practice management content over three days last week in sunny San Diego.
"RIAs have had a growth rate of 68% since 2005, while the wirehouses have only grown 17%," Tom Nally, president of Jersey City, N.J.-based TDA Institutional, said in his opening remarks. "You are winning in the marketplace." See: Once good for a few million, TD Ameritrade's foot-in-the-door strategy is starting to net billions.
And that RIA winning streak was also propelling TDA to breakthrough growth as the company celebrated having reached $200 billion in RIA assets and gathered 440 breakaway brokers.
$28 trillion up for grabs
While these are impressive growth statistics for RIAs, Nally also cautioned advisors to not rest on their laurels and to prepare for some significant demographic changes that could dramatically affect their target markets. See: Ten questions for Tom Nally as he gets going filling Tom Bradley's shoes.
"The echo-boom, or the children of the baby boomers, is a massive demographic cohort that covers 75 million to 80 million people," he said. "The intergenerational wealth transfer set to occur, combined with these Gen X and Gen Y folks entering their prime earning years will result in asset growth from today's $2 trillion in assets to over $28 trillion in eight years."
As a result, Nally counseled advisors that they need to adopt new communication channels such as social media, leverage technology and embrace bringing younger people into their firms. See: Audience remark at Andy Gluck's session at TD Ameritrade pre-event session sets off a tweet chorus.
In addition to a tour of the major industry issues facing advisors, Nally also took advantage of his keynote speech to announce three major initiatives that TDA would be launching to help advisors and the industry meet these challenges. These included a scholarship program to encourage students to pursue financial planning careers, access to free iRebal software and a fiduciary summit to bring together all parties in the industry to find an answer to creating a higher standard of care for investors. See: TD Ameritrade will make iRebal software available free to all its RIA clients.
Executive gathering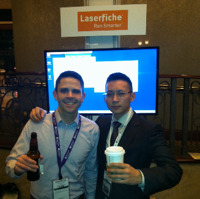 Franklin Tsung of AppCrown and Patrick
Welsch of Cities Digital
Following Nally's very well-received opening remarks, TDA brought up chief executive Fred Tomczyk, chief operating officer Marv Adams and Tom Bradley, retail president and former institutional president, for a fireside chat with CNBC anchor Mandy Drury. "We believe that the long-term secular trend of the wirehouse decline will continue," said Tomczyk.
In his new role as head of retail, Bradley provided insight into the current individual-investor mindset, including that investors are getting back into the market and that he is seeing strong demand for advisory services. "Every trading day for the recent period we are seeing net buying, meaning that there are more buys than sells. Additionally, we are having record sales in the Advisor Direct program and in our packaged money management Amerivest program." See: What Tom Bradley's 25-year reign at TD Ameritrade says about the RIA business.
During the discussion, Bradley couldn't resist the opportunity to tweak his advisor-business replacement and break up the audience by quipping, "Tom N. has done a terrific job in getting us to $200 billion, however, if it was still me, we would be at $250 billion."
Technology everywhere
Continuing its core focus on embracing technology for advisors, TDA pulled out all of the stops in packing the agenda and exhibit hall with technology best practices and technology vendors.
As part of its Veo integration initiative, Veo Open Access, TDA featured more than 45 technology vendors that have integrated their software into TDA's brokerage and advisor workstation through the "open API" facility. These leading advisor technology firms were housed in the Veo Open Access Village, a lengthy corridor jammed with kiosks and monitors showcasing how advisors will be able to streamline their back offices. See: TD Ameritrade showcases what API can do with slick Veo-iRebal harmonization.
The agenda also featured a number of technology panels, including one led by industry technology expert Joel Bruckenstein, producer of the T3 conferences.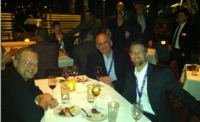 Davis Janowski, Joel Bruckenstein and Bill
Winterberg power dinner.
"The solution for advisors is to apply technology in smart ways so you can become more efficient in providing client service and processing business," said Jon Patullo, managing director of technology for TDA. The results, if advisors do, are quite dramatic. "Top-performing firms are able to spend more of their time with clients, and on average generate 3.5 times more revenue."
While there were a number of topic areas discussed during the session, a key theme and issue area for advisors was the use of file- sharing services, such as Dropbox. The convenience and collaboration of such services have been a real benefit for advisors by eliminating the need for multiple e-mails back and forth as well as being able to manage edits and changes to automatically synchronize versions of documents.
However, due to the risk of confidential client information being exposed, security is also a top concern.
"There will always be a conflict between usability and security," said Bruckenstein. "There are holes and pathways that private, confidential information can be accessed by hackers, so advisors need to insist upon strong passwords and multifactor authentication."
When asked by an advisor how detailed the security process should be, industry tech guru Bill Winterberg quipped, "If it is inconvenient for your clients to access, then you know it is secure."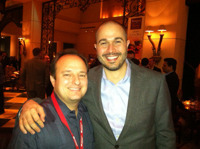 Marcel Dawson, founder of RIAMarketplace and
inStream chief Alex Murguia
Condi and Malcolm
A consistent theme for TDA's annual conference has been to bring in high-profile celebrities for entertaining and informative keynote speeches. This year did not disappoint, as former Secretary of State Condoleezza Rice and "Tipping Point" author Malcolm Gladwell provided well-received and engaging presentations.
Rice received multiple standing ovations and was clearly an advisor favorite as she was asked several times in the Q&A session if she would run for president. In her elegant and eloquent style, Rice declined by saying, "I love policy, but I do not like politics."
Gladwell echoed many of the macro themes of the conference in that he believes that the next generation is different than its predecessor baby boom generation.

The New Pepin Consulting team
"It is not an illusion; younger people are different," Gladwell noted as he explained how generational paradigms change. As an example, he contrasted the Occupy Wall Street movement with other major society changes, such as the civil rights movement, to highlight the differences. "In the past, societal change was caused by organizations that had strong leadership, a clear message or philosophy and an organizational structure." See: One RIA in Seattle confronts Occupy Wall Street and writes a tough-love letter.
"Martin Luther King was a strong leader, he had developed a strong organization and had a clear message of fixing inequality. Now compare this to the Occupy movement and you see that there was no individual leader, there was no organization and there was not a single message or philosophy. Despite that, Occupy has had a major impact around the world."
"Baby boomers grew up in hierarchies while the millennials are growing up in a world of networks," Gladwell noted. "One is not better than the other; they are just different views of the world."
Hit me with your best shot
The other consistent theme we see year over year with the TDA annual conference is a focus on networking and celebration. This year's conference was loaded with receptions, dinners, after-parties and rock stars.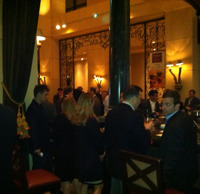 After hours — about 1 a.m.!
— at the Manchester Grand Hyatt.

While rival custodians and other advisor industry associations have cut back on the fun factor recently, TDA continues to break through. The closing night party featured iconic 80s rock star Pat Benatar. She put on a high-energy performance that had advisors crowding the stage and singing along to chart-topping favorites.
To experience more of the conference, check out the twitter feed under the hashtag #TDAI2013.
Tim Welsh has done consulting work for TD Ameritrade.
Timothy D. Welsh, CFP® is president and founder of Nexus Strategy LLC in Larkspur, Calif., a leading consulting firm to the wealth management industry, and can be reached at tim@nexus-strategy.com or on Twitter @NexusStrategy.
---
Mentioned in this article:
---
---
Share your thoughts and opinions with the author or other readers.
Bill Winterberg said:
February 4, 2013 — 12:35 PM UTC
Tim,
Great job (once again) capturing the theme and tone of the conference!
Kelli Cruz said:
February 4, 2013 — 7:05 PM UTC
Tim,
Thanks for the thorough coverage and agree the tone of the conference was different. Congratulations to TD for making the agenda fresh and inspiring.
Mike Byrnes said:
February 4, 2013 — 7:12 PM UTC
Tim, nice summary! – Mike Byrnes, President of Byrnes Consulting, LLC, www.byrnesconsulting.com
Alex said:
February 5, 2013 — 2:47 AM UTC
Tim,
Thanks for the Pic. Next time let me stand on a box when standing next to marcel…. :-)
Franklin Tsung said:
February 5, 2013 — 3:20 PM UTC
Tim, thanks for the great coverage and pictures! TD Ameritrade has been rolling out an innovative platform and this conference was a great industry example of the profitability in the RIA movement.
http://www.swissnatural.com/forums/memberlist.php? said:
June 26, 2014 — 7:30 AM UTC
Occasion partitions usually are not peculiar to numerous house proprietors and house proprietors. The wall could be the structure that separates their household from those of their neighbors which can be around the land of both neighbor. These constructions are usual to lands and properties. In case you share partitions alongside one another along with your neighbors and you also need to lower the appearance of conflicts, then you definitely will would like to understand a celebration wall arrangement and just the way it is applicable to both of those you and your neighbors.
http://thescripter.com/contents.htm said:
June 26, 2014 — 8:57 AM UTC
Merchandise have remodeled considerably inside the final few of a long time. Grownup males happen to become qualified to amass a attraction within kinds of creativity and development. Previously males acquired pretty much no solutions if this entails possibilities every time it found innerwears. Men and women typically obtained a shorter or perhaps a boxer made from frequently dim colored or possibly vivid color. The solution regarding solutions to make precisely exactly the same are also constrained and what's more, it are generally one hundred per cent cotton. Similar applied legitimate each time it discovered within vests.
---
---