T3 goes big in Miami but Fidelity steals the show with avatar advisors and smart coffee tables
Joel Bruckenstein's hype about his event's must-see status ain't hype as virtually every RIA technology vendor -- from behemoth to garage dweller -- put on a show for advisors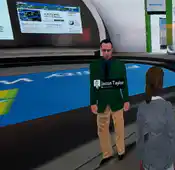 Fidelity brought to T3 a smart TV using Aviya technology that provides avatars for an online, remote meeting.
---
---
Mentioned in this article:
---
---
---
Elmer Rich III
February 14, 2013 — 6:50 PM
Nice reporting – as usual. Interesting our team has a start-up avatar-based, advisor and investor retirement finance education project — www.retiremetnscholar.com. It is all science and evidence-based so great to work on. There need to be ways for remote and time-shifted financial behaviors.
Fidelity has always led with proprietary tech — started with DC recordkeeping system.
Conferences that are vendor-centric seem pretty old school – but that's where the money is — currently: vendo-"push"/sales vs. advisor "pull"/demand. Wonder if advisors would pay 2/3x the fee to have a conference that was vendor agnostic and pay to play? We would.
Spending all that time and money to get a f2f sales pitch that now you can get online seems
inefficient — even if it is Miami in Feb.
Tiger
February 15, 2013 — 4:49 AM
Been to T3 in the past but skipped this last one becasue it is a bunch of vendors standing around looking at each other because they feel like they have to be there. Talk to any of them and they will tell you the same thing. Wast of time and money. What is the point? If i am intrersted in a vendor, I'll contact them direclty.
Elmer Rich III
February 15, 2013 — 1:20 PM
The format for vendor-centric conferences started before the web and new tech. It was a lot harder for clients and solution sellers to connect.
Right, the good solution sellers want to be in prospect's offices and their time is precious.
Mike Byrnes
February 15, 2013 — 4:24 PM
Tim, great article.
When I went to T3 a few years ago, it seemed like there were more vendor/sponsors there than attendees. Good to see the event is growing, even though the organizer was quoted as hoping it doesn't get bigger.
Was there a showing from the online virtual advisor companies that are likely to get more popular with the next generation of investors in the coming years?
Tweeted this out @ByrnesConsultin — Mike Byrnes, President of Byrnes Consulting, LLC, www.byrnesconsulting.com
Elmer Rich III
February 15, 2013 — 5:52 PM
See when the above comment asks about "investors" – I immediately assume it's the tech company investors – not advisor clients!
As any marketer knows, if you want to know what buyers want — you do market research. No need to guess.
Brooke Southall
February 15, 2013 — 6:38 PM
Mike,
I asked Tim and he says there weren't any and that he believes Joel disallows companies that compete with human-based (so to speak) advisors.
Brooke
http://thescripter.com/contents.htm
Immediately after employing anesthesia in the direction of the affected individual undergoing Ossiculoplasty, there's a surgical slash built driving the ear, or perhaps while in the ears. The ossicles or ear bones which are broken is going to be cautiously eradicated and washed and altered utilizing the unnaturally created bones.It usually can take day after day to wholly discharge the person dealing with Ossiculoplasty.