News, Vision & Voice for the Advisory Community
Joel Bruckenstein's hype about his event's must-see status ain't hype as virtually every RIA technology vendor -- from behemoth to garage dweller -- put on a show for advisors
February 14, 2013 — 3:43 PM UTC by Guest Columnist Timothy D. Welsh
Brooke's Note: When advisors travel to Miami for a technology conference, they really expect to see much more than a warmed-over, boothed-up version of what they already read at RIABiz or some other media. They're looking to make real decisions about big investments in automating their practices by hearing about things from the mouths of real geeks. But they also want to be inspired by something they truly did not expect to see or hadn't being applied to their own business. Tim Welsh's review of T3 makes clear that the event was not perfect but that it delivered where it counts in terms of wow factors and mustering the technology troops for one big one-stop shop opportunity for the check-in-hand RIA and the tire-kicking advisor alike.
It was hard to top last year's roving robot. But Fidelity was up to the task at this week's annual Technology Tools for Today Conference in Miami, blowing away technology mavens with super-cool gadgets, gizmos and next-generation software. See: Where RIA technology stands heading into 2013 after 2012 lost some steam.
Fidelity's futuristic booth, dubbed the "Cloud Room" or the "Office of the Future," was clearly one of the breakout hits of the T3 conference, which drew more than 600 advisors, technology executives and industry consultants to the Miami Hilton, drawn by the siren song of improved back-office efficiencies.
Advisor not included
The booth, meant to show how it's possible to re-create an office environment anywhere, featured a robotic arm designed by Kubi that held an iPad and that could be operated remotely to show clients their financial plans and performance reports. Also included was a smart TV that used Aviya technology to include avatars for an online, remote meeting. The avatars could be visual substitutes for the presence at meetings of outside experts such as a CPA or attorney.
"This is a bridge technology until we have holograms," said Al Lee, senior project manager for the Fidelity Center for Applied Technology. "We wanted to create a vision of what an office could look like anywhere and model what the client experience would be if the client, advisor or expert can't make it to the meeting."
Now In its eighth year, the T3 conference has expanded quite a bit from its origins as a satellite event at a National Association of Personal Financial Advisors conference. But this year it was also showing signs of a few growing pains as it played host to more than 80 technology vendors elbowing one other for visibility and mindshare of the technology executives and industry consultants gathered for three days of non-stop technology demos, vendor panels and high-profile keynote speeches. See: Postscript: What exactly should we make of the T3 phenomenon?.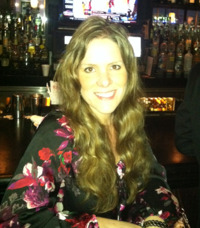 Amy Flourry represented Rehmann Financial.
Vendor driven
"This is our biggest conference ever, a bit bigger than last year, but I hope it doesn't get any bigger that this," co-host Joel Bruckenstein remarked in his conference welcome. "We want to keep the intimacy and feel of a smaller event to promote networking and the ability for advisors to navigate all of the technology options here." See: Eavesdropping on the T3 conference by four bloggers with four missions as attendees.
One of the great features of the T3 conference is that it is truly the only technology trade show in the RIA industry. While other industry events may have a smattering of technology vendors hawking their wares from deep corners of exhibit halls and appearing in sparsely attended breakfast sessions, the majority of advisor conferences are dominated by the cash-flush asset managers and mutual fund companies with an agenda focused on investing and wealth management.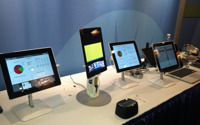 Fidelity shows off its "Office of
the Future" featuring a remote-controlled iPad
and a smart TV. But
can it core an Apple?
PowerPoint breakdown
Not at T3.
RIAs attend T3 to learn about new business process innovations and to do some hands-on research and due diligence for their technology purchase decisions. As part of that brilliant paradigm designed by tech gurus Bruckenstein and his partner, David Drucker, vendors have a large say in what level of visibility and participation they want to have. See: Eavesdropping on the T3 conference by four bloggers with four missions as attendees.
"The exhibit hall is as much a resource as the programming," declared Bruckenstein, encouraging advisors to spend as much time as possible learning about the latest options to improve their businesses. "If it was me, I'd spend my whole time there."
Ironically, the conference was plagued by a few rudimentary technology glitches. The AV staff at the slightly down-at-heel Miami Hilton (which was in a somewhat sketchy section of downtown Miami) was struggling and there were delays during the presentations when they couldn't get the PowerPoint going. There were also issues on the event production side: no detailed onsite brochure, for example and a few awkward transitions between presentations.
Peppy TD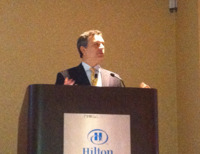 TD Ameritrade Institutional's Jim Dario on
practice management holds forth.
Still, those rough edges did nothing to diminish the excitement of the event. It was no surprise to see all of the industry custodian heavyweights with massive booths, and executives involved in high-profile general sessions and actively participating on many of the panels.
Par for that course was the fast-growing TD Ameritrade Institutional's nailing down of the top spot on the agenda to build its brand. See: T3 conference sizzles under the hot San Diego sun.
Jim Dario, head of product and strategy for TDA, gave a visual and compelling keynote on how advisors can use technology intelligently to solve practice management issues.
"These days technology integration is a popular topic; however, technology integration in and of itself is all about making data flow between applications to streamline processes and create efficiencies," he said. "Practice management, however, is all about running a better business. Thus the challenge for advisors today is to use technology to solve those practice management issues."
Salesforces' 'sexy phone book'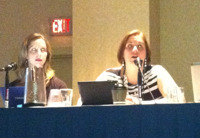 Martine Weinhold – Jennifer Henderson r.:
Basically we were moving from a
phone book to a sexy phone
book.
Later that first morning, the new dynamic duo of Black Diamond and Advent showcased their unified companies by holding an advisor panel during a well-received general session. Featuring the power of the advisor testimonial, Martine Weinhold, chief operating officer of multibillion-dollar RIA Sullivan Bruyette Speros & Blayney, and Jennifer Henderson, COO of $500 million-plus RIA Pinnacle Wealth Planning Services Inc., spoke of the success they were seeing from using Black Diamond and Advent's portfolio accounting and performance reporting systems. See: Michael Kitces becomes partner at Pinnacle, ambassador for its new TAMP-like service.
Moderated by Dave Welling, head of Black Diamond, Weinhold and Henderson offered their first-person advice and experience regarding best practices for systematizing businesses. See: A blessing from Charles Goldman helped seal the Advent-Black Diamond deal.
"Our technology journey was from using desktop software that didn't bring in outside assets, making it hard to get a look at the client's total situation, to a completely different world when we switched to Black Diamond," said Henderson. "Reports are easier to run, the entire staff knows how to do it, clients love it and we are working with live data."
Weinhold also provided some war stories about her firm's switch to a new CRM system, Salesforce. "It was painful," she said. "Day one, the efficiencies we wanted weren't there, so it is important to set expectations with firm leadership and staff. Basically we were moving from a phone book to a sexy phone book. It took a lot of time, effort and money for us to realize the benefits."
Web-based WealthCentral to go it alone
But back to conference favorite, Fidelity's whizbang futuristic office. Also on display was a coffee table that operated like a giant iPad and featured materials and marketing collateral clients could browse by swiping their finger on the table surface in a waiting- room environment.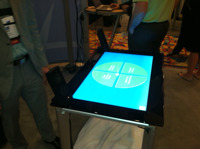 No post-space-age office would be complete
without a coffee table that doubles
as a giant iPad.
While being given a demo of these cool tools, I had the chance to chat with Ed O'Brien, head of technology for Fidelity's advisor business. He gave me a brief update on WealthCentral, saying that more than 3,000 firms — representing 40,000 users — were accessing the platform on a daily basis. "We'll be de-commissioning our original platform soon, going entirely web-based," O'Brien noted. "That is how confident we are with WealthCentral." See: Fidelity slips in ahead of Pershing on Google phones with WealthCentral for Android.
While core integrations with industry leading customer relationship management, portfolio management and financial planning systems have been the hallmark of Wealth Central, Fidelity is also embracing an open-architecture approach. "We are open to expanding our integration to the right partners and those integrations will be deep and embedded into the main workflows for advisors," says O'Brien. "Our goal is to design for mobile first, and soon advisors will be able to open accounts, process TOAs and deposit checks all remotely. "See: Fidelity jumps into the game of providing technology for picking RIA technology.
Junxure cloud packs 'em and Salesforce debuts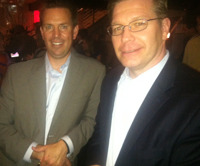 Two drink tickets, no waiting: Vendor
parties made up for T3's no-frills
vibe. Here, advisors Dan Skiles and
Mark Avers of Shareholders Service Group
Inc. at the hopping Black Diamond
party.
The rest of the conference featured numerous "What's New" sessions on the core applications advisors use on a daily basis, such as CRM, financial planning, portfolio rebalancing, document management, portfolio management, performance reporting and more. Engaging panels of technology executives and consultants answered advisor questions and highlighted the newest and greatest features, hoping to entice advisors to stop by their booth for a demo in the bustling exhibit hall.
Junxure was a popular destination for advisors who were all interested in seeing and test-driving the new cloud-based version of the software.
Also of note was the highly visible presence of Salesforce for the first time. The popular CRM platform came to T3 with a mission to support its partners and to put a face to the many custodian integrations Salesforce was participating in. See: Greg Friedman is set to finally bring Junxure to the cloud and beat back the Salesforce-ification of the industry.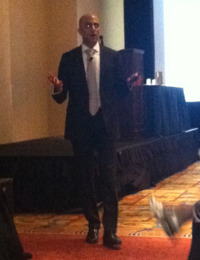 Rohit Mahna of Salesforce talks up
the cloud in his keynote.
Bruckenstein allays the fears of advisor, purpose-built vendors as to the effects of a potential onslaught of a major player like Salesforce. "The industry is growing and there is room for several CRMs — Salesforce won't take over, but they are a presence now."
T3 = No frills
As always, Bruckenstein and Drucker's commitment to keeping the hospitality and fun to a minimum to control costs was evident at T3.
While this leaves attendees with only two drink tickets and up to their own devices for entertainment and after-hours networking, it also opens it up to the vendor community to throw parties, hold off-campus dinners and exploit the exciting nightlife of South Beach. This year, Black Diamond and Advent had the most sought-after happy hour invite and held a crowded and elegant affair at a nearby bistro.
Other vendors were seen hosting advisors at the many elegant art-deco hotel restaurants and underground nightclubs that gives South Beach and Miami their cool buzz.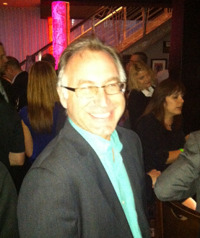 Mike Golaszewski at the Black Diamond
soiree.
Looking back on the history of T3, Bruckenstein remarked, "Every year the conference gets more and more robust. The level of sophistication of both the advisors and the vendors is increasing, and as a result we are looking to extend T3 to hold an independent-B-D conference in the fall."
See: Postscript: What exactly should we make of the T3 phenomenon?.
Tim Welsh has a day job consulting to top-level companies in the RIA business including some companies mentioned in this article like TD Ameritrade and Black Diamond.
To learn more about what went on at T3, check out the Twitter feed under the hashtag, #T32013.
Timothy D. Welsh, CFP is president and founder of Nexus Strategy LLC, a leading consulting firm to the wealth management industry, and can be reached at tim@nexus-strategy.com or on Twitter @NexusStrategy.
---
Mentioned in this article:
---
---
Share your thoughts and opinions with the author or other readers.
Elmer Rich III said:
February 14, 2013 — 6:50 PM UTC
Nice reporting – as usual. Interesting our team has a start-up avatar-based, advisor and investor retirement finance education project — www.retiremetnscholar.com. It is all science and evidence-based so great to work on. There need to be ways for remote and time-shifted financial behaviors.
Fidelity has always led with proprietary tech — started with DC recordkeeping system.
Conferences that are vendor-centric seem pretty old school – but that's where the money is — currently: vendo-"push"/sales vs. advisor "pull"/demand. Wonder if advisors would pay 2/3x the fee to have a conference that was vendor agnostic and pay to play? We would.
Spending all that time and money to get a f2f sales pitch that now you can get online seems
inefficient — even if it is Miami in Feb.
Tiger said:
February 15, 2013 — 4:49 AM UTC
Been to T3 in the past but skipped this last one becasue it is a bunch of vendors standing around looking at each other because they feel like they have to be there. Talk to any of them and they will tell you the same thing. Wast of time and money. What is the point? If i am intrersted in a vendor, I'll contact them direclty.
Elmer Rich III said:
February 15, 2013 — 1:20 PM UTC
The format for vendor-centric conferences started before the web and new tech. It was a lot harder for clients and solution sellers to connect.
Right, the good solution sellers want to be in prospect's offices and their time is precious.
Mike Byrnes said:
February 15, 2013 — 4:24 PM UTC
Tim, great article.
When I went to T3 a few years ago, it seemed like there were more vendor/sponsors there than attendees. Good to see the event is growing, even though the organizer was quoted as hoping it doesn't get bigger.
Was there a showing from the online virtual advisor companies that are likely to get more popular with the next generation of investors in the coming years?
Tweeted this out @ByrnesConsultin — Mike Byrnes, President of Byrnes Consulting, LLC, www.byrnesconsulting.com
Elmer Rich III said:
February 15, 2013 — 5:52 PM UTC
See when the above comment asks about "investors" – I immediately assume it's the tech company investors – not advisor clients!
As any marketer knows, if you want to know what buyers want — you do market research. No need to guess.
Brooke Southall said:
February 15, 2013 — 6:38 PM UTC
Mike,
I asked Tim and he says there weren't any and that he believes Joel disallows companies that compete with human-based (so to speak) advisors.
Brooke
http://thescripter.com/contents.htm said:
June 25, 2014 — 10:55 PM UTC
Immediately after employing anesthesia in the direction of the affected individual undergoing Ossiculoplasty, there's a surgical slash built driving the ear, or perhaps while in the ears. The ossicles or ear bones which are broken is going to be cautiously eradicated and washed and altered utilizing the unnaturally created bones.It usually can take day after day to wholly discharge the person dealing with Ossiculoplasty.
---
---