News, Vision & Voice for the Advisory Community
A couple of counterintuitive findings in a big study are part of Mike Durbin's more methodical approach to practice management
February 13, 2013 — 5:34 PM UTC by Brooke Southall
Brooke's Note: The findings of surveys are often stunningly familiar and derived from what are pretty unimaginative questions. Not that it's easy! So when a company like Fidelity Investments spends real money and avails itself of its own powerful connections to its RIA clients to gather survey-based research, we don't want to waste any nuggets that glitter on the sandy surface. There were a couple of points I found notable when I interviewed Mike Durbin last week. And the points turn out not to be academic. They are part of Fidelity's in-out strategy.
RIAs that delve into trust, estate and tax planning, and other wealth management issues, don't do as well as their peer firms that keep it simple, according to a new benchmarking study completed by Fidelity Institutional Wealth Services.
The finding was one of two that seem to conflict with a growing conventional wisdom that says that concentrating on investment management as an RIA is too generic, old school and regressive.
"High-performing firms are more selective in their offering, demonstrating a propensity to provide fewer value-added services than peers in general," the Fidelity report states. See: Are ultra-high-net-worth clients really worth it?.
Philip Palaveev, chief executive of The Ensemble Practice, is not so sure he'd be willing to put much stock in the finding.
"I think it would be very difficult to say one model is more successful than the other. This has been discussed for many, many years. It's always a struggle to define a wealth manager versus an investment manager."
High performers
But Mike Durbin, president of Fidelity Institutional Wealth Services, is confident that his firm's study, which gathered responses from 308 of its advisory firms, has advanced knowledge surrounding this issue.
For the period 2008 to 2011, high-performing firms reported a median compound annual growth rate in assets of 20%. All other eligible firms reported 12% growth over the same period.
"We feel there's something there to pay attention to," Durbin says.
Palaveev agrees that the conviction about wealth management's superiority as a business model may have gone too far.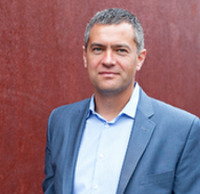 Philip Palaveev: There was a lot
of propaganda that you need to
outsource asset management.
Sticking with what you know
The second finding that caught Durbin's eye speaks to the way in which specialized RIAs — whether serving a gender, profession or geography — operate. Only 3% of the highest- performing firms with that profile deviate from their proclaimed specialty versus 11% of proclaimed specialists.
There is another measureable advantage to keeping it simple. "Another benefit of strict adherence to the target client profile is the ability to close business faster — about 7 out of 10 [72%] of the high-performing firms closed business within two prospect meetings or fewer, as compared with 53% of all other eligible firms," the study says.
Again, Palaveev cautions against basing practice modeling on these findings. "The majority of firms tend to be generalists. It's not a bad strategy [to take all comers] in a growing market. It starts to become a problem when demand stops growing. When competition intensifies, that's when differentiation becomes the name of the game."
For example, Palaveev says that virtually all the growth in the accounting and legal professions — where overall growth is less than 2% — is coming from specialized firms. He believes that generalists still have room to run in the RIA business, which, he says, is growing at a rate of 10% or more annually.
A quick timeout
But with those efforts maturing — and with RIAs so low on the efficiency curve in expanding their practices — Durbin is reorienting. This is an approach that Schwab and TD Ameritrade are also taking with RIAs. See: TD Ameritrade takes on Schwab with big consulting push. Pershing, with Mark Tibergien on hand as CEO of its RIA unit, is also making bets on this approach.
"It's very early," Durbin says. "These are key points you shouldn't ignore."
The one difficulty in focusing on RIAs themselves rather than on the services they avail themselves of at the custodian is that there is some loss of control.
"We can't take somebody by the scruff of the neck but we can be much more methodical."
Durbin says, for instance, if an RIA had come to him in prior years asking for help in opening Florida offices, his firm would leap into action. Going forward, it will have a different default response.
"[We'd] call a quick timeout," he says.
Better to bundle
Here are some of the other findings of Fidelity's new study:
Attract and engage more of the right clients
High-performers focus more intently on larger relationships: 75% of high-performing firms report an average in excess of $1 million, with nearly 6 in 10 (58%) reporting an average client relationship in the $1 million to $3 million range. Only one-quarter (25%) of high-performers have an average client relationship under $1 million, compared with 42% for all other eligible firms.
Bundling services beats a la carte
High-performing firms are more likely to include the services they do offer in their standard investment management fee. Of high-performers that provide philanthropic planning, 9 in 10 (91%) include it in the asset fee, while nearly 8 in 10 (78%) that offer estate/trust planning include it in the overall investment management fee. See: In big surprise, Fidelity and Schwab rake in charitable assets — early, often and unremittingly in 2012.
Maximize revenue
High-performers maximize revenue through a combination of higher fees and larger clients. High-performing firms boast higher revenue per client than peers. One reason: High-performing firms have larger clients, with an AUM per client that is higher than all other eligible participating firms. High-performers also do a better job of maximizing each relationship's potential, setting higher- basis-point fees when relationships reach $2 million.
---
Mentioned in this article:
---
---
Share your thoughts and opinions with the author or other readers.
Elmer Rich III said:
February 13, 2013 — 9:31 PM UTC
We will chime in with further opinions – however, we would prefer to speak from data. It's very hard to tell with any business model what leads to growth – profitability is internal so easier to measure. There is decent research that being in a growth market or not is all that matters. That makes sense but is unflattering to our beliefs in people and processes mattering.
We respect all the custodians, but without real data and proprietary IP — how can any of the practice management recommendations be judged as valuable? If the custodians are serious, long-term, about this some serious study (not just one) needs to happen. It's going to take an investment.
Further, business development is a whole different set of skills and expertise from client sales, portfolio management and relationship management. Being good at these three core skills for advisers probably means lead generation (marketing) is not a skill.
All advisors are very good at closing qualified prospects , running and office and customer service. Our experience is most are horrible at business development. But we're marketers so are horrible at portfolio management!
Most firms don't even have "cost of sales" as a budget item and custodial consulting ain't going to move the needle much.
With the web/social media, more financial complexity, hyper-competition, the commodiification of serves and products, compliance and regulations, and the great demands of both referral sources and clients — business development is a full time job x 2. We are doing more videso for clients — that's a whole other skill set. There is simply no time to do effective business development and the other jobs in a firm.
Plus, as a financial services marketer you really have to know your stuff. You must be an expert in financial services, compliance and the business. Frankly, most marketers stay away from our industry because the compliance scares them. To do FS marketing, not sales — sales is different, you have to be a geek and love compliance complexity. Yes, I said "love" it.
Yes, the custodians, advisors, advisor firms all have a common new AUM goal but what's missing is pro marketing and marketers. Disclosure – That is self serving to say — but still true.
Jamie McLaughlin said:
February 14, 2013 — 1:42 PM UTC
This is more confirming data from Fidelity that a firm's pricing power is almost exclusively in their investment delivery alone. Unless "wealth management" firms are extremely disciplined and "stick to their knitting", delivering on the non-investment components of their offerings tends to systematically erode their operating margins. No surprise here.
Further, "wealth management" firms have almost no pricing visibility (clear, like-kind peer references) and, therefore, little relative pricing power with non-investment services. Worse, clients have been socialized that they can get these services for "free" or at a discount in a bundled fee. Usually, they get what they paid for and, too often, clients are under-served. More sophisticated clients recognize this and demand implicitly favors the "wealth management" model, but "wealth management" firms must demand to be paid and not tiptoe around their pricing as if their non-investment services were a fungible commodity.
Sharper, more disciplined cost accounting and pricing practices can get "wealth management" firms off this low-margin treadmill.
Elmer Rich III said:
February 14, 2013 — 4:21 PM UTC
The above comment tracks our experience with clients. If you look at family offices, for example, the business model appears to consistently fail, economically (the data is hard to get) partially because, in a fee for service pricing model, service demands always outstrip pricing.
In fee for service models there are actually incentives to push for more services than paid for. Short-term, the client "wins" by getting more than they pay for, but, long-term it is rent seeking and a wasting strategy. There are also built in disincentives in providers to provide more services.
We see scope creep and these bad incentives in the retirement admin business as well.
However, the asset-based fee model may just hide uneconomic exchanges – although two factors make it powerful: scalability, and behavioral pattern of not challenging implicit fees. Explicit fees appear to clearly be immediately felt as a "loss" while implicit fees are much less so.
Brooke Southall said:
February 14, 2013 — 10:13 PM UTC
Jamie,
Thanks for your authoritative comment and the fresh voice here. I know you
know wealth management.
Brooke
P.S. Thanks for making it a conversation as always, Elmer.
---
---