Dynasty Financial Partners drops its passive-referral strategy and hires a ex-HighTower talent to engineer proactivity
Ed Friedman, once at Elliot Weissbluth's left hand, becomes right-hand man of Shirl Penney after two years of cooling his heels after departure from HighTower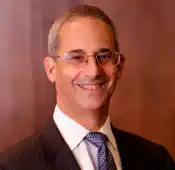 Ed Friedman started at Morgan Stanley in 1985 as an advisor and made his name in a blizzard in Watertown, N.Y.
---
Stephen Winks
December 3, 2013 — 8:36 PM
With the addition of Ed Friedman, Dynasty is beginning to create a true4 advisory services infrastructure rather than just extrapolate the conventional brokerage advice model which sells advice as a product.
Will Dynasty be the first firm to create large scale institutionalized support for advisory services where advisor have control over their value proposition, cost structure, margins and professional standing? This requires an expert prudent process (asset/liability study, investment policy, portfolio construction, monitoring and management) that makes expert fiduciary standing safe to acknowledge , a functional division of labor (Advisor, CAO, CIO) that makes advice scalable easy to execute and manage as a high margin business at the advisor level, advanced technology that supports continuous comprehensive counsel, streamlines cost and a more modern approach to portfolio construction as required for fiduciary standing?
If dynasty can distinguish itself fro a brokerage firm in support of fiduciary standing in the consumers best interest it will have created a compelling option for brokers and advisors who have no choice working for brokerage firms or limited by the support of cstodians which are agnostic in their support of advisory services.
SCW
Jeff Spears
December 4, 2013 — 1:22 AM
GREAT HIRE – Ed has a proven track record of success and also understands how to position Dynasty versus the roll-up firms like HighTower
Michael Mainardi
December 4, 2013 — 3:05 AM
Ed, congratulations! When you're settled in I'd enjoy the opportunity to connect. Differentiation in an increasingly competitive marketplace is king.
Stephen Winks
December 5, 2013 — 9:34 PM
It might not be fair to place the expectation of transformational innovation on Ed without the requisite corresponding resources necessary to execute. There have been many instances in the industry where there was the responsibility to execute with out the latitude to execute entailing corporate policy, resources and assets.
Ed's new position carries with it the humility of Dynasty's limited but self imposed ability to execute.
SCW
http://farm5.static.aranzeld.com/user/z7dkgtwn5/
In terms of Bluetooth the LG KU990 is way better than the iphone. Although apple iphone 3G has the option of Bluetooth, it can only be used for synchronization purposes. iphone cannot transfer information via Bluetooth and since it does not have A2DP, stereo Bluetooth headsets cannot be used with all the mobile phone. The KU990 on the other hand can use all the options of Bluetooth with no any problem. The telephone can also be connected to a stereo Bluetooth headset.
http://www.wadecraiggroup.com/index1.html
To master Much more Please Pay a visit to : Jodhpur Motels Package, major hotels in JodhpurRock Solid Abs – A few Significant Components To receive 6-pack Abs
---
---