Brooke Southall: There are only so many flavors of trust, integrity and character.
The RIA business hovers around $3 trillion of assets managed. It continues to grow as other channels are busy declining, chugging in place or eking out net-asset gains because we're heading into the fifth year of a snorting bull market.
But for every proud step forward this advisory model takes, there are newly stoked fears sparked about what threatens to bring it all down.
These fears have some basis. RIAs remain mostly a bunch of mom and pops — vulnerable to the vagaries of being held together by Band-Aids and chewing gum. On the other hand, the RIAs that have achieved some stature as true enterprises hazard going too far in that corporately expeditious direction and losing the sense of value and trust that underpins RIA success. See: Brian Hamburger answers the questions about an SRO future that has RIA stomachs in turmoil.
Fears are healthy. Awareness of threats is important. But fear of fear is its own threat. Overstating threats is also counterproductive.
What is productive is to get the big things right. That is what RIAs have always done. They put the best professionals in front of determined clients under a fiduciary framework and a motivating system of advisory compensation.
So it is with that in mind that I list the big threats to the eclectic RIA juggernaut, accompanied by some thoughts about the flip side of those threats.
1. FINRA will take over policing RIAs from the SEC and 'harmonize' them out of existence.
In other words, the regulator of stockbrokers will undermine RIAs by stressing rules over principles and by making the RIA model an uncomfortable nest to build and maintain. This is a threat that should not be dismissed. But I don't think RIAs can be culturally influenced any more than Poland was by German and then Soviet domination.
And, unlike Poland, I believe that RIAs have reliable allies and defenses. When RIAs and their leaders descended on Washington to discuss the Bachus Bill two summers ago, they were able to make headway. See: How RIA forces squashed the Bachus bill by calling the implicit FINRA bluff.
2. Regulatory red tape will become so burdensome that small RIAs will need to merge or be purged or come under an IBD-type umbrella.
There's plenty of evidence that some of this is happening but it seems to be the exception to the rule. When you look at all the new small RIAs coming into existence and thriving at places like Scottrade, Shareholders Service Group Inc., Trade-PMR Inc. and even the big custodians, it tells you that there remains a way if there's a reasonable will. Nobody said this was going to be easy. See: How and why I'm starting an RIA from scratch and what I'm spending to make it happen.
3. Financial advisors who go un-'liked', un-re-tweeted and linked out will end up on ash-gray heaps of obsolescence.
Clients still seek out referrals from friends — the old fashioned fleshy ones. Why? At least in my case, I see a friend's recommendation and I think it represents a moral reinsurance. Maybe I don't inspire the professional to the highest duty of care but hopefully that professional won't want to let down the friend who made the referral. It's another level of accountability. I believe the world is short enough on referable people that a person can get plenty of referrals just by being a good professional — and not completely hiding under a rock. See: How to use LinkedIn to win more business in your niche.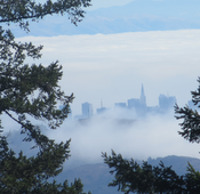 The power of big banks, brokerages
in cities is somewhat illusory.
4. Some fiendish soul will create the ATM-equivalent of a financial advisor — something better, cheaper and so reassuring that it makes you feel like you're getting free money.
5. The wirehouses will finally get serious and flex their muscles by bringing institutionalized, endowment-level advice to the masses. See: FRC report: Merrill Lynch, Morgan Stanley, UBS, Wells Fargo are undergoing a radical transformation to a brighter future.
This is a threat to keep wirehouses from disintegrating, cutting off a wellspring of talent and assets form RIAs. But it isn't a broader threat. The things that wirehouses need to do are things they can't do. Expect them to sell more jumbo mortgages before they become David Swensen incarnates. See: The 10 things Morgan, Merrill, UBS and Wells Fargo could do if they really, really wanted to stem the RIA tide.
6. The SEC will only become weaker and more big-government, ensuring that RIAs never really have a fiduciary standard to fulfill and be justified by.
All I can say is that based on the paltry number of times that RIAs get inspected, we are already operating on an honor system of sorts. I believe most advisors choose to become part of an RIA out of a sense of honor to the ones they serve.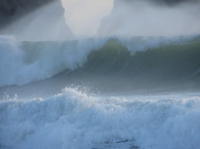 RIAs will get hit by waves,
but will mostly make them.
7. Profits at small practices will be mercilessly squeezed by continued commoditization and the growing cost of hiring talent.
These are real threats but not ones that will undo the RIA business. As rapidly as asset management is being commoditized, the need for expert counsel is going the opposite direction in a world that is increasingly affluent, complex and peopled by seniors. Trust and human heuristics are simply in short supply and people are willing to pay accordingly.
8. With an aging advisor population, the ability to institutionalize advisor succession will become so acute that books of business will become parts of estate sales more frequently than components of slick mergers and acquisitions presided over men and women wearing Prada.
The average age of an RIA advisor is 51 or 52. But the average age of a principal — the guys who know what's going on — is 58. That doesn't sound good when as few as 20% of them have viable succession plans. See: Favorite succession plan of RIAs remains the same: none at all.
But I have faith that the free enterprise system has a back-up plan. M&A firms are springing up everywhere with more employees. Custodians are developing programs. Rollovers keep getting better at tuck-in deals. I think necessity will prove the mother of invention.
9. RIAs are a nation of general store owners in an increasingly specialized world — a fact that will ultimately result in their undoing.
Some of the best and brightest in this business make this case. It's a good case. I just think generalists with reasonable focus on mass-affluent, high-net-worth or ultrahigh-net-worth investors can succeed by delivering their capable, trustworthy selves in the form of good advice and counsel. There are only so many flavors of trust, integrity and character. So is niche building a tilting at rainbows? Not at all. See: How a Chicago RIA grew to more than $700 million by carving out a client niche of wirehouse execs.
10. The failure to create a brand will make you as ineffective as a greasy coffee joint next door to a Starbucks.
The story of brands in the financial services industry is the story of knives cutting both ways. For every Merrill Lynch broker happy to exist under the mother brand, there are others wishing to escape it. There are a world of RIAs that make terrific profits and grow every year that few have heard about. The key is that their clients know them and refer them.
That's harder to say of an RIA starting out, but again, nobody ever said this was going to be easy. And, if you want to be an RIA that has a big brand, there are plenty of them available. Just go get one, like Joe Piazza did. See: As Joe Piazza's 'Robertson Stephens' venture gears up for '$40 billion,' he adds Mercer, Addepar, Fidelity and Schwab and subtracts Fortigent.
---
---
Mentioned in this article:
---
---
---
David L. Maurice
January 1, 2014 — 2:49 AM
To Brooke and all at RIA Biz: You're still putting out the most incisive and cogent writing in the biz from our perspective and we really appreciate your consistent stream of what we call 'useful information'.
No other source keeps us as well informed and as enlightened about those we consider our true peers. It's always spot on and that is encouraging even when there is so much out there to discourage. Where we live – with our clients, we draw great satisfactions and it's very good to know we are very much not alone in this. Happy New Year to all of you and keep it up!
Frederick Van Den Abbeel / TradePMR
December 31, 2013 — 4:07 PM
Wishing all the staff @ RIABiz the very best in the new year! Thank you for your continued advocacy of our profession.
Jeff McClure
January 1, 2014 — 12:50 AM
As long as we remember what we are and why we are here, the independents will thrive. We do not offer better portfolio management than others, although we like to think we charge a bit less, and are a bit better on the science side of things.
What we offer, and people are willing to pay for, is a person answering the phone who knows the caller and is familiar with his or her specific issues. In short, as long as we sincerely care about and know each of our clients we will thrive. A long, long time ago as I was entering the world of finance, my mentor repeated to me an old saw, "People don't care what you know unless they know that you care about them."
The only real danger is if someone creates a USAA of investment management where each representative has a computer system that allows them to instantly "know" the caller and the caller's family and history. Even USAA is starting to lose that now. As long as we care more about the people we serve than we do about a corporate bottom line we are safe.
Jeff Spears
January 3, 2014 — 9:27 PM
The only thing we have to fear is fear itself!
Martha Gallagher, AdvisorAdit
January 1, 2014 — 1:52 PM
Wise and witty…the best combination to offer insight and new perspectives.
Best wishes to everyone at RIABiz!
Brooke Southall
January 3, 2014 — 9:36 PM