Yale professor Ian Ayres was this year's wild card, causing near panic among RIAs with his ominous mass mailing to 401(k) plan providers warning them to cut back on fees — or else.
Dina's Note: Reviewing the stories that most fascinated RIABiz readers in a given year is a compelling exercise — one that provides a Rorschach of the people, companies, trends and issues you felt most impacted your practice, stirred your greatest hopes and deepest fears or simply piqued your interest on a human level. See: RIABiz' 10 most-read stories of 2012: What fascinated you and why. Last year, 401(k) stories proved magnets for your attention and, indeed, this year such a story — a remarkably dramatic one — takes pride of place on the list. But in a year of flux for the industry (for more on that see our upcoming Top 10 most influential individuals in the RIA industry, 2013 edition) your interests were more varied, ranging from macro-trends concerning the fate of custodians and wirehouses to the personal struggles and achievements of your colleagues.
1. 401(k) industry flummoxed over Yale professor's 6,000 'threatening' letters to plan sponsors
When we published this story by Lisa Shidler on a slow news day in the last days of July, the response was electric as readers discovered that Ian Ayres, an until-then unknown Yale professor, had carpet-bombed 401(k) plan sponsors with letters warning them they are paying too much for their 401(k) plans. Industry response came quickly from those objecting that the data that Ayres used was misleading and based on incorrect assumptions.
The scores of comments left by readers at the bottom of the story provided a lively discussion on the topic. Many agreed that steep fees were indeed a problem even as they decried Ayres' tactics and methodology. In the meantime, Ayres, despite the best efforts of Lisa to make contact for comment, remained sphinx-like and aloof from his New Haven perch.
A follow-up story the next week recorded the "firestorm of anger, confusion, hurt, contempt and bewilderment last month for 6,000 employers and their 401(k) advisors who received such a letter." See: Why the 'naked fear' from a Yale law professor's letters to 401(k) plan sponsors is still present.
A few weeks later, fiduciary maven and RIABiz columnist Ron Rhoades weighed in with Legal analysis: Why the Yale 401(k) letters, limits aside, should raise an alarm to plan sponsors.
Some of the contempt thrown at Ayres may have been earned but so, too, it seems unlikely these letters would be viewed as threatening by squeaky clean plan sponsors.
2. Abby Johnson wins RIA respect by articulating her bold vision for Fidelity's future at the company's Executive Forum
One of the biggest meta-topics in 2013 RIABiz covered was whether the iron grip of Big Four RIA custodians was being usurped by smaller newcomers and emerging business models.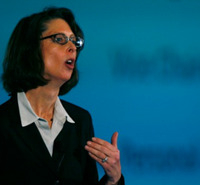 Abby Johnson's speech to the Fidelity
faithful charted a new direction for
the custodian.
So it's no surprise that readers were eager to read about Abigail Johnson, head of distribution channels and president of Fidelity Financial Services, opening a window into her thinking about Fidelity's next phase at the company's exclusive annual Executive Forum in Naples, Fla. (It was so exclusive that press, and that includes us, were barred from the talk. We got the skinny from a second-hand but pretty reliable source: Mike Durbin, as well as from an RIA in attendance.)
Two takeaways from Abby and Fidelity this year were how she plans to take her father's ever-siloed Boston company and create flows and harmony among those units and that RIAs, not a unit per se, may also be introduced more into the corporate flow. See: Fidelity Investments recognizes power of RIAs in 401(k) market and has increased efforts to work with advisors.
3. How and why I'm starting an RIA from scratch and what I'm spending to make it happen
In a year marked by sometimes growing pains in the RIA industry, a new breed of animal started to emerge — advisors starting firms from scratch with no books of business. One such hardy soul — Lyman Howard, a former institutional bond broker and Navy lieutenant — gave us the view from the ground eight months into his startup: Point Bonita Wealth Advisors LLC of San Francisco.
His first article, How I picked technology — from Black Diamond-in-SSG to Dudamobile — to use in my startup RIA, detailed how the wide a la carte menu of TAMP and custodial services helped make the startup possible.
The two articles soared from a wealth of detail and the Lyman Howard brand of dry humor.
4. Why I moved my account from Schwab's RIA and what Chuck could do to improve Schwab Private Client
A new contributor to our pages, Karl Thunemann caused a furor early in 2013 with his first-person narrative of his disillusionment and subsequent separation from Schwab Private Client. His story told the bigger tale of both the strengths and vulnerabilities of Schwab's RIA (namely, its advisors breaking away) — with a few thoughts about Windhaven, a marquee financial product of Schwab's, included for good measure.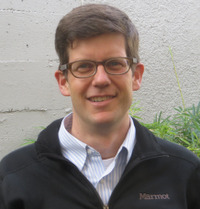 Lyman Howard bravely went where few
— but perhaps a growing number
of — RIAs have gone before:
Into a practice with no book
of business.
Four months later, Karl updated readers on his odyssey with How I'm doing after my advisor left Schwab Private Client to join a $2 billion RIA.
5. Morningstar takes a big stake in a startup gunning to be the Bloomberg for RIAs
In August, Kelly O'Mara wrote about Chicago-based YCharts, Inc. — a Bloomberg-like, but all-online, data service on financial indicators and equities that was launched in 2009. It had recently received a fresh infusion of backer dollars: $3.875 million to be exact, led by initial investor Morningstar, Inc., despite some apparent overlap in services between the two firms.
Data analyst and Google alumnus Shawn Carpenter, the co-founder of YCharts, hoped to use the new money to continue to make YCharts a more affordable option to Bloomberg and to its then recently launched BloombergBlack. See: What is up with Bloomberg launching an RIA, BloombergBlack, and hiring a bunch of ex-TD, -Fido and -Schwab folks to staff it?, and to target wealth managers by offering them a more affordable option to Bloomberg.
"Bloomberg is ripe for a challenge," said Franklin Tsung, principal of AppCrown, LLC, in what proved to be a prescient comment. See: Bloomberg warns that BloombergBlack is shutting down.
That Morningstar is part of this effort by YCharts to throw boulders at the Bloomberg castle walls no doubt piqued the interest here.
6. John Bogle tells the Morningstar crowd just why Vanguard Group has a 'problem' — and it starts with his dogged criticism
John Bogle, with his ornery, politically incorrect ways, is always a draw for RIABiz readers. In this story, Bogle, speaking to a mutual fund crowd last June, blasted away at the idea of spending the big bucks to market those products — and singled out the firm he helped build, Malvern, Pa.-based Vanguard Group, for the lion's share of his ire.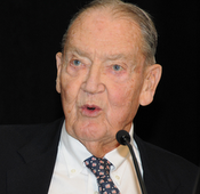 John Bogle let rip on the
shortcomings of his creation, Vanguard.
Bogle's words carried an extra punch given the chilly stance between Bogle and his creation — a tension he seemed to get a kick out of. When asked about his estrangement from Vanguard, he said: "They have a problem. Here's this old guy who keeps saying what he thinks. Would he just shut the …" and Bogle coyly trailed off.
He shows no signs of shutting the… in the near future. See: New rule threatens to drive millions of investors out of money market funds, ICI chief warns.
7. How RIAs are forcing mutual fund wholesalers to lead or get out of the way
This year, new business models created to serve the surging RIA channel sprung up — and in some cases landed with a thud. But one trend that looks to have continued bounce, according to Kelly O'Mara in an April article, is mutual fund firms beefing up their sales staff, thereby cutting down on their need for external wholesalers.
RIAs don't want to talk to more salespeople, but they do want to talk to consultants who know what they're talking about. That means the traditional model of doing business — with fancy dinners, golf courses and thick brochures — is dying, says Tim Welsh, president and founder of Nexus Strategy, reacting to an Ignites study that concluded that wholesalers are being forced to step up their game and change their sales efforts and strategies in an attempt to win that RIA business.
The wholesalers, of course, begged to differ, and are reinforcing their own sales staffs, albeit with an emphasis on phone and e-mail communications replacing the face-to-face meetings of old (old being five to seven years ago.)
8. What I learned at Harvard Business School that doubled my RIA assets to $3.3 billion in two years
Its quickly expanding scale notwithstanding, the RIA community is still one composed of individuals, not companies, which is why readers seem to react favorably to first-person narratives from other advisors relating their struggles and triumphs in building their businesses.
This entry, by Brent Brodeski, chief executive and a co-founder of Rockford, Ill.-based Savant Capital Management, recounted how he redoubled sales efforts, developed an acquisitions strategy, started a TAMP and an online RIA business inspired by a seven-day, $13,000 business course at a certain Ivy League institution in Cambridge.
Brodeski believes he was the only business owner there, hence the only one to pay for his own course of instruction, but perhaps,too, he got the highest ROI on his Yugo-sized fee.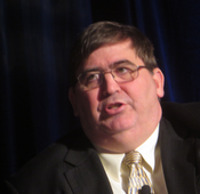 Mr. Rhoades went to Washington
to expose how some advisors are
grievously failing their charges.
9. An X-ray of one affluent, educated and sophisticated investor's portfolio shows how it was chewed up by fees
Another first-person narrative that was hard to put down came from our "one-man think tank" in residence, Ron Rhoades, who journeyed to Capitol Hill this summer to help an ex-Fortune 500 retiree prepare for her appearance before Congress and to give testimony himself. In the process he discovered some frightening facts about this savvy woman's portfolio, how the professionals she had entrusted her life savings to had let her down — and how her situation was, sadly, all too common. His damning conclusion: "I estimate that 95% of "financial advisors" don't avoid nearly all conflicts of interest, as they should."
Passion begets passion: Ron's story, as so many of his do, elicited heartfelt reactions from readers.
10. The New York Times exposes JPMorgan's brokers, yet again
Many, perhaps most, investment advisors got their start at the big New York wirehouses. And, according to viewer clicks, they remain fiercely interested in the trajectory of those mighty but troubled firms. As such, with perhaps more than a dollop of schadenfreude, you followed the travails of JPMorgan Chase & Co., whose sins among all their brethren seemed singled out for particularly prominent notice in the media.
Hence, the thousands of reader clicks for Brooke's story about The New York Times' coverage of the beleaguered investment bank, which followed up an earlier story on the topic by Lisa Shidler. See: JPMorgan breakaways make Page One of the New York Times after $9-billion loss puts spotlight on Dimon's bank.
It doesn't hurt to have two revered brands from two realms but one Big Apple in the headline. The twice-telling of the tale is part of the story itself.
---
---
Mentioned in this article:
YCharts
Data and ratings for RIAs
Top Executive: Sean Brown
---
---
---
http://thescripter.com/_search.htm
Folks never have to be rich and well-known ahead of they may ever appear fantastic. You'll discover superstar attire readily available for virtually any woman who dreams to resemble a celebrity. Females are vain by character plus they will do anything to ensure that they'd seem fantastic ahead of many others. Even though some ladies are not that vain, there'll always be a time whether they have got to put on exclusive dresses particularly whenever they plan to show up at formal gatherings. Folks must understand how to match for that occasion. Proms, marriage ceremony ceremonies, cocktail get-togethers, and formal occasions ?many of this stuff wanted ladies to look their very best.
Robert Boslego
December 20, 2013 — 3:11 AM
wondering what, if anything, happened after the Ayers' letters became public here…any lawsuits? or was he within the law to do that?
http://geomovies.org/user/kopetpdstv/
Even though there are plenty of mobile phones from the market today, one can definitely say that the Apple iphone is probably the ultimate mobile cellphone that you can get today. It is the case that has been reasserted strongly following the launch of the apple iphone 4. It was unveiled by Apple a few months ago after increasing competition in this segment and with this one launch; they seem to have blown away all the competition. The apple iphone 4 manages to do this spectacularly by combining all the good things about a mobile cellphone inside a brilliant package that's good looking as well.