The MarketCounsel Summit convened many kings of the jungle.
Brooke's Note: As I do late night editing on this article, I see that Tim Welsh and I both, in our separate articles, put a focus on the surprisingly empty calories of the Dodd and Frank appearance. See: What my personal enounters with Barney Frank and Chris Dodd revealed at the MarketCounsel conference. More remarkable might be how little it seemed to affect the event or the outlook for the RIA business in general, It would be nice to have these ex-politicians passionately crusading to improve the financial advisory industry. It's better that the free enterprise system is such a good friend.
Brian Hamburger temporarily supplanted Wayne Newton as Mr. Las Vegas last week as he emceed the final stop on the RIA conference circuit as the 2013 MarketCounsel Summit drew more than 400 of the industry advisors, consultants, experts and executives to the high-end Four Seasons hotel on the Vegas Strip.
MarketCounsel used some of that Vegas showmanship to highlight the latest trends, developments and happenings in the RIA industry — not to mention its ace in the hole: a Martin and Lewis reunion of sorts on the top of the bill consisting of former Senators Barney Frank and Chris Dodd appearing together for the first time at a conference in their post-legislative careers. See: In a major 'get' MarketCounsel books Dodd and Frank to play Vegas.
But after "all the build-up": See: Five RIA happenings: MarketCounsel shapes up; Zohar emerges, a new RIA-focused recruiting firm pops up and two more, Dodd and Frank provided a meandering Q & A session. While the audience was hoping for the juicy back-channel details of what went into getting the law written, Dodd and Frank unfortunately waxed poetically on tangential issues, leaving the attendees somewhat underwhelmed based on the high-expectations for the session.
Frog cliches
A good chunk of the conference content was focused on advisor succession, mergers, and strategies for growth through acquisitions. Philip Palaveev, chief executive of the Ensemble Practice and former Moss Adams ace consultant, led a panel discussion of some of the industry's heavyweights on how to "tuck in" advisory practices to achieve growth and scale.
"I've had to kiss a lot of frogs," said John Burns of Exencial Wealth Advisors as he described his process for finding and evaluating acquisition candidates. Concurring was Marty Bicknell of Mariner Wealth Advisors who said he spends nearly two thirds of his time as CEO in pursuing advisor acquisitions. See: Schwab 2013 RIA M&A data show hope but also futility.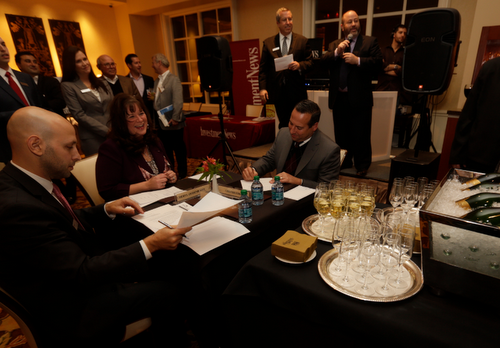 An RIA is born right before
the crowd at MarketCounsel Summit
Next up was another panel of industry luminaries who are using mergers as a key strategy in solving succession issues. Greg Friedman, managing principal of the two-time IMPACT award winning firm Private Ocean, and also CEO of Junxure , gave the audience his take: "My advice is to spend 80% of your time getting to know your future partners and 20% of your time on the deal mechanics, which is the complete opposite of how most of us approach this topic. Mixing cultures is something that you just can't fast-track or underestimate."
Pants pulled down?
Day Two featured another set of industry headliners providing their thoughts about where the industry is headed. A common theme was that advisors are in real danger of being replaced by the rising crop of online RIAs, known in the industry lingo as "robo-advisors" or "cyborg-advisors," terms being introduced to describe the combination of online advice, backed by people.
Companies such as WealthFront, Betterment, and the like were thrown up as examples of a new type of competitive threat. "I feel as an industry, that we are at risk of having our pants pulled down," said Steven Lockshin of Convergent Wealth Advisors and co-founder of the now defunct advisor collective, Advizent. "The majority of what advisors in our industry do for 100 basis points, these firms will do for 10 or 15," Lockshin warned. "These are commodity services." See: Online RIAs will mostly fail — and here are 10 reasons why.
Lockshin went on to lecture the audience on many of the failures in the industry, including describing his new book as a "rant about what is wrong in financial services today." Lockshin also expressed his bearish outlook by indicating that his investment in Betterment was a hedge against the success of his RIA firm.

Steve Lockshin: I think that the
reason that we were not successful
with Advizent is that the industry
didn't want to change — people
are making too much money.
Cloud is the answer
Providing a counterpoint to the bearish message expressed by Lockshin were the many technology vendors and executives that crammed the exhibit area and participated in panel discussions. These top firms successfully deploying "purpose-built" systems to help RIAs scale their businesses and meet the competitive threat head-on.
"I just don't buy the claims that the RIA industry is under siege," said David Welling, general manager for the Black Diamond. "There is just too much growth that we are seeing."
Mahna, Welling and Eric Clarke, top exec of Orion Advisor Services, LLC s, all spoke with enthusiasm about the benefits of cloud technologies for advisors. "The future is the Cloud," concluded Welling.
Most exclusive three million
Another leading indicator for where the industry is going and perhaps the answer to how the industry will continue to grow is the rise of new marketing technology platforms. Marion Asnes, former chief marketing officer for Envestnet Inc., and now a newly minted consultant under the Idea Refinery brand, led one of the best sessions at MarketCounsel. See: Envestnet hires Marion Asnes to tackle its marketing challenge.
Asnes convened a discussion with Justin Wisz, chief executive of Vestorly, Inc. , John Rourke of Wealthbase and Bill Okun of Relationship Science. These three firms are harnessing the power of social media and deploying algorithms to help advisors deepen relationships with prospects and find ways to convert them to clients. See: How one firm is supposedly cracking the lead generation code to the tune of 50,000 advisors supplied — by, for now, not trying to create referrals.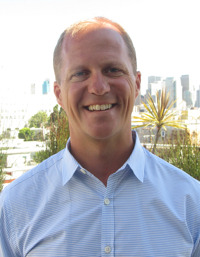 Dave Welling: I just don't buy
the claims that the RIA industry
is under siege. There is just
too much growth that we are
seeing.
"Personalized content discovery is what people expect these days," said Wisz. "Advisors need to curate this content for their networks so that people will share that content and develop opportunities for advisors to gather referrals."
A newcomer to wealth management, Okun talked about how his firm is gathering a bunch of top firms as investors in their company, including Salesforce, because they see the value in "relationship capital" and how advisors can use that to efficiently gather introductions to high-net-worth investors.
Similar to the "six degrees of separation" concept, Relationship Science has a detailed database of the top three million "influencers and investors" in the US. Advisors can upload their clients and prospects into Relationship Science and see how they might be connected to the exclusive three million names and point out ways for introductions. Wealthbase, another newcomer to wealth management, is developing a "social CRM for advisors," said Rourke.
Who's Who in a frigid Vegas
The MarketCounsel Summit was truly a gathering of Who's Who in the RIA industry and also a homecoming for many custodian executives who all had their start at Schwab years ago and are now elsewhere.
Fidelity led the way by being the "underwriter" of the summit and threw an elegant dinner reception in a huge suite — high atop the Four Seasons hotel with spectacular views of the renowned Vegas strip. The room, filled to capacity, then switched over to a cocktail event hosted by Dynasty Financial Partners . Vestorly convened a gathering over Tapas and wine at the new City Center hotel, Aria, celebrating the arrival of former TD executive Zohar Swaine who is joining the firm as a strategic advisor. See: Five RIA happenings: MarketCounsel shapes up; Zohar emerges, a new RIA-focused recruiting firm pops up and two more.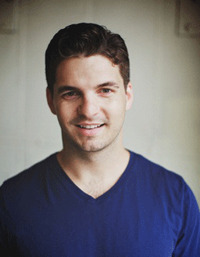 Justin Wisz: Personalized content discovery is
what people expect these days.
The rest of the attendees took in all that Vegas has to offer, although the December temperatures outside hovered around the freezing mark, keeping most indoors.
Spontaneous combustion
Perhaps as an homage to the long-standing tradition of Vegas being the wedding capital of the United States, Brian Hamburger presided over a document-signing session for a brand new RIA that was formed right there on the spot. Attendees cheered, champagne was toasted and there were very few dry eyes in the room as many advisors reflected back to when they began as an RIA startup.
To learn more about what went on at the 2013 MarketCounsel Summit, check out the many tweets on the #MSUM13 hash tag on Twitter.
Timothy D. Welsh, CFP® is President and founder of Nexus Strategy, LLC, a leading consulting firm to the wealth management industry, and can be reached at tim@nexus-strategy.com or on Twitter @NexusStrategy.
---
---
Mentioned in this article:
---
---
---
Stwphen Winks
December 16, 2013 — 9:27 PM
Brooke,
As advisors we are closer to the issues than legislators for which much of the fiduciary issue is an abstract consideration. This explains why industry lobbyist are so effective, there is no interest in understanding the all important "devil in the details."
Barney Frank observed that though lobbyist have significant power, that power is nothing when the electorate is fully engaged. The fiduciary argument is won overwhelmingly when we take the facts directly to the electorate: (1) why are retail investors afforded lesser consumer protections by brokers than other investors?, (2) why do brokers have no ongoing responsibilities for their recommendations as required of advisors by law?, (3) why are brokers not accountable for their recommendations as required?., (4) why is cost not an important consideration for brokers in making recommendations as required?, (5) why is professional standing not possible for brokers?
The unpleasant truth not being addressed is that brokers can not respond positively to any substantive questions concerning the best interest of the investing public—this should be the focus of fiduciary advocacy. Regulators with the exception of the DOL have been compromised, legislators only understand truth to power and the electorate is the only ultimate truth through which definitive power is gained, not lobbyist.
Next August the DOL will rule on Fiduciary Standing of Brokers and it will not be materially different from ERISA. We have ten months to adjudicate public opinion in the free market. The trust in brokerage industry is at a very low level. The SIFMA head, former Senator Judd Gregg has stepped down after just a few months because of the terrible PR beating the brokerage industry will take when it is forced to take a position after the DOL ruling which is clearly counter to the best interest of the investing public. An untenable political position. As a leading media figure in the RIA space, you need to be a catalyst for orchestrating fiduciary advocacy in the general consumer media/press (outside of the trade press which is beholden to industry interests) which shapes public opinion. This is all about restoring the trust of the investing public which is the ultimate populist position for the general media (60Minutes, WSJ, Bloomberg, etc.) consuming public.
Public opinion and transparency is the free market mechanism that overcomes conflicted industry interest that thwart the best interest of the investing public. There has never been a case in a free market since Adam Smith introduced the "invisible hand" in 1776, that the best interest of the investing public has not prevailed. We have to be sure the investing public understands that by design the broker can not act in their client's best interest and that industry regulators (FINRA/SIFMA) sanction a compliance protocol that assures that brokers neither render advice nor provide ongoing accountability for recommendations—an untenable political position counter to the best interest of the investing public and the professional standing of the broker.
SCW
http://www.ocean-techsupply.com/page3.php
They'll even be essential. When hunting with respect to such a product or service, persons features are what ladies seem with regard to in all probability the most. You'll find different types of celeb attire relating to this variety of products. The main cleavage traces are V-neck, high-neck also to square-neck. It is very unusual in course of look for a kind of item that has a spherical neck. The v-cleavage traces are imagined in course of come to be far more stylish tan the relief. If this really is available inside the way of straps in addition to masturbator sleeves, lots of these types of dresses are bustier. There celeb attire are however men and women which have been sleeveless, lengthy sleeved moreover to small sleeved.
http://medicl-center.ru/user/kopetpdvmk/
With the stop from your day what issues most for builders will be the range of models these are capable to deploy their application on. Apple has managed to this point to help keep a reasonably continuous marketplace share a lot more than the past two lots of yrs, about 16% globally and 25% in Usa, but Android smartphones will quickly be created for a lot less than $100. As speedily as that normally takes position, the quantity of Android smartphones will skyrocket and Apple would really begin shedding current market position share, because of the simple fact they would not be capable to sustain with with only their high quality iphone design.