Bernie Clark will ask for questions. Please oblige him.
The Charles Schwab Corp. makes no bones about it as heads to IMPACT 2013 in our nation's capital: The San Francisco-based broker is going headlong into the RIA business, not the RIA custody business. It is already there.
It is plowing ahead in the classic RIA, wealth manager, advice directly-to-rich people with investment management as one pillar and financial planning as the other. That kind. See: Schwab drops pretense: $2-million clients its staple branch diet in bid for fresh $2 trillion.
As many RIAs point out, this is nothing new — the advice part, that is. What is new is that Schwab is throwing a bigger shoulder — and a bigger emphasis on the niceties of advice — behind the effort by hiring more planners, leaving branches open on Saturdays for long planning sessions and going after people who are "owning it."
The ideal "owning it" type of direct client Schwab has in mind is personified by the firm as the fictional "Tobin," a business owner, not some salary-sucking corporate automaton. Tobin has $2 million or more. His life is complicated. He needs planning.
Hanging with 'Tobin'
Tobin and his money-backed proclamation is something new. As such, I think it is fair to ask some questions based on new circumstances of the ongoing dynamic partnership between Schwab and 7,000 advisors managing $1 trillion-plus, of which $900 billion is in custody with Schwab Advisor Services.
Yes, Schwab IMPACT is a big, beautiful party and you should be flattered to be invited and treated so well, so professionally in such dignified surroundings by well-mannered people who have earned your trust.
1) If Schwab is going into the RIA business on a grand scale, how will RIAs be treated in advertisements? Schwab has stated that the difference will be one of "mindset." How will that be explained to investors?
3) What will be the acceptable rules of the road in terms of Schwab poaching talent from Schwab and vice-versa? The same goes, too, for Windhaven to a certain extent. See: How Schwab failed to block one broker's breakaway and what the legal battle may mean for the future.
5) As legislative battles simmer regarding fiduciary issues, what will govern Schwab's philosophy of helping its brokerage model versus RIAs? Do you have any meetings planned for the time you're in Washington, maybe after IMPACT? See: Bernie Clark and Skip Schweiss head to Washington next week to fight on behalf of RIAs in Bachus bill showdown.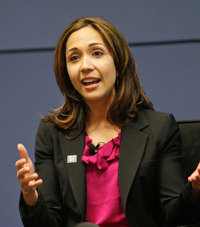 Neesha Hathi will supply the technology
details.
6) Where exactly does Schwab Intelligent Integration stand — other than the addition of MoneyGuide Pro? See: MoneyGuidePro back on a roll after the. Recently Bernie Clark made reference to its completion taking maybe a decade. Can it be expedited and are advisors benefiting from its progress? See: Schwab and Advent Software forge historic agreement — mostly for the good of Black Diamond users for now. Neesha Hathi will presumably supply the technology details.
7) Is there anything more to report from Schwab about its ability to custody and screen alternative investments? See: Schwab wins long-awaited green light from the SEC on alternative-assets distribution.
8) Has Schwab taken any steps to better serve hybrid advisors as competition custodians like LPL, Fidelity and Pershing heats up and these companies eliminate some of the bifurcation in the technological experience. See: At the $50 billion mark, Derek Bruton discusses how LPL's hybrid unit became 'wildly successful' and why Fortigent helps put the $100-billion target closer still.
9.) What really is the commitment by Schwab to its ambitious, Got-Milk, RIA-Stands -or-You campaign? Have their been tangible benefits to it thus far? See: Schwab is set to connect RIAs outside its referral network to HNW investors through its 'Got-milk'-style campaign. Who replaced Michelle Draper in overseeing it? See: An advertiser's-eye view of Schwab IMPACT: Who's doing what right?.
10.) We hear that there is a new effort called Project PM Squared — new vision for portfolio management – direct feed from Schwab to portfolio center – no more downloading or reconciling . Sounds a lot like Project C. How will other technology vendors fit into this play?
---
---
---