News, Vision & Voice for the Advisory Community
The San Francisco-based broker has named its composite perfect ideal client 'Tobin' -- representing a graying, masculine entreprenuer
November 5, 2013 — 6:07 AM UTC by Kelly O'Mara
Brooke's Note: With its $900 billion, give or take, of assets in custody, Schwab is the king of servicing RIAs. But what this article shows is that Schwab is more aggressively seeking a second major RIA kingdom — being the largest RIA itself. Schwab Private Client is an RIA — as of a couple of years ago. So too are Windhaven and ThomasPartners, though certainly they are more of the asset-manager kind of RIA. But while SPC's growth hasn't been all that sensational over the years, it appears that chief executive Walt Bettinger is removing some potential shackles — like a mixed-marketing message. Now, for the first time, Schwab is coming after high-net-worth clients as its priority. It can, in effect, use tuna nets rather than herring seines that only take the odd, ill-fated deep-ocean prey as a windfall. Schwab can be pleased that RIAs aren't crying foul — for now. But it may be a good response for a bad reason. RIAs tell Kelly that, yes, Schwab has shown good faith in leaving their clients alone. But those RIAs are mostly unconcerned because Schwab has never proven adept at taking big game fish in-house.
While The Charles Schwab & Co. Inc. has traditionally been a retail mass-market operation, with a profitable custody arm, it has long eyed the high-end asset management business. After some half-started attempts in the past, Schwab is now targeting the affluent, high-net-worth market with its own advisory firms — Schwab Private Client, Windhaven (which it purchased in early 2011), and Thomas Partners (acquired in March of this year) — though it may put them in conflict with the RIAs who currently use Schwab. See: Schwab's purchase of Windhaven made its asset growth soar — and RIA assets may be the afterburners.
On the company's business update call in July, Schwab executives outlined a strategy that will push the company into targeting clients with over $1 million, which it hasn't done in the past. A cited example client in this new target market, named Tobin, has $2 million in assets and an entrepreneurial attitude. Tobin is traditionally a masculine, Caucasian first name that has Gaelic roots and a family crest.
John Clendening, co-leader of Investor Services at Schwab, called the new target market a "$2 trillion opportunity" and characterized who Schwab would be going after as "affluent, willing to bring $250,000 to $1 million to Schwab" and as "not willing to turn over most decisions to an RIA."
Vigorous swim upstream
Andy Gill, the other co-leader of Investor Services at Schwab, detailed what Schwab has done so far to serve affluent clients like Tobin: adding one-on-one financial consultants, making other specialists available for advice, expanding online services, opening more branches and, notably, opening branches on Saturdays — a move, Greg Gable, senior vice president at Schwab, says is designed to allow more in-depth time to do financial plans. See: A sometimes defensive Bernie Clark makes four points pertaining to Schwab's RIA custody business in an update to Wall Street.
"I can't imagine a scenario where we don't have more branches or we don't have more financial consultants to be able to serve those affluent clients," Gill said on the call.
Gill said that 20% of Schwab's asset base from direct clients is already in this affluent segment and the new business across all three advisory offerings has grown drastically in the last year. "Our strategy is working," he said.
When asked for comment and clarification on the new strategy, Gable says simply that Schwab's retail business and its advisor business are complementary and will continue to co-exist. He also stresses that "there is ample information available publicly" about Schwab's retail plan. That public information tells a different story.
Revenue transformation
The shift — not that the company wants to call it a shift — is part of a ten-year "long-term revenue transformation," said chief executive Walter Bettinger on the company's business update call.
Schwab, which has long been a brokerage, has primarily made its money off of fees from transactions, said Bettinger, but the firm now is attempting to "pull away from the transactional" and move towards generating the majority of revenue from assets and asset management. This means one very simple thing: Schwab is attempting to become a bigger player in the asset management business.
In order to do this, said Bettinger, the strategy primarily revolves around "client size" — both attracting clients with more net worth and helping current clients grow their assets at Schwab.
"Much of our strategy revolves around acquiring new clients, building up assets and then … being in a position to monetize those assets," said Bettinger on the call.
The seeds of this strategy may have been planted over the last ten years as Schwab has expanded its efforts to provide advisory services to clients. Now, 17% of the assets at Schwab — $140 billion — are under some fee-based relationship, said Bettinger on the call. "We think there is significant room for that number to run," he said, arguing that it could more than double — primarily as Schwab now starts to go after high-net-worth individuals." See: How I'm doing after my advisor left Schwab Private Client to join a $2 billion RIA.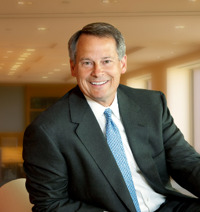 Walt Bettinger: We think there is
significant room for that number to
run.
Who is 'Tobin'?
One of the key aspects of Schwab's new plan is an emphasis on a new target client.
Characterizing this market is a fictional man named Tobin. Tobin is, according to Clendening on the call, in his mid-50s and a successful entrepreneur with about $2 million in assets.
The primary difference Clendening emphasized between "Tobin" and the standard high-net-worth client who would find themselves at an RIA is his mindset. Tobin's is engaged in his investing, but also in life. He's an informed risk-taker and wants more control and a more proactive relationship with his broker.
To reach those engaged, $2 million clients, Schwab has launched a new advertising and branding campaign, "Own Your Tomorrow," which replaces the old "Talk to Chuck." The Schwab website has been redesigned and includes a sitelet — a website within a website for niche needs. See: How Schwab's new 'owning it' advertisements position the firm to offer more advice — and how RIAs factored into the brand rethink.
The new campaign lays the marketing grounding for attracting these affluent clients to Schwab's advisory services. Ads will run in places that Tobin would read or watch: The Atlantic magazine and Hulu, the online TV streaming service, were specifically called out as examples.
Tobin is important to Schwab's plan because he reportedly represents a $2 trillion opportunity out of the $11 trillion marketplace.
While Tobin-like clients are primarily being served by wirehouses and places like Morgan Stanley, Merrill Lynch, Wells Fargo and UBS, said Gill on the call, he argued that those places aren't serving that segment of the market well. "We believe that no one in that space is well serving the investor like Tobin," said Gill. See: 7 reasons why wirehouses shouldn't milk the old business model.
Tobin's supposed mindset is the key to drawing a line between the clients that Schwab hopes to serve and those that the RIAs who use Schwab serve. Clendening said that between those who choose an RIA and those who chose one of Schwab's advisors services "the differences are stark.

John Clendening will help Schwab read
"mindsets."
What conflict?
It's a thin line to draw, though, and one that even Schwab might not be 100% clear about.
Traditionally, Schwab has gone after clients with less than $1 million, leaving those with more than that to the RIAs. See: Schwab Advisor Services is nearing $800 billion of RIA assets but analysts are split over whether it can continue to dominate.
But, Tobin, with his $2 million in assets, would fall clearly in what had been RIA territory — something that may be causing confusion.
When asked for clarification on these points, Gable says only that the clients who would be served by Schwab retail are traditionally at the low end of who RIAs serve.
"We've been very clear that our retail strategy and our advisor services strategy are highly complementary: They are designed to serve different segments of the market that can't be summed up through simple asset level descriptions," he says. The differences in those segments are key to understanding how Schwab wants advisors to view the market.
While assuring RIAs that "we really don't think there's a conflict," Gill also laid out what he saw as the differences between Schwab's offerings and an advisor's. Schwab, he said, provides "scaleable advice" that is fact-based and takes Schwab's point of view. RIAs, alternatively, provide sophisticated, highly customized advice, likely to clients with $1 million and more. Yet, Tobin, reportedly has $2 million.
The only difference then is, reportedly, in this mindset of Tobin's.
Internal competition
Schwab competing with the over 7,000 RIAs that use the firm as a custodian for $900 billion in assets is clearly high on the minds of those advisors. One person asked exactly that question on the call.
"There's a lot of assets out there," said Gill in response. Both Schwab and the RIAs who use Schwab manage just around 7% of the total market assets, meaning there's a lot more assets to be taken from wirehouses than from each other, he said. Gill also pointed out that Schwab refers a large amount of business, about $4 billion, to advisors who pay a fee to be on the Schwab Advisor Network. See: How an RIA can capitalize on referral programs offered by Schwab, TD and Fidelity.
Which potential clients will now be passed on as referrals to the Schwab Advisor Network and which will be kept in-house for Schwab's own advisors under this high-net-worth focus, though, is unclear. Schwab has declined to lay out specifics.
No-poaching guidelines
Bettinger said that it doesn't make sense for Schwab to buy more firms like Windhaven and Thomas Partners. The assets that are referred to advisors on the Schwab Advisor Network ultimately work out to 40 to 45 basis points for Schwab with the referral fee and custody fee. So, any other deals, he said, would have to do better than 40 to 45 basis points. "We have the most successful referral program of retail clients to registered investment advisors in the industry," he said on the call. That means the firm will have to figure out how to balance who it refers and who it keeps for itself, just in terms of profitability and maintaining good relations.
"We've got very strict guidelines that prohibit our people from poaching or reaching into the client base of our RIA clients," said Clendening. See: A $2.3-billion RIA in San Diego continues to grow as it hires talent from national powers — this time a known Schwab quantity.
For the most part, this has assuaged RIAs' worries so far.
All eyes on Schwab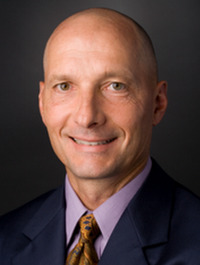 Steve Janachowski: They've done a good
job of being a good citizen.

"I'm not concerned that they're going to take my business," says Steve Janachowski, president of Brouwer and Janachowski, an RIA firm based in Tiburon, Calif., though he is going to keep on eye on them. "All advisors will be watching them." See: With cash and grace, Brouwer & Janachowski attracts another $100 million firm by creating a never-say-retirement home for older RIAs.
Janachowski, who's used Schwab since 1987, believes that the company is trying to be careful and not step on any RIAs' toes. For example, he says, Schwab doesn't send his clients any marketing branded as Schwab. And, it makes sense, he says, for Schwab to go after a different segment of the market than RIAs, a segment that's more active, "whatever that means," he says.
"Overall, I'd say I think they've done a good job of being a good citizen," says Janachowski, partially because they just can't risk alienating and pushing advisors away when they rely on them for up to half their corporate profits. "They'd want to take pains not to appear to have a business model conflict. If advisors lose clients to Schwab, they'd sit up and take notice." Still, he acknowledged it'd be hard for an RIA to know if they lose potential business to Schwab. See: Why I moved my account from Schwab's RIA and what Chuck could do to improve Schwab Private Client.
Unmarked offices
A large part of the reason RIAs aren't concerned so far seems to be a sense of "been there, seen that fail."
"Schwab has always done this," says Roger Hewins, president of Hewins Financial Advisors LLC in San Mateo, Calif., which manages $2.5 billion of assets, kept mostly at Schwab. Fifteen years ago, people were up in arms about this same kind of push into higher-net-worth asset management, but it's never stuck, he says. There was one point were Schwab had private, unmarked offices that you could only visit by appointment. "That didn't work," says Hewins.
Most notably, Schwab bought U.S. Trust in 2000 in an attempt to expand its advisory offering. But, it never really clicked and Schwab later sold it to Bank of America in 2006. See: An $18-billion RIA tacks on a $24-billion U.S. Trust cast-off as the grab for UHNW magnets continues.
"This is not something new," says Janachowski. "It's an ongoing progression."
Even Schwab acknowledges that, in some ways, its acquisition of high-net-worth assets isn't new. What's new is the expansion of that effort. "We've quietly built a large and growing affluent client business," said Gill on the call. "We believe we'll continue to attract affluent clients at an accelerated pace."
Profits vs. more profits
That progression and expansion primarily is a result of changes in the industry. Custody, says Janachowski, is a commodity and one that is constantly getting cheaper. "If you're a custodian your days are numbered unless you find other ways to add value," says Janachowski. That's in part why Schwab started the OneSource program and has now expanded it into ETFs. And, those funds and ETFs pay to be on the platform will likely go up, says Janachowski. "They're looking for other ways to make money." See: Part I: Is the era of the monolithic RIA custodian coming to an end?.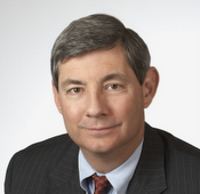 Roger Hewins: If we wake up
one day and find our clients
are better served with a discount
broker, that's our own fault.
With advisory and RIA business booming, it's only natural that Schwab would look in that direction.
"Schwab is looking for ways to get into the asset management business," says Janachowski. "The asset management business is far more profitable than the custody business."
Because Schwab's a public company, it constantly has to walk the tightrope of satisfying shareholders. "It's not enough for them to make a profit, that have to make enough profit," says Hewins.
'Our own fault'
"I don't think there's a nefarious plan, that they're secretly trying to steal advisors' business. It'd be really counter-productive for them," says Janachowski.
For the most part, Schwab's expanded effort will primarily take more business from wirehouses and banks, because it would be an improvement for those clients — and there's plenty to go around, says Hewins. "In the big picture, we're all still a small part of the pie," he says.
Hewins is taking a practical approach to the whole situation. "If we wake up one day and find our clients are better served with a discount broker, that's our own fault," he says.
---
---
Share your thoughts and opinions with the author or other readers.
Tad Borek said:
November 5, 2013 — 8:22 PM UTC
And in other news, McDonalds has expanded its McCafe coffee offering in the hope of drawing high-margin customers from Peet's and Blue Bottle. =)
I do think the gaping hole in the marketplace is a competent mass-market RIA. But IMO it shouldn't have this built-in fundamental conflict of interest, it needs to commit to the RIA side of the aisle. Not talking so much about the conflict with RIAs who are using them as custodian – which certainly exists (it was years ago but I recall their reps soliciting clients when they made deposits at the branch, something that has never happened in 10 years w/Fido). That's a minor conflict because of the bigger elephant in the room that renders them less competitive:
This is a publicly traded company with significant revenue from trading volume, interest rate spreads earned on money-market and margin assets, NSF-fund shelving fees, AUM fees on in-house funds, etc. This is the stuff truly independent RIAs weigh into the calculus of investment selection & strategy. A Schwab advisor sits in the same office building as her B/D-RR counterpart and recommends investments/strategy for an RIA client, with choices that could work to the detriment of the other side of the building. Classic principal-agent problem right? It's not unresolvable, but it's complicated. IMO you either stick to your knitting or change up the model entirely. The first discount B/D to do that would be the real innovator.
---
---