Steve Huxley: Today, over 4,000 bond funds exist, meaning 97% of all bond fund managers have been enjoying an environment of terrific total returns buoyed by falling rates over the past 30 years.
Brooke's Note: Steve Huxley is both a card-carry practitioner in the bond business and a true-blue member of academia. Since most people reading this note are only members of the former group, I know you are actually wondering why the latter suede-elbow crowd even exists. In Steve's case, he exists to help run AssetDedication and freshen up this column about the real period of declining interest rates. He doesn't look back to the 1980s like the rest of us.. He (with a new chart this year) looks back to the 1800s — and, yes, it makes you think, and maybe, sentimentally, even long for some inflation. Happy Thanksgiving everyone.
Thanksgiving always reminds us of our history, and as professionals in the American financial industry, we should know a bit about the history of interest rates in this country. 10-year Treasuries have yielded an average of about 5.1% since 1800, but the historical record is a very meandering pattern.
To start from the very beginning — before 1800 – consider the Pilgrims. To escape governmental oppression of their religious beliefs , several congregations of English farmers relocated themselves in Holland in the early 1600's. Eleven years later, they borrowed money to buy sailing vessels and provisions to resettle permanently in the "new world." What interest rate do you suppose they paid?
Interest rates on commercial loans in Holland during the early 1600s for long term loans by cities were in the 6-8% range, according to Homer and Sylla's "A History of Interest Rates." If these were considered the equivalent of AAA rated loans and we use the current definition of junk bond spreads of about 6-10% higher than Treasuries — and judge the Pilgrim voyage to be a very risky venture – then the Pilgrims were likely paying at least 12-18% to finance their new lives.
Historians believe they were able to get the loans because they had established a reputation for trustworthiness and hard work during their years in Holland. Although about half of the pilgrims died during the first year, those that were left celebrated their first harvest with a festival in November, 1621 — America's first Thanksgiving.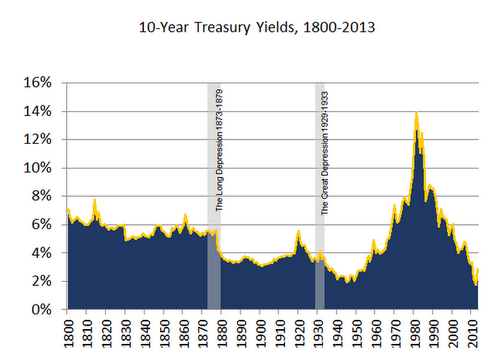 Interest rates have, with a few
blips, just kept on falling since
turkeys were getting popped with muskets.

Fast forward to 1776 and the Revolutionary War. To buy weapons, provisions, and equipment, the Continental Congress had to borrow money. They tried printing specie with the promise that it would pay 4% to the holder in 5 years, but its principal value fell precipitously to about 2.5% within 3 years and was ultimately redeemed for 1% in 1790 (one wonders if the current Fed leaders are aware of this…). Ultimately, most of the loans came from foreign sources at rates of 5 to 6 percent. Many of these loans (mostly from French and Dutch lenders) could be considered political subsidies to irritate the British Crown rather than actual loans.
Now, fast forward again to the next epochal event in our history, the Civil War. We tend to think of ourselves as a polarized country now, but when viewed from the perspective of the 1860s, we are actually quite chummy, rather like siblings tussling over who gets the bigger piece of (pumpkin?) pie. To finance the war, the Union paid rates in the 6% to 7% range, higher than either corporate or municipal bonds being issued at the time. After the war came the panic of 1873, when several railroads failed due largely to corruption and rates on long term Treasuries began to fall. They stayed in the 3% to 4% range, averaging 3.4% from 1878 to 1958, a period of 81 years with only a few minor exceptions, when they rose to 5%.
Interest rates had begun to rise slowly after World War II, then rapidly after 1965, and culminating in a peak of nearly 14% in 1981 as Fed Chair Paul Volker battled inflation and President Ronald Regan deregulated the financial industry.
At that time, in 1981, there were only about 125 bond funds in existence. But as rates began to fall from their historic highs, financial entrepreneurs who realized that great total returns were in the offing for fixed income began to open bond funds. Today, over 4,000 bond funds exist, meaning 97% of all bond fund managers have been enjoying an environment of terrific total returns buoyed by falling rates over the past 30 years.
And what does the future hold? Rates have little room to drop much lower, in spite of Fed Chairman Ben Bernanke's desire to keep them down. It would not be surprising if more than a few senior bond fund managers — the bright ones anyway – will decide now is a good time to retire with a winning record. Those who do will likely have much to be thankful for over the next few years if rates begin to climb back towards their long term averages.
And what of Federal Reserve Vice Chair Janet Yellen who seems destined to take Bernanke's spot? It seems to me the fact that she has indicated no significant changes in the Bernanke Doctrine of funding deficits and buying mortgages, meaning rates will remain in this territory through 2014. She seems perfectly content with the "new normal." That means there is no interest in pushing rates up from Washington and no lights at the end of the tunnel in terms of slow growth. So I see little reason to think rates will rise significantly in the near future.
That said: What does a politician say when he sees light at the end of the tunnel?
"We need to build more tunnel."
Stephen J. Huxley is chief investment strategist and founding partner of Asset Dedication LLC, and professor of business analytics at the University of San Francisco.
---
---
Elmer Rich III
November 29, 2011 — 4:58 PM
"We are easily convinced by data." Few questions:
- Does it make sense to inflation adjust the rates?
- Bet there are stats going back to Greek and Roman times and perhaps earlier.
- So is it fair to say that as demand for bonds has risen the rates have gone down, i.e., as more funds are opened rates drop? That makes sense since supply is not constrained and the rate needed to attract funds drops with demand.
- So is the hyper-demand really a reaction against perceived uncertainty (not "risk") in other asset classes?
- Does this suggest zero inflation?
Saw an interesting roller coaster video done by Gary Shilling of historical housing prices and inflation — they seem highly corrleated
Dave Waluk
December 2, 2013 — 9:46 PM
Steve, thanks for the perspective – it's always interesting to place our current market focus within the context of longer term timelines. Of note is that two outliers, 210 year highs and lows, both occurred within the past 30 years.
http://globus.crimea-ua.net/forum/index.php?showus
The PAD or (iPad) may be the very first cybertecture apartment tower positioned in Dubai. The tower is intended as a haven for anyone on the lookout for the trendy, digital lifestyle. It is actually specific at switched-on, resourceful and hip business executives to whom we check with as "the electronic generation" or Apple model lovers that are frequently mobile and linked.
http://www.iwsamerica.lfchosting.com/postinfo.html
You'll be able to acquire the products and solutions on-line together with the quite a few online channels. They offer the merchandise and also the add-ons at really cheap costs. Searching the internet to collect extra aspects about digital assistive hearing device merchandise, the do the job they are doing where to buy them. Basically consult with the audiologist and order the principle just one suggested in your case as a result of the health practitioner.