News, Vision & Voice for the Advisory Community
The odyssey took a $200-million-in-AUM toll in addition to a partner split and Leonard, 45, still faces, psychologically, the task of building a business from 'scratch'
November 27, 2013 — 6:09 AM UTC by Lisa Shidler
Brooke's Note: Whenever somebody throws themselves into prolonged adventure and makes it safely to the other side, there is a natural question: Knowing what you know now, would you do it again? The second question is: What next? Scott Leonard is ready to answer these questions for us now, and, apparently, in an upcoming book.
Scott Leonard dared to live out his dream sailing across the world and now he wants to help others accomplish their dreams too — even if they seem far-fetched.
Leonard, 45, is the business owner who risked going under (literally and figuratively) in a journey across the world on his 50-foot catamaran.
His family of five left in the summer of 2011 on their boat "Three Little Birds" and over two-and-a-half-years they traveled to 28 countries. Their total trip was 14,000 nautical miles, which doesn't include jaunts between small little islands. That totals about 16,000 miles or if you were to take a large commercial jet, it would take 32 hours to fly 16,000 miles. See: RIA on the waves: Scott Leonard's three-year adventure running his practice from a sailing ship at sea.
'Everything is hard'
Now, he's back on land building a new RIA, Navigoe LLC, and while he feels the experiment was a success — his business didn't go under — there's no question the firm didn't grow as quickly as if he'd been at the helm. Now, he's energized to help propel the firm's growth and one way he intends to do that is through the sale of a book, "The Liberated CEO: The 9-Step Program to Running a Better Business so it Doesn't Run You" which will be released March 17, 2014 by Wiley. See: Scott Leonard's 2-1/2-year boat odyssey around the world is followed by split with his partner.
Leonard hopes the book appeals to like-minded small business owners — some of whom may become clients. The book focuses on how small business owners can ultimately build their practices to have more freedom and flexibility.
The book delves into how Leonard set up his business so that he could fulfill his dream to sail. And Leonard, who was no stranger to the sea before he began this journey, admits the trip was even more difficult than he'd imagined.
"It was just so much work. I envisioned a 2-1/2 year vacation, but the reality is we mostly lived in third-world countries on a boat. Everything else was still the same. We were homeschooling the kids, I was working on the boat. Even getting food was hard," Leonard says. "Everything is hard. All of the things you take for granted. At home, you turn on the lights and turn a switch to get water. There's unlimited water at home and on the boat it's not like that at all. At the grocery stores in the U.S. there's always going to be food there. We'd go to the grocery store and there's just all of this canned crap. It's really hard to find fresh stuff. You've got three boys who are monstrous eaters and eat more than we do as adults." See: The advisor who sailed off grid and found a new business model for his $550-million RIA on the way.
Losing millions
As difficult as it was, Leonard has no regrets. He concedes that his firm's growth likely would have been jet-propelled had he remained on land. But he was willing to lose out on some asset-growth to make his dream come true.
"I probably have $100 to $200 million less in AUM as a result of the few years I spent planning and the few years when I was on the trip, but I really do not care. I do not measure others or myself by the size of my wallet. That is not what drives my happiness. My happiness has been and will continue to be driven by being able to reach my personal goals."
For Leonard, the experiment was a success because the business didn't go under. Even though his practice's growth stagnated in his absence, it still did well enough to support his adventure.
"If you're doing what you love, you just tend to be more successful anyways," he says. "I don't think the trip has been a net loss to the business. The business has no purpose other than to satisfy my personal goals. If my personal need was to go sailing, then I consider the trip a net gain." See: RIA leaders venture to Grand Canyon to get beneath Earth's surface — and their own.
A new chapter
For Leonard, two chapters have ended. His boat journey is over and in recent months, he and his partner Christopher Van Slyke, 46, decided to split and are each forming their own RIAs.
They are both adamant that their split is amicable and had nothing per se to do with Leonard's trip around the world. But causal connections are not always straight domino drops. Leonard concedes he spent a lot of time thinking on the boat and some of those thoughts included his vision for growing his practice in more of a team approach than Van Slyke. See: Scott Leonard's 2-1/2-year boat odyssey around the world is followed by split with his partner.
Leonard formed Lake Tahoe, Nev.-based Navigoe LLC, named after the Latin word for "to navigate." His firm has about $220 million in assets. Leonard has four employees and about 120 clients. His firm still has a location in Redondo Beach, Calif.
By the end of this year, Leonard and Van Slyke expect that their firm Trovena will effectively cease to exist.
For his part, Van Slyke formed his own firm Worth Pointe LLC, with locations in Austin, Texas and La Jolla, Calif. The firm has nearly double the assets of Leonard's firm at $400 million in assets with 300 families and six advisors on staff. Van Slyke used to live in California but moved to Austin a few years ago. He works out of Austin but spends time in La Jolla, especially in the summers.
Stalemate
Leonard acknowledges that coming back after being gone for years is like starting from scratch in some cases and he knows he's got some pretty hard work ahead of him.
"I am basically looking at a blank page relative to marketing and strategic alliances. Not much has been done for the past five years to grow the business," Leonard says. "That said, I am really excited to be back and excited to build the business. The time away was very rejuvenating for me as an entrepreneur and business owner."
Marketing book to build practice
Leonard hopes his book will help jump start his RIA's growth and makes clear it's not just round-the-world memoir 7,104.
"It is a business management book, not a sailing book. The fact that I was able to go sailing is proof that my concepts work. I basically started telling clients I was leaving in 2010 when we were still coming out of the financial crisis/recession. And while I was gone, I also started telling them about the separation of the corporation in late 2012 and early 2013. The fact that clients stayed with my silo, and more importantly continued to refer clients to my silo, is an excellent testament to my silo's staff and the steps I put in place before taking this trip," he says.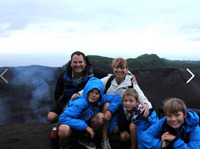 Leonard and family: The fact that
clients stayed with my silo, and
more importantly continued to refer clients
to my silo, is an excellent
testament to my silo's staff and
the steps I put in place
before taking this trip.
He feels he can share his experience and pass it on to other business owners with shared visions and grow his practice this way. Even though he's already set sail, he says he wants to continue to build a practice that he can leave from time to time.
Leonard and his family are planning to stay in the states for the next 10 years until the youngest Leonard is out of high school and then they may live in cottages or villas in Europe.
"I want to continue to improve upon what I have already build, and grow organically – as opposed to trying to roll up a lot of other advisory firms, which was part of the goal five years ago. Also, the key will continue to be one of a proper balance between work and family," Leonard says. "It is really less about AUM and revenue – although important – and more about having a great business that allows me to continue to be entrepreneurial and a great place for everyone in the firm to work."
Stormy weather
Leonard says that when the family set off in the summer of 2011, they always envisioned the trip would last a full three-years, but it was a family decision to end the trip early after 2 1/2 years.
They've had a number of rough sails along the way. For instance, shortly after they left for the trip. they were land locked for some time around Puerto Rico with two near-misses of hurricanes.
This October, the family found themselves right in the middle of Hurricane season in the Pacific Ocean near Australia. They had two choices: dock in a hurricane-free zone near Australia for several months and wait out hurricane season or head back to the states. They chose to come back early.
"Frankly, we've discovered we've been to some pretty amazing and gorgeous places and they are great to visit but we wouldn't want to live there," Leonard says. "We don't want to live on a boat in the marina for 4 months. Why would we do that? Do we just want to sit in Sydney's harbor for four months. No, let's go home and ski."
Better appreciation for the U.S.

Leonard gang: People envision the dream
of sitting back in a hammock
with mai tais and that's not
how it was. It was so
much work.
Leonard says he and his family learned to appreciate the United States like never before.
"As much as we complain about education, we still have one of the best education systems in the world and it's basically free," he says. "Ours is so much better than any of these other countries. The funny thing is they think their system is better than ours because they've heard from the press that ours is bad, but our observation was our education system was so much better than the other countries we visited. It was an interesting observation."
Rough sails
Leonard relates some hair-raising events outside of the hurricanes. The family got stuck in a terrible storm that turned a six-day cruise into 10.
"For two days it was really bad and we made no headway and got no closer to the destination. No one is throwing up but no one has an appetite. Usually, the first few days no one has an appetite. People envision the dream of sitting back in a hammock with mai tais and that's not how it was," he says. "It was so much work."
Still Leonard wouldn't exchange the experience at all because he says that everyone in the family grew stronger.
"I think the good of it was different than what we thought it was going to be. The time together with the family was phenomenal. Getting to spend that time," he says. "Now, the kids have confidence in independence that would be very hard to get just living in the states. They know how to walk in a town where they don't speak the same language and figure out what they would need to do to travel. We taught them how to deal with customs and to deal with language barriers.
---
---
Share your thoughts and opinions with the author or other readers.
Robert Boslego said:
November 28, 2013 — 5:23 AM UTC
Sailing the seas does sound like a romantic adventure until one view's Robert Redford's new movie,, "Lost at Sea."
The reality described above is interesting. I enjoyed reading this account.
His mission statement that "the business has no purpose other than to satisfy my personal goals" was jolting though. Not sure how many clients will be attracted by that message…
Brooke Southall said:
December 3, 2013 — 8:21 PM UTC
Some people say they work to live. Others say they live to work. Either could be criticized roundly. I think Scott is saying that he is one of the former. I'm not sure I'd read too much in to it from a duty of care perspective.
Brooke
---
---