Christopher Van Slyke: From day one (in 2007), when we merged, he told me he was going to go sailing.
Brooke's Note: We rated Scott Leonard in our Top-5-Most-Influential this year, right up there with the big shots of this business. He deserved it. See: Top 5 most influential RIA figures of 2012 going into 2013. We have followed his story back on land because as journalists we know that one adventure tends to lead to another (and there's more sea adventure to tell, as you'll see in an upcoming article.) This story is less romantic but just as profound in its complexity and importance. A split, break, divorce or whatever you call it, can be taken as a minor defeat or a major triumph of growth.
Christopher Van Slyke and Scott Leonard were one of the great human experiments of the RIA world: One partner, Van Slyke, stayed home and tended to the $600-million practice of Redondo Beach-based RIA, Trovena LLC in relatively conventional fashion. The other one, Leonard, sailed around the world for two and a half years eating beans out of a can and staying off the grid for days at a time. Leonard often literally mailed (well, e-mailed) and phoned (via satellite) it in.
Now it seems, there is a predictable result to two lives that went in such radically different directions: Van Slyke and Leonard are undergoing the RIA version of a divorce.
Van Slyke says events pulled him in a different direction.
"Scott's out there sailing and the market comes back and revenues come back and I was being presented with a lot of opportunities to grow inorganically," Van Slyke says. "I didn't expect these inorganic growth opportunities to come as easy as they did. I was going to follow that path and that wasn't what Scott was comfortable doing. It's hard for the company to be two separate things. We had to share a common message. If you're in business with people you have to agree with what the business is going to do. It was a point where we realized it was going to be easy to make the break." See: RIA on the waves: Scott Leonard's three-year adventure running his practice from a sailing ship at sea.
People will talk
But in this case, plans to form separate firms do not seem to have involved hard feelings, legal acrimony or boiled rabbits.
The men accept as natural observers' suspicions that their split was prompted by bitterness arising from Leonard's journey around the world on his 50-foot catamaran. But they are also are adamant that their decision to take separate tacks by year's end is more about a vision for future business growth.
In fact, both say their friendship is stronger than ever and the break-up has remained in the business realm.
"From day one, when we merged, he told me he was going to go sailing," Van Slyke says. "That was part of the reason we originally merged. We respect each other's separate visions and we've handled this transition very delicately and it was very amicable. We're both making more money than we ever had and I think you'll see each of us take off. We've crystallized our vision on what we believe is the right way to grow our business."
(The Leonard family cut their three-year trip short and have made their home base near Lake Tahoe, Nevada. Look for an upcoming RIABiz story detailing Leonard's sail journey.)
Gone sailing
Leonard, 45, and Van Slyke, 46, merged their practices in 2007, forming Trovena, which used to have locations in Redondo Beach, Calif., the La Jolla section of San Diego, Austin Texas, and Roseland, N.J.
Then, in the summer of 2011, Leonard embarked on a wildly ambitious journey he'd been planning for years: With his wife and three sons in tow, Leonard began a projected three-year circumnavigation of the globe aboard the catamaran,"Three Little Birds." See: Advisor spotlight: How one advisor is building his practice to sustain a three-year sailing sabbatical.

Scott Leonard worked out of his
50-foot catamaran while he sailed the
world with his wife and three
sons.
Van Slyke concedes he gets questions from colleagues about whether there was any added stress with Leonard gone and how it has impacted him. But Van Slyke says one of the reasons he and Leonard decided to merge together in the first place was a similar vision about building a company where principals aren't chained to a desk. in fact, Van Slyke,while not on a sailboat, often spent time with his family in Austin and away from the office. See: The advisor who sailed off grid and found a new business model for his $550-million RIA on the way.
Worth Pointe and Navigoe
Van Slyke has now formed Worth Pointe LLC, with locations in Austin and La Jolla. The firm has about $400 million in assets with 300 families and six advisors on staff. Van Slyke used to live in California but moved to Austin a few years ago. He works out of Austin but spends time in La Jolla, especially in the summers.
Leonard formed Lake Tahoe, Nev.-based Navigoe LLC, named after the Latin word for "to navigate." His firm has about $220 million in assets. Leonard has four employees and about 120 clients. His firm still has a location in Redondo Beach.
Leonard is clearly sticking with his sailing theme in an effort to bring in more clients who have similar visions. Navigoe's mission according to the website, is: " ... not to hand you a map and send you on your way, but to board your boat and help you navigate the journey."
Van Slyke and Leonard are in the process of moving assets now and getting new papers signed, so the ADV forms aren't up-to-date yet. But at the most recent filing, Trovena's total assets exceeded $600 million, twice what it had at the time of the merger. Trovena will officially cease by the end of the year.
Inorganic growth
The decision to separate became crystal clear when Leonard was docked at home in California last year over the holidays and the pair had time to discuss in depth the long-term goals they each had for the company. It was then that Leonard and Van Slyke discovered they had very different visions for how they wanted the firm to grow.
Van Slyke wants to grow inorganically, bringing in other RIAs and wirehouse teams, and Leonard is eager to build an ensemble practice more organically. In short, the pair discovered that they couldn't continue on with the same firm with such different visions for growth. See: How three small firms backed with big-time M&A muscle brought in $450 million with strategic buys.
Everyone's clients
For his part, Leonard says he feels comfortable building an RIA that is one big team-managed book of business rather than a bunch of books of business existing under one roof.
"I want to build within and create a firm that's not my clients or your clients but everyone's clients. I really want to grow an ensemble firm where everyone is working together and it's all about the firm. "See: What I learned at Harvard Business School that doubled my RIA assets to $3.3 billion in two years.
"Chris and I were so focused on continuing to build the company together that we both came to the conclusion that we should just pull apart now while we still can and while it would be easy," Leonard says.
Separate silos
One of the reasons that the split has been so drama-free is that Van Slyke and Leonard always operated their business as two separate silos. "[Van Slyke] had his staff and he had his clients and I had my staff and my clients," Leonard says.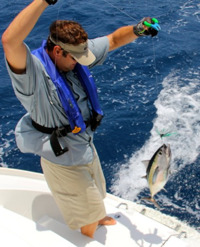 Scott Leonard: We both came
to the conclusion that we should
just pull apart now while we
still can and while it would
be easy.
Van Slyke was responsible for his clients and the two offices he oversaw in Austin and La Jolla. And, when Leonard was on the sailboat, Van Slyke wasn't handling any more duties because Leonard's own team was handling his portion of the administrative tasks.
"We had a silo approach and so when he went sailing it didn't impact me," Van Slyke says. "People misunderstood and thought it somehow impacted me, but it didn't."
Leonard says that keeping the two silos made the split-up of the firms easier and also ensured that things went well when he was gone. "It made the separation very easy. We're talking now more than we did before. It was harder when I was on the boat."
Power to the people
Both Leonard and Van Slyke are building their new RIAs with a focus on offering equity ownership to advisors.
"My goal is an owner-revenue goal," Leonard says.
Worth Pointe LLC was formed as a partnership and Van Slyke says it is important that advisors get ownership in the company. He says that advisors will continue to increase their equity in the firm based on business that they bring in. See: Partners at Focus Financial check their egos at the door to secure $216 million of hard cash .
Similar missions
Although Van Slyke and Leonard will use different methods to expand their new firms, they still have similar ideas about enjoying life and not spending all of their time at work. The Leonards plan to stay in the United States for the next 10 years. But when the youngest of their boys graduates from high school, they intend to spend a great deal of time in Europe.
Van Slyke also is still committed to building his business while also spending time away from the office. His firm's website features a montage of pictures including a sailboat. It also has heartfelt prose about the ways the firm can help clients achieve their lifelong dreams.
---
Mentioned in this article:
---
---
---
Mike Byrnes
November 22, 2013 — 5:24 AM
It is hard to imagine going away for so long and not coming back to issues — Mike Byrnes, President of Byrnes Consulting, LLC, www.byrnesconsulting.com
Josh Mudse
November 22, 2013 — 2:52 PM
Running the firm with two silos would suggest Trovena was not as much a merger as it was a shared marketing plan. If two colors of paint are mixed together, it is messy and nearly impossible to separate them later. Structuring the merged firm for an easy separation may have saved a friendship, but appears to be a self – fulfilling escape hatch.
As more firms and individual advisors navigate their way through succession and continuity planning, we will see more failed attempts at both mergers and acquisitions of mismatched business cultures. Firms merging to 'scale up' to accelerate growth must buy into a shared vision and commit 100% to the strategy. I believe it was Richard Branson who was recently quoted that he never had a plan B for any of his endeavors.
Sheryl Rowling
November 22, 2013 — 8:36 PM
Congratulations to both Scott & Christopher who have built high quality practices, based on integrity and client service.
Maria Marsala
November 25, 2013 — 4:16 AM
It really isn't as predictable that two different types of people would partner and last together for many, many years. That, IMO, is the sign of a good partnership and something more firms would be good to look at — to partner and hire with people who are different from the owner.
Personally, I've seen business partnerships last like that for many years — although some don't last because both parties want to change something or either party has a different vision.
However, when visions collide in a partnership, in your team member, etc. and the visions of partners are miles away with no middle that makes sense, or the vision of the owner is different from the employee that's a horse of another color.
I commend Scott and Christopher for what they've done, how they've done it, and how they will take their updated visions in to the future.
Visions aren't written in stone. They are there to guide us.