Franklin Tsung (with Tim Welsh to his right and Andy Wang to his left) : This puts the direct purchase option out of reach for the average advisor.
Brooke's pre-note as of Nov. 26: Since original publication of this article on Nov. 20, we have continued to go around in circles about what exactly RIAs are like to pay for Salesforce software, bought directly, going forward. We had it basically right, that the price is pretty much doubling to $100 per user, per month. What made it confusing, among other things, was that Salesforce people insisted that we "go to the website" for pricing. It took a while to track down where to go on the site and what version listed was relevant. When we finally found the one that was relevant, it listed no price for that version and it said to call for pricing! Bottom line: it seems to be about $100 or a doubling from the $50 paid today.
Brooke's Note: Franklin Tsung lives and breathes Salesforce software as a principal of AppCrown, which resells and integrates Salesforce, mostly for RIAs but also for IBD reps and bank brokers. He attended Dreamforce and reports here on the event but more importantly some of the inside baseball that could impinge on financial advisors — both in terms of big changes to the technology and big improvements in the technology. I assisted in the writing of this piece and did the fact-checking with Salesforce. As shown in the article, two of its spokespeople denied there has been a pricing change. But since e-mailing the link of their own pricing back to them, their response has been amended to this one from Molly Ford: "The pricing for Salesforce1 has not changed. Please see the public pricing that is always available as well as the Salesforce1 Press Release." The waters are muddied by Salesforce's discontinuation of the existing product and the simultaneous launch of the newly named Salesforce1. So, yes, Salesforce1 pricing has not changed. Alice, too, is in Wonderland. Full disclosure: Franklin Tsung is, in a sense, a competitor as well as chief ally to Salesforce because his sales efforts can, on occasion, compete directly for the same financial advisors that Salesforce seeks to sell to directly.
The Salesforce national conference this week opened my eyes to a whole new core product and a new pricing structure that looks like a doubling of the cost per seat for advisors to $100 or more.
This is the fourth Dreamforce conference I have attended but the first price increase that I have seen. It's notable that Salesforce did not announce a price increase — and in fact, it even denies that one has occurred. Both Molly Ford of the media relations staff at Salesforce and Paul Fox, who develops business in the wealth management business, say that there was no price increase. See: As advisors flunk social media 101, CRM makers are starting to pick up the slack.
What I'm going by is the Salesforce pricing page. It calls the new product the "multi-app bundles" and declines to name a price but if you call you're likely to get quoted a price of $100 per user per month. (Right next to it, by the way, is a $25 per-user, per-month option. That version is arguably useless for most RIAs because it only allows one application. I believe that this will have a big effect on financial advisors' buying of Salesforce.
Giant sales, giant service
An average RIA firm has $100 million of assets under management and seven employees, and buying direct assures an $8,400 per year cost per firm for Salesforce.com's enterprise edition under the new pricing model. This is without any third-party apps or integration work. This is a huge shift for Salesforce to move upstream. This puts the direct-purchase option out of reach for the average advisor."
Salesforce likely went to the new pricing to support its business model that requires not only giant sales, but giant service. The higher pricing helps pay for that and reduce channel conflict with its resellers. It also helps that despite enviable revenue of about $1 billion per quarter the company shows no sign of making profits anytime soon. The company reported a loss of $124 million for the quarter ended Sept. 30; a price increase may help bridge the gap to profitability by increasing revenue.
From our standpoint, the price boost on direct sales affirms Salesforce's stated intent to work with a partner strategy rather than going direct. The old product is gone, and the new product, Salesforce1, is much better. Still, the doubling of the price will have the consequence of taking the product out of reach of many smaller RIAs. See: Greg Friedman is set to finally bring Junxure to the cloud and beat back the Salesforce-ification of the industry.
Andy Wang, senior manager of product technology for TD Ameritrade, who is attending Dreamforce, reinforces the point that the pricing, at least for now, won't affect customers who buy Salesforce through a reseller. "We already had the lowest price. Now [the Salesforce price increase] amplified it. But we never sold it on price."
!https://www.riabiz.com/i/107452151/b(Most RIAs use Force.com, enterprise edition, as shown here…with no price listed (as shown here) until you call and get told $100.)!
Pricing aside, Dreamforce was overwhelming in its sweep. The huge San Francisco-based event played host to about 125,000 people, and sprawled beyond its traditional Moscone Center venue into adjacent hotels — like multiple Marriotts, the St. Regis and the W Hotel. For reference of Dreamforce growth, the event drew only 45,000 attendees in 2011.
There was staff as far away as Union Square wearing "ask-me-anything" T-shirts. I asked them questions and they impressively knew both the software and the event cold. I ended up paying a painful $625 a night (usually $300) for a room at the Marriott at Fisherman's Wharf because all the rooms at closer-by hotels were sold out. See: Why the San Francisco Bay area is almost certainly the capitol of the RIA business.
Phenomenally awesome
Reflecting the magnitude of both the event and overhaul of his company's core product, Salesforce chief executive Marc Benioff was effusive in his comments, using the word "phenomenal" 30 times and "awesome" 25 times, according to Tim Welsh, president of Nexus Strategy, who attended the speech and kept a running count.
Of course, Benioff wasn't using these superlatives to describe the pricing. He was excited because he may have officially released himself from the penalty box of being behind the times in the creation of mobile devices. Though Benioff announced Salesforce Touch and Chatter over the past two years as moves to mobile, Salesforce was behind in these areas — as evidenced by the purchase, exactly two years ago, of Model Metrics, a company with mobile technology. See: Why a disconnect between reporting software and advisors to UHNW assets persists — and what makes the problem so thorny.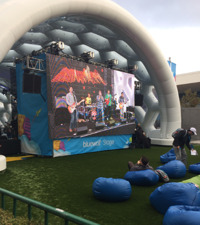 Dreamforce had its kindergarten, perverse chic
working full tilt.
Chatter and Touch were major initiatives in their time but really just an hors d'oeuvre for this announcement that places the firm squarely into the mobile revolution. See: Dreamforce review: Social media enters the business cloud and why RIAs should care.
Open access, all the time
Now, any company, using Salesforce1, can deliver its CRM system through any mobile device without paying hundreds of thousands of dollars. For a small company like mine, AppCrown, it's big. I won't have to hire lots of talent at great expense to advance our advance into serving financial advisors who use mobile devices.
There are RIA software companies, such as Orion Advisor Services LLC, than can deliver information by mobile, but the new Salesforce will enable real-time CRM information — tasks, workflows, alerts — right in front of you. As an advisor, I could kick-start a whole process from my tablet. See: How Orion Advisor Services became a mobile device pioneer and how competitors plan to react.
Of course, Salesforce is doing this in order to grow. You couldn't hire enough sales people to sell to all the verticals — manufacturing, health care, insurance and wealth management. This is why TD Ameritrade has become such a big strategic partner for the software firm. TD currently has 1,200 end-users of Salesforce, and that position was reflected by TD's presence at the event: Its three-person product strategy team was headed by Wang. It's all a big part of buttressing the Veo open-access, open-API philosophy. See: TD Ameritrade's technology, Veo, wins high praise from advisors so RIABiz took a look.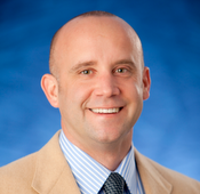 Eric Clarke: The integrated offering seems
to have a lot of momentum.

"Currently, we have just over 500 licensed users if Orion Connect [our Salesforce app]," Eric Clarke, president of Orion says. "We have been successful leveraging the TDA reseller agreement for our common advisors, and the integrated offering seems to have a lot of momentum."
$1,000 side event
Other RIA-business people present included various heads of advisory firms. Raymond Yu of Black Diamond attended and Laserfiche had a booth. I didn't see Schwab or Fidelity at the event. Salesforce had a very small booth, too, at Schwab IMPACT. See: Schwab unveils 'Project PM' at IMPACT — a 'new vision' for using the company's data to fuel PortfolioCenter.
There were also three cocktail events — one each for wealth management, asset management and banking — spread out across San Francisco. Wealth management was at the John Collins pub on Minna Street and asset management was at The Press Club on Yerba Buena Lane.
Each one of these parties had about 50 attendees, and it was hard for minglers to maneuver in these mini-crowds. Anybody who got invited to these side events paid at least $1,000. There is an "Expo" pass that is free for the four-day event.
One RIA, both turnkey asset management program and wealth manager, that uses Salesforce through TD Ameritrade is Nepsis Capital Management Inc., and it is featured on a wealth management panel at Dreamforce today.
---
---
Mentioned in this article:
AppCrown, LLC
Outsourcer, CRM Software, Tech: Other
Top Executive: Ted Tsung
---
---
---