Adri Miller-Heckman: It's hard to find a woman who got into it who says: I got into this to make a shit load of money.
Brooke's Note: For the longest time I was frustrated about articles, seminars and speeches aimed at women advisors and investors. But I am getting more impressed all the time. This is a good article, starting with a data-rich study and loaded with thoughts from smart women. I'd add that Adri Miller-Heckman, a former national training officer with Smith Barney, verges on the sensational as a source in this article. She walks on no egg shells and speaks with infectious authority and I'm sure that men of integrity will appreciate her thoughts as much as women.
Despite finding themselves in a sometimes inhospitable male-dominated profession, female advisors are capturing the lion's share of the nation's increasingly higher earners — women — and winning a higher average account overall.
Just 12% of the investment advisory workforce comprises women, but the typical female advisor counts more women as clients and a higher average account in such households than their male counterparts, according to a new study by PriceMetrix Inc.
Specifically, the typical female advisor has slightly more women as clients than men do, 51% versus 49%. By contrast, the typical male advisor has more male than female clients, 56% compared with 44%.
And, female advisors have a higher average household account than men, $174,000 to $152,000.
"Taken together, these factors suggest women advisors are better positioned than men for future success," says Patrick Kennedy, co-founder and vice president of Toronto-based PriceMetrix. To complete its study, his firm drew upon its aggregated database of 7 million retail investors, 500 million transactions and more than $3.5 trillion in investment assets.
Intimidated by male prospects?
Part of the reason women are netting more female clients is that women reach each other, says Adri Miller-Heckman, a former national training officer with Smith Barney who is now a coach for advisors.
"The biggest reason [that] female advisors feel more comfortable approaching female clients is they connect better. For many woman advisors, they're doing more marketing and prospecting than men. And when [a woman is] networking, it's with other women."
But there's a less-touchy-feely reason, she says. "The majority of female advisors will talk to women first because they feel intimidated by male prospects." Particularly, Miller-Heckman says, if male prospects tend to challenge her by focusing on product.
"Female advisors have learned to adapt to the male model but they'd like to approach it more softly, not pushing a product. It's a natural affinity to gravitate toward people who appreciate your style," she says. See: Why you won't know your female clients are unhappy until they're out the door.
Los Angeles-based recruiter Cecile Munoz says the relationship factor is not the sole one female investors use to select an advisor:
"The analysis we as women use to hire advisors is no less rigorous than [that of] men, although we are much more willing to refer then men," she says.
But Munoz adds: "When there's a relationship change — like a death or divorce — a woman is looking for communication, so she may look around. Women are winning female clients because they're delivering service and communication. Is communication a woman-exclusive ability? No. But with woman there's a recognition of an audience — women — that absolutely needs such communication." See: At Envestnet event, Sallie Krawcheck alludes to Crager alliance, blasts women-as-niche marketers and edges perhaps closer to endorsing the RIA model.
'The whole pie'
Being too good at relationship-building can have a downside, Miller-Heckman says. "Sometimes women don't put on their advisor hats."
But when it comes down to it, the relationship is the cornerstone in building a long-lasting advisor-client bond with a woman, she says — and this explains why women are giving female advisors a bigger share of their assets. See: How a suddenly wealthy, young Bay Area widow found her RIA after months of fruitless efforts.
"The trust foundation is everything when it comes to women dealing with women. When you build trust with a woman you'll get her for life. Men say women can't make a decision. But are you giving them what they need — a relationship — to make a decision? Because of that, women are gaining more assets as a whole — women give women the whole pie."
Expertise margin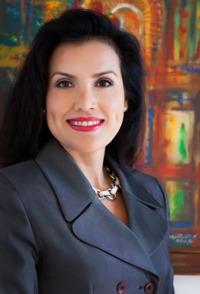 Cecile Munoz: Women are driven by
that same intellectual engagement that men
have.
And that pie is getting bigger. Analysts have noted that the number of women who are the primary income earners for their households continues to grow. Munoz cites a study that shows that women are the primary bacon-winners in 40% of all households.
Female advisors are better equipped not only by temperament but by training to serve the prized demographic of female investors. A recent study by Pershing shows women out in front in expertise relating to trust services (52% of women possess it as opposed to 41% of men); charitable giving (44% vs. 39%); intergenerational wealth transfer (54% vs. 47%); and strong working relationship with CPAs (72% vs. 66%).
Not just for the money
Clearly, female investors are an increasingly prized "get" in the advisory world, but what drives women to become advisors in a sometimes-hostile landscape still overwhelmingly populated by men?
There is increasing anecdotal evidence on that topic, most recently at last week's Schwab IMPACT conference in Washington, D.C., according to Miller-Heckman.
"When women share stories, some experience in life emerges that shows the impact she could have helping other women — like her mother — or she saw how she was good with money and was OK in her divorce and wanted to help her friends," she says. "Women are driven. It's hard to find a woman who got into it who says: I got into this to make a shit load of money. Men want to make a difference too, but many are in it to make a lot of money only — and they're the ones that cause the trouble in this industry." See: Eavesdropping on the NAPFA's pre-conference Women's Initiative.
Munoz agrees. "Women are driven by that same intellectual engagement that men have and genuinely believe in the help they're providing. Women are recognizing they can have a robust career as well as a personal reward in that service they're providing beyond a product. Advisors may not be doctors, but [they] provide clients [with] opportunities to live a healthy life. That is a critical, invaluable service and indispensable.
Pink-slipping male clients
And as women gain critical mass in terms of clients and assets, they are beginning to flex their muscles, says Miller-Heckman.
"The more women get confident, the more they'll attract clients of both genders. In fact, women advisors are starting to fire their men clients when they're being troublesome." See: How a change in mindset and business structure can get you off the hamster wheel.
---
---
Mentioned in this article:
PriceMetrix
Data and ratings for RIAs
Top Executive: Doug Trott
---
---
---
Maria Marsala
November 25, 2013 — 4:23 AM
Why not serve people and want to make a shitload of money, too. Sounds to me like a good idea :)
http://www.fsienergy.com/ContactUs.html
This sub variety of substantial metal is called Nu Metal. It has been proven to mix a variety of types of tunes components and patterns to their new music, this type of as Grunge, Elegant Hop and Punk. Bands applied melodic singing, aggressive vocals and types of hardcore punk.
http://bestcms.ws/user/kopetpdfss/
In the event you currently provide the former 13-inch IBM thinkpad r51 battery MacBook Pro, there not plenty of reason to upgrade except if you merely must have the newest variation of everything. The changes on the 13-inch lineup are typically about improved graphics and battery everyday living, plus they aren all of that diverse from the 12 months beforend it fairly hard to justify the $1499 product based only on its larger sized harddrive and marginally more rapidly processor, which didn translate to much variation in our tests.