Departed Schwab retail advisors protested the firm's termination policies on the first day of IMPACT.
Brooke's Note: Your eyes do not deceive you. The writer of this article is the same one who wrote a full-on account of the T3 conference a few days ago.. Somehow Tim Welsh manages to attend multiple conferences, attend to scores of clients, go to all the parties and after-events and still turn in a clean 1,500 words graphically depicted with his own photos to RIABiz. We know that Tim is the rare alum who survived Berkeley, Merrill Lynch and Schwab. But he still surpasses expectations.
More than 2,000 advisors and another 1,000 exhibitors, sponsors, and Schwab employees gathered at the nation's capital's Walter E. Washington Convention Center for three and a half days of non-stop RIA business as Schwab Advisor Services kicked off its annual 2013 IMPACT conference.
So far, so much business as usual.
But in what has to be a first in the 20-plus-year history of the conference, a small crowd of former Schwab advisors lined up outside the convention center protesting their treatment by the San Francisco brokerage. Chanting "Find out how Schwab terminates," the eclectic crowd welcomed attendees to the first day of the conference. See: Why I moved my account from Schwab's RIA and what Chuck could do to improve Schwab Private Client.
Fidelity makes its presence known
As if that wasn't enough spectacle, to add to the Schwab marketing extravaganza, Fidelity Investments plastered every bus stop seemingly in the 40-block area surrounding the hotels and convention center with its new RIA advertising campaign.
Ross Ozer, senior vice president of marketing for Fidelity Institutional Wealth Services, allowed that RIA-targeting advertisements didn't find their way on Washington streets by serendipity.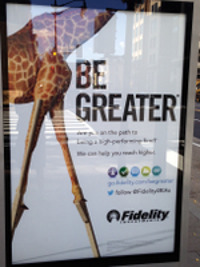 Fidelity bought ads on all of
the bus stops surrounding the Schwab
conference.
"It's important to be in front of our clients and prospects whenever we can get a chance," he says. "IMPACT draws many of the same folks that we're trying to engage. Our ["Be Greater"] advertising in the area allows us to stay top-of-mind in those relationships." See: Fidelity and TD Ameritrade show new teeth in RIA advertising — albeit with giraffes, and children on summer porches.
The move by Fidelity should not have caught Schwab unaware. The Boston giant used the same tactic on Boston billboards when Schwab threw its 2010 national event in Beantown.
The RIA industry barometer
If these energetic moves were not beloved by Schwab they certainly spoke to the towering presence of its brand as a company and as Schwab IMPACT as a sub-brand.
As a barometer of all things RIA, Schwab IMPACT is the one massive event on the fall calendar that typically sets the stage for the year to come in new products, back-office technology, investing themes, practice management methods and innovative ways to run a better business.
Consistent with that philosophy, Bernie Clark, executive vice president of Schwab Advisor Services, kicked off the event with a passionate speech about how RIAs need to "stand up and stand out" to "defend the investor" from the wirehouse onslaught that was inevitably coming and set to copy the RIA model.
One day you will be a robot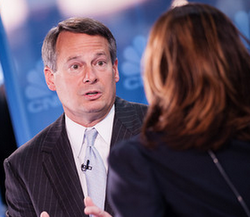 CNBC interviews Walt Bettinger who played
it down the middle: 'We're in
uncharted territory.'
Clark went on to remind advisors — many aging baby boomers — of their precarious position, and the pressing need to better understand, communicate and attract the next generation of investor.
"This is the 'now' generation," Clark said. "There are now texting stops on highways, so you cannot be trapped in the present. You need to stop and take stock, in order to compete in the new world order."
Walt Bettinger, Schwab's chief executive, got in on the act by talking about the market and taking a swipe at Ben Bernanke without naming him..
"People who have a long-term view know that we're in a bubble environment due to the Fed. They're not quite sure how it's going to end," he said to CNBC. "We're in uncharted territory."
'Hoping for more'
Back on earth, Schwab — as part of its inevitable product development cycle — uses IMPACT as the platform to make new announcements about the new cool things advisors will be able to access to enhance their businesses.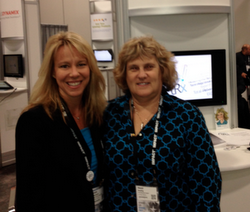 Karyn Davenport and Sheryl Rowling of
Total Rebalance Expert beam.
Though there was nothing big and immediate, the crowd was reminded again about Schwab's technology integration and peer review initiatives it's launched in previous years, Clark unveiled an advisor directory to appeal to consumers as part of the firm's "RIA Stands For You" campaign, a white-labeled mobile app and a new custodian-direct portfolio management system. The sentiment among several advisors I spoke to was summed up by: "I was hoping for more, but the electronic 1099s will really help."
Schwab also teased a potentially big data shift called Project PM2 but few details were offered about how it would work and its estimated time of arrival. See: Schwab unveils 'Project PM' at IMPACT — a 'new vision' for using the company's data to fuel PortfolioCenter.
The kids are all bright
Following Clark there was an engaging keynote by noted author Don Tapscott, who set the stage for the conference with his insights on the changing economy and demographics are affecting business and why the future is bright.
"Our traditional institutions are failing," Tapscott said. "We need to reboot them."
He went on to highlight how humanity is changing quickly to become connected at all times, which is having a dramatic effect on our evolution and how we consume information. "For the first time ever, our kids are in a position of authority on something — technology — and that will have a dramatic impact." Tapscott offered up some predictions: by 2030, for instance, "the last newspaper will be printed."
$10 million 'tweeners'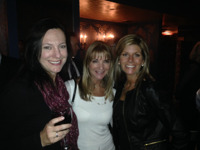 Jennifer Specter, Kelli Cruz of Cruz
consulting and Kate Asack of AmplifyRIA

One of the most engaging aspects of IMPACT is Schwab's ability to scan the industry landscape and bring some of the best practice management minds and thinking to bear by crafting compelling 75-minute learning sessions. Unfortunately, this year the event organizers scheduled all of those events at the same time.
On the first day, attendees had to choose from industry luminaries Tom Giachetti of Stark and Stark, Mark Hurley of Fiduciary Network, Kelli Cruz of the Cruz Consulting Group, and several more. Cruz had a standing room only, lively discussion on how to create a compensation plan to attract key talent. See: Kelli Cruz and Jennifer Specter leave consulting unit at InvestmentNews for new 'come-to-Jesus' venture.
Because we have highlighted Tom and Kelli in past articles, I spent an informative hour and 15 with Mark Hurley and his latest white paper. Hurley, in his curmudgeonly way, reminded advisors that the majority of them are simply "books of business" with no enterprise value at all, and that those who have made it to the $5 million to $10 million in revenue are "tweeners," poised to either graduate to the major leagues or descend into the depressing books of business. See: Mark Hurley drops a new wealth management prognosis on the industry with a zero-sum flavor.
Hurley, however, sees a bright side for good business people. "This is an incredible industry, and the outlook is extremely positive. Despite the insanely fragmented space, if you can create a specialty — find a niche so that you can reinvest in your business, you have a great chance at outsized rewards."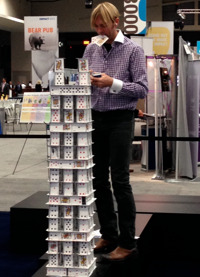 This guy made all of the
monuments with playing cards. Extremely cool!
Crowd stopper in the exhibit hall.

Once again, succession is the top issue
Dominating the agenda for the many sessions was succession. As a custodian, it is pretty clear that your best assets are up for grabs whenever there is a change in ownership, particularly for the biggest firms. Accordingly, one of the more dynamic sessions, packed to room capacity, was a panel of advisors sharing their stories.
Rob Francais, chief executive of Aspiriant, shared how his firm set out on a deliberate strategy that took multiple years before it made its first transaction. See: How Rob Francais combined two giant RIAs and then added the assets of Deloitte Investment Advisors.
"We established several tenets to improve our talent, aggregate assets and enhance our service offering to our clients," said Francais. As a result, his firm was able to make a series of strategic acquisitions and mergers, including the one with the well-known Kochis Fitz Tracy Fitzhugh & Gott, to form Aspiriant. See: Aspiriant sets the stage for its next big buy — and only RIAs with more than $1 billion in assets need apply.
Greg Friedman, chief executive of Private Ocean and leader of the industry's largest CRM, Junxure, shared his best ideas and tips for merging firms. "It is all about the culture," Friedman said. "Do not hesitate to bring in outside professionals to make all aspects of the deal work." See: Why the Moss Adams-Rowling Dold merger came apart despite looking picture-perfect on paper.
What those 12(b)-1 fees get you
The rest of the agenda was packed with keynotes from high-profile speakers such as former Senator from Maine, Olympia Snowe; former Secretary of Defense Leon Panetta; and financial journalist Michael Lewis. Attendees were torn between excellent learning opportunities while browsing the 300-plus vendor offerings in the exhibit hall.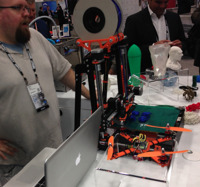 3-D printer — a very cool
display in the exhibit hall that
also featured specialized craft breweries, magicians,
presidential impersonators and well-stocked bar.
At Schwab IMPACT, the exhibit hall is clearly ground zero for the broadest booth array of technology, products, mutual funds and exchange-traded funds. It's also an interesting demonstration of what those 12(b)-1 fees pay for. Event organizers outdid themselves to keep advisors returning to the exhibit hall to feed the third-party-vendor community.
This year, the hall had innovative performance artists, such as the card stacker who made all of the Washington monuments with playing cards, as well as specialized craft breweries, magicians, presidential impersonators, 3-D printers and well-stocked bars. See: An advertiser's-eye view of Schwab IMPACT and the mini-city of marketing it created.
Super-duper exclusive
Of course, IMPACT has the legacy of convening the best parties, and the Advent, MarketCounsel and Principal Funds party dominated the evening circuit on the second night. Additionally, everyone appreciated Wells Fargo Funds for ponying up the big bucks to host an incredible gala event at the Smithsonian Air and Space Museum. While attendees wined and dined on exquisite food and drink, we were all able to see how technology has enhanced our travel experience, from Kitty Hawk to the moon. See: An advertiser's-eye view of Schwab IMPACT: Who's doing what right?.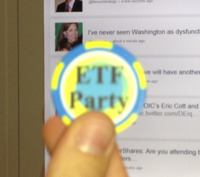 This chip was like the secret
handshake to get into the in-crowd
ETF after-bash.
And lastly, the shift in mindshare and power is moving from funds to ETFs. This was demonstrated by the exclusive and brilliant after party put on by the ETF consortium. Led by ETF guru and publisher Tom Lydon, the event — a mysterious, secretive and scarcity- driven invitation-only affair at Barcode — attracted a huge crowd. Celebrity DJ Richard Blade of Sirius XM radio fame spun 1980s tunes and the partygoers danced, dined and drank into the wee Washington hours. See: How ETF Trends' Tom Lydon went from blog writer to hirer of veteran Dow Jones talent.
As the crowd dispersed, many deals, interactions and relationships for the good were consummated.
To learn more about what went on at IMPACT, check out the many tweets at #SchwabIMPACT on Twitter.
Tim Welsh formerly worked at Schwab and has done consulting work for various parties mentioned in this article.
Timothy D. Welsh, CFP® is president and founder of Nexus Strategy LLC, a leading consulting firm to the wealth management industry, and can be reached at tim@nexus-strategy.com or on Twitter @NexusStrategy.
---
---
Mentioned in this article:
Junxure
CRM Software
Top Executive: Greg Friedman
---
---
---
Bill Winterberg
November 18, 2013 — 1:15 PM
And the 2013 update from InvestmentNews: <a href="http://www.investmentnews.com/article/20130707/CHART/130709971" rel="nofollow">http://www.investmentnews.com/article/20130707/CHART/130709971</a>
Bill Winterberg
November 18, 2013 — 1:13 PM
Someone asked for citations, so I offer two in hopes that this solves any confusion:
Financial Planning Magazine 2012 Tech Survey: <a href="http://www.financial-planning.com/fp_issues/42_12/technology-survey-financial-planners-2012-2682068-1.html" rel="nofollow">http://www.financial-planning.com/fp_issues/42_12/technology-survey-financial-planners-2012-2682068-1.html</a>
InvestmentNews 2012 Adviser Tech Survey: <a href="http://www.investmentnews.com/article/20120826/CHART/120829952&amp;issuedate=20120823&amp;sid=TECH0827" rel="nofollow">http://www.investmentnews.com/article/20120826/CHART/120829952&issuedate=20120823&sid=TECH0827</a>
Mike Byrnes
November 22, 2013 — 5:15 AM
I think this is the best quote from the article…
"Your web address will be more important than your street address."
If advisors understood this they'd be investing more resources into their online presence. Hope the message eventually sinks in! — Mike Byrnes, President of Byrnes Consulting, LLC, www.byrnesconsulting.com
Tania
February 11, 2014 — 4:50 PM
Charles Schwab allowed the fraudulent reporting of a illegal account to leave a single mother of five with a debt from the IRS totalling to date 2.8 million dollars. Despite receiving a Court Order to transfer and reproduce paperwork to correct the illegal reporting and transfer the account to the felon known by them, and despite acknowledging that all signatures on the account documentation were forged, Schwab still refuses to comply in an ethical and moral manner. Schwab has been in receipt of the documents to prove my innocence since 2001 yet they concealed account documentation until 2013.
Bill Winterberg
November 15, 2013 — 9:42 PM
Brooke and Tim,
I know it's been two months since I our last debate over the "industry's largest CRM:"
<a href="http://www.riabiz.com/a/24119436/after-years-of-making-junxures-future-more-cloud-y-friedman-takes-a-big-stage-in-texas-to-explain" rel="nofollow">http://www.riabiz.com/a/24119436/after-years-of-making-junxures-future-more-cloud-y-friedman-takes-a-big-stage-in-texas-to-explain</a>
So again, Welsh cites:
"Greg Friedman, chief executive of Private Ocean and leader of the industry's largest CRM, Junxure"
But at last week's T3 Enterprise conference, I learned that Redtail Technology has over 70,000 users of its CRM.
By my count, that makes Redtail the industry's largest CRM.
And thank you for offering the disclosure about Welsh's consulting relationships with various parties mentioned in the article. It's a good start.
Can future disclosures identify current consulting for companies mentioned in articles at the time of publication? Investment newsletter writers have to disclose current positions in stocks at publication, after all.