Adam Bold: What if the casual observer isn't able to discern what one franchisee does versus another.
Brooke's Note: We did a preliminary article on this situation. Once we got our hands on the legal documents, we realized that we needed to cover it again. It's not that we didn't get the basic dynamics right the first time. It's that we didn't get any color and when you're writing about a rainbow — like in this case — you had best get the spectrum in there. The only missing element here is somebody literally swinging from a chandelier.
The Mutual Fund Store is walking a legal and commercial tightrope as it continues to tangle with a franchisee who, thus far, has declined to accept an offer of $5.5 million to go away — despite the fact that both sides seem to agree that they want to part ways.
The Overland Park, Kan.-based national RIA and franchisor, with 130 locations and about $8.4 billion of AUM (it comprises multiple ADVs) is suing one of its multiple-store franchisees and alleging that the franchisee, Jeffrey Roper, is a "prolific gambler" who doesn't pay his bills on time.
At the same time, The Mutual Fund Store management is taking the calculated risk of letting Roper continue his ownership of the stores — despite having the power, in theory, to push him out. See: The Mutual Fund Store sues its own mega-franchisee to force sale of three stores.
All this began to come to light on Oct. 31 when The Mutual Fund Store filed a lawsuit against Roper, a lawyer who has controlling interest in its franchise stores in Fresno, Calif.; Wichita, Kan.; and Seattle. See: Why and how a lawyer in St. Louis is running RIA franchises in Fresno, Seattle.
The Mutual Fund Store wants to buy Roper's companies for a total of $5.5 million, which the firm says is outlined in a formula as part of the franchise agreement.
The 'Coke' formula of RIA valuation
According to the lawsuit, the Mutual Fund's contract price is outlined clearly in its contract. After the third contract year, the formula for calculating the purchase price is "2 times the trailing 3 month aggregate management revenue" annualized, court documents say.
The lawsuit also says that the calculation to annualize the trailing three month aggregate management revenue is determined by taking the management revenue for the three most recent calendar dates and multiplying that sum by the multiple shown in the purchase price formula. In this case, the multiple price for this formula should be two since Roper has owned the stores for more than three years.
But the lawsuit says that when Roper spoke with Mutual Fund Store chief executive John Bunch on October 30, Roper stated that his companies would not sell their business assets unless The Mutual Fund Store paid effectively "three times the amount contemplated by the formulas in the franchise agreements."
Balking but still talking
Though Roper is balking at the deal, he said on Tuesday that he wants to sell the stores back, but feels the company is not meeting its own guidelines with its offer and that the firm is not following state rules as well. Both he and his legal adversary have declined to give details about what "state" rules are in dispute. Certainly non-compete issues can come to bear in these circumstances. See: How Warburg Pincus plans to grow The Mutual Fund Store several-fold.
As part of the details outlined in the suit, The Mutual Fund Store alleges that Roper doesn't pay his rent on time and that his gambling got bad enough that the Securities and Exchange Commission is investigating. The suit adds that the SEC office out of Chicago is in the midst of an investigation of Roper's stores that it began in February 2012 but hasn't resolved.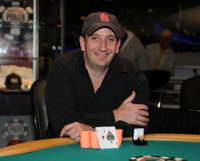 Jeff Roper has proven poker success
and now Adam Bold needs to
read his bluff in a high-stakes
contract dispute. [Photo from World Series
of Poker website]
The lawsuit reads: "On information and belief, Roper is also a prolific gambler, spending a significant amount of time participating in poker tournaments in St. Louis, Missouri. A simple Google search query for 'Jeff Roper' generates links to various articles noting Roper's participation in these poker tournaments. Roper's poker habits are apparently significant enough that, on information and belief, they have also become an area of focus in the SEC's inspection."
The SEC declined to comment for this story.
Wall between Roper and his clients
But despite these allegations, Mutual Fund Store founder Adam Bold says his firm has not pulled the stores away from Roper because Roper does not have contact with clients. Bold says client assets are perfectly safe because Roper is not setting up asset allocation strategies in any way.
"He's not an advisor and he doesn't have contact with any clients. All of our clients' accounts are held at Schwab and there's a firewall between all of our clients and even our advisors," Bold says.
Bold says that his firm's philosophy is focused on having a central investment management strategy in Kansas City. He points out that all research and allocation strategies are crafted in Kansas City rather than by individual advisors.
'Reputational risk'
Bold allows that under his contract with Roper he could have taken over the stores if he felt there was a risk to clients. But instead, Bold felt purchasing them would be a better option.
"If we had an advisor who was having personal problems, we would have to do something different. In this case, he doesn't have any client contact. But he has reputational risk to us and that's what we're trying to resolve. If we [invoked our rights to take the franchise] back legally [by force] we're afraid it could drag on forever and we'd rather just buy it back outright. It's a lot easier and cleaner for us to buy the stores," Bold says. "We feared that if we took these franchises back there would be extended litigation."
Buy-back negotiations
The Mutual Fund Store management is also concerned that Roper could tarnish the franchise brand by continuing to hold onto these operations. Bold's first course of action was to offer to buy the stores back from him. Bold resorted to filing the lawsuit when Roper showed no interest in selling the stores, Bold adds.
Bold says his firm followed the correct formula outlined in the original franchise agreement.
"We realized there wasn't going to be a meeting of the minds and he made it clear that he was unwilling to accept that," Bold says. "We're investors and not speculators. There's reputational risk because we have franchises. What if the casual observer isn't able to discern what one franchisee does versus another? Then they may interpret that what one franchise did was a reflection of the firm as a whole. That's how we felt."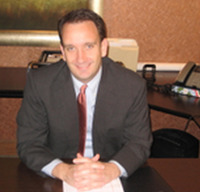 Jeff Roper: They're really going out
of bounds talking about those things.

'Out of bounds'
Roper says that he is willing to sell the stores back to The Mutual Fund Store. He says his lawyer is filing a formal response soon, but feels the allegations about his personal issues in the lawsuit are irrelevant.
"We're in the middle our response and feel it's an awkward time to respond. But I think what they did was underhanded," he says. "They're really going out of bounds talking about those things. I'm happy to sign an asset purchase agreement that complies with the original agreement and state laws. What I was presented with was over-reaching of their rights and very one-sided."
Roper says that the vast majority of the attacks against his character are inaccurate.
"I haven't gone through it with a fine tooth comb, but most of the things they allege are false," Roper says.
Roper says he feels that the contract is the real issue.
"They're activating their right to repurchase the stores and I've accepted that and I'm OK with it. They presented me with a document that was extremely one-sided. I was advised not to sign it. When they come up with an agreement that meets state laws, I will sign it. At this point, it's more of an issue about contractual agreements."
Roper says his stores are some of the most profitable in The Mutual Fund group of franchises. He did acknowledge that his store lost one advisor and some assets — a subtraction he attributes to the advisor leaving. "That was a temporary loss," he says. "It's fairly common when an advisor leaves. We lost 15% of our assets at that store."
Dirty laundry
In fact, the lawsuit says that Roper had a legal dispute with one of his advisors at the Fresno franchise, James Sherwood, which resulted in litigation. Sherwood is the advisor who departed the store.
Sherwood testified in court that Roper lied and had "poor business habits, like failing to pay bills on time. He noted that Roper "several times over the five-year period" was late on rent and that lapsing business insurance and the like were ongoing issues.
Sherwood testified that he "could not go on working someone that I could not trust," that Roper had "violated both federal and state securities law" and "had essentially lied to our clients."
In this lawsuit, The Mutual Fund Store alleges that the legal battle with Sherwood has brought undesirable attention and that the stores Roper owns have been losing more than $1 million in assets under management each week and a total of more than $18 million overall following that advisor's departure.
"The managed money is now leaving. The profitability of the Fresno location is decreasing under Roper's management," the lawsuit says.
Symbiosis turned sour
In addition, the lawsuit alleges that Roper has changed ownership in The Mutual Fund Stores but not notified the company executives until six months after the fact.
In addition, the lawsuit also points to public complaints about Roper on online websites warning customers not to enter into agreements.
"Roper is now causing irreparable harm to the Mutual Fund Store brand in three different geographical locations and, if his control of the franchise business is permitted to persist, it jeopardizes the integrity of the brand and the associated goodwill on a nationwide basis," the lawsuit states.
Such is the double-edge sword of selling and buying franchises. In the ideal scenario, it combines the best of corporate branding, management expertise and quality control with the nimble touch and drive of the independent entrepreneur. In worst case- scenarios, the would-be symbiosis can degenerate into corporate owners exasperated that "independence" has mutated into a lack of control — and with the entrepreneurs feeling like they are being treated like corporate pawns. See: Ameriprise Financial clamps down on franchisees with new rules.
With franchising in favor under Schwab, Ameriprise and The Mutual Fund Store, this may prove to be an important case to follow. See: Why Schwab is embracing a franchise-like strategy to fast-forward branch growth.
---
---
http://aestheticgamer.com/forum/user-5707.html
So the comparison clearly puts LG KU990 from the lead but die-hard apple fans will even now prefer to buy the iphone. The iPhone's software is buggy and it freezes often. Its Safari web browser does not have java or flash capacity. LG KU990 does not suffer from any of these problems. And above all the five Mega Pixel digicam of the Viewty clearly makes it an apple iphone Killer. Apple iphone 3GS – a Revolution in Smartphones
http://thescripter.com/about.html
CPT 62319 – Injection, which include catheter positioning, ongoing infusion or intermittent bolus, excluding neurolytic substances, without or with distinction (for either localization or epidurography), of diagnostic or therapeutic compound(s) (together with anesthetic, antispasmodic, opioid, steroid, other answer), epidural or subarachnoid lumbar, sacral (caudal).