Lloyd Blankfein: A job like this is hard to come by.
Brooke's Note: Lloyd Blankfein seems equally at ease staring down congressmen, corporate sharks and steely eyed, runny-nosed IPO prospects from Silicon Valley. He is also a big-league tone-setter from the Wall Street mother ship. In this encounter, Blankfein set the right tone with me by sitting down in front of a real reporter and answering real questions. Dina Hampton, New Yorker on New Yorker, made no mistake in capturing the more revealing comments by the Goldman Sachs chief.
When Lloyd Blankfein took the stage of the cavernous ballroom of the Marriott Marquis in New York's Times Square as the closing act of the Annual Meeting of the Securities Industry and Financial Markets Association yesterday, hundreds of Wall Street executives remained at their tables long after the last mid-afternoon soda bottles had been cleared away. See: New York conference: SIFMA wants members to be like RIAs — minus the same rules of accountability.
They stayed despite a long day that saw a parade of the financial industry's most lustrous executives deliver a series of hindsight ruminations and self-flagellations on the five-year anniversary of the 2008 crash. In hindsight, that was due to more than the unseasonably frigid weather outside and the cocktails waiting two floors up at the end of the hour. The chairman and chief executive of Goldman Sachs gracefully delivered thoughts on the personal, corporate and national fallout of the meltdown while candidly finessing, or flat-out sidestepping, questions that hit a bit too close to home.
Here are eight nuggets panned from Blankfein's conversation with Politico correspondent Ben White.
1. Social triumph
Goldman Sachs was a big underwriter behind last week's triumphant Twitter IPO and had a more minor underwriting role in the less triumphant Facebook debut last year, according to Blankfein. Stipulating that that both are fine companies, Blankfein allowed that any company naturally learns from a similar company that precedes it onto the stock market. He also allowed that Twitter — and Goldman Sachs — had learned from the missteps, although he declined to name them specifically. See: Why sudden wealth at Facebook is gushing into a $17-billion RIA and triggered a merger of two DFA giants.
2. Waiting to exhale
The economy is growing. But until the Fed stops its stimulus program — Blankfein expects it will be early next year — no one can really be sure about the real market price of anything, and people who would ordinarily invest in an up market will hold off. Continuing self-inflicted wounds by Congress don't help matters. "It's a deflationary mindset even though things are looking up. Wait for tomorrow. It's insidious."
3. Uses of adversity
In the aftermath of the crash, Goldman incurred painfully high penalties — higher than they might have been otherwise due to public outrage, Blankfein said. But even more painful than the fines were the hits to the reputation of the firm and those who work in it. Rather then cry foul, he said, the firm looked inward to move forward. "[Before 2008] we had no dialogue with consumers — i.e. taxpayers. Even if we thought punishments not fair we'd dedicate ourselves to coming out as better firm." See: Opinion: How Goldman Sachs exposed its jaw to a massive PR blow from The New York Times' op-ed page.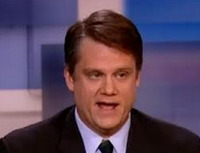 Ben White conducted a relaxed Q&A
but searched for vulnerable points.
4. If I had it to do over …
5. JPMorgan — unfairly pilloried?
"I'll resist the pull to answer," Blankfein said when asked about competitor JPMorgan Chase & Co., a firm that's still suffering financial and front-page aftereffects of the hubris and greed wrought by the financial industry. "There's enough blame to go around," he said, but allowed that "We were not originators of mortgages or credit cards, or commercial banking. We missed minefields." See: The New York Times exposes JPMorgan's brokers, yet again.
6. 'We like FICC'
Halfway through the conversation, White picked up a thread from an earlier breakout session that had excited some buzz among attendees regarding the fixed-income, currencies and commodities business. According to White, Blankfein's comment that the firm was sticking with FICC seemed to some a reflection on the firms that had gotten out of the fixed-income game. Blankfein denied that he had thrown any shade on his competitors. "We're market makers in FICC. We like FICC. We have market share. We're the largest ones. If others get out of it, we'll get market share. They won't be sorry to lose it and we won't be sorry to acquire it." See: How 3 wealth managers at Goldman Sachs parlayed a $1 billion book of business into a $125-million payday — after doing it once before for $217 million.
7. Just the right ROE
One counterintuitive thing Blankfein learned from the last five years: "Scale cost structure so in this market we can make a number that justifies capital. Ten percent — I think it's high considering going rate is 0%. It's quite an acceptable ROE when times are tough, preserving our capital until things get better. 2009 was our all-time best year. Who would have known?" The lesson, he says, is to "be there when others aren't there to take advantage of it. We were last man standing." See: 5 entrenched ruts in which advisors are idling — and how to shift gears to peel out of them.
8. One last thing
Wrapping up, White gingerly broached the topic of tenure, referencing a recent Wall Street Journal story. "Gary Cohn [Goldman president and chief operating officer] is champing at the bit …. How long are you going to stay?
Blankfein's first response was: "I don't do anything else."
Upon reflection, he said: "A job like this is hard to come by. It's nerve-wracking to think, 'let me stop doing it' — [which would mean] forever. I'll be slow to get out of it. When things are going well, you don't want to stop and when things are going badly, you can't."
Blankfein pointed out that five of his predecessors didn't leave until they were offered a spot in government. That got White's attention. "Would you be interested?"
But another one, reflected Blankfein, died at his desk.
---
---
---
Robert Boslego
November 14, 2013 — 5:45 AM
If Lloyd isn't offered a top government post, he will die at his desk some day in the distant future, as the longest running CEO of GS.
Paully
November 16, 2013 — 9:23 PM
I am sure if Al Capone showed up and sold you spoiled alcohol, you will write a praising article about him WITHOUT A SINGLE STING — because you get paid by Goldman's type to work against the people.
http://forum.gulilebulbul.com/member.php?action=pr
Apple's keyboard dock accent for your personal iPad ($69) presents a person of your respective simplest answers for which include a tough keyboard for the gadget. It nonetheless won't be able to compete getting a cell pc or desktop laptop when it consists of specialist typing and modifying abilities, but many will realize the acquainted performance of constructing use of a full-dimensions keyboard.
http://www.iwsamerica.lfchosting.com/_vti_inf.html
An ecchymosis is basically a bruise bigger than one centimetres. A bruise less than 1cm whilst not underneath three mm is said to become a purpura. A bruise beneath 3 mm is actually a petechiae. Code 782.seven is applicable and also to petechia although not purpura, which has a number of other codes (287.-287.9) with regard into the etiology.