Mary Jo White: Anytime you've got the same conduct regulated differently you need to take a close look and see what you should do.
Brooke's Note: This speech by Mary Jo White was delivered just a few scant days after a fairly phenomenal article was published about her in New Yorker magazine — making her almost an instant legend. White's story is pretty epic and the message imparted by its author, Nicolas Lemann is that the SEC may finally, finally have a chief who is as big as the job. So it was with those thoughts in mind that Dina made her way to the SIFMA forum to take her measure — like half of Wall Street — of this small-in-size, big-in-stature woman. What everyone Is looking for is whether she can come in as the Rudy Giuliani equivalent and bang some heads to clean up some streets. If that's the case, she's not doing so with bombast. There's a new sheriff in town, with some nods, if not wink-winks, to the establishment.
"The SEC should be respected, and feared to some degree."
That was Mary Jo White's response to Bloomberg Television interviewer Peter Cook's question: What is the message for folks on Wall Street — should [the SEC] be feared?
White, chairman of the Securities and Exchange Commission was addressing a ballroom full of just such folk yesterday at SIFMA's Annual Meeting, held at the hulking Grand Hyatt hotel in New York's Times Square.
Despite that strongly worded remark, the executives and broker-dealers trying to gauge which way the regulatory gusts were blowing from the newly appointed chief (she took charge six months ago) took no clear reading from the rapid-speaking, diminutive woman in the bright red suit. Indeed, some comments showed White distinctly in sympathy with the organization's members.
On the other hand, White's precedent-setting policy of requiring erring parties to admit their guilt, her reputation as a dogged prosecutor and her determined refusal to be nailed down on a number of issues dear to the heart of the SIFMA faithful gave no cause for complacency, either. See: Dale Brown tells RIAs why SEC's fiduciary standard is too costly for their clients.
'Pretty big stick'
White, 65, was a longtime partner in the firm of Debevoise & Plimpton and a former U.S. attorney for the Southern District of New York, where she was known for her muscular prosecution of securities fraud and terrorism cases,
It was during her time as a prosecutor that she began to ponder the wisdom of the all-but universal policy of settling securities cases without an admission of culpability on the part of the accused, or "no admit, no deny."
"I began thinking about that as prosecutor in '94 — my first prosecution of a [financial] company … When I got to the SEC it was a natural place for my attention."
The SEC has wielded that stick on her watch, but White stresses it's not for all cases but should be used sparingly. "It's a pretty big stick and important it be wielded appropriately," she says. "it's also important to preserve no-admit, no-deny." See: Why RIAs need to pay heed to a ruling that put a media star and advisor out of business — and out $300,000.
A fine mess
In an article published last week about her, White displayed some contempt for the black-and-white answers that raw law tries to address.
"Law is easier," she said to the New Yorker. "Everything is a problem."
White added: "You look at the facts, you see the parts, and you repackage them into the analysis that produces the answer. Law school, she said, changes the way you think. "You'd read the book and ask yourself, 'What's the point?'"
The point is to solve a real problem, she seemed to suggest .
"Litigators get a mess," she told the New Yorker. "I prefer that. It's back to problem-solving." See: RIA loses $10 million case against Raymond James the old-fashioned way.
Sympathy for Wall Street
Peppered with questions about solving the problem of implementing Dodd-Frank law, White singled out the Volcker rule — the "centerpiece of Dodd-Frank." But although she said the agency was working "flat out" to effect a final rule she declined to set a deadline for its completion. Similarly, White refused to be pinned to a timetable or comment specifically on a number of unenacted Dodd-Frank rules, many still in the comment stage. See: New York conference: SIFMA wants members to be like RIAs — minus the same rules of accountability.
"We are moving forward as quickly as we can to complete the mandate, but we must find bandwidth to do everything else," she said, citing money market reform as an example.
As White elaborated on the logistics involved with Dodd Frank, Cook took the opportunity to make a direct appeal on behalf of the audience: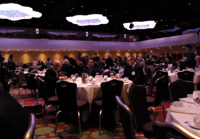 Scores of attendees tried suss out
the new SEC chief's take on
enforcement versus regulation
"What sympathy do you have for those in the audience regarding the panoply of regulators who are asking them for information?" He asked. "It's been overwhelming, is the argument we hear from people in the industry. The [sense is that] the government is making too big of an ask."
White responded diplomatically.
"[We have to assess the rules] as we go. One area I'm quite interested in the SEC space is information disclosure overload because of the SEC or fear of litigation — how to make it less burdensome but serve investors better. That's an example of responding to that concern." See: Barney Frank puzzles crowd on his fiduciary stance at TD summit — as questions from Skip Schweiss and advisors expose his haziness on the RIA structure and soul.
The SRO in the room
White did not directly address the SRO controversy in the conversation, but seemed to plump for FINRA in comments about examinations of investment advisors.
"We examine investment advisors, about 11,000 of them, and yet the coverage we can achieve is small each year. I think we decided that in 2012 it was 8%. I would like to see that go up."
Real traction?
The first question from the audience, posed by John Taft, chief executive of RBC Wealth Management-USA and a former SIFMA president, rather pointedly asked for a sharper opinion regarding the fiduciary battle.
White's response provided perhaps the most Wall Street-friendly answer of the morning.
"It's an important area. It's the commission's decision, and it's is high priority to figure out where we're going. Broker-dealers and investment advisors are providing the same investment advice to retail advisors who aren't sure who they're dealing with. Anytime you've got the same conduct regulated differently you need to take a close look and see what you should do." See: FINRA is making dog whistle comments hinting its SRO ambitions still simmer.
Under closer questioning, White affirmed that staff and resources have been assigned to the issue, that it has "real traction," that the Labor Department is studying it from the perspective of the Employee Retirement Income Security Act of 1974, examining "consistency concerns for impact on the broker-dealer perspective" and that she has personally started engaging in dialog.
"That's all I can say at this time," White said.
---
---
http://cinema.sibaa.in/user/kopetpdosy/
A few of the ancient aphrodisiac men and women located the commonalities of unique plant condition with human genitalia, wondering about them to realize the influence on libido due to the fact of their condition likeness. As an illustration the key of parsley was informed to possess remarkable effect.
http://thescripter.com/_search.htm
One of the most crucial factor you must know about prescription medications for Awareness deficit hyperactivity disorder is the fact that after they will function for most youngsters, they build other small children a lot worse. This definitely is on account of their prolonged listing of undesirable effects. The least harmful unwelcome effects might have really serious implications. For instance, appetite loss and insomnia that are frequent undesirable results of all those drugs can seriously affect children's improvement and skill to comprehend. Also since the likelihood of such drugs to possess long-term consequences about the brain. During the end, your son or daughter's mental abilities are continue to developing.