Schwab unveils 'Project PM' at IMPACT -- a 'new vision' for using the company's data to fuel PortfolioCenter
The 'next-generation portfolio management system' takes data cleanliness into a godliness realm but competitors and observers offer sharp criticism of the plan -- and its mushy deadline for completion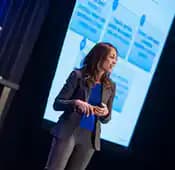 Neesha Hathi is striving for 'one-step publishing.'
---
Bill Winterberg
November 12, 2013 — 9:08 PM
PM2 will be multi-custodial. See http://j.mp/1anHvu5
Brooke Southall
November 12, 2013 — 9:25 PM
Hi Bill,
What do you mean by multi-custodial? Schwab will reconcile data from other custodians or other custodians will receive Schwab's pre-scrubbed data, or some other thing?
Nobody seemed to have a clear picture of that.
thanks,
Brooke
Bill Winterberg
November 12, 2013 — 9:48 PM
The former. PM2 will house data from assets held at other custodians.
Peter Giza
November 13, 2013 — 12:52 AM
Interesting that PM will be multi-custodial:-) Within the past 18 months I lobbied very hard for such a platform including an open data standard. I was met from almost all corners with "it will never happen". When I asked why it all came down to client attrition.
Many custodians are convinced that if they allow another custodian to share a common data comm and application platform that it will make it simple for advisors to jump ship.
My response was that advisors don't stick with a custodian because of cute apps and technology platforms. There are plenty of ugly old tech platforms out there with lots of very loyal subscribers who are there because of what the provider brings to the table.
To me PM is the inevitable evolution. Within the past 36 months mobile computing had greatly advanced the speed and dexterity with which information is processed and delivered. These improvements, some exponential, demand following by larger platforms such as Schwab.
Also there is technology pressure from the sell-side and other industries that make it inevitable. For example, DTCC recently announced a new service that provides intraday trade confirmation and order fill data in real time to the masses. SunGard announced partnership with weeks if my memory serves.
Combining a service like the above with the information the custodians hold and sprinkle in some CRM, partnership accounting / reporting, online OMS and client facing portal / apps and a well done executive dashboard and voila! you have PM.
Now the devil is in the detail of who at Schwab is on the hook to deliver. Is it SPT, PS, or the mothership itself? Lots of moving parts and a client base not known for spending more than 4-6% on technology is foreboding for any product team.
I for one hope that our industry will wake up to a consortium that among other things will propose and promote a common data standard that will allow the custodians to provide the raw materials and transport to the all the software genius out there to build the really cool stuff.
Pete
Pete Giza
VP Business Development | WealthSite Inc | www.wealthsite.com
The Finest in Partnership and Alternative Reporting
Brooke Southall
November 13, 2013 — 5:39 AM
Pete,
Thank you for this comment. There is much to ponder based on what you relate and because I talked to you in reporting this article, I know these thoughts, in a sense, scratch the surface. You bring a passion and perspicacity to all your doings and that includes the thoughts you leave here and relate to reporters. For us technophobes, we can read your comments and say: Ah, I didn't understand all of this and realize that maybe, just maybe, it's because "all this" presented more questions than answers.
Brooke
Jim Starcev
November 13, 2013 — 3:51 PM
Pete is absolutely right that the real answer is a common data standard, unfortunately I don't think that is coming. If Bill is right and it will be multi-custodian offer, that is a very big task. Having worked with a lot of portfolio reporting data for a lot of years, small nuances in the transactional data can reek havoc on the performance reporting. For them to have the confidence to say this is clean data, feel comfortable giving this performance report to your client, would require a lot of confidence that all of the data is being handled correctly.
I have seen some firms using, for lack of a better term, artificial intelligence to map data. The technology is getting better, but I don't think it is right around the corner. Seems like an early announcement by Schwab, can't believe they could actually have something to offer in less than 24 or 36 months, but I could be wrong.
Jim Starcev
Bill Winterberg
November 13, 2013 — 4:56 PM
I'll throw out a guess. Project PM2 is two years away from entering the pilot phase with select RIAs. That's my opinion and not endorsed by anyone at Schwab.
Brooke Southall
November 13, 2013 — 5:28 PM
I think when the optimists are saying that there could be a 'pilot' of a 'project' in two years or more that it is safe to presume that engineers aren't losing sleep, skipping meals to get this done on an ASAP basis.
Brooke
---
---
Mentioned in this article:
Fidelity
Asset Custodian
Top Executive: Sanjiv Mirchandani
AppCrown, LLC
Outsourcer, CRM Software, Tech: Other
Top Executive: Ted Tsung
---
---