Ajay Gupta will write a seven-figure check to UBS to gain his freedom as an RIA.
Brooke's Note: Deepak Chopra might be the original holistic wealth manager. But like so many others, he has kept his assets with the original type of wealth management business professional — a wirehouse stockbroker. Presumably those days are over, as his friend and advisor, Ajay Gupta, breaks away to an RIA from UBS and walks the talk of handing back his remaining retention bonus and landing on his very own RIA pad.
Ajay Gupta just completed his second breakaway — this time becoming a Schwab Advisor Services RIA under the Gupta Wealth Management banner.
The new RIA principal, 42, left UBS Friday with a team of seven people who combine to manage an expected $540 million of managed assets for 119 families with hopes to take his advice to a new level and continue to take a path less traveled by.
Gupta's first unconventional move occurred when he sold his advisory practice in Montreal in 2000 and moved to San Diego to start all over again from zero assets. Gupta built his Canadian practice beginning in 1996 as a stockbroker-financial advisor, at Midland Walwyn Inc., an independent brokerage later acquired by Merrill Lynch.
He then built his new practice at Merrill Lynch in San Diego before breaking away to join UBS in 2008, arriving three weeks before the markets crashed. According to press reports at the time, he had about $308 million of AUM and $2.8 million of revenue. That breakaway deal was sweetened by a nine-year signing bonus from the wirehouse that has still not been paid out. Gupta is having to write a "seven-figure" check back to UBS to gain his freedom as an RIA, according to the advisor's spokesman. See: LPL reaches hard-won agreement to rein in bonuses to big advisors that had proved to be overly generous.
No roll-up, no cry
After careful vetting, Gupta also chose to forgo a new payoff from an ever-eager roll-up or strategic buyer after talking to a number of them. His assets will be held mostly at Schwab, 90% with 10% going to Fidelity.
The decision to avoid roll-ups was two-fold, Gupta says. He wanted to be involved with all the aspects of transitioning to independence and running a practice that roll-ups promised to do for him. "I wanted to be involved in making decisions." And he wants to avoid the other big benefit of a roll-up — getting paid to move. "I did not want to receive any upfront check or bonus," he says.
A prepared statement from his firm cites "true independence" and "innovative technology." In an interview Gupta says it boiled down to gaining access to better pricing. he will use many of the same mutual funds but through Schwab he can get institutional shares that save him as much as 20 basis points. "That adds up," he says. Specifically he says he is pleased that he'll be able to access Vanguard Group funds in what he calls "an advisory account." Gupta was blocked from doing so while at UBS, he adds.
He says he chose Schwab after determining he wanted a company with $1-trillion plus in assets — but not one that had taken TARP money. Gupta adds that Schwab reps were extremely patient over the course of a year in answering virtually every question he had and putting him in touch with other RIAs.
Schwab declined to respond to a request for comment.
Gupta declined to be interviewed over the weekend and am adding his thoughts now after having just interviewed him.
Gupta is using Tamarac's software, which typically includes a big dose of its rebalancing program with a big integration of Schwab PortfolioCenter at its portfolio accounting core. See: Schwab taps Tamarac as its next integration partner.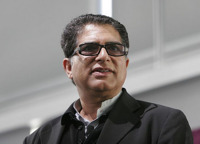 Deepak Chopra has Ajay Gupta manage
his assets but he has also
been known to manage Ajay.
Holistic client
Gupta has rebalanced his own equilibrium on at least one major occasion with help from a big client, Deepak Chopra, who is known for combining the spiritual and the medical, the spiritual and the material. According to two press reports, Chopra has net worth of about $80 million derived from royalties from 75 books he's authored, including 21 New York Times bestsellers. He also owns a spa in Carlsbad, Calif., that accentuates his teachings.
Gupta has other famously rich clients including a Fortune 100 family whose name he did not disclose.
In an earlier release, Gupta, then 38, was quick to credit his close friend and client for helping center him during the turmoil of 2008.
"He was calling from midtown Manhattan while on his way to being filmed on the 'Larry King Live' show to let me know that he was not worried about everything that was going on; he was very appreciative of all that our team was doing for him; and a little bit of uncertainty is always a good thing for the world," the advisor was quoted as saying.
Father a mentor
Gupta's other mentor is also an Indian elder — his father. Gupta hints that starting an RIA is a next step in evolving toward his father's ultimate vision of caring for people.
"My father was an advisor, and inspired me at a young age to work hard and take care of others, as he did for me and my siblings — so at the age of 12 I started exploring the world of finance, and have been learning, evolving and growing as an advisor and a person ever since," he said in the earlier press report. "I value the experiences of the past, but we must remain focused on what lies ahead and is best for our clients — this move represents that." See: Why a young Morgan Stanley team moved to Beverly Hills Wealth Management — with a child in mind.
Gupta also credits his father for emboldening him to take the biggest risk of abandoning his book of business in Canada. The decision occurred in the wake of a trip 11 years ago by Ajay Gupta to San Diego where he fell in love with the sparkly city by the sea. Merrill Lynch told him that he would have to choose, for regulatory reasons, between starting afresh in San Diego or stying in Canada. Gupta decided that if his dad could move to Canada from India with almost nothing and successfully raise five kids that he could surely move to San Diego.
When he got to San Diego, he asked around about where he could find wealthy clients. "I didn't really know anybody," he says.
He was told that Rancho Santa Fe was the place but also warned off of it because, the thinking went in brokerage circles, all of the residents had private bankers and brokers already.
Gupta was unfazed and decided he'd take his chances. Asking around, he learned that a favorite lunch place there was George's at the Cove and he proceeded to host 24 private luncheons with 10 or 12 attendees at each where he spoke about the markets and the economy. See: The art and science of how one RIA grew assets 125% by springing for several hundred steak dinners a year. "Then I stopped and that was the last of my proactive marketing." On average, each luncheon netted him $10 million of assets.
Gupta received his Bachelor's degree in finance from Concordia University in Montreal in 1995. After attending the advanced management program at the Wharton School of the University of Pennsylvania, he earned his certified investment management analyst designation in 2006 and also completed the private-equity and venture capital program at Harvard Business School, in 2007. Gupta recently attended the advanced management program at University of Chicago Booth School of Business, which earned him the certified private wealth advisor designation.
Saving trees
In its statement, Gupta Wealth Management says its only focus is on serving its clients, and to that end Ajay does not engage in proactive sales activity. He has not carried business cards for the last five years, instead relying completely on word-of-mouth referrals.
---
Related Moves
---
October 16, 2020 – 7:49 PM
---
---
---
Talavane Krishna
November 8, 2013 — 4:20 PM
I am proud of my brother-in -law. He deserves every bit of this success.