No Capris, please: At New York's University Club, hedge fund counsel gathered to find a safe way forward for their beleaguered clients.
The only people with better jobs than hedge fund managers are their attorneys, who can charge them untold hundreds of dollars an hour to tell them just when and how to apply the regulatory brakes, which is mostly never.
But these days, they may be working harder to earn their keep. The rules of the road are getting more complex for hedge funds. Historically, it's been a Montana highway for the industry as it roared down the road with no speed limit or stop signs, zooming by its humbler investment advisor and broker-dealer brethren who'd been pulled over by cops for a wide variety of transgressions.
And now, as if the hedge fund industry doesn't have enough to worry about with its lackluster returns over the last few years (The Wall Street Journal reports that the HFR Global Hedge Fund Index was up 4.6% year-to-date as of Sept. 20 compared with a 19% rise in the S&P 500 in the same time period), the Securities and Exchange Commission seems to be looking to significantly tighten up its hedge fund regulation. And it may kick things off by using the seemingly good news of the lifting of a decades-old ban on advertising as a Trojan horse to deliver said regs.
Puttin' on my top hat
The two-day event was held in New York at the grand University Club off Fifth Avenue, designed by the celebrated turn-of-the-century (20th, that is) architectural firm of McKim Mead & White. More than 100 in-house counsel and lawyers from white-shoe firms came to get the skinny from government officials, industry advocates and fellow lawyers about how to avoid newly planted regulatory land mines. See: 8 reasons why the hedge fund industry deserves a second look in 2013 and why RIAs are so well positioned to capitalize.
The attendees and the speakers did their august surroundings proud, with the men in bespoke suits and pocket squares and the women (and there more than I expected) in well-fitted suits and sleek dresses.
Despite journalists' well-earned reputation for being sartorially challenged, I, too, was respectably turned out, having been peppered with a series of cautionary e-mails in the days leading up to the conference. Those perhaps overemphatic missives detailed what constitutes proper ladies' attire at the club (for your reference: suits, dresses and skirts or tailored trousers with dress shirts, blouses or sweaters) and what most certainly does not (again, in case you're ever in the neighborhood: jeans, shorts, Capri pants, sneakers, flip-flops "and other such casual sportswear.")
But wait…what now?
I dropped in on the session dealing with the repeal of the advertising ban that went into effect Sept. 23. Asher Friend and Ted Jones, partner and special counsel, respectively, at Jones Walker LLP, presented the colorfully titled: "A Whole New World: SEC (finally) adopts final rules under the JOBS Act removing restrictions on general solicitation and advertising — but wait … what now?"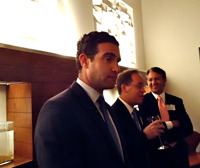 Asher Friend with co-presenter Ted Jones:
It might be sticky for a
while.
Friend kicked it off employing a lively style, armed with slides complete with graphics and sound effects. With the ability to advertise, he explained, comes a considerable increase in scrutiny by the SEC as to whom you take on as a client.
No more blind eye
Indeed, hedge fund managers, who may solicit only investors with at least $1 million in assets, excluding the value of their home, may now be at risk if they continue to take a "don't ask, don't tell" approach to vetting qualified investors.
It gets worse. The SEC's hairy eyeball is also trained on bad actors associated with deals, those "covered persons" involved, even in a tangential way with the firm. The SEC has expanded the definition of covered persons to the point of dangerous ambiguity — certainly from a lawyer's perspective.
"Covered person is issuer, director, officer participating in the offering. What does that mean? Investment manager? Director of pooled fund? Promoter? asked Friend. "You can hear where this is going. If any covered person had a disqualifying event, you no longer have a valid exemption."
The SEC strikes back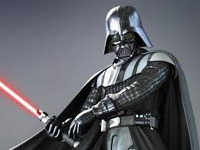 One of Friend's slides featured Darth
Vader, comparing him to the SEC
in its efforts to spread its
domain over hedge funds.
It turns out, according to Asher and Jones, that the SEC was seriously unamused by Congress' foisting the ban-lift on it — and retaliated. See: Cheat sheet for recent SEC regulatory changes and amendments.
As a result of what Asher called the "cat fight" between the SEC and Congress, on the day the SEC issued its two final rules, it also filed a proposed rule that, if enacted, would entail a whole new raft of what Asher called Draconian requirements and penalties, including the possible raising of the $1 million minimum for investors to $2 million.
"It's odd behavior," commented Jones. "They fulfilled their mandate to remove the ban but disagree with it … Used it as platform to increase enforcement."
Now, on SEC forms, hedge funds managers will have a new box to check: Did you use solicitation?
"In truth, I don't know if I want to be that first solicitor [to check that box]," said Friend. "The SEC will be diligent. It might be sticky for a while. It's a new world."
---
---
pillpoppinpuppy
October 4, 2013 — 1:07 AM
Do I use solicitation? No, I wait for investors to fall from the sky. Why don't they ask bearing manufacturers if they solicit orders? Ask their soul mates at Google if they solicit ads or if they just wait for them to be created out of thin air?
It's the same type of illiterate question that comes from potential institutional investors as "do you have a third party administrator?" You mean, you don't trust me to do my own accounting but you would consider investing with me? When you are looking for legal advice, do you decide on a counselor based on whether their firm does their own accounting? I've heard few things more asinine.
dan
October 10, 2013 — 12:50 AM
Illiterate to ask whether there is a 3rd party admin involved? Hardly. However, perhaps a better quesiton is "Who is your 3rd party admin" – afterall, if there were proper administration, then we would have avoided a Madoff situation.