Here was the room where the more interesting exchanges took place.
In San Francisco's Bay Area, there are two famous valleys where the uber-wealthy tend to dwell — Silicon and Napa.
Yet the interaction between these two enclaves of hyper-affluence is fairly modest. The Silicon Valley version of a status symbol is to roll up McMansions Mark Zuckerberg-style on your Palo Alto suburban street — an empire-building local to the working lair.
In Napa Valley, you seek to create distance between your filthily wealthy self and anything resembling an office building. If you roll anything up it's vine-striated farmland and faux-Spanish buildings.
So when Angelo Robles, chief executive of the Family Office Association, organized a summit, he brought a handful of A-list venture capitalists together with about 40 patricians and their family officers, who mostly listened and asked a few polite questions.
Along with the power elite, there were also strivers on hand looking to sell things to these people including software vendors, a Cessna salesman, a fellow who sells coffee service to big technology companies and lawyers who sell specialized tax and trading advice. Another striver was this journalist. See: Top 12 crucial technology happenings affecting RIAs in 2012, Part 2.
Perfect spot
Robles, a former UBS wealth manager based in Greenwich, Conn., brilliantly found what amounts to a neutral site for his varied constituencies. He chose Meadowood Resort in St. Helena, Calif. This placed the event squarely on Napa Valley turf but also at a place of refined corporate opulence — with not a child or dog (except mine) in sight. It featured tennis courts and croquet lawns tucked into a cozy little valley. The whir of golf carts whisking guests hither and yon mixed with the tweeting of birds. The meeting rooms looked like the kind where silver-haired men raise country club dues and vote out undesirables. But, too, the place did not suffer from too much vineyard aroma, charm, or character. It could have sprouted from a spore blown in from Mountain View or San Martin in Silicon Valley.
I attended three sessions. The first one I saw Thursday morning was headed by PayPal alum David McClure, a venture capitalist and founder of 500 Startups, a San Francisco business incubator that literally invests in hundreds of startups at a time. His horn-rimmed glasses, black jeans and black collarless shirt suggest that Steve Jobs is a strong influence.

Angelo Robles convened disparate elements of
wealth.
McClure was also disarmingly honest, disclosing his annual salary ($250,000) and the fact that the day before, his firm had dropped its management fee from 2% to 1.5%. Some in the crowd took this 25% slash to mean that McClure had landed on the wrong side of the supply-demand curve, but with aplomb he said that his company is just not interested in soaking investors with fees.
Software for cows
McClure presented a thesis that a new era of VC investing is upon us that serves both a wider range of investors and a wider range of investees much better with a medium-risk, medium-return asset class. He typically makes investments of $50,000 to $100,000 in small companies that break no molds but rather take existing businesses and apply online technology to making them run better. The idea is that while you hit fewer home runs, you tend to hit plenty more line drives, which leads to a more predictable set of returns. He pointed out that VC returns in general have been pretty terrible for more than a dozen years, and that only the top 10% of branded firms have established good track records. "We're not trying to reinvent a business model," McClure said.
Two examples of investments he made drove home the point. One involves a dairy farmer's son in Eastern Europe who is building software to help people like his dad to manage the output of their cows. McClure said that even relatively poor farmers may be willing to pay $50 to $100 a month for such a service. The other example was a device for getting a waiter's attention at a restaurant. Customers like getting their fries quickly, and restaurant owners like turning over tables more rapidly.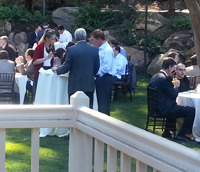 The scene at lunch. David McClure,
wearing glasses, is seated at right.

(During McClure's session, a super-elite subset of eight was sent to session in which a second-generation heir of the fortune generated by Russell Investments shared his knowledge and expertise in matters of wealth management.)
Intangibles in the game plan
Before the more heavy-hitting VCs hit the stage, Ronnie Lott, the San Francisco 49ers defensive back-turned-Silicon Valley investor, spoke. He won hearts as Robles deftly interviewed him. Lott revealed that he likes the investing world better than football — and spoke of how he was blown away when he sat next to Google's Eric Schmidt (then of Sun Microsystems) on a flight out of San Francisco one time.
What Lott made clear — as did every other expert — was that ventures are never X's and O's so much as diving in passionately and working with like-minded people. "We don't spend enough time to understand these qualities," he said.
Batting clean-up were Suhail Rizvi, co-founder of Rizvi Traverse Management LLC and partner at Emerald Venture Capital and Emerald Venture Capital I LP and Pipender Saluja, managing director at Capricorn, which is based in Palo Alto.
Rizvi, a media expert, was phenomenal and made me happy by talking favorably about industry blogs. Unfortunately, his comments were off the record, but it was clear that he did not come hat in hand to this crowd looking for capital.
Super-charged
Stephen George, principal of Panorama Point, who came to fame as a co-founder of Capricorn Investment Group, interviewed Saluja who oversees investments in energy technology, clean technology, IT and emerging markets.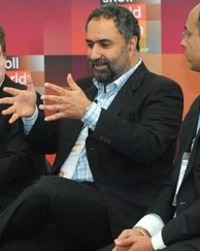 Pipender Saluja stunned the crowd
with how far clean energy has
advanced, at least in the lab.

Saluja was well briefed on Tesla and solar energy and made the crowd realize how stunningly effective solar technology and battery technology will soon be. He spoke of cell phone batteries that will be recharged in four minutes and be good for a month — or charging up your Tesla in a few minutes and having it run 1,000 miles or more. The idea is that this technology works in the laboratory, so it's just a matter of time before it'll do the same under your car's hood.
Saluja also countered McClure's theory about the advantage of owning a high-volume of middling firms, saying you don't want to own 19 crappy companies. (These are the things that investors in Tesla say, of course.)
More alike than different?
Mike Paulus, president of Addepar Inc., spoke on a technology panel that I missed. I had the opportunity to talk to three Addepar clients who were effusive with praise — mostly commenting on the software's ability to spin out great reports. See: Addepar means to be the only technology platform RIAs will ever need — and has MIT minds and PayPal money to back it up.
What I observed by the end of this event was that family officers like the idea of getting some of their families' money invested with the black-shirted men in Silicon Valley and the VCs like the idea of all this aimless capital sitting around in the accounts of people who are 1,000 times richer, strictly speaking, than they need to be.
But the VCs don't want to wear themselves out selling and servicing nervous hyper-affluent neophytes. And the family officers aren't exactly seeing a road map or a call to action to hazard cash with VC men who wouldn't know a Windsor knot from an astronaut.
But VCs are notoriously patient — and many superrich people find themselves with time on their hands — so maybe this was all the beginning of an unlikely but beautiful marriage. Were that to happen, maybe the trickle-down effect will take effect in earnest.
---
Related Moves
February 23, 2022 – 12:09 AM
---
---
---
---
Mentioned in this article:
Addepar
Portfolio Management System
Top Executive: Eric Poirier
---
---
---