Given a choice to get to New York or move on from IN, Dan Jamieson went with his heart, located in fish-friendly waters off Long Beach. (Photo Credit: Roxanne McMillen.)
Brooke's Note added Nov. 5: What we didn't know when we published this article was that even bigger names of InvestmentNews oversight and peripheral vision were in play. David Klein has been named senior VP-group publisher of Crain Communications Inc., effective immediately, according to an Oct. 9 article in B-to-B magazine, a Crain publication. He succeeds Gloria Scoby, who is retiring after 35 years with Crain Communications, where she oversaw InvestmentNews, Crain's New York Business and Pensions & Investments from her Chicago office. "There's no easy way to replace someone like Gloria," Rance Crain said to B-and-B in the article. "She was a linchpin of the company for many years. But we're confident this new structure will bring us great success going forward." Klein joined Crain in 1984 and edited Electronic Media until 1994, before taking over editing of Interactive Age. After time away, he rejoined Crain in 1996 as editor of Advertising Age and rose to become group publisher over all Crain media and marketing publications.
Evan Cooper and Dan Jamieson have both left InvestmentNews.
Cooper, the head of custom content, and Jamieson, the West Coast-based senior reporter for the New York-based publication, left this month — and their replacements are on the way, according to Suzanne Siracuse, publisher of InvestmentNews.
"We are replacing both Evan and Dan … we are not reducing head count at all. On the contrary, Evan got an opportunity and decided it was a better fit for him," Siracuse writes in an e-mail.
"As [for Dan], we wanted that beat in New York and he didn't want to move. Both left on fine terms. We have a new reporter … starting on Monday. We are actively searching for Evan's replacement as we have a thriving and growing custom business that needs a full-time director."
The moves come following other high-profile departures, namely of longtime editor-in-chief Jim Pavia and Davis Janowski, the technology reporter who had become a minor celebrity in his realm. See: Davis Janowski gets scooped up by Wealthfront.
Staff writer Andrew Osterland and online editor John Goff also departed in recent months.
New ventures
The churn of personnel comes amid InvestmentNews' pre-launch preparations to roll out a new publication aimed at wealthy consumers, according to off-the-record sources. Siracuse declined to respond to a request for comment about this matter.
Both Cooper and Jamieson say they are happily ensconced in new gigs. Cooper is now overseeing editorial operations for Asset TV, a United Kingdom-based company that helps produce paid video content. One of Asset TV's big clients is Pensions & Investments, also a Crain Communications Inc. publication, and it also does work for InvestmentNews, Cooper says.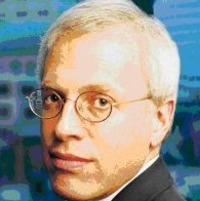 Evan Cooper: I'm thrilled to be
part of something growing and new.

"This was an exciting opportunity," he says. "I'm thrilled to be part of something growing and new."
Jamieson is now editor-at-large for Financial Advisor, a monthly magazine, and is working on a book for a money manager.
Jamieson, 57, is the senior statesman of advisory reporting. He was originally a Dean Witter Reynolds stockbroker in 1983 but then started writing for Registered Representative (now Rep.) in 1985. See: Registered Rep. is finally changing its name.
Before coming to InvestmentNews eight years ago, Jamieson was an editor, working under Cooper, at On Wall Street magazine. He lives in Huntington Beach, Calif.
"It's fun to get out of the daily news grind," Jamieson says, adding, "I also kind of miss that."
---
---
---
riawatcher
October 24, 2013 — 2:03 PM
Sounds smart and strategic: Out with the old in with a younger, more digitally focused crew.
zibair
October 24, 2013 — 5:55 PM
I can't speak to Mr. Cooper or Mr. Jamieson, but I worked with Matt and Lorie. Very professional, very thoughtful and they are joining a great team at IN
riawatcher
October 24, 2013 — 8:25 PM
in a world of aliases, i am impressed he used his real name
grapeape
October 24, 2013 — 2:55 PM
Churning through reporters like its Bloomberg or something
jallen
October 24, 2013 — 1:47 PM
Seems like the regular churn in this industry. I think they added a couple folks from Financial Planning, Lori Konish and Matt Ackerman in the past couple months, and a new reporter too. And Source added a new editor in chief at On Wall Street to replace Konish. Interesting that that isn't included in this article
et
October 24, 2013 — 8:15 PM
Mike Byrnes
October 29, 2013 — 5:52 PM
Congrats to those making positive changes with their careers! — Mike Byrnes, President of Byrnes Consulting, LLC, www.byrnesconsulting.com
Evan Cooper
October 24, 2013 — 7:43 PM
Regarding the comment, "out with the old and in with a younger, more digitally focused crew…." Tsk, tsk, riawatcher. One could be tempted to present a certain digit in response to that inaccurate remark. But us codgers know better: experience and the ability to create new-media and technology solutions are not mutually exclusive. You'd be surprised at what we can come up with. And as far as the changes at InvestmentNews are concerned, turnover is natural and the newcomers are making a great team even better. I look forward to continue working with all my friends there — young, old and in between.