Lauren Schadle: We need to go back to our roots with a laser-like focus for why FPA was created in the first place -- and that is to support the CFP professional.
Brooke's Note: The FPA has long been a bit of a sleepy organization with, at times, a muddy message about its mission. But in this newsy, intensive piece by Tim Welsh, it sounds like the organization is signaling that it is tired of muddling along. A good place to start, of course, is to use honesty — even at the expense of diplomacy — as the best policy about yourself and those organizations that you're supposed to be a check and balance for. As a side note, I find it lame that, government shutdown aside, Phyllis Borzi let these people down by no-showing. I also find Ron Rhoades' declaration of near-defeat interesting — especially as he declares victory for RIAs in the same breath without contradicting himself.
With fresh faces, new ideas and a pull-no-punches critique of an organization with which it is aligned, the Financial Planning Association kicked off its annual FPA Experience conference in muggy Orlando, Fla. at the hulking Orange County Convention Center this past weekend. More than 1,600 attendees braved — and dodged — thousands of Disney tourists to get past the Mickey Mouse in financial planning.
While the financial planning industry grew by leaps and bounds over the last few decades, member associations that support the financial planning profession have had a rougher ride.
This fact was hit head on by recently appointed chief executive and Financial Planning Association executive director Lauren Schadle in her opening remarks.
"The difficult economy has caused every member organization from all industries to take a hard look at how they operate, review all aspects of the organization and become more relevant to the members they serve." See: FPA Retreat 2012 shines spotlight on the emotional and psychological dynamics between advisor and client.
As part of this renewed focus, FPA has been busy putting in place a new strategy.
"We need to go back to our roots with a laser-like focus for why FPA was created in the first place — and that is to support the CFP professional," Schadle said. "We need to be more disciplined, entrepreneurial and courageous and you will start to see the benefits of that plan as we increase the value of membership." See: FPA chooses president-elect with the seasoning of young advisors in mind.
The first deliverables of this new focus is the launch of the FPA Research and Practice Institute, the goal of which is to help financial planners better manage their businesses, navigate regulatory change and provide key research on emerging planning topics.
Also included in the new FPA is an enhanced website where members will be able to personalize and create dashboards of member benefits and actionable information, as well as connect members of the consumer public through financial planning content designed to drive referrals.
FPA vs. The CFP Board
While FPA is committed to hitching its wagon to the CFP designation, it has not been afraid to be a vocal critic of the organization that grants the CFP marks, the Certified Financial Planner Board of Standards. The CFP Board has recently made several cringe-worthy and headline-inducing missteps in its handling of compensation descriptions, and as a result is quickly becoming mired down with lawsuits from its past volunteer leaders who have been caught up in the semantics of what exactly "fee-only" means. See: CFP Board makes a raft of changes — including plans to send out press releases about CFP members who declare bankruptcy.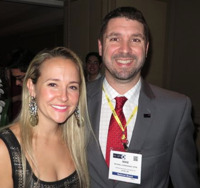 Michael Branham – pictured with Alexa
von Tobel, founder and CEO of
LearnVest.com: The CFP Board cannot act
as both a regulator for CE
providers and as a CE provider
themselves.
Additionally, the CFP Board has been making overtures toward becoming a vendor of providing continuing education (CE) credits required to maintain the CFP designation — historically the traditional role of member organizations, such as FPA.
Because the two organizations are traditionally closely aligned, this defiant and public statement definitely made waves and was enthusiastically embraced by the crowd. It also pointed out that there is very real risk for member organizations to embrace a single approach over which they have very little or no control.
Major firms focus
Prior to the start of FPA Experience, FPA welcomed in 75 executives from all of the big financial services firms for its annual Major Firms Symposium, including a sizable contingent from Australia, a country that is emerging as a global model for how advice should be delivered. Key topics covered were the latest on the fiduciary standard and how to replenish the pipeline of aging financial advisors with a focus on where the next generation financial planner will come from. See: Eavesdropping on FPA Australia: The group is booting big-companies and pushing advisors hard to earn their CFPs.
In a surprise move — but in hindsight not all that unexpected — scheduled speaker Phyllis Borzi, Assistant Secretary of Labor at the Department of Labor, was unable to attend and provide an update on the fiduciary standard due to aftermath of the government shutdown. But as they say down under: No worries, mate. See: Borzi: Exemptions from conflict of interest will be part of new fiduciary proposal.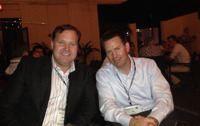 Curtis Reed of Arbor Point and
new FPA Board member Dan Skiles
at the Orlando conference this weekend.

Bona-fide fiduciary
Industry luminaries Ron Rhoades of Alfred State University, Blaine Aiken of fi360 and Skip Schweiss of TD Ameritrade, capably picked up the slack with three sessions on the fiduciary standard of care and regulatory developments. Unfortunately, their conclusion for pro-fiduciary advocates is grim.
"I am almost ready to concede defeat," said Rhoades as he described the latest regulatory discussions. "But on the other hand, if the anti-fiduciary advocates win, that will create a marketing and positioning benefit for RIAs as they will be able to specifically differentiate themselves from non-fiduciary competition." See: What the 8 pillars of a FINRA-replacing entity for RIA oversight look like and how personal accountability is key.
Rhoades went on to outline a new business model the "BFF" — "bona-fide fiduciary" that advisors can adopt that will reflect all of the key components and benefits of acting in the client's best interest. Rhoades believes that the industry will evolve to have BFF's as subsidiaries of the major financial services firms. Aiken echoed that approach, as he believes that the fiduciary standard is simply a "better business model."
'Everyone is in sales'
A key aspect of the annual FPA Experience conference is to bring in high profile keynote speeches from noted experts. Popular business consultant and best-selling author of "To Sell is Human," Dan Pink, regaled the audience with examples of how the world of sales has changed. Due to the abundance of information and sellers having more information than buyers, it is no longer, "buyer-beware" but rather "seller-beware" as the information landscape has leveled. Pink also reminded advisors that "everyone is in sales, whether you like it or not." See: An advertiser's-eye view from among the booths of the FPA convention's exhibit hall.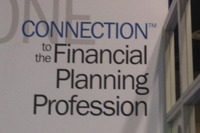 FPA unveiled its new masthead and
tagline at the conference.
Providing the global economic perspective was Tyler Cowen, chairman of economics at George Mason University in Washington. The good news from Cowen is that he is extremely bullish on the U.S. and North American economies, citing the nascent economic recovery and emerging energy markets.
"By 2030, the U.S. will be the world's largest exporter of oil," Cowen noted. "My advice is to not read newspapers as they only report on the recent negativity. We should all read history instead."
The rest of the agenda was crammed with highly technical sessions with the latest on tax minimization strategies, inter-generational wealth transfer, investment planning, new approaches to managing healthcare costs in retirement, and more.
College graduates everywhere
As part of FPA's focus on the next generation advisor and creating a fresh crop of new financial planning career candidates, multiple colleges and their students were included in the conference and were roaming the exhibit hall, looking for job opportunities and familiarizing themselves with the technology and tools of the financial planning profession.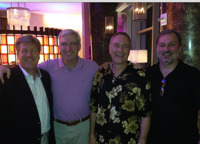 Four past FPA presidents were in
attendance: Dan Moisand, Mark Johanneson, Richard
Salmen and Nick Nickolette.
The youth-infused crowd gave the traditionally staid exhibit hall a shot of energy and a cool vibe, which overflowed into the evening activities. Fastech, an organization of the industry's leading software companies (MoneyGuidePro, Redtail Technology, Laserfiche, Laser App Software, FinaMetrica, Orion Advisor Services, LLC, IPS AdvisorPro and TRX.)
Texas Tech University all pitched in to hold a networking event at the local Disney bowling alley, which was well attended and extended on into the wee hours at downtown Orlando nightclubs.
To learn more about what went on at FPA Experience, check out the many tweets at #FPAExperience on Twitter.
Timothy D. Welsh, CFP® is president and founder of Nexus Strategy LLC a leading consulting firm to the wealth management industry and can be reached at tim@nexus-strategy.com or on Twitter @NexusStrategy.
---
---
Mentioned in this article:
---
---
---